STEFA*'s "Una Casita" video visualizes a home for people to 'exist without fear'
The track is a standout from the Colombian-American singer's Sepalina EP.
Halfway through our conversation, tears started to stream down STEFA*'s cheeks. The 29-year-old Colombian-American singer, who mixes her classically trained voice with electronics and traditional folk chants, was visibly moved by the idea that her ancestors could be speaking through her. "Sometimes when I'm singing, I feel like I'm channeling them," said the artist, whose birth name is Stefa Marin Alarcon. "And I feel like they're healing through [my music]." Her new video for the song "Una Casita," which is premiering exclusively today on the FADER, imagines a spiritual home where this healing could actually take place.
The song is a standout track from her 2018 debut EP, Sepalina, and its simple lyrics are driven by her yearning for a home that defies capitalism and patriarchy. "Everyone is searching for that," she told me, "Everyone wants to exist without fear and without shame." To that end, the video is overflowing with gorgeous images of the artist in the home of her dreams, where she can bask in soft repose.
As a child of immigrants, home has always been a crucial concept for STEFA*. Her parents abandoned their lives in Pereira, Colombia and immigrated to the Bronx in the 80s. They left behind cyclical poverty and violence, as well as their loved ones and an illustrious family culture. STEFA*, born and raised in Elmhurst, Queens around other immigrant families from places like China, Thailand, Ecuador, and India, is using her art to build bridges between the struggle her parents left behind in Colombia and the battle she faces here in the United States.
From an early age, her parents recognized that she had an indomitable voice. "I was always singing," she told me, "and I was always in tune." But her teachers directed her to sing in the classical European tradition, and so she spent nearly 20 years mastering French arias and the works of Russian composers. It wasn't until after she graduated from college that she started to reclaim the music of her people. "It really shifted for me during the summer of the Ferguson protests," she told me. She began to wonder why she wasn't using her art to say something about the horrors of oppression that were impacting black and brown people in America and across the globe. "I couldn't keep using my body and voice to tell those Eurocentric stories, because they're not my story," she told me. "I just needed to make my own shit." From there, she developed a unique musical process that incorporates improvisation and loops with indigenous folk music. And of course, it's all anchored by her soaring and emotive voice.
I spoke with the STEFA* a bit more about the development of her stunning new video for "Una Casita" and the healing she hopes it can encourage.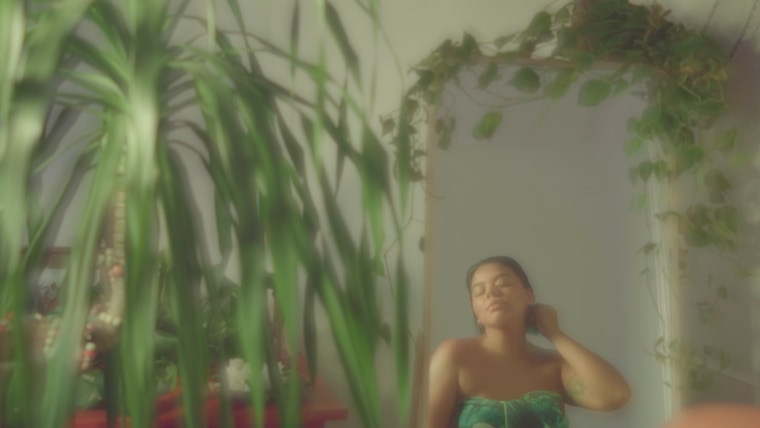 "Una Casita" is obviously about home, but home is such a broad idea. Were you thinking of anything in particular when you wrote it?

The song is really about the dream of having your own space. It's also about being spiritually good with yourself. I was also thinking a lot about how in New York, black and brown communities, who've had their families here for generations, are being displaced. And in a way, my parents were displaced from Colombia.
In the song, you sing about also wanting a home for your mother. Where does that desire come from?

I say that I want a home for my mother so that she doesn't have to work. That's a big dream of kids with immigrant parents. They worked so hard and sacrificed their life to give us opportunities that they could never even dream of. So we want to repay them for that. Our mothers are working into their '60s and '70s. Right now, I wish I could help my mom. But I'm struggling to pay my own rent.
On a personal level, what is the "Una Casita" of your dreams?

It's a place where I can be free to exist how I want. One day I can dress a certain way, and the next day I can be totally opposite. One day I can be more androgynous or butch and the next day I can be super femme and not have to explain myself to anyone. It's a place where I can exist without having to apologize.
How did you turn those ideas into a video?

The video is like a dream of a typical day in my space. So what does that look like? Well, it's warm and it's colorful. I'm making coffee. I'm boiling eucalyptus like my mom taught me to do. And I'm dancing to Willie Colon's music. I'm doing whatever the fuck I want and no one can come and tell me turn it down or cut it out.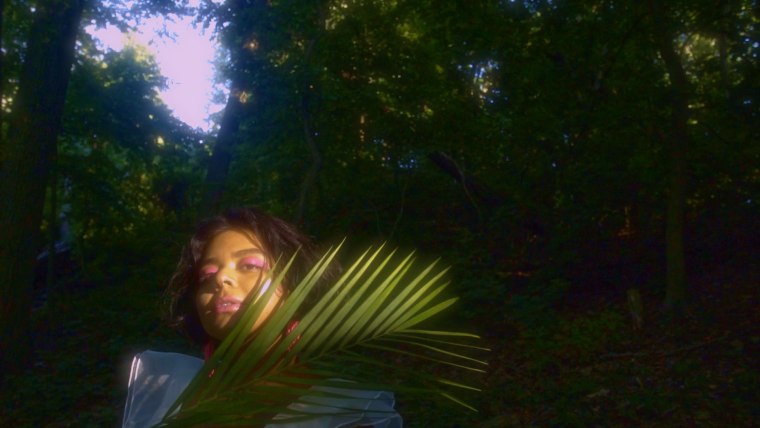 How did you bring a community of creatives together to help make this video?

I used to work at Remezcla, which is where I met most of the people who worked on the video, including the director, Tatiana Del Fuego. It is a great place for LatinX creatives to just play and get their foot in the industry. I knew stylists Itzel Alejandra Martinez and Barbara Calderón through the Cosmica zine. I had always seen the work they were doing at zine fairs and different happenings where the cute LatinX folks are. They are so talented, so I had to get them on this project. My budget was $0, but everyone was down and brought 100 percent of themselves. I can't wait until I'm getting fully funded for this shit, because I'm going to hire my friends again and pay them what they deserve. But right now, we're all emerging artists supporting each other.
It's awesome that you had so many strong LatinX women work on the video. It has an unapologetically feminine energy to it.

I'm trying to radicalize what I'm seen as. I wanted it to be overtly soft and femme, because I wasn't seen as that growing up. I was always taller and bigger and brash. People called me "bruta" when I was a kid. With this video, I was like, "Yes, I am this radical-ass bitch. Fuck gender norms. Fuck the patriarchy and all that shit. But in this moment, I am going to be soft and delicate." I did this because I can be all of those things. It's unfair that girls are told they have to choose.

Do think you're a part of a wave of young LatinX artists right now who are pushing forth radical ideas?

Definitely. We're grabbing from our past as a source of strength because we are out here really fighting for our lives. There is so much more visibility of how fucked up the world is, especially how the US has orchestrated so much terror in the world and also terrorized its own people — those who are citizens and those who had to come here for a better life. Artists are channeling this energy. We want to put ourselves in the forefront and let the people know we're here. We can party, too. But we also want to talk about some real shit.
Do you think a video like this can make a difference in the struggle against oppression?

Music can spread easily and its immediate. And the people can use it to channel their rage, their hopes, and their resilience. I feel like artists like myself are really making music that is part of the revolution.
Upcoming STEFA* shows:

March 29 - Our Wicked Lady, Brooklyn
April 7 - Bowery Electric, NYC
April 20 - The Crown, Baltimore
April 21 No Boys Allowed @ El Cortez, Brooklyn