MARINA dropped the diamonds and made her most freeing record yet
Marina Diamandis on nearly quitting music, going back to school and LOVE + FEAR, the most direct pop album of her career.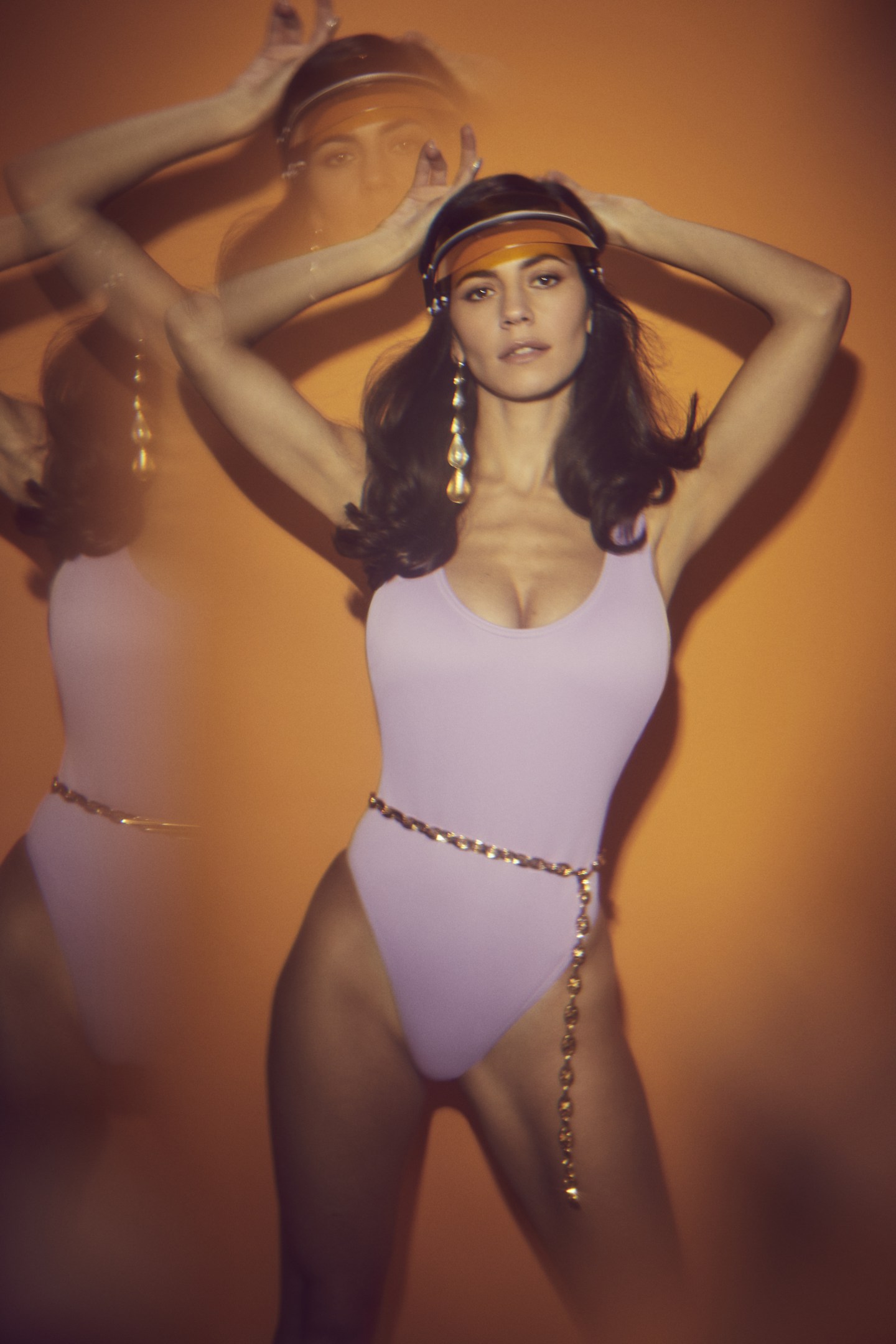 A little while back, Marina Diamandis sat on a park bench in London and thought about her purpose. "Nature always knows what to do, it seems, and I was in a stage in my life where I didn't. I genuinely so badly wished that I was an animal. I really wished I was a squirrel, or a bird," she bursts out into laughter. "It's probably gonna sound so weird if someone reads that, but it was a real feeling for me!"
In that moment, she began writing the lyrics to a song called "Handmade Heaven." It's the opening track on LOVE + FEAR, her first album as MARINA (not Marina and the Diamonds), which arrives April 26 after a four year hiatus. For some artists, this kind of break might happen unintentionally. For Marina, it was nothing of the sort. "I thought that I didn't want to be an artist anymore," she says. "For a good year, I literally said 'I'm done.'"
Since releasing her debut album The Family Jewels back in 2010, Marina's elastic voice and penchant for theatrics colored some of the most imaginative pop of the past decade. Her success was further galvanized by the bleached blonde melodrama of 2012's Electra Heart, a release that coincided with the peak of the Tumblr era. While never quite cracking into top 40 radio territory, Marina's influence was palpable to anyone who came of age on the blogging platform.
By the release of her last LP, 2015's Froot, she had reached a stage of her career that felt "all on [her] own terms." But what began as a liberating album cycle eventually descended into a period of grueling personal reevaluation after two close family members passed away while she was touring the record. "During those three months it was near hell to have to perform every night," she recalls. "I felt like I wasn't able to snap out of the character I thought people expected."
Her immediate inclination was to channel her existential despair toward what could have been the fourth Marina and the Diamonds album. "Writing's like a limb, and you're used to using that limb. I thought I could write my way through this period where I didn't know what I should be doing. But it didn't work," she admits. "I reached a point where I was feeling so unhappy that I allowed myself to quit. I would rather do any other job than just go through the motions of this job."
With no intention to return to music, Marina plunged into other fascinations; firstly, a series of intensive acting courses. "It felt like it was coming from the wrong place, like I was going into another performative role… just what I was trying to release myself from." She followed that up with forays into floristry, then painting. But it wasn't until she enrolled in psychology courses at Birkbeck at the University of London that she found something "equally inspiring and passion-inducing as music."
The rigor of her studies eventually unlocked a sort of creative urge: "I was in the library like four days a week and wasn't thinking about songwriting at all. But I think it's a sort of left brain-right brain thing. When you're using one side, the other side is craving to be used."
Slowly but surely, she began songwriting once again. "It genuinely felt like it was for myself...like something had cleared in me," she says. To punctuate this, she decided to drop the stage name that she carried for the first three LPs. "Saying Marina and the Diamonds immediately felt like it was constructing an idea of something, which made me feel uncomfortable because I'm just another person."
Leaving 'the Diamonds' behind also meant moving past the stan-generated idea of a perfectly orchestrated pop star "era," which emphasizes the maintenance of a specific public image. "I didn't want to be locked behind a persona. My label, the British side, were like "so…what's the look for it?" There is no look, that's the thing," she recalls. "We had a massive group meeting, and I had to explain how I need to feel more human and there is no concept other than love and fear."
"As you get older, there's less of a need to hone in on anxieties. We don't have the time to be introspective when there are more important things happening."
Acknowledging the LP's incredibly simple black and white cover art, she says "[my fans] probably think they're going to hear this and it's gonna be my 'singer-songwriter album.'" In fact, it's the farthest thing from it. Freed of the rigidity that dominated her first three records, LOVE + FEAR is pure fun. Packed with booming synths and exhilarated hooks, it's her most direct electro-pop album to date, from the tropicana bloom of "Orange Trees" to the twisting retribution of "Karma."
The record also offers a tonal shift in narration; for the first time, it sounds like Marina is singing to the listener. "Sit back and enjoy your problems, you don't always have to solve them," she sings. "Your worst days, they are over, so enjoy your life." From any other pop artist, these sentiments may come across as empty platitudes. But from Marina, who's spent the bulk of her career handwringing songs about insecurities and self doubt, they feel like a sincere reassurance.
"As you get older, there's less of a need to hone in on anxieties. We don't have the time to be introspective when there are more important things happening," she explains. "I feel a desire to put positive things into the world."

LOVE + FEAR is out April 26 via Atlantic.