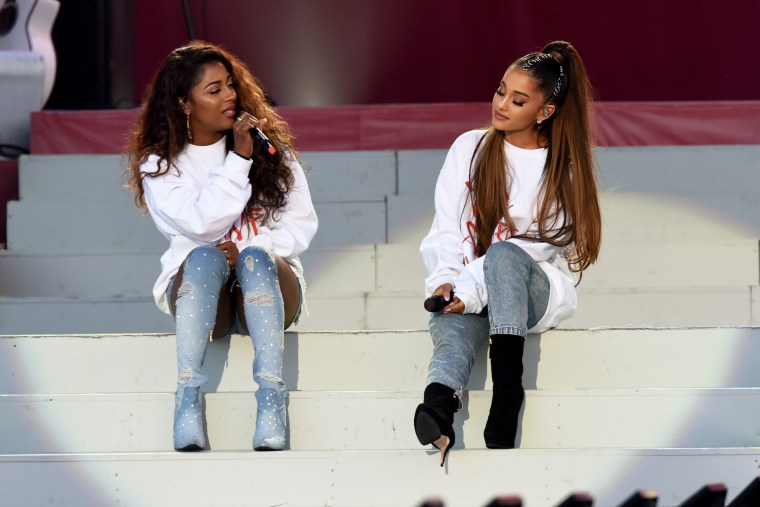 Ariana Grande's spontaneous approach to releasing new music is continuing. Having released two albums in just six months, Grande recently revived an unreleased deep cut on her Sweetener world tour. "She Got Her Own" is a collaboration with singer and "7 Rings" songwriter Victoria Monét that first surfaced on Snapchat back in 2016. The pair performed the song in DC earlier this week and now it looks like the studio version will be available in the next few days.
Grande kicked things off on Twitter on Wednesday night, posting that she wanted to release "She Got Her Own" on Friday.
man, let's drop it tomorrow night @VictoriaMonet 🖤 seven rings is ab to be number one for eight weeks and the album might go back to no. 1 too.... we need to celebrate tbh ! life too short and too sweet rn. 🧚🏼‍♂️ hmmmmmmm.

— Ariana Grande (@ArianaGrande) March 28, 2019
However, Monét suggested that Monday, April 1, would make more sense as it will coincide with "7 Rings" celebrating its 8th week atop the Billboard chart. Grande agreed, adding the salient point that the collaboration is neither mastered nor delivered to streaming services.
Yoo lets drop it Monday so we can celebrate an 8th week at number 1!!Cause this shit is insaaaane https://t.co/thf78JVA5e

— Victoria Monét (@VictoriaMonet) March 28, 2019
word it's also like .... not mastered or ready or delivered lmaooo. see, this is why i can't go on twitter anymore. i get too excited and say shit i shouldn't. however, monday is soon enough ! we love uuu. 🌑 https://t.co/WwF98dG9rB

— Ariana Grande (@ArianaGrande) March 28, 2019
Earlier this week it was reported that Ariana Grande is reportedly paying 90% of the money made by her hit single "7 Rings" to Rodgers and Hammerstein, whose "My Favorite Things" the song interpolates. She is currently touring North America and will headline Coachella for the first time in April.

On Thursday, Monét tweeted that the song she and Grande are expecting to release on Monday is titled "Monopoly" rather than "She Got Her Own." The release date for "She Got Her Own" has not been confirmed.
See Monét's tweet below.
This article was updated at 12:31 p.m. on March 28, 2019 to include a tweet by Victoria Monét, and a correction in the story.