How David Banner's sophomore album dug into America's ills
Mississippi: The Album had all the characteristics of a textbook conscious rap record, but is rarely remembered that way.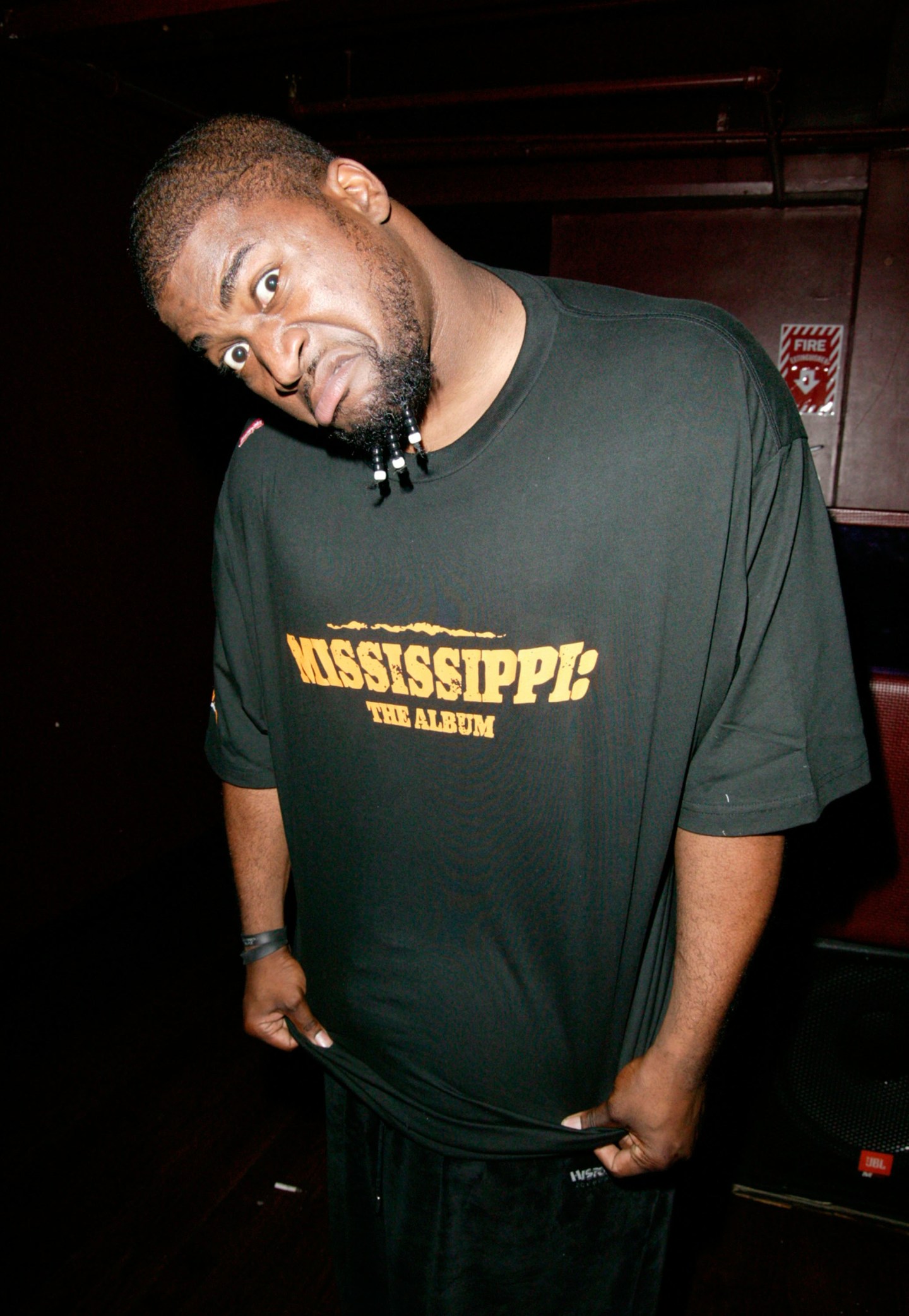 "Like a Pimp" is a song about –– well, it's called "Like a Pimp." It's spare, it swaggers. It's built around a one-bar loop of Chad Butler's disembodied voice. In some of the scenes from the video, David Banner and Lil Flip rap in front of a blacktop basketball court that's been overstuffed with men in letterman jackets and Eddie George jerseys and women in jeans tighter than flesh. The former hold up chains and detached steering wheels, the latter twerk into low-angled cameras. Banner wears a custom-made basketball jersey with MISSISSIPPI embroidered on the front (the number is 601, the local area code). Dozens of other men are in Mississippi shirts as well. Flip is holding one of those embossed pimp cups that everyone started carrying around after they saw Lil Jon doing it.

There's some menace to the song, but the bright parts of the video are free and knowingly goofy: there are shots where Banner and Flip's frames pass in front of the party scene as if on a green screen, and sometimes the video cuts to split-second, Powerpoint-quality inserts with single words on them ("sex," "club," "kiss"). Banner growls, barks into the mic. It feels strange that anyone would be listening to this song in the middle of the day. In the edited version, they censor Flip saying "we run trains" but leave in his grinning "CHOO-CHOO" ad-lib.
There are grimmer moments in the video, the kind that have marked rap videos going back to the '80s. Men grimace on stoops, pose with pit bulls. Shots of street signs at important intersections are rendered in black and white. But Banner decided to also intersperse "Like a Pimp" with something much, much darker. It opens with a two-second clip of Banner sprinting through a graveyard, a noose looming overhead, a shredded Confederate flag clinging to his frame. He returns to this image over and over again; sometimes when Banner leaps forward, his image is digitally removed from the graveyard, so you can only see the noose. Then there are the moments when Banner and a group of Black men in Seattle SuperSonics and Washington Bullets jerseys chase Klansmen away from white crosses that seem set up to be burned. These scenes are not like the afternoon debauchery –– these are at night. Banner holds a hood with eyeholes in front of his chest like a trophy. And then, a few seconds later, it's sunny again, and he's dangling a purple thong at the camera.
Mississippi: The Album, which features "Like A Pimp", is single-mindedly ambitious in its effort to be the final say on David Banner's home state. It tries to contain all the multitudes that the state itself does, filtered through Banner's warring impulses: to be a godlike figure at night in the club and to be Godly in real life the next morning. It came at precisely the moment when Southern rap was about to grab the Billboard charts by the neck. But while Banner's contemporaries –– artists whose work is easily cordoned off into a stylistic movement, like crunk or snap, or the generation-defining superstars whose careers he helped launch –– all have reliable and bankable claims on 2000s nostalgia, his legacy is a bit more slippery. Mississippi is not the kind of record that acts as a neatly-cordoned time capsule. It's bigger, hungrier, angrier than that, its focus extending further into the past, its walls more porous.

Musically it's puzzling, with electric guitars as serrated as Banner's voice melting into Jackson 5 samples that are treated and made to sound like Southern folk staples. Its weakest moments are elongated and exaggerated; the pacing is all fucked up. It is, for better or worse, one of the most auteurish rap records of its moment, something that could only have come from an artist with limitless ambition, modest resources, and nobody telling him where or when to rein it in.
And to think the album almost vanished before it could be completed. Its creator would probably call its very survival an act of God: before the "Pimp" video, before he signed with Steve Rifkind and Universal for a rumored $10 million, Banner was sleeping on a friend's floor in Atlanta, all his possessions stuffed into a maroon Chevy van that he drove to low-paying gigs, zigzagging across the South. One night in Birmingham, the van was stolen. Banner was left with the clothes he was wearing and a pistol. He figured he knew who had stolen the van, and his instinct was to take it back by force. But first, he called his mother in Jackson, who prayed. In 2003, recounting the incident to the Jackson Clarion-Ledger, Banner said he "felt his chest grow warm" when his mother reminded him that blessings "come in strange packages sometimes."
A few hours later, he went back to the parking lot from which the van had been stolen and found that, as the thieves peeled out in his maroon Chevy, they threw one item out the window: the master recordings of the album he had almost finished.
For thousands of years before the Europeans showed up, the area around what today is Jackson, Mississippi was inhabited by the Choctaw Nation, an indigenous people who were stripped of their land and displaced to Oklahoma by an 1820 treaty that was negotiated by Andrew Jackson about a decade before he was elected president. Settlers marched through and burned Choctaw villages, then erected a city in its place and declared it Mississippi's capital. Guess who they named it after. They found oil nearby in the 1920s, and during the Depression the skyline was basically just derricks. The city kept flooding. Prohibition made it a cultural hub, and in the middle of the 20th century, it was a major hub for jazz, soul, and especially blues musicians. Today Jackson is shrinking, down about 10,000 people from the 2010 census, which counted the residents at 173,514. More than a third of the children there are living below the poverty line.
According to the NAACP, between 1882 and 1968 there were 3,446 recorded lynchings of Black people in America. Texas, vast and mythically violent, had the third-most recorded lynchings in that period, with 493. Georgia accounted for 531. But Mississippi was first: 581, or almost seven a year for nine decades.
David Banner was born Lavell Crump in April 1974. He grew up in Jackson, was rapping and making beats by the time he was 12. In high school, he sold his own tapes in the parking lot of the grocery store where he worked. When he graduated, he went to Baton Rouge, to attend Southern University –– his mother's alma mater –– eventually earning a business degree. But by the time he was in his early 20s, he knew that music was what he wanted to do. In late 1994, Banner (Crump got the name from the Incredible Hulk comics) was freestyling backstage at a DJ Quik concert when he caught the ear of another young Mississippian named Brad Franklin. Franklin was rapping under the name Kamikaze, and he invited Banner to join the Stewpot Stowawayz, a sprawling collective based in Baton Rouge. They were fast friends. When it became clear that Banner and Kamikaze were the two sharpest MCs in the Stowawayz, they split off to form a duo, which Banner suggested they call Crooked Lettaz.
Kamikaze had a day job at the Jackson bureau of the Associated Press, and he took advantage of daily access to a fax machine by sending The Source so many requests for coverage that the magazine eventually had to plead with him to stop jamming their systems. But that pestering led to the June '96 Unsigned Hype column (they compared Banner's voice to Big Gipp from Goodie Mobb), which led to a deal with Tommy Boy.
That deal was wrought with red tape: lawsuits against old managers, contractual hang-ups that delayed the album and eventually led to the group's peaceful dissolution. But the album did come, and to the modest pool of people who heard it, it was a revelation. Grey Skies (the cover is a blackened sky and the group's name in space-alien green looming over the White House) is the sort of record that justifies its most eccentric impulses and indulgent tangents. It gets off to a terribly clunky start –– Tommy Boy jammed the two marquee collaborations, a Pimp C gift called "Get Crunk" and the Noreaga-assisted "Fire Water" right up front –– and so it takes a while before the album finds its footing. But it does. It's extremely conscious without being capital-c Conscious rap, wizened and paranoid but not professorial. Banner's beats have the bend, give, and funk they need, and so when he flips the same Jack Wilkins riff that Q-Tip used on Midnight Marauders and raps over it about Christ coming down to redeem sinners, you're inclined to let it ride out.
Both members of Crooked Lettaz had the chip on their shoulder that Southern rappers often did –– and still do –– about the coasts getting more attention and critical adoration. But Banner took his a step further than griping about real estate in The Source, trying to tap into the legacy of Black, Southern music as a rebuke of mobs, Jim Crow, and all the other forces that tried to redline generations of folks out of the region. On the lighthearted "South on My Mind," he ends a verse with a command so pointed it feels out of place: "Ask your scared-ass parents where you from."

Andre Jones was 18, the son of Jackson's NAACP chapter chairwoman and a Nation of Islam minister. In August 1992, just one day before he was supposed to leave for college, he was driving his girlfriend home in a Chevy truck that his parents say Andre borrowed from a friend. The police stopped him, claimed the truck was stolen, and arrested him; he was quickly transferred to Simpson County Jail, Southeast of Jackson proper, overseen by a sheriff named Lloyd Jones, who was so notoriously violent during the Civil Rights movement that people still called him "Goon." Around 10:30 p.m. on the night of his arrest, Andre Jones was found hanging from the piping above a jailhouse shower stall, the black laces from his Jordans fashioned into a noose around his neck. The police, the FBI, and the Justice Department under H.W. Bush ruled it a suicide.
Eight years later and 90 miles South of Jackson, in Kokomo, a 17-year-old boy named Raynard Johnson was found hanging, by a braided leather belt that wasn't his, from a pecan tree that he'd nurtured in the front yard of his parents' home. He called it "the tree of life." He and his brother, Roger, had been friendly with a pair of white girls in the town, and family members –– and Jesse Jackson, who took up the case as his own –– suggested that this might have angered white neighbors. That death, too, was ruled a suicide.

"Lord, they hung Andre Jones," David Banner raps at the beginning of his second verse on "Cadillac on 22s." "Lord, they hung Raynard Johnson / Lord, I want to fight back but I'm just so sick of bouncing." The song is the clearest distillation on Mississippi –– the clearest distillation in Banner's catalog –– of the tension he feels between his id and his aspirations. "My folks still dumping, my music bumping, but I feel nothing."
Most of the time, Mississippi lets the polar ends of Banner's psyche play out separately. Banner's time in Louisiana is personified by KLC, the legendary No Limit producer, who handles the beat on the album's first proper song, "What It Do." That track is part of the manic, maximalist 22-minute stretch that opens Mississippi by blowing out your eardrums. Pastor Troy shows up unhinged; Lil Jon's minute-long coda on "Might Getcha" is repetitive to the point of hypnosis; no one's energy level can match Banner's, his voice somehow a buzzsaw and blunt instrument at the same time. But that stretch gives way to the title track, a somber guitar number where Banner –– still furious –– rails about the way public school funding is segregated.
A thing you notice when you wade through the records that people refer to, derisively or defensively, as 'conscious rap,' is that the term is applied to rappers who share aesthetic values as much as it is to rappers whose writing shares a similar socio-political bent. Mississippi does not sound like the records that would have been tagged as conscious around the turn of the century –– the beats are skull-crushing and there's no neo-soul. No one was going to mistake David Banner for Talib Kweli. But if you were to ask Banner what his goal with Mississippi was, it was surely to impart some sort of knowledge on the listener. Take "Bush," the excellent screws from near the record's end, where billy clubs loom over him and all his neighbors, and watch how that jarring, violent image becomes an opening for Banner to rap about the jail system and Jesus's skin color. On the album's intro, he revisits that idea from "South on My Mind," only this time it's meaner, unsparing, radicalized. "My grandparents watched your grandparents run," Banner sneers. This is an education — it's just delivered in a growl. "This is what came out of all that pain."

Unfortunately, there are points the album stalls. Immediately after "Cadillac" is a three-song suite of lobs at 2003 radio. Taken individually, none of "Fast Life," "Choose Me," or "Really Don't Wanna Go" is enough to sink Mississippi on their own, but back-to-back-to-back is a terrible drag which forces the rest of the B-side to work that much harder: for example, the very good "My Shawty" would be a nice reprieve from the album's punishing front half, but is too slow-paced to be an effective course correction from what comes immediately before it.
When Mississippi succeeds, as it does on those two massive singles, or on "Bush," or on that thunderous opening run, it does so by injecting soul into its loudest moments and a poised, unaffected cool into its saddest ones: see the bizarrely triumphant closer, "Still Pimpin," which dilates to a trance-like seven minutes.
The "Cadillac on 22s" video is not ambiguous like "Like a Pimp." It opens with a little, carefree girl who runs into the street only to be struck and killed by a white Escalade limo. Banner holds her lifeless body and screams at the sky. Then the song starts: Banner in a funeral home, comforting mourners, lifting the dead girl's spirit out of her open casket. As he leaves the chapel, he begins to undress: a leather jacket gives way to an expensive sweater, then to a black R.I.P. EMMITT TILL t-shirt, then to a green MISSISSIPPI PIMPS basketball jersey, number 601 again. He takes off his slacks and puts on baggy jeans, gator loafers become orange sneakers.
As he walks, he stirs the spirits of the dead just by touching them –– a man being loaded into an ambulance, a body that's just been ambushed in an alley. Then there are actors portraying Andre Jones and Raynard Johnson. At the end of the video, Banner walks the three spirits across a bridge and into the afterlife. It seems like an insurmountable task for one man from one of the most perilous corners of the country to try and do all of this himself: codify centuries of culture and history, literally lift the dead. But who else was going to do it?