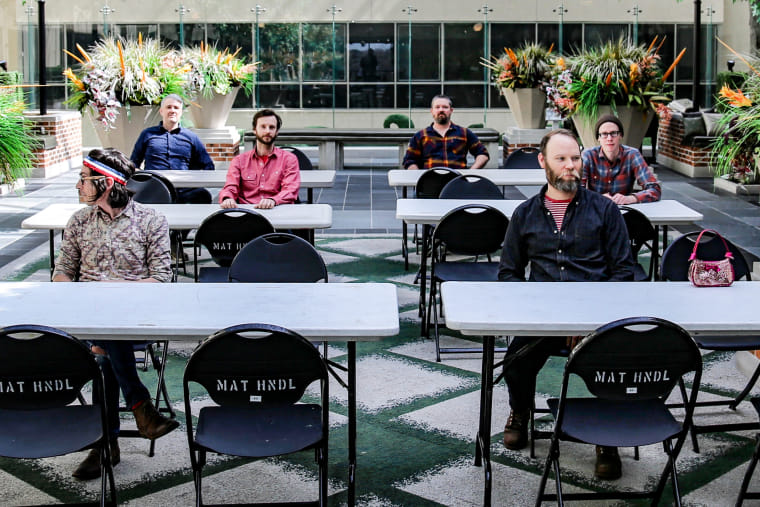 Detroit post-punk sextet Bars of Gold suck up every cubic inch of oxygen in every room. Some of that is down to lead singer Marc Paffi (Bear vs. Shark) whose guttural, snarling, open-jawed howls must require more air than most people consume in a day; part of it is down to their four-guitar lineup, which doesn't build a wall of sound so much as it does an imposing back-alley barrier of sharp objects and spare parts. SHELTERS, their third full-length album and first in six years, is a jagged and exhausting thing, melodic enough to draw the listener in but twisted up and syncopated enough to confound anyone trying to tap along. It'll probably end up as one of the most engrossing rock releases of the year.
The latest single from the record, "Atlantic City," is premiering below. It is, guitarist Scotty Iulianelli tells The FADER, an "unsuspecting pop song made up of seemingly disjointed parts." It is, in part, a nod to Bruce Springsteen — no song called "Atlantic City" can pretend it isn't. The lyrics are pricklier than Springsteen's were on Nebraska, but the same isolation comes through: "The soundtrack to build log homes / The freeway they built the highways on / The hard part comes after dark / Cause that's where the crying is."
Iulianelli says that it's also an homage to Captain Beefheart's madcap Trout Mask Replica track "Frownland." "There's[...] this idea of having weird circular beats, that maybe trained musicians wouldn't exactly play, but are rhythms nonetheless," he says. "It's misinterpreted minimalism, with a bit of stank to swing a little disjointedly to."
Embrace the stank below. SHELTERS is out via Equal Vision on April 12. Pre-order the record here.