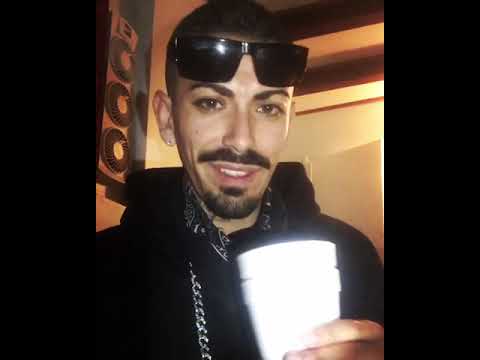 Something strange happened the first time I gazed vicariously through Instagram into the eyes of The Boyboy West Coast. These are eyes that shine with a tenderness clearly lacking in my daily life, nestled under eyebrows that look like two commas in Baskerville font. My first encounter with the eyes of The Boyboy West Coast occurred, as probably yours did, in an Instagram video posted last fall. In it, the then-unknown rapper lip-syncs the first verse of a then-unknown song, starting with five simple words that have by now almost certainly lodged themselves in your subconscious: "YOU WAS AT THE CLUB," sung with gratuitous Autotune over happy chords. I first heard the snippet about a month ago; not a day has gone by where I haven't thought of it since. I must have played that minute-long clip of the first verse, and the subsequent clip of the second verse, at least a hundred times, mentally fusing them into full-length form. It is powerful magic.
I am not the first to fall under the spell of The Boyboy. Months after that initial post teasing "Bottoms Up," the song — which has still yet to be released in any official capacity, though a leaked version of the Ramriddlz-featuring remix emerged this week — has become a minor phenomenon. It's a thing on TikTok to dress up as The Boyboy West Coast and lip-sync along to the track, styrofoam cup in hand. (My personal favorite is this one.) On Wednesday, Charlie Puth tweeted: "That boyboywestcoast YOU WAS AT THE CLUB!! song is a fucking smash." The Boyboy only joined Twitter as of about two months ago, writing on January 14: "Just got on Twitter! #SantaBarbara #Versace #tuesday."
The Boyboy West Coast is from Santa Barbara and could be anywhere from 24 to 45 years old. He has a perfectly manicured face. His sunglasses are perpetually somewhere on his head that sunglasses are not designed to be. His facial hair makes me think about geometry. He makes me want to grow a mustache. He winks and grins in a manner that should by all means come off as sleazy but instead seems unquestionably heartfelt. In both of his "Bottoms Up" snippet videos, he drinks with great pleasure from a double styrofoam that is plainly empty. All of this is a mere distraction from the fact that "Bottoms Up" is my favorite song of 2019, and it isn't even out yet.
It's hard to tell exactly how much of "Bottoms Up"'s popularity comes from the song itself, and how much comes from the fact that it's very funny to draw on a mustache and pretend to drink lean. A song blowing up from memes is hardly news; it's happening right now with Lil Nas X's "Old Town Road," another song that went viral on TikTok. But that song feels like a meme to begin with — the savvy creation of a kid who gets how the internet works, who picked up what the yeehaw agenda was laying down.
If "Bottoms Up" was designed to go viral, though, you'd never know it. Nothing about the song feels particularly 2019. If anything, it sounds like a weirdo stowaway from pop-rap circa 2008, when artists were contractually obligated to include a verse from T-Pain or Flo-Rida in order to qualify for the Billboard Top 40. Mix that with the joyful era five or so years back, when everyone was rapping about turning up and molly water was the drug of favor— think Future's "Double Cup and Molly" or Ca$h Out's "Cashin Out" — and then mix *that* with the synthetic sparkle of, like, Kyary Pamyu Pamyu, and you're approaching the realm of "Bottoms Up." The beat, presumably found on YouTube, was made by a producer called Lil Medic, whose catalog is comprised entirely of "____ Type Beats"; its original title was "Feelin' Free - Happy Pop Beat." The remix of "Bottoms Up" features, of all people, Ramriddlz—the Canadian singer who had a moment in 2015 when Drake covered one of his songs, and whose music is the aural equivalent of a fragrant puff of mango Juul. Somehow, this all makes a great deal of sense when you hear it in glorious full-length form, if you can find the leak on SoundCloud.
But the appeal of "Bottoms Up," really, is simply The Boyboy himself. His on-mic charisma is… how do I put it… well, it's a weird one. He raps in staccato, as though reading from an erratic teleprompter. His voice is hypnotically deep. He delivers his bars as though he will be fined each time he opens his mouth more than halfway; the word "ask," as in "Knew you were mine, didn't have to ask you," comes out more like "ersk." All of this is impossibly charming. There is nothing on The Boyboy West Coast's sole mixtape — last year's Playboy Gangsta, available exclusively on SoundCloud — that sounds much like "Bottoms Up." It's more of a grab bag of vaguely West coast trends of the 2010s with a random Tory Lanez verse thrown in for good measure, but it's honestly not bad.
Most of all, The Boyboy West Coast seems sincere. "Bottoms Up" may be a meme, but it is also pure of heart. It's a joyful song about falling in love with a hot bartender, and The Boyboy West Coast sings it with a smile. These are the good things in life. And yes, we're all profoundly depressed and probably just around the corner from the death of our planet. But there is also "Bottoms Up," and it's spring.