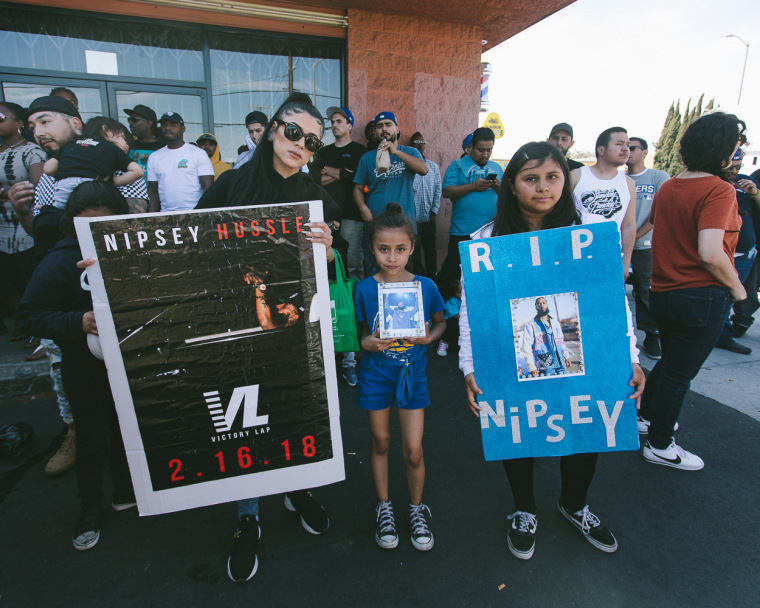 In 2009, Nipsey Hussle and his crew appeared in his "Hussle In The House" video on the corner of Crenshaw and Slauson rocking the royal blue crew necks with Crenshaw written in gold cursive letters. The colorway mirrored that of nearby Crenshaw High School and it would eventually become iconic, and a mainstay for residents of the neighborhood. In the video, Nipsey maneuvered around his section in his S Class Mercedes, a long gold chain hung down to his belt, a gold rolex cuffed his wrist, two slick braids swung behind his ears. This visual served as his proper introduction to the music industry as it got air time on BET, MTV, and light local radio play.
On Monday, April 1st at 2:30pm I arrived to the corner of Crenshaw and Slauson. Just 22 hours prior, Nipsey Hussle was tragically gunned down in the parking lot of the shopping center he recently purchased. It's the same shopping center he used to hustle CD's, clothing, and drugs. He practically grew up there. Countless videos and a few documentaries were shot there, and in those documentaries, Nipsey spoke about the shootouts, fights, and police raids he witnessed in this same parking lot.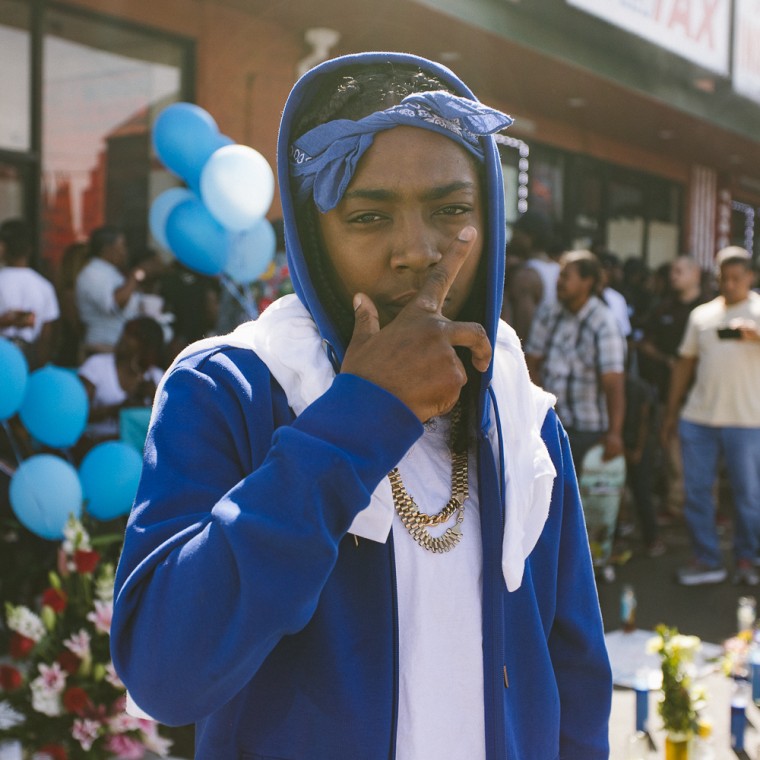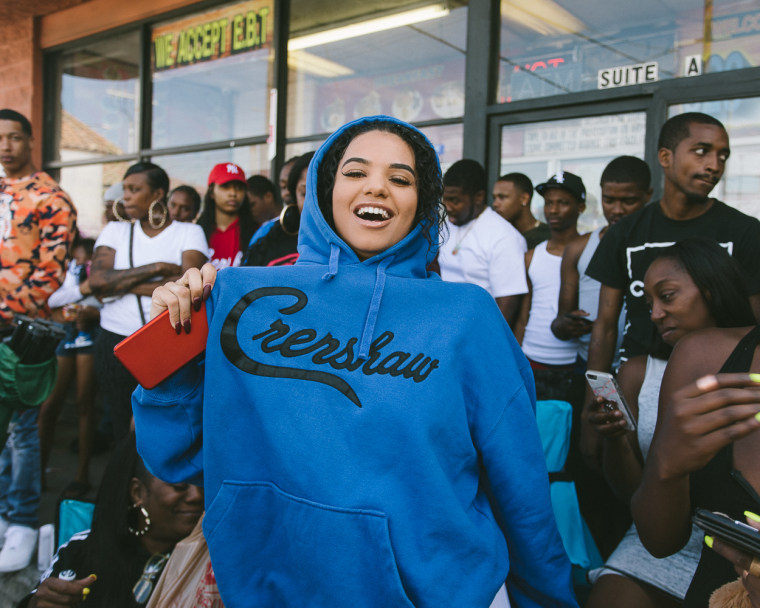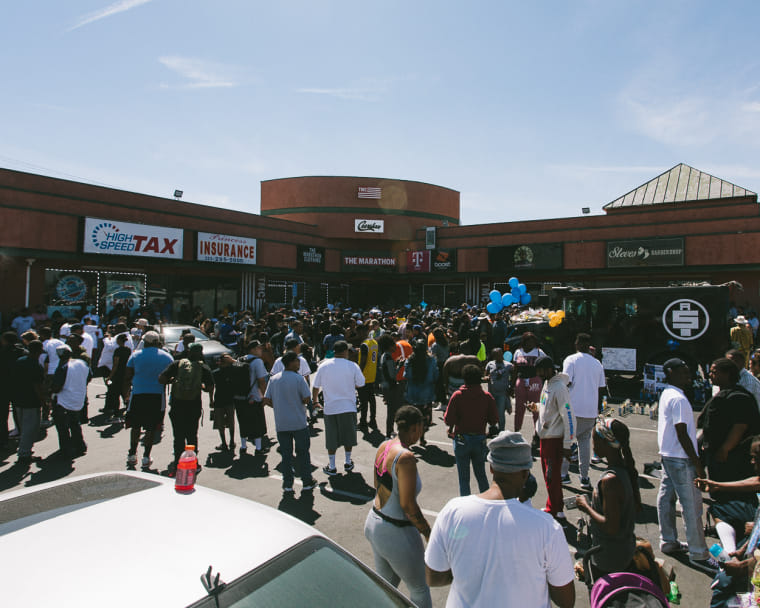 On this day, the lot was filled with a sea of fans, media members, candles, balloons, and handwritten notes, all there for Nipsey Hussle. The Marathon Clothing store was closed, but the amount of visibly worn Crenshaw crewnecks, faded TMC t-shirts, and All Money In hats was heartwarming to see. This community has supported Nipsey for nearly fifteen years, and he has supported them in return.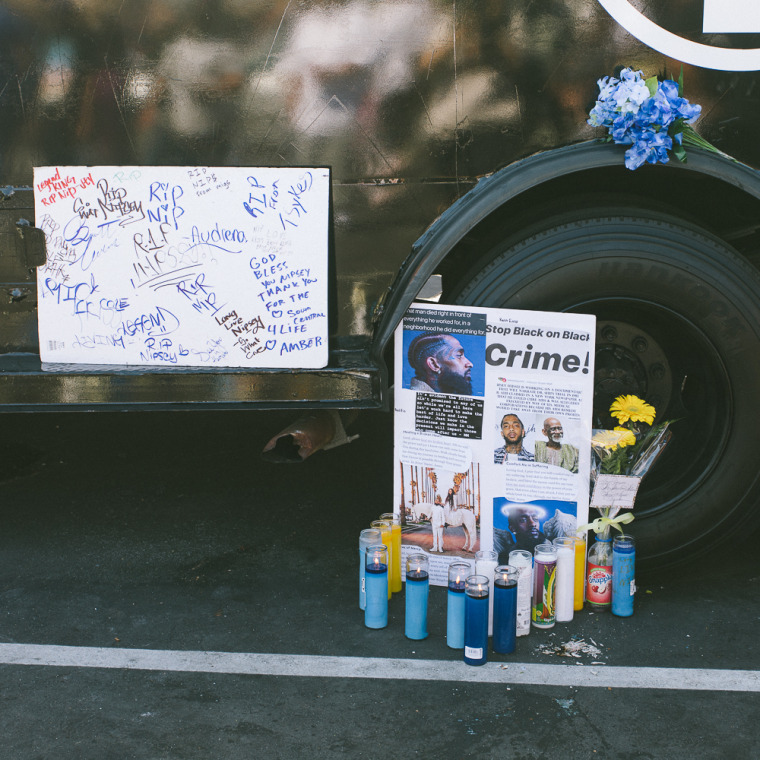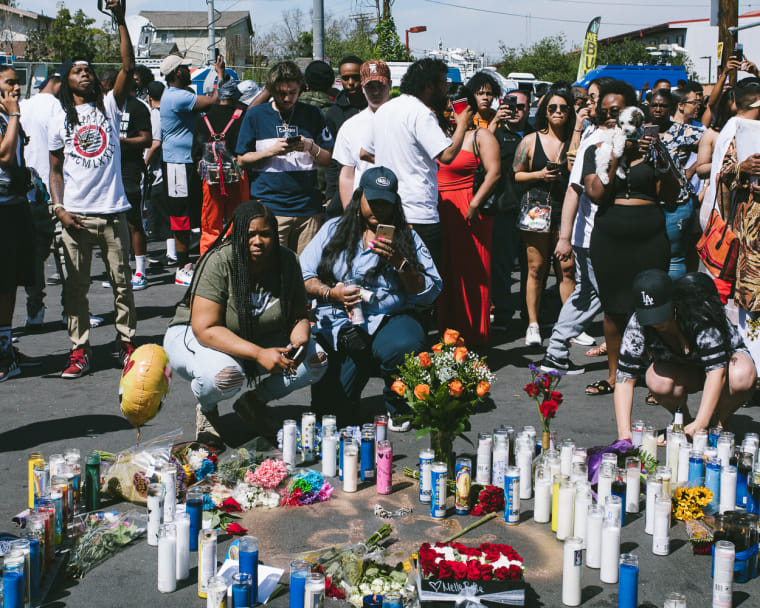 I saw a familiar face in the sea of people, a rapper I've seen in the studio recently named Swifty Blue from Paramount, California. His large cursive face tattoos make him unmistakable. I noticed his unusual defeated demeanor, then greeted him and asked what Nipsey meant to him. "Nipsey was my motivation and my inspiration, he's the reason I started making music," he said. He has dreams of opening up his own store in Paramount, but acknowledged how discouraging this is because if he follows in Hussle's footsteps, he doesn't want the same outcome. Being well known in his own city, Swifty said Nipsey's untimely death has severely increased his own paranoia.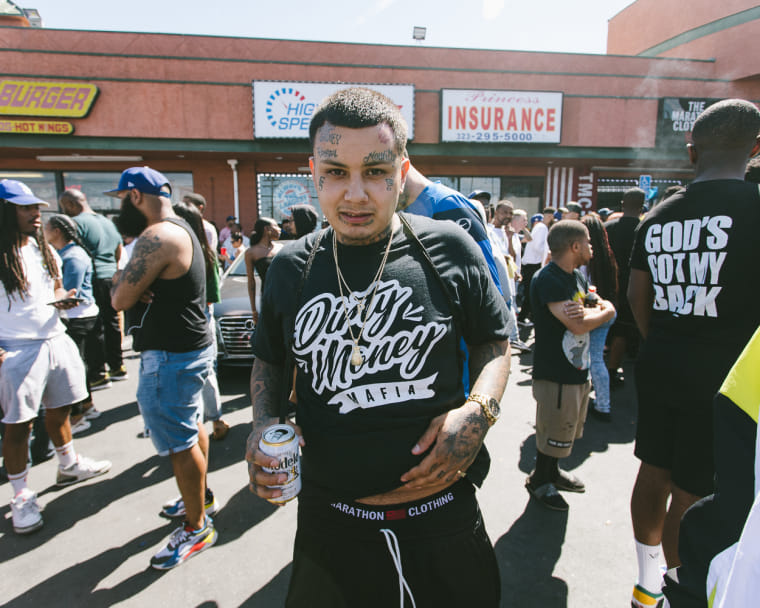 I continued to soak in the scenery and walked over to Nipsey's famous armored matte black All Money In truck. It was decorated with handwritten notes and fans were leaning up against it, taking pictures, sitting on the steps. When they make a Nipsey Hussle museum in the future, it will resemble this, and this truck has to be included.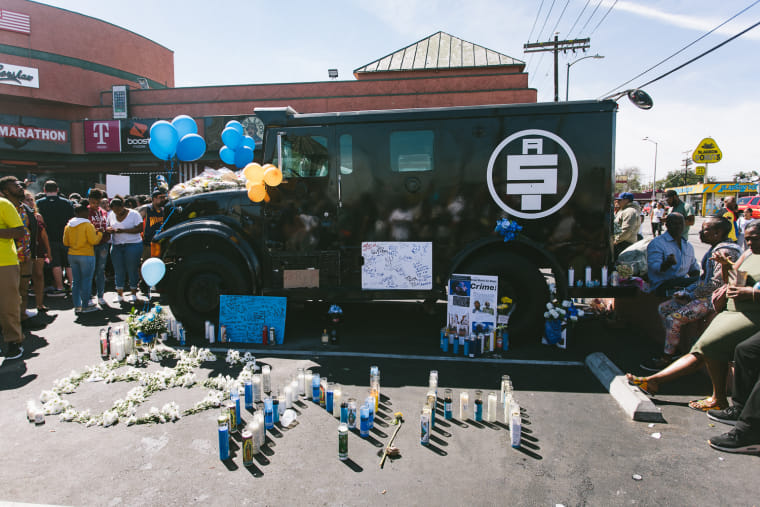 When I walked around to the other side, I saw a young man with braids in a very worn white shirt that read "The Marathon" inside of a red, Supreme-style rectangle across the chest — an iconic t-shirt Nipsey has sold on this corner for years. His name is Trent, but he goes by "Outlaw"and he's from South Central. He told me that he'd been listening to Nipsey since 2009, when he first heard "Hussle In The House". He was about to get in the shower when he got the news that Hussle was shot, and he immediately sat in silent distraught for the next 30 minutes until he learned his death was confirmed. His first reaction was to call his best friend Bam. They smoked a blunt together, still in disbelief. Trent stated: "When you thought of Nipsey, you thought of a nigga that was never gon' die. I thought he was gon' be here forever. He was 2Pac to me, he was my 2pac."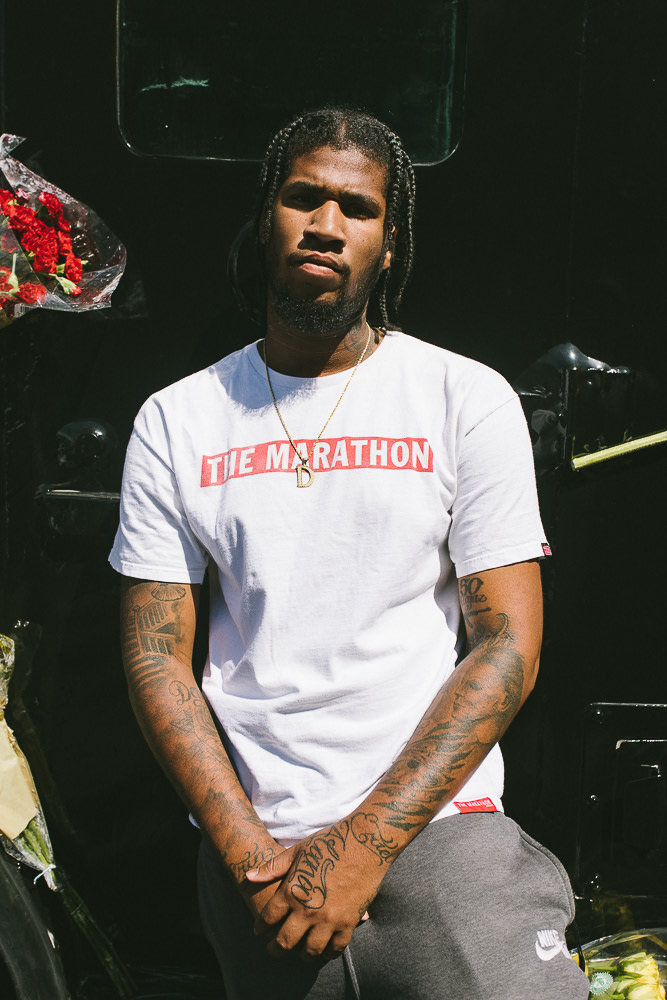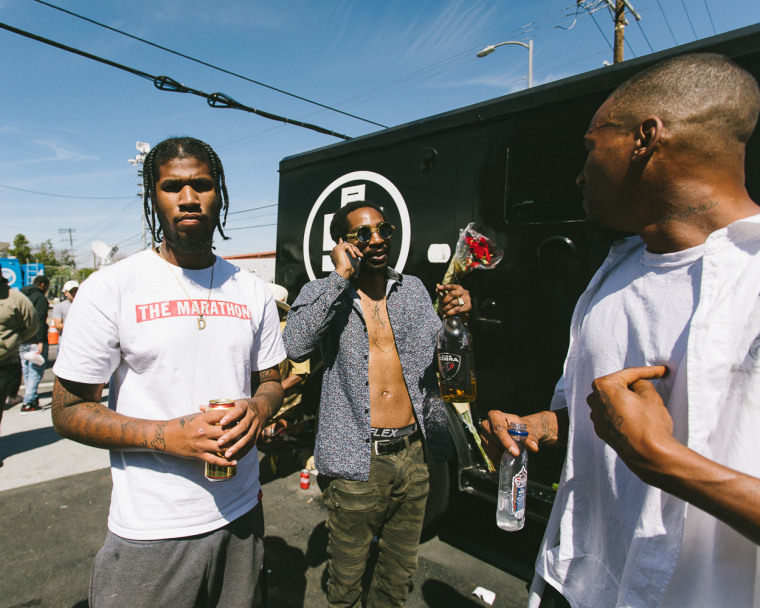 A righteous and focused DJ in a blue L.A. Dodger cap and Thrasher shirt brought all his equipment down to the front of The Marathon Store to play the best of Nipsey and contribute to the celebratory vibe of the afternoon. Plenty were sad, but when your favorite song came on, you couldn't help but be proud in remembrance of Hussle because of how far he came. To the left of the DJ was a girl in her early-to-mid-twenties wearing a mustard yellow shirt, drinking a forty, perhaps to drown the pain away. Her name was Rachel, also from here, a few blocks away on 64th. She called out of work to be here. "He was a big impact on everybody. He came from nothing to something, he gave back to the community," she said of Nipsey's impact on the community. "Everything is canceled, March 31st needs to be National Nipsey Day".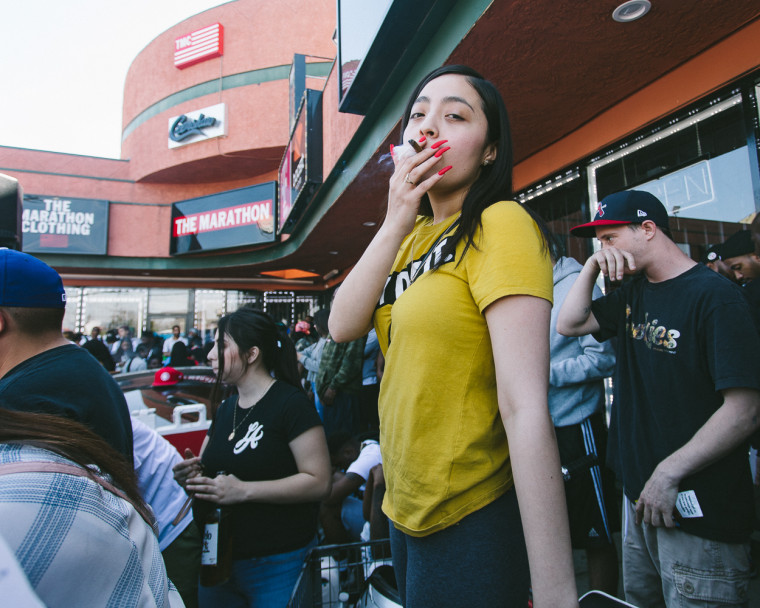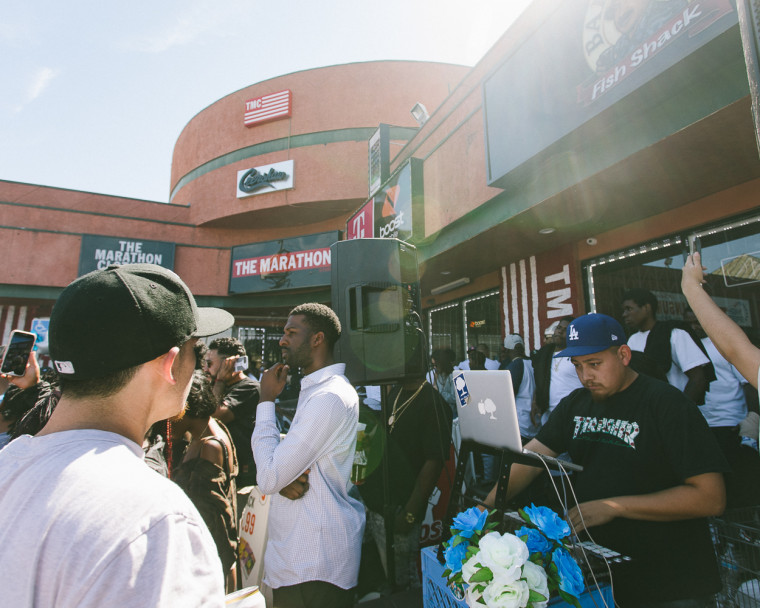 I noticed a woman with dark hair in dark shades holding up a Victory Lap poster, surrounded by her two young daughters in Marathon clothing, also holding up signs. They made the drive from Glendale to be here. Her name was Geraldina. She said she's been listening to Nipsey's music since 2013, and it got her through some really hard times. Geraldina spoke of being fortunate enough to be able to meet Hussle recently, because her boyfriend is a barber whose client is DJ VIP (Nipsey Hussle's official DJ). When asked about what his lasting impact in the community would be, she proudly stated, "All the jobs he was able to provide for the community, his work with the youth, schools, rebuilding this whole city from the ground up". With tears in her eyes and a knot in her throat, she said if he was here today she would tell him: "We love him, we care for him and we're so thankful for him not being selfish, making a change and representing L.A. how he did".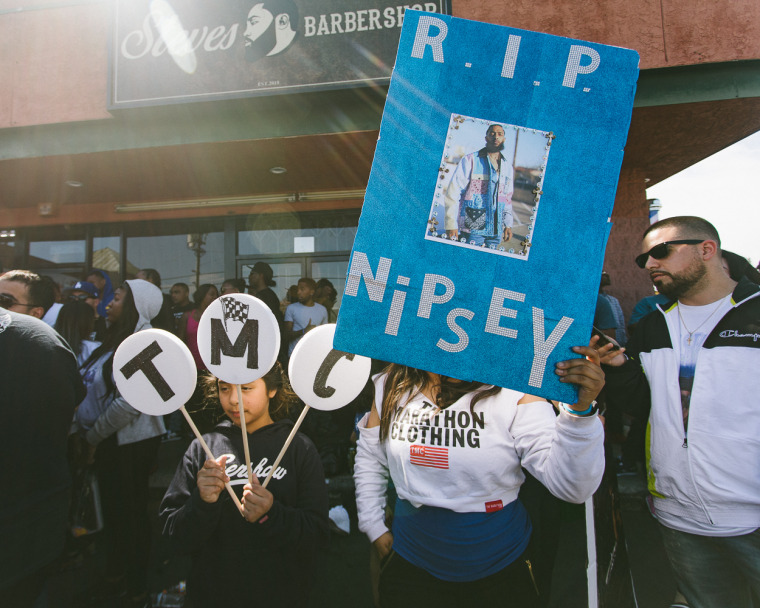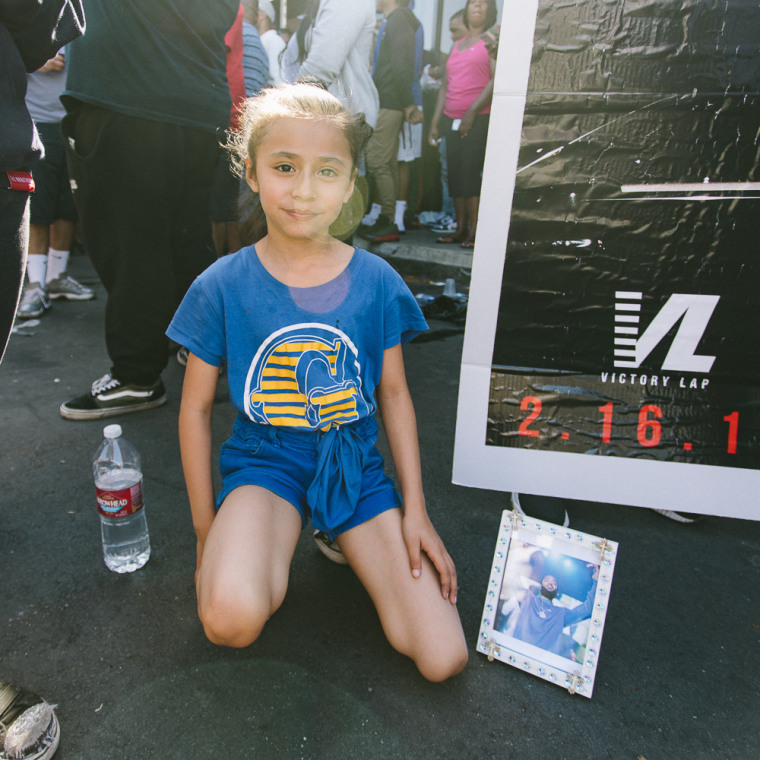 At 3:09pm, in front of Master Burger, on the other side of the parking lot, a loudspeaker began playing "Hussle In The House". I walked over to see people shouting his lyrics, gang members chunking up their signs, heads bobbing, and legs two stepping. Everyone's spirit was temporary uplifted. One of Nipsey's most boastful tracks, made everyone remember the good times. Just 23 hours after his death, it almost felt like Hussle was back in the house.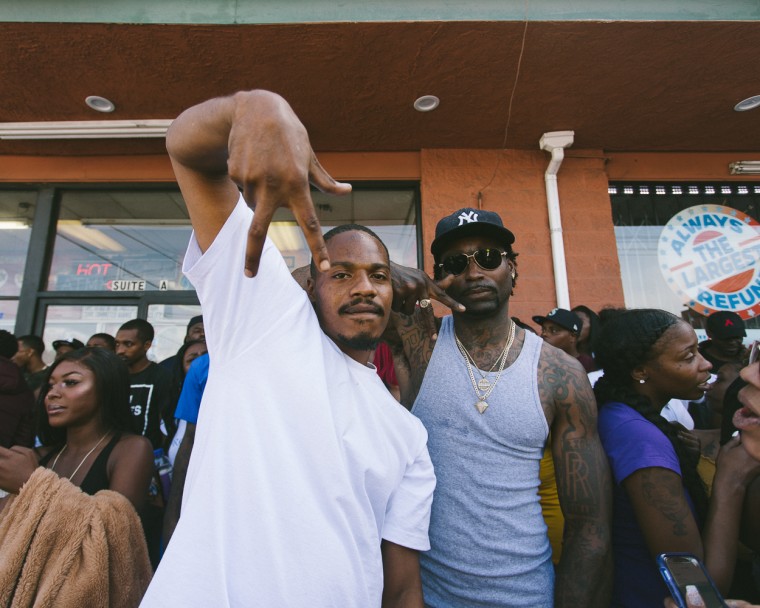 After HITH finished, I spotted Real 92.3 personality Chuck Dizzle wearing a tan sweatshirt that read "OWNERSHIP" a few feet away. I walked over and greeted him. He told me his first thoughts after hearing the news about Nipsey, is that Nipsey was the father of two. Chuck recently became a father and said he got home and immediately held his son tight. Having interviewed Nipsey and interacted with him for ten plus years, he said all the memories he had with him were unforgettable, but the most notable was last year when on a press run for Victory Lap, he came by the station to record a HomegrownRadio (his podcast) interview, while being noticeably exhausted after a plethora of interviews. He also mentioned that Nipsey gave him "Dadvice," a segment on Chuck's Instagram two weeks ago, then the two followed it up with a real conversation off the record about fatherhood.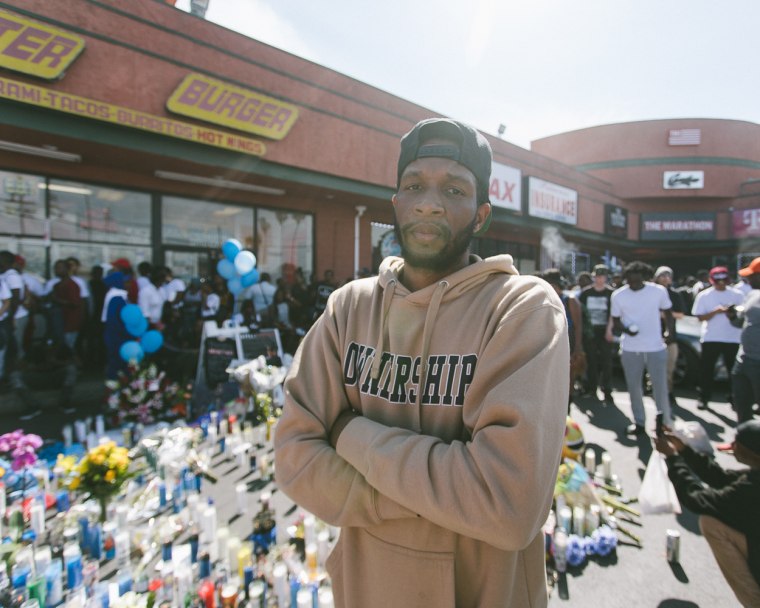 Hussle hurdled over every roadblock, picked himself back up after every misstep, powered through every obstacle, and became a mogul, a leader, a philanthropist, and community activist. He inspired, motivated, and assisted nearly everyone in Los Angeles through his music, interviews, activism, interactions, or business dealings. Nipsey Hussle was the finish line to the people of Los Angeles. He built an empire from the mud, he was every rapper, creative, and entrepreneur born in this generation's best case scenario. His impact will be everlasting on this city and the world. Nipsey will always be a checkered flag to the people of L.A. as the marathon continues.