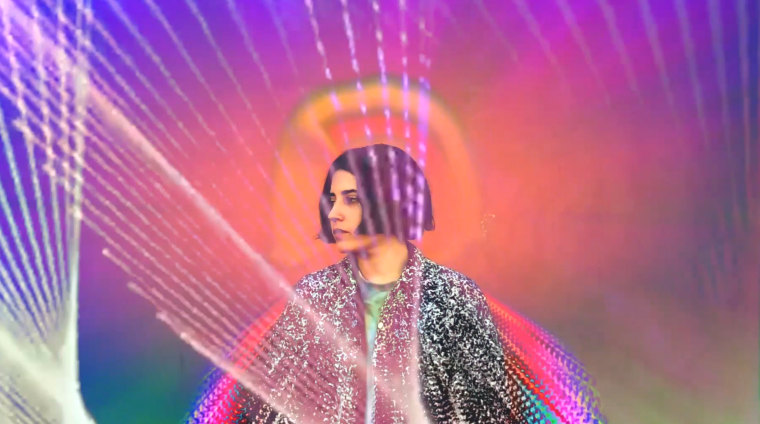 Look up Jackie Mendoza online and you'll likely be hit with words like "ukulele" and "bedroom" and "YouTube," none of which even begin to capture the oddness of the Chula Vista-born songwriter-producer's lanced, frenzied, electronic post-pop. Her debut EP, LuvHz, due out on April 26 and produced by Rusty Santos (Animal Collective, Panda Bear), is in turns luxurious and corrosive, jumping between English and Spanish, thrums and distortions. Lead single "Seahorse" was on the lusher side of that divide with its liquid beats and twinkling compressions, but "Mucho Más," premiering below, is more jagged. Mendoza sings it in Spanish, and her vocal melody swirls away from the barely recognizable reggaeton beats, whistles, and industrial clashes at her back.
"When I was younger, I was diagnosed with depression and social anxiety," Mendoza wrote in an email to The FADER yesterday. "As I've gotten older it's been easier to deal with. It comes in waves and once my anxiety runs down and I'm on the other side of it, I become inspired. 'Mucho Más' is about facing your fears and believing that anything is possible if you are open and if you try. The lyrics came from a poem I wrote on a day where I felt too anxious to leave my apartment. When I was in the studio with Rusty, we were trying new ukulele sounds and I loved the way it sounded pitched down to the point where it rumbled like a bass. When it came to recording vocals I went back to the poem, and because I was in such a comfortable place in the studio, I felt like I was on the other side of my anxious tendencies. It felt relieving. 'Hay mucho más allá,' 'there's way more out there.'"
Watch the psychedelic, Glitchybb-directed video for "Mucho Más" below. LuvHz is out via Luminelle Recordings on April 26.