Spencer Radcliffe and everything else
On his new album, Hot Spring, the singer-songwriter and multi-instrumentalist builds utopias to knock them down.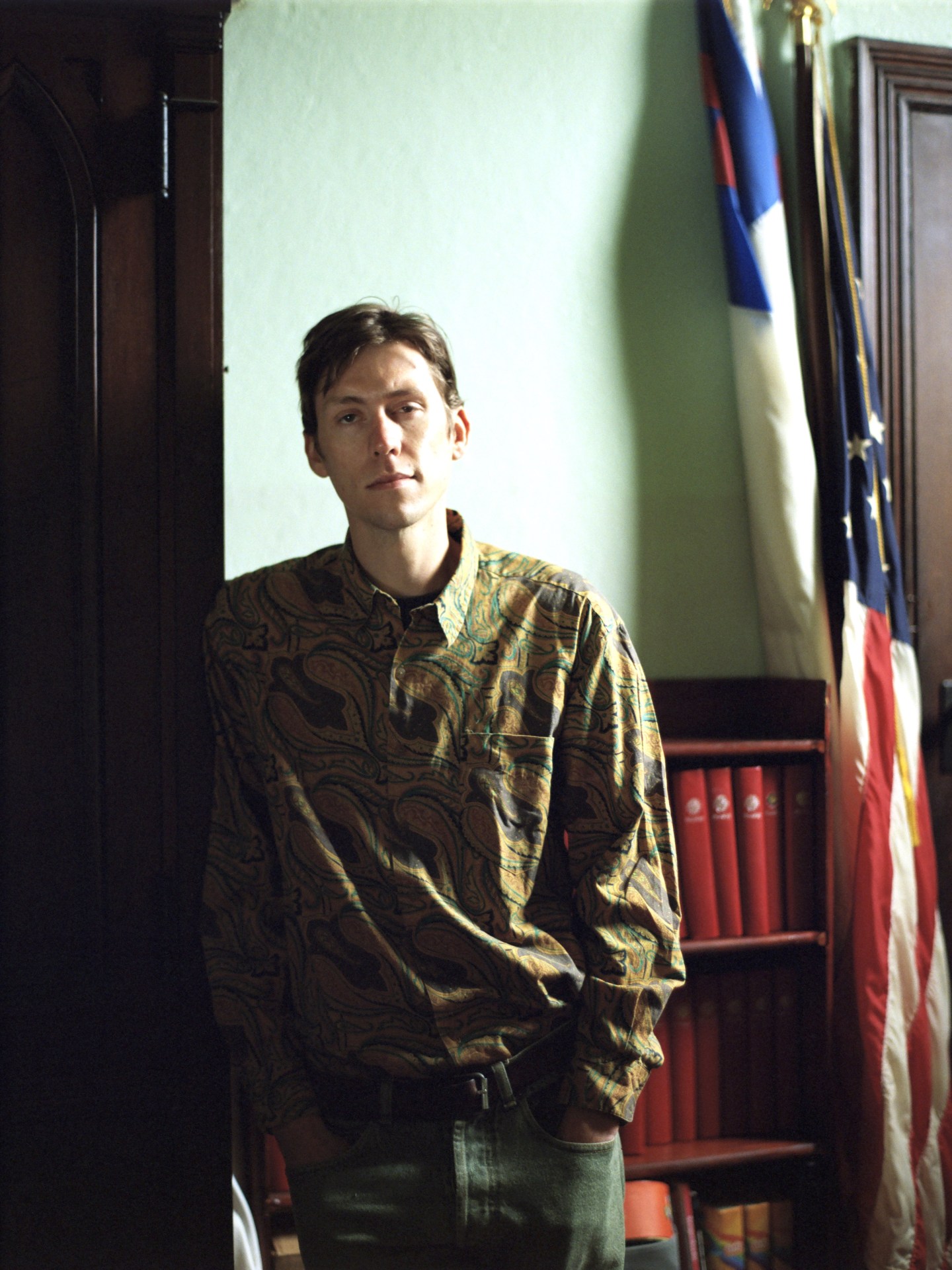 Seven hours from now, Spencer Radcliffe will perform in front of a bronze Jesus pinned to a five-foot crucifix beneath a flower-shaped stained glass window at Brooklyn's Park Church Co-Op. In the middle of his set, he will perform "Trust," a stark and disconcerting song from his 2017 LP Enjoy The Great Outdoors, and he'll let his head drop to the left while gently pulling the neck of his acoustic guitar down, holding it parallel to the altar floor. For a split-second, with his right angles intact, he will look like he's mirroring the Christ at his back. Then he'll pull his head up. "Because the truth is never easy / Always painful as fuck, fuck, fuck," he'll sing, lingering on that third one, contorting his mouth around it before fading into a whisper as the song dies out.
Right now, though, it's the middle of the afternoon and he's sitting at a picnic table beneath a collonaded pavilion in Monsignor McGolrick Park across the street. It's cold and overcast and a group of pigeons are fighting amongst themselves to get into a hole in the wooden ceiling above him. "Most things seem pretty strange to me," he says after one of many long pauses. "I can't think of many things that don't seem strange."
Radcliffe's new album, Hot Spring, out May 17 on Run For Cover, is a dreamlike tragicomedy, its enigmatic and idyllic snapshots of natural phenomena undercut by shocks of impending doom and wry jokes. "Spring is done, summer's begun," he sings over the uplifting country of the bleakly titled "Bloodletting" before upending himself: "Let's everyone collapse under the heat of the sun." On the prettily oddball "Floss For the Future," after talking up his dental hygiene, he sings: "I was laugh, laugh, laughing / Laughing right at the void / I knew I had no choice, some things just can't be destroyed." And then he gets back to flossing.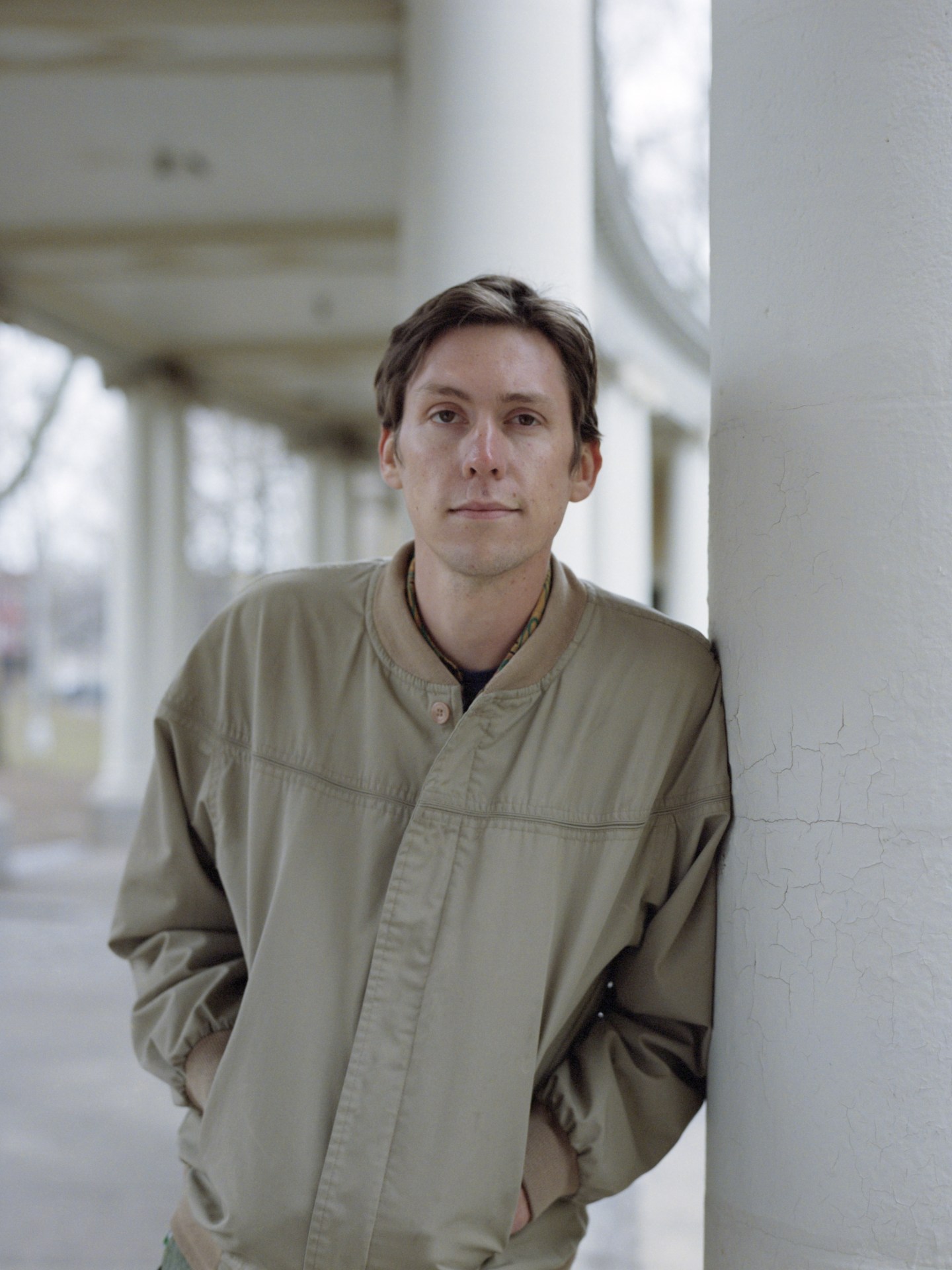 "I try to follow the path that presents itself," he says while rooting around in his inside jacket pocket for a packet of American Spirits. "Writing is just an extension of the way I try to live life… I just try to bring things full circle. You don't want to have too many stories that don't have any resolution, but to get to a resolution, you have to have some sort of conflict. There's conflict in most things — just the trials of life, I guess"
Born and brought up in the "farm town" of Pemberville, Ohio, Radcliffe has been releasing music for a little over a decade, from lo-fi ambient records as Blithe Field to unpredictable rock music as California Furniture to the emo project Best Witches. He's also put out a glut of demos under his own name since graduating from Ohio University and moving to Chicago six years ago. Today's Spencer Radcliffe — the lyrical surrealist who plays with country and folk-rock sounds like they're toys — is hidden somewhere inside all of those records. But he really came forward for the first time on Enjoy The Great Outdoors, a woodsy and stunningly off-kilter album on which Radcliffe drew the apocalypse into every small paradise. ("A road trip with a group of your best friends," Colin Joyce wrote of the record at Pitchfork, "even if the end result is still doom.")
Radcliffe says Hot Spring is a "sequel of sorts" to that record. Both are credited to Spencer Radcliffe and Everyone Else — that's Ben Austin on cello, Grant Engstrom on lead guitar, Tina Scarpello on backup vocals, Jack Schemenauer on percussion, and Pat Lyons on the pedal steel — although Hot Spring wanders even further into the uncanny. He strings images together like a prose poet on mescaline. (Anwar Mahdi's cover art, which is colorful and carnal and full of mythical creatures, captures that vibe perfectly.) On opener "The Birds," Radcliffe sings about (something) being "Desexed and unwound / Asleep without a sound" before he's jolted awake over a tumbling guitar: "Wage a war on every hunter, barking louder till they're gone / So all the bugs in the dirt, digging it down to Earth, can ride on."Even "Clocktower," the album's languid and lilting seven-minute centerpiece that borrows enough from reality to seem like an anecdote, drifts off. He takes a walk, tries to clear his head, runs into a neighbor, but suddenly finds himself following a group of mice up towards the top of the tower. Then he's gone: "Whispers of a secret plot to turn back time / They're dripping from the leaders down through the pipeline." Before long, Radcliffe and Scarpello are dreamily mimicking the clock hands, repeating "Tick tock, tick tock" as if they're counting down to the end of the world.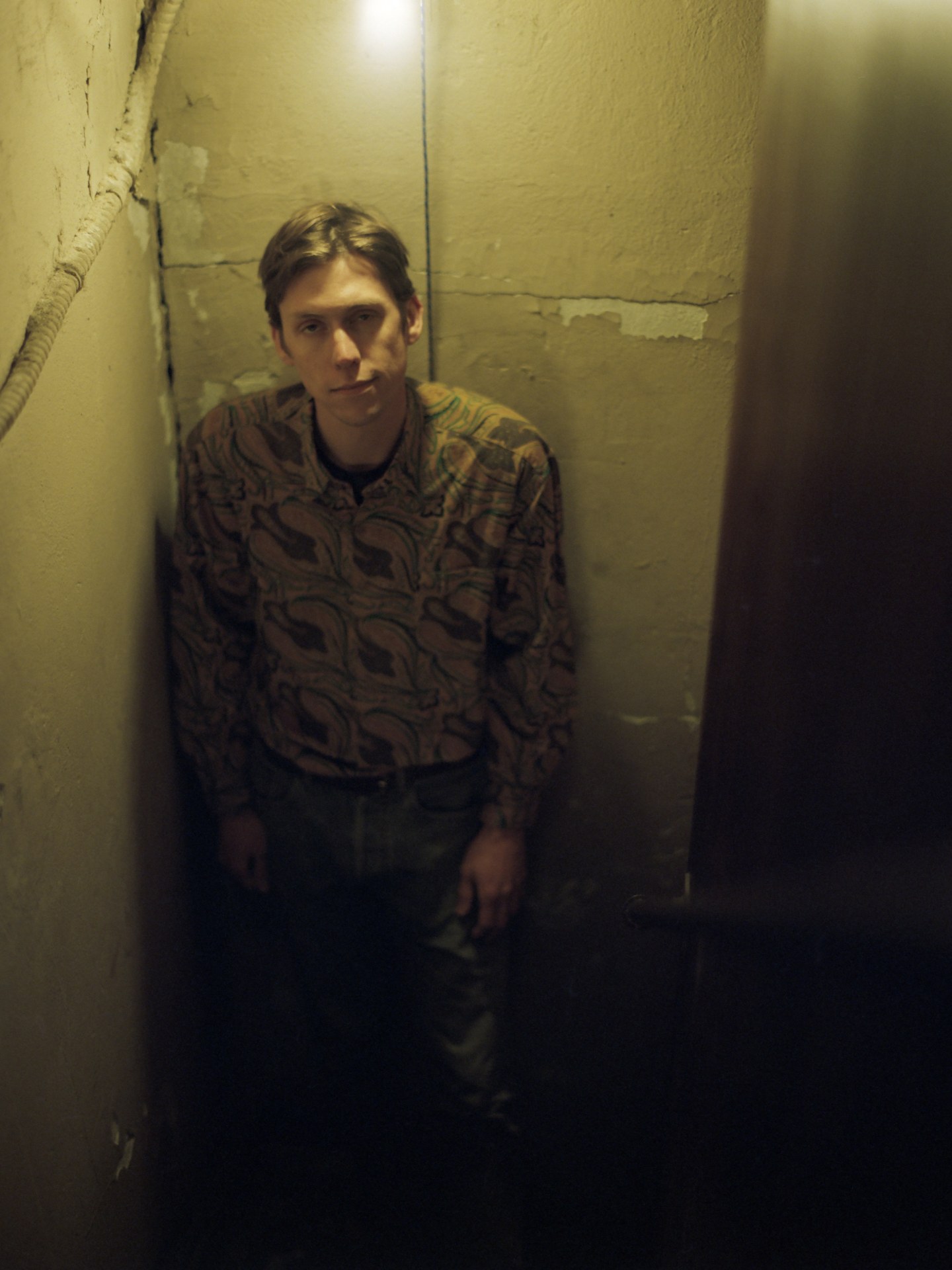 Radcliffe says that he's been reading Herman Hesse's Narcissus and Goldmund and that he's halfway through For Whom The Bell Tolls — he'd never tried Hemingway before — but he focuses more when he talks about Richard Brautigan, the counterculture fabulist whose love for nature bled into his writing. "His surreal descriptions of the world and life come off, inevitably, as sort of funny," he says, an overweight German Shepherd staring over Radcliffe's shoulder while he takes a long, deep pause and stares back in the direction of the church. "It's hard for me to envision anyone not seeing things as strange, just going about a life."
I ask if he ever finds himself distracted by things while walking around. "I don't know if distracted is the right word," he says, "but things definitely seem a little off if you're paying attention."
On "Here Comes The Snow," premiering above, Radcliffe pays such close attention to something ordinary that it becomes strange to the listener as well. "Here comes the snow again," he murmurs over hovering flutes. "Is it still white? Some things can appear differently under a different light." The thought pushes him off course: "There's a different darkness, one that I've seen for sure / I've seen it dulling out the brightest things and cutting right to the core," he sings, and Engstrom's guitar floats, disturbingly carefree in the background. "They don't shine no more."
It's enough to make me wonder if Radcliffe is constantly thinking about ruin. "I don't think so," he says. "It's just a general possibility of the existence of life. I try generally to be a realist, although most things tend generally to feel pretty surreal to me." He laughs at the friction between those ideas. "I just try to be a well-rounded individual."
At the tail end of Hot Spring is "Centaur's Song," a rangey country-rock song told from the perspective of a mythical half-horse, half-man who wants to engage in some half-cannibalism. "I think I might boil some cabbage down tonight / With the torso of a human and a horse's appetite," he sings. The record concludes with him offering torso-stew to the town: "I think I should set fire to some wood / Go run and tell the town, there's plenty to go around / Tell the good and the bad ones too, everyone deserves some stew / Even you."
"I find most things pretty funny," he says with a smile. "Most things are, at the very least, darkly funny." Seven hours later, he'll stand up in front of a few dozen people at the church across the street — in front of a bronze Jesus pinned to a five-foot crucifix beneath a flower-shaped stained glass window — and sing the word "fuck" three times in the middle of a heart-stopping acoustic set. Which is, at the very least, darkly funny.