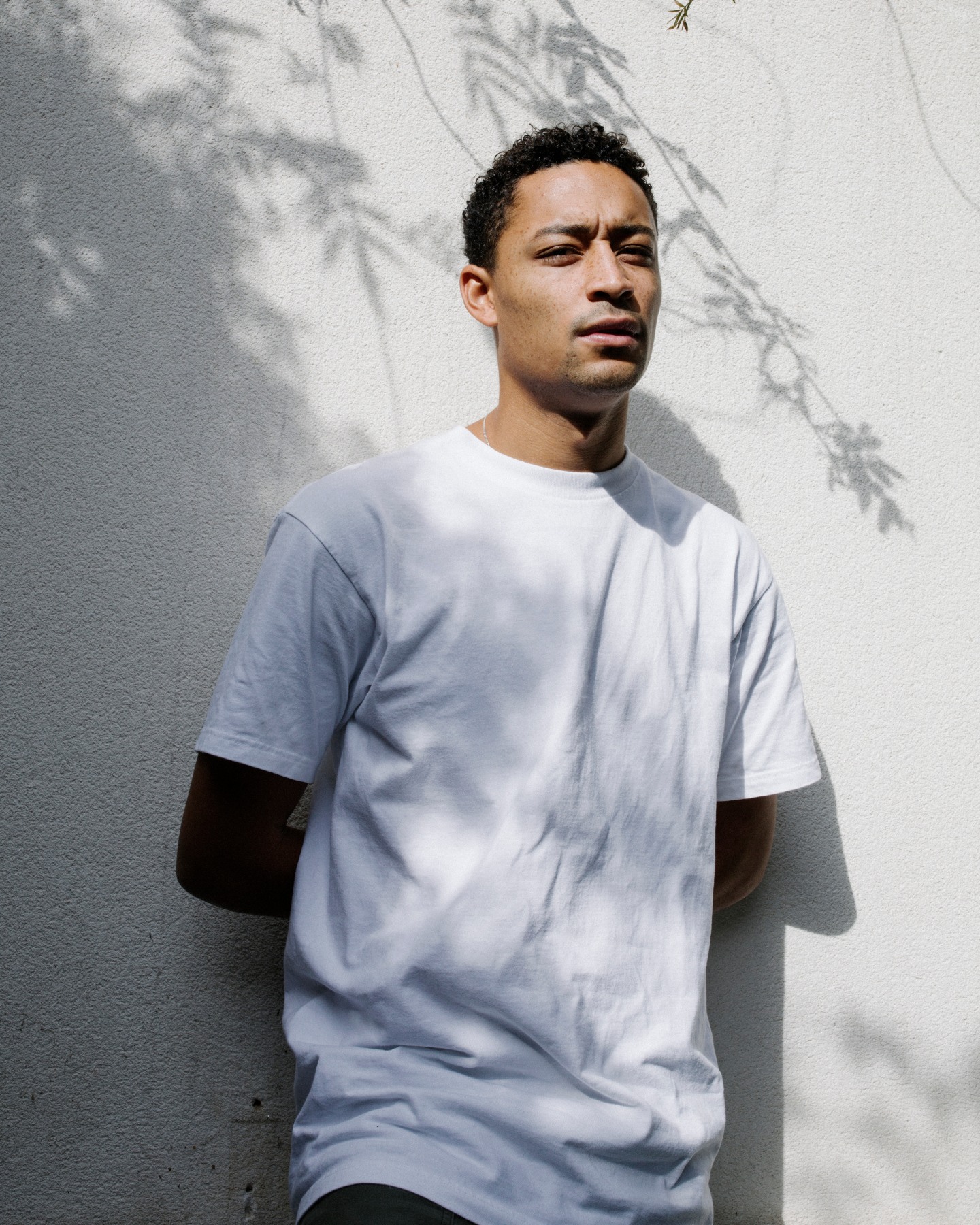 There's a moment of silence on Loyle Carner's Not Waving, But Drowning that's arguably more emotive any of the songs that surround it. Those hushed few seconds arrive in "It's Coming Home," one of a number of field recording-style tracks on the album; it was captured on July 3, 2018, the night England's soccer team beat Colombia to move on to the World Cup quarterfinals. To explain the full significance of that night would be to trawl through past trauma that hangs heavy around England fans' necks, and that shift from heartbreak to hope is captured in the loud hollering of Carner and his friends, fatefully captured by his mum on her phone.
"When I listen back to this album in ten years' time, I'll know exactly where that was — it encapsulates the beauty of last summer," Loyle tells me during conversation. "I couldn't write a song to sum up how that felt." It's the simple things in life that Carner is so adept at capturing, and Not Waving, But Drowning is filled with small moments that pack big emotions. The album is a practical snapshot of Carner's early 20s, as he experienced life as a successful musician after his 2017 debut Yesterday's Gone while adapting to the changes that accompany success. "A lot of stuff was changing for me," Carner says. "I was moving out of my mum's house and in with my missus — a kind of purgatory. My only safe space was the studio."
What came out of the studio is a natural extension of his Mercury Prize-nominated debut. Always heartfelt and often deeply personal, Carner's brand of rap feels mature in its emotional outlook as well as its golden-era influences. Not Waving, But Drowning allows Carner to open up about those closest to him over nostalgic boom-bap production, rejecting modern sounds and lyrical trends while clearing a lane that only he is keen to occupy.
Carner's close relationship with his mother was the beating heart of Yesterday's Gone, an album that concluded with her reading a poem she wrote ("He was and is a complete joy / The world is his, that scribble of a boy"). This time, his relationship with his "missus" informed the new album: "She's the only person that tells me if my music is shit," he says. "It's an incredible thing to have." He also says he's been learning to be less selfless with age: "It's been nice to put myself first, in really small ways." Growth plays a large role in Not Waving, But Drowning cut "Krispy," which tackles issues between Carner and his close friend and collaborator Rebel Kleff; the two rappers grew up together in east London and were inseparable as teens, but as Carner's career took off, a disagreement over money came between the two of them.
"This elephant in the room just grew, 'cause we were best friends, and now I'm making more money than him," Carner says, pointing to a lucrative YSL modeling job he picked up in 2017 as a cause. "Every time I tried to chat with him, I'd seize up." He wrote "Krispy" as a way of reaching out to his friend, leaving space on the track for Kleff to say his piece if he wished; the gap remains blank on the album.
Communication is key to Carner; he started seeing a therapist ("Every human being should have a space to talk") and has participated in campaigns for the mental health charity CALM (Campaign Against Living Miserably). He's aware that suicide is the single biggest killer of men under the age of 45 in the U.K., and the new album's title is a metaphor for men not seeking the help they may need — but lately he's been thinking about what comes after the beginning of the conversation. "Talking makes the situation better, but it doesn't eradicate the situation. If you're suicidal and you talk about it, things are not suddenly easier. You have to keep talking and working on yourself for the rest of your life, 'cause being a human is not easy. It's difficult, and it fucking sucks."
In the process, Carner's also been exploring his Guayanan roots — something he'd put off in the past, partially due to a fractious relationship with his biological father and feelings of guilt towards being raised by his white mother and step-dad. "Being mixed race and growing up in an all-white household, I never felt like it was something I could talk about," he says. "My friends told me, 'You're half black, you can talk about it and not feel guilty.'" On the densely-packed and confident "Looking Back," he reckons with the knowledge that "one grandfather could own the other." Carner says he was reluctant to put the song on the album, mostly because he intends to explore the subject more deeply on his next album — but he jokes that he's "excited people can finally see me as half black, and not just this weird kind of beige guy."
Carner is aware of his slightly isolated position in the thriving U.K. rap landscape. As artists like Dave, J Hus, and Stormzy have established themselves as mainstream stars and the same mainstream has reflexively demonized the U.K. drill scene, Carner has floated above it all, successful while keeping separate from any particular scene or genre. He cites Not Waving, But Drowning collaborators Sampha, Jorja Smith, Tom Misch, and Jordan Rakei as peers, and he's enthused by the rise of the outspoken Northampton rapper, and future collaborator, Slowthai. He refers to his industry outlook as "a branch breaking off the main tree" of the scene, and is steadfast in his refusal to work with people he's not close with, regardless of how it may affect his career.
He mentions one big U.S. producer, a JAY-Z collaborator he declines to name, who sent him a beat; the pair had never met, so Carner turned him down. "It sucked," he laughs. "When I'm older, I'll look back at it and I'll be like, 'You're such a fucking arsehole. Why did you try to be cool? But collaboration is: I say how I feel, you say how you feel, and we record something. It's not just, 'Here's this thing.'"
The interview ends with Carner returning to the subject of his mum, and how their relationship has changed. He sees that there's "less pressure" on him to provide for her now he's comfortable financially, but also that success has brought him some of the benefits of childhood he missed out on: "I'm able to be her son again." And Not Waving, But Drowning feels like an album made by someone with that same weight lifted off their shoulder, enjoying the space to be introspective, learning about himself as he goes.