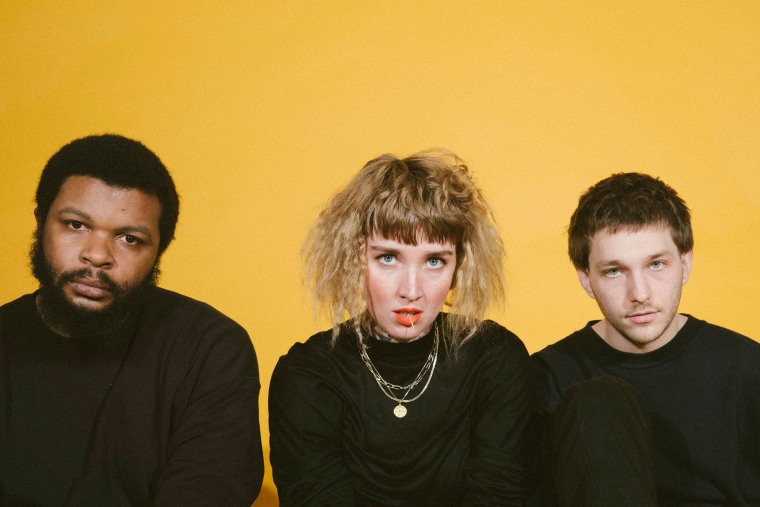 Dehd is the project of Jason Balla, Emily Kempf, and Eric McGrady, three Chicago friends with a knack for crisp, sunlight-fortified surf rock. On May 10, the band will make their full-length debut with the release of Water. Just ahead of that, they're sharing one more peak of what's to come with "Happy Again," a song that evokes the kind of fresh jubilance only known to follow dormancy. In the Blair Tramel-directed video, premiering here today, that reawakening is illustrated with zany stop motion that feels straight out of a '90s sitcom intro. Read what the band had to say about the song below:
"There's a phenomenon that happens during the winters here in Chicago. As the season goes on you start to lose interest in things , it's harder to get out of bed, your whole world outlook turns grey. Then on the first sunny day you're happy again and you can see the cause of your depression so clearly. Even though it happens every year you forget until that first ray of sun. This song is about catching that first glimpse of hope."
Watch "Happy Again," and check out Dehd's upcoming tour dates, below. Water is out May 10 via Fire Talk.
Fri. May 10 - Chicago, IL @ Empty Bottle (record release show)
Sunday May 12th - Toledo, OH @ Culture Clash Records
Mon. May 13 - Detroit, MI @ UFO Factory
Tue. May 14 - Toronto, ON @ Baby G
Wed. May 15 - Montreal, QC @ Brasserie Beaubien
Thu. May 16 - New Haven, CT @ State House
Fri. May 17 - Brooklyn, NY @ Union Pool (record release show)
Sat. May 18 – Philadelphia, PA @ Boot & Saddle
Sun. May 19 - Baltimore, MD @ Joe Squared
Mon. May 20 - Richmond, VA @ Richmond Music Hall
Tue. May 21 - Washington, DC @ Comet Ping Pong
Wed. May 22 - Columbus, OH @ Rumba Cafe
Thu. May 23 - Rock Island, IL @ Rozz Tox
Fri. May 24 - Sioux Falls, SD @ Total Drag Records
Thu. May 30 - Columbia, MO @ Cafe Berlin
Fri. May 31 - Lawrence, KS @ Replay
Sat. June 1 - Norman, OK @ Opolis
Mon. June 3 - El Paso, TX @ Love Buzz
Tue. June 4 - Santa Fe, NM @ Launchpad
Wed. June 5 - Tuscon, AZ @ Club Congress
Fri. June 7 - Los Angeles, CA @ The Regent Theater *
Sat. June 8 - San Diego, CA @ The Irenic *
Mon. June 10 - Los Vegas, NV @ The Bunkhouse Saloon *
Tue. June 11 - Phoenix, AZ @ Rebel Lounge *
Thu. June 13 - Austin, TX @ Barracuda
Fri. June 14 - San Antonio, TX @ Paper Tiger *
Sat. June 15 - Houston, TX @ White Oak Music Hall *
Sun. June 16 - Dallas, TX @ Deep Ellum Art Co. *
Tue. June 18 - Denver, CO @ Bluebird Theater *
Wed. June 19 - Salt Lake City, UT @ In The Venue *
Fri. June 21 - Vancouver, BC @ Venue *
Sat. June 22 - Seattle, WA @ Neumos *
Sun. June 23 - Portland, OR @ Aladdin Theater *
Tue. June 25 - Sacramento, CA @ Holy Diver *
Wed. June 26 - San Francisco, CA @ Great American Music Hall *
Thu. June 27 - Santa Cruz, CA @ The Catalyst *
Fri. June 28 - Santa Ana, CA @ Yost Theater *
Sat/ June 29 - Santa Barbara, CA @ Velvet Jones *
*= w/ Together Pangea & Vundabar