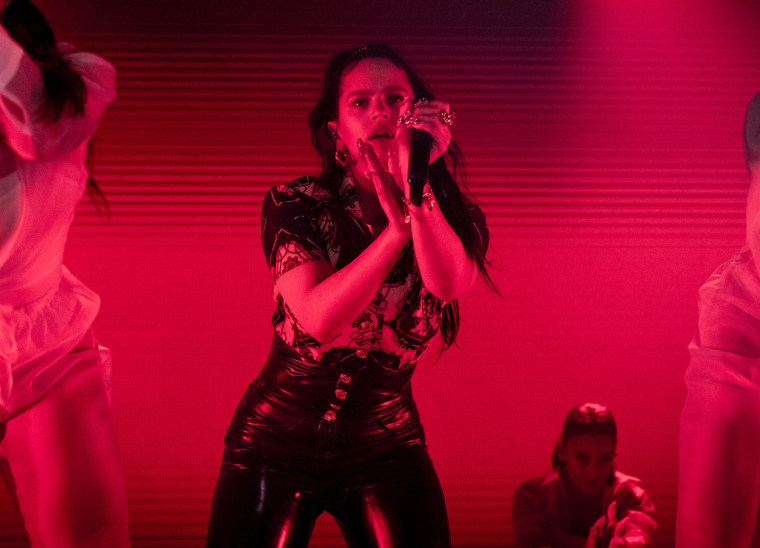 Rosalía walked on stage at Webster Hall for the Red Bull Music Festival on Monday night in a flash of electric blue, whisked in by a gust of background dancers in all-white. The crowd screamed, and for the duration of her hour long set, whether it was along to her music, in adoration, or on command, they never stopped.
The last time Rosalía performed in New York, a year ago, she played the 200-capacity Joe's Pub as a supporting act. This time, watching her command the newly renovated 1,500-capacity venue was witnessing a pop star outgrow herself in real time. Her ascent to stardom and a fanbase that can scream almost every word of every song back to her in frightening synchronisation was staggeringly fast; now, superstardom for Rosalía feels inevitable.

She opened on a modernized flamenco dance routine punctuated by tambourines and drums, that melted into the delicate beginning notes of El Mal Querer's "PIENSO EN TU MIRÁ." The crowd sang deafeningly with her the whole way through, as they did with pretty much every other song from that record. The only moments of relative quiet came when she lost the dancers and the music to sing a cappella. Holding her palm up to the audience to quiet them, Rosalía belted "Catalina" to an audience fully wrapped in her mythology, serenading them with a story about a woman getting her affairs together before heading to Germany to die.
Outside those moments of stillness, the show moved fast, propelled by meticulously choreographed routines, each movement trimmed of fat with an exacto-knife. Her dancers moved around her in a flutter of white. At one point, ten spotlights shone down on her like beams from ten separate suns. An unseen stage fan whipped her hair in a constant state of motion the entire show.
The drama of Rosalía's music was made to be experienced with a bunch of people. The chants, chatter, hollers, and palmas of flamenco built into her songs are only further amplified when an audience that's done its homework is supplying all of that and more in real time. The spirit of flamenco was born from open performances and assistance from the community, so it makes sense — it's an art form that was unknowingly primed and perfect to be translated to the adoring pop stage.
The apex of the night came when Rosalía performed "DI MI NOMBRE", which doesn't ask for as so much demands audience participation. Amid the wave of people brilliantly singing along with Rosalía, I wondered how many were non-Spanish speakers, semi-knowing the words, carried only by their intense desire to be apart of it all. I was one of them. It's a strange fan phenomenon — the willingness to look a little bit silly to show just how much you fuck with an artist; a type of devotion that I personally have only experienced during my brief stint as a K-Pop stan high school.
At this moment in her career, with two excellent records and an audience that's hungry for the next, I wouldn't be surprised if the next time I'm seeing her is at Madison Square Garden. Monday night proved that Rosalía not only has artistry, talent, charm, and skill in spades — she can utterly entrance and command a crowd. My coworker Lawrence went in Monday night having not heard any of her songs before and left with a vow to finally listen to her record. The next day, he tweeted: "I wish I was seein Rosalía again tonight."