The brilliant ambiguity of Lupe Fiasco's 'The Truth Is Among Us'
Before he became a household name, Lupe Fiasco's early mixtapes gave a much more murky look into the world around him.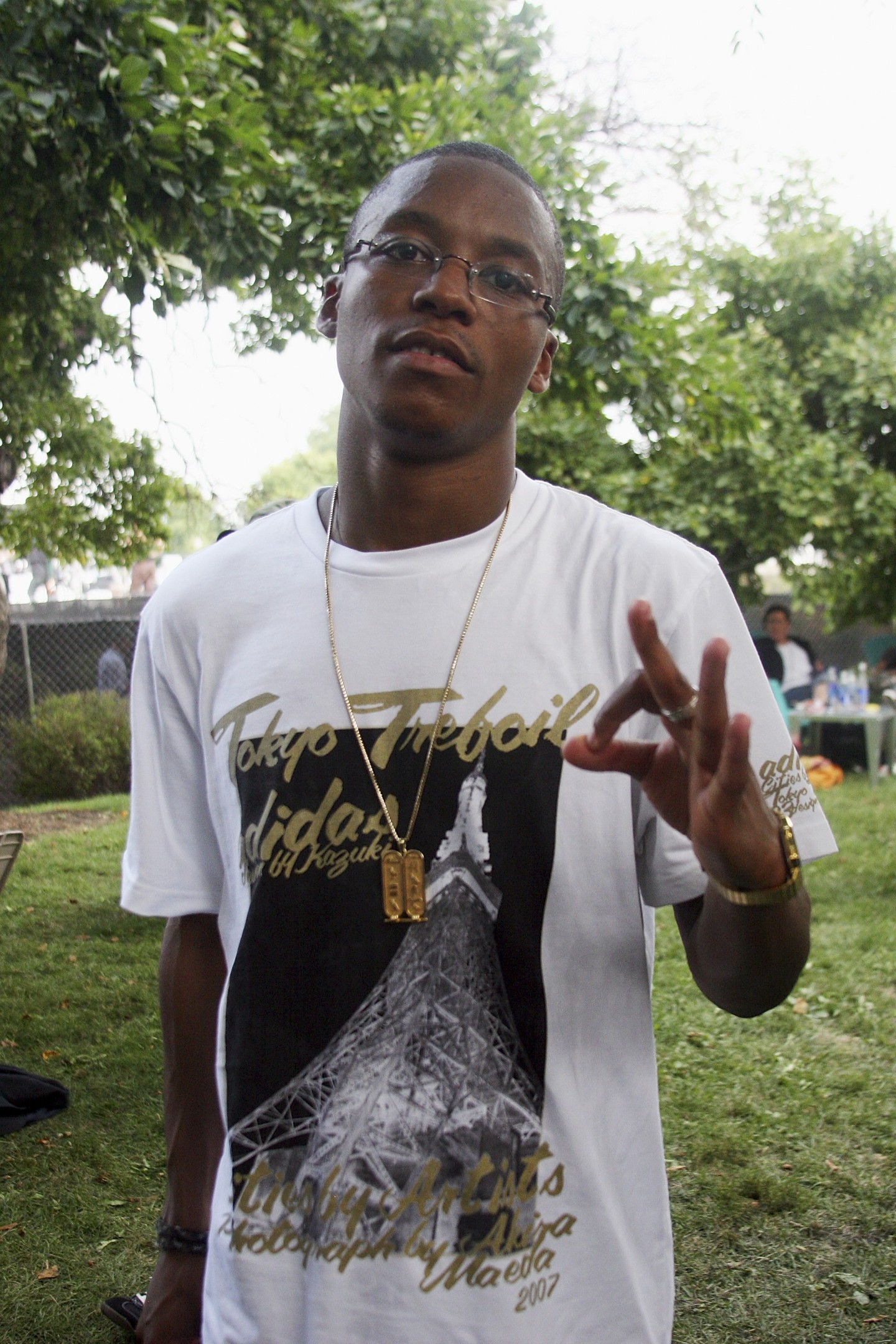 "She would never have been able to get away with what she was intent on indulging in any place else. It was murky ground she craved." –– Eve Babitz, 1974
"I was trying to get one of those spacey way-out Pharrell records, and he wouldn't make it for me. He always gave me Tribe Called Quest because that's what he thinks I like." –– Lupe Fiasco, 2006
The last song on Fahrenheit 1/15: The Truth Is Among Us is about an accused heroin trafficker's brief window of freedom. This is not one of the parables that would come to dominate Lupe Fiasco's music when he became a national star in the middle of the last decade; this is a little celebration for a man named Charles Patton. If you're familiar at all with Patton, you know him as Chilly, the partner and mentor figure who guides and haunts Lupe's first few studio albums. But before he had submitted a single song to Atlantic –– when he was jacking Mase's "Welcome Back" beat for "Welcome Back Chilly" –– Lupe Fiasco was largely unknown outside of Chicago, and Chilly was fresh out of a lockup of more than a year, still awaiting trial but evidently willing to be optimistic. The song is written mostly in second person. At one point Lupe raps, to Chilly: "Remember when the police took our cars?" It makes search and seizure sound a little whimsical. "They don't know there's more where that came from."
Two years later, Lupe and Chilly would be sitting beside one another at the Staples Center, where Lupe was nominated for three Grammys. A couple of weeks after that, Chilly's trial began in a Cook County courtroom. Prosecutors argued that the six kilograms of heroin found in a storage locker out in the suburbs, worth around $950,000 at the time, were evidence of an even larger trafficking ring that had been operating in some capacity since the '80s. They also claimed that Chilly made so much money in the drug trade he was "able to start up a record company." That company was 1st & 15th Entertainment, which he co-founded with Lupe; Lupe was never charged with anything, but was caught on wiretaps talking about breaking down "whole yellow" and "whole red ones." He took the stand and argued that the colors were codewords for songs that were being mixed. Chilly got 44 years. Lupe didn't win any of the Grammys.
The Truth Is Among Us is not a beat-by-beat account of arrests and searches, pre-trial hearings and jail visits. It's also not an extensive gesture at myth-making for a young rapper with a savior complex. It's a mixtape: there are radio freestyles over 2001 tracks, beats jacked from Nas (and Ludacris, and Kanye, and J-Kwon…), reworks of Anthony Hamilton singles. These are exercises. They capture Lupe Fiasco at his sharpest, before his work turned to labyrinthine, high-concept opuses, and before it was saddled with carrying a school of rap ideology he never really identified with. The tone here is markedly different from the one he would frequently adopt on his debut album, 2006's Food & Liquor –– it lays things bare but isn't judgmental; it's meaner but more empathetic. It was Lupe without the baggage of history, and he never sounded exactly like this again.
As a child, Wasalu Muhammad Jaco read National Geographic. I know this because it comes up virtually every time a magazine tries to explain how Wasalu became Lupe Fiasco –– here it is in Entertainment Weekly, here it is in Time Out London; here's Chicago Magazine, here's NPR. Years after he broke, in 2014, Lupe mentioned the magazines to Katie Couric:
"We had a collection of National Geographics in the house with a giant picture of Malcolm X and then some busts of the sphinx and Egypt and then random food items from all around the world. But then outside, on the corner, there was prostitutes who I knew by name. And there was the drug dealers and there was the liquor store guys across the street. Then there was maybe five or six different gangs within a two-block radius."

Couric smiles, as she does through most of the interview, but seems a little confused. She says to Lupe that that juxtaposition "must have been confusing for a kid," but he shakes his head: "You're kind of oblivious to both. They don't really sink in until now –– until later."
Anyway. Wasalu Jaco was born in February of 1982. He grew up first in and around Chicago's West side, and later in its South suburbs, with three siblings and six half-siblings. His mother, Shirley, was a gourmet chef and his father, Gregory, was the sort of Renaissance man who could only emerge after Vietnam: he was an engineer, he was an accomplished African drummer, he was a Panther. He owned karate schools and army surplus stores and some National Geographics. In stories about his childhood, Lupe returns again and again to the eclecticism of his parents' home –– or parents' homes following the divorce –– and to the violence that lurked outside. It's not a novel dichotomy, but he draws it vividly: he tells EW that there was blood "from some guy who got shot" on the doorknob to his childhood apartment before adding that the apartment didn't have cable, so the Jacos couldn't get their "brains washed by MTV." There were crackhouses next door, he says. He liked Tchaikovsky, jazz, Benny Goodman.
What he didn't like, at least at first, was hip-hop. He found rappers crude. But the wariness was short-lived; by the time he was a freshman at Thornton Township High in Harvey, he was making mixtapes in his dad's basement. (It Was Written, which came out when Lupe was 14, rattled something loose.) It was at Thornton that he met Dusean Dunbar, who would later adopt the rap name Bishop G. Bishop was the kind of kid who reporters would later describe as "a fringe gang member." He thought Lupe was a nerd, but he liked him anyway. The two began rapping together: their first show together ended with them being booed offstage. But Bishop taught Lupe how to turn the impossibly dense, improbably violent fantasies in his math notebook into structured songs. The rap name came from his given one and that Firm song.
After high school, instead of applying to college, Lupe committed himself to music. He formed a group called Da Pak with three other Chicagoans –– Sosa Quran, Delow, Nahvee –– and signed signed a deal with Epic. They put out one single, called "Armpits." From Lupe's verse:
"Big bill niggas, big deal niggas
One call, you're killed –– all ill niggas
Want beef? Better be extra sure
My niggas be under your floors, so stay on your toes like pedicures"

Da Pak disbanded. At some point in 2002, Jay-Z called. Lupe started going to Baseline Studios in New York. This is around the time Jay started recording The Black Album. There are long-standing rumors that Lupe was an uncredited writer in some of these sessions; in the years since, he has both denied that he ever ghostwrote for Jay, per se, and said that he "[gave] him joints" for the album. There was talk of Lupe signing to Roc-A-Fella, but he and Chilly decided to form 1st & 15th –– 50/50, down the middle –– and then ink for Lupe a solo deal with Arista.

Then: nothing. L.A. Reid left Arista, and there was no one left to funnel attention and resources to a virtuosic but untested kid without an obvious hit in the vault. He became a free agent again. This is where Jay-Z comes back into the picture. In an interview he gave to HipHopDX a few years ago, Chilly says that Jay told him privately that he was about to accept the job as president of Atlantic Records, and that Lupe would be a priority artist at the label. So Lupe and Chilly accepted a deal with Atlantic, and Chilly used the money from that deal to bond out of jail. But shortly after, he received a call in the middle of the night from Jay, who told him he'd received an offer he couldn't refuse –– to become the president of Def Jam.
He and Lupe harbored no ill will; Chilly said to DX that he told Jay it would be "stupid" to not take the Def Jam gig. But they were once again signed to a label at which they had little leverage. (Later, when it was time to work "Kick, Push" at radio, Chilly refinanced his home so he could pay for the promotion himself.) So Lupe did what artists as famous as UGK, coveted as 50 Cent, or disaffected as Joe Budden had done when their labels left them in limbo: he turned to mixtapes.
The first voice you hear on Fahrenheit 1/15: The Truth Is Among Us is Michael Moore's. But the tape isn't a polemic like Fahrenheit 9/11; it opens, frustratingly, with "Twilight Zone," a cumbersome crime story with a lot of anthropomorphized rap paraphernalia and none of the original Nas song's venom. It's too sedate. In short order, though, Lupe's running gleefully through startling good Biggie fan fiction and lapsing into a stretched-out drawl. In the first ten minutes, you come to understand him as someone who can rap in a handful of distinct, difficult styles without reducing the whole thing to an athletic feat.

Lupe's voice has just a little bit of a nasal tone –– enough that he's still, at present, able to sound much younger than he is when he chooses –– but is fluid and adaptable. He emotes well. There's not a moment on The Truth Is Among Us, which sprawls across a half-dozen different takes on 2005 hip-hop, when you doubt whether Lupe is in precise control of the tone and direction of a song. He will lunge out of one pocket within a beat and into another one you hadn't even considered, fitting two cadences into a space where there should only be one, and sticks the landing on the exact snare drum he was aiming for all along.
The high water mark for that careening style is "Champ Is Here," which finds every crevice in the Jadakiss beat. He rhymes things like "forest to the floor of it" with "stethoscope to the floor of it"; he cracks non-jokes like: "I be concentrating on the crack, get it straight / I was so high up the food chain, that which I mentioned before? I ain't know how to make." By the third verse, he's extending lines past the ends of bars to squeeze in punches –– see the way he strings you through and they itchin' to come up out the magazine like the posters that unfold.

Despite the looseness of its construction, Truth has a magnetic emotional center. Lupe's version of Anthony Hamilton's "Comin' From Where I'm From" (he smartly leaves in Hamilton's hook) is a masterwork; its second verse alone imagines a kid on the curb, captivated by a local hustler's passing car, a man sitting in county fretting about whether or not his partner will wait for him if he takes a plea deal, and ends with the heartbreaking couplet "We bring our sons up to get gunned down, our daughters to have more / It's war." That verse thankfully gives way to a final one that allows a little optimism to creep in.
Elsewhere there are showcases given to the next 1st & 15th artists earmarked for stardom (the brash introductory freestyle from Shayla G), straightforward testaments to Lupe's Muslim faith, sunny fever dreams. Before mixtapes were de facto albums, they served as a sampler of what a rapper might be able to do with more time, greater resources, or a bigger sampling budget. Truth is exactly that sort of glimpse, a series of fragments from someone more talented than nearly all of his competitors. On "Welcome Back Chilly," he thanks Jay for holding him down while Chilly was in jail –– sincere gratitude, sure, but there are worse ways to signal that you're up next than to mention, offhand, that Jay-Z made sure you had new shoes while the record companies were slow to pay.

Before the show even aired, everybody heard that Lupe fucked it up.
VH1 used to do this thing called the Hip-Hop Honors, which sounds like it should have been extremely hokey (at times it was), but also featured an absolutely unbelievable list of one-of-one performances. The idea was that each year, a handful of artists would be the guests of honor, and other rappers –– their contemporaries or their stylistic descendents –– would play their songs. So you got Nelly doing "I'm Bad," Fat Joe doing "South Bronx," T.I. and B.G. doing "Deep Cover." It was appointment viewing, inasmuch as anything on VH1 could have been appointment viewing.
For the 2007 show, Lupe was supposed to help honor the headliners, A Tribe Called Quest. But on the night of the taping, he stumbled badly during both "Electric Relaxation" and "Scenario." A handful of blogs and news outlets reported it. Instead of staying quiet or offering a boilerplate apology, Lupe did what you might have done: he logged on to Okayplayer and typed in all caps:
"So I've explained this to a lot of people...let me name drop a few:

#1 Fab 5 Freddy
#2 Q-TIP!!!!...THAT'S RIGHT THE LEADER OF THE GROUP HIMSELF!!!
#3 Common
#4 Questlove

and more....ahem....
"I DID NOT GROW UP ON ATCQ!!!..."

THE LITTLE GHETTO KID FROM THE MEAN STREETS OF THE WESTSIDE OF CHICAGO GREW UP ON SPICE 1, 8-BALL & MJG, NWA AND SNOOP DOGG...

I WASNT A BACKPACKER RAP ENTHUSIAST!!!...I NEVER CLAIMED TO BE...I GREW UP ON GANGSTA RAP!!!

HAVE I LISTENED TO [ed.- Midnight Marauders] IN ITS ENTIRETY?...NO!!!...(Sorry Quest)...

GET OFF YOUR HIGH HORSES AND YOUR SACRED COWS...SOME OF YA'LL MAKE ME SICK...
AND FYI WHEN IT WAS INITIALLY OFFERED TO ME I TURNED IT DOWN BECAUSE I FELT IT WAS OUT OF PLACE FOR ME TO BE HONORING THEM BECAUSE WHILE I WAS FULLY AWARE OF THEIR IMPACT IN HIP-HOP I WASNT REALLY AWARE OF THEIR MUSIC LIKE THAT...BUT GUESS WHO WANTED ME TO BE APART OF IT....HMMMM...HOW ABOUT...Q-TIP!!!...
SO NOW ARE YOU GOING TO HATE ON "ATCQ" BECAUSE THEY WANTED SOMEBODY WHO DIDNT REALLY KNOW THERE MUSIC TO HONOR THEM BY COVERING SOME OF THEIR MUSIC?...THINK ON THAT OKP'S
P.S. I FORGET THE WORDS TO SOME OF MY OWN SONGS ON STAGE...HEY IT HAPPENS…"
This, as you might be able to imagine, did not go over well. Anecdotally, even at my high school –– where Lupe enjoyed demigod status after Food & Liquor –– all but his most impassioned defenders thought that "I only listened to Spice-1!" sounded like a contrarian, revisionist piece of faux-autobiography.
Here's the thing: Lupe was telling the truth. Or at the very least, he was being consistent. Exactly a year to the day before the VH1 story broke, the Village Voice ran an interview between Lupe and the critic Tom Breihan. Lupe, irked by Pitchfork's review of Food & Liquor –– which criticized in particular the album's production –– began talking expansively about his choice of beats. He gave the quote that's at the top of this piece, about Pharrell giving him Tribe-lite beats because he assumed that's what Lupe wanted. Then, unprompted, he went a step further: "I don't know one Tribe Called Quest song by heart. I don't own one album."
Lupe's music had always stood on murkier ground than the more reductive fans and critics liked to pretend. When songs like "Pop Pop" resurfaced, they were treated as smoking guns, evidence of hypocrisy, rather than as different points on a continuum that includes "Kick, Push." (Here's an unreleased song called "Fire"; it opens: "Fiasco / That's my name, don't wear it out / Especially in front of feds who wanna know my whereabouts / 'Where the house and his stash box at?' / 'How he live, where he is, who he flash glocks at?'") But the music that popped off on Atlantic skewed far away from this. Lupe was guilty of confounding expectations that had been placed on him –– unfairly in his mind, understandably to others. Phonte, from Little Brother, was frank in his response to that Okayplayer screed: "That's fine, but your music and more importantly your image leans more towards Native Tongues than killaman-killaman-saykillamankillaman-wit me glock. If it walks and talks like a duck, most people would call it one."
When The Cool came out that December, people eagerly pointed out that "Paris, Tokyo," one of the album's singles, sounded like Tribe. They mostly did not bother trying to square this with the fact that one of its centerpieces, "Hip-Hop Saved My Life," is about Slim Thug.

You could argue that the moment when the hype around Lupe really reached a fever pitch –– more than "Touch the Sky," more than "Kick, Push," more than the Food & Liquor leak –– was when he dropped "Conflict Diamonds." That song, from the second Fahrenheit 1/15 tape, subtitled Revenge of the Nerds, is over Kanye West's "Diamonds From Sierra Leone" beat and takes as its subject the violent, illegal diamond trade in West Africa and around the rest of that continent. It's hard to overstate how quickly the awareness of this issue among American rap fans went from near-zero to near-ubiquitous.
The song itself is one of Lupe's great tours de force. He takes a practically narcoleptic stance for a conscious rap song –– stop buying so much jewelry! –– and gives it human and geopolitical weight; he educates without seeming like a pedant; at the end, he brings it all back to his own insecurities, walking nervously out of a jewelry store, on the same moral plane with his audience. The rapping is acrobatic. In the second verse, when the beat's intensity peaks, he says he:
Didn't have a clue that the rapper was helping the rapers,
Raiders of the villagers, pillagers of the schools
Shooters of the innocent, torturers of the witnesses
Burners of the businesses, and my bracelet was the fuel
It's the sort of hyper-technical passage that is so cleanly written as to hide the technique. The final line is "Props to Kanye, I call it 'Conflict Diamonds'" –– a shrewd move that places him firmly to Kanye's left, so to speak, but on the same team, ascendent and inevitable.

Speaking of Kanye: months before The College Dropout was scheduled to hit stores, an advance version of it leaked. The differences between that early-stages zip file and the LP that eventually saw a commercial release are stark, often having to do with the quality of the vocal takes –– Kanye improved as a rapper by leaps and bounds in a short time frame. But there are other, major changes that evince a careful ideological triangulation. Nearly every song on the final version of College Dropout paints Kanye as the heir to a commercial/conscious rap throne that had never truly been occupied, a conflicted moralist, fallible but kind-hearted. He was able to tap into this feeling in part because, in the final stretch before the album came out, he excised songs with lines like "Your broke-ass mama couldn't afford that abortion / So tell me, how the hell she gon' afford that coffin?" A decade after Dropout came out, the legendary Chicago producer No I.D. recalled to Billboard a conversation he had with Kanye during the sessions:
"He was like, 'I figured it out.' I was like, 'What did you figure out?' He said, 'I'm going to rap about this [near-fatal car accident]. I'm going to use a song and change the direction. I'm going conscious with my music.' In my mind, actually not even in my mind, I may have said, 'But you're not conscious how are you going to do that?' He's like, 'Nah trust me, this is going to be my direction. I know how I'm going to do it. I got it now. I figured it out.' I think from there the 'College Dropout' concept took a better form because he let go of the gangsta persona and formed a good concept. Before that he would wrestle ideas, try to make it all line up but it wouldn't make sense."
In 2006, Lupe suffered a similar, digital fate. Food & Liquor, the debut album he'd been teasing for years, leaked several months before it was scheduled to come out. Lupe maintained to reporters that the leaked version was far from finished. Whether or not that's true, the record was staggering. The songs, some titled by fans on file-sharing sites, that appeared only here are some of the best Lupe's ever made: "Game Time," "The Pills," "Steady Mobbin," "Hustlaz Song." They all succeed in synthesizing the textures of street rap with the skeptical eye that Lupe was honing; they feel real and visceral and vital. They are all cut from the retail.

Food & Liquor, though, is not a College Dropout situation as described by No I.D. –– it is not an ideological costume Lupe is trying on. It's simply one point on the continuum. It seems understandable that Lupe, like most of us, would have these warring impulses inside of him: to heal and to flex, to hurt and to build. The most captivating moments on Food & Liquor are the ones that are a little bit confused, like the second verse of "Daydreamin," where a two-dimensional caricature of a rap video shoot gives way to a whispered coda and Lupe thanking "the streets that drove me crazy / and all the televisions out there that raised me." Or there's "Hurt Me Soul," where Lupe recalls organizing a Jay-Z boycott because of the "I never prayed to God / I prayed to Gotti" line from "D'Evils" (on an album that Jay executive produced and came out of retirement to rap on, mind you) before playing Streets Is Watching on a loop and succumbing to its charm.
This is, to be sure, part of the record's appeal: it's striving toward something, trying to catalog all the world's ills while still finding those ills kind of cool. It makes for gripping music that you imagine might be clarifying for its author, but does not fit as neatly into ideological categories as some would like it to.
Lupe, for his part, seems uninterested in untangling this for critics or fans. Food & Liquor and The Cool were hailed as classics by Lupe's core audience and demanded a reaction of some sort from anyone interested in hip-hop; 2015's Tetsuo & Youth achieved the former half of that equation. A masterpiece for those who sought it out and a nonentity for those who didn't. It does not appear that this bothers Lupe at all. He seems, in interviews and online, liberated by the fact that he can retreat to the fringes whenever he wants. His album from last year, Drogas Wave, is a longform myth about a group of people from Africa, thrown overboard from a slave ship, who plot from underwater to sink other slave ships; there are two songs about real-life children killed before they reached kindergarten, who are given hypothetical futures; there's a song named after a fictional song-within-a-song from The Cool; there's a song where Lupe raps in Spanish.
That might sound overwrought to you. But it is, at least, not reactionary. Moving further from hip-hop's center has mostly allowed Lupe to sit out fights over the genre's soul and aesthetic direction. He isn't trying to make hits. In a long interview with Vibe last year, he talked a lot about freeing himself from "linearity," by which he seems to mean the usual, macro progressions a famous rapper's career would go through.
He's done that pretty successfully. But the moments on The Truth Is Among Us that are the most exhilarating are the ones where the smaller, component parts of his work shirk that sort of linear progression. Take "Failure," a song where everything is allowed to happen at once. Before Genius existed, exhaustive breakdowns of every line were passed around on message boards and through email (for example). It lurched from images of Lupe leaning out the window with a gun in his hand to self-impressed lines about the song's own mechanics ("Did you even catch the change in theme?"), from extended bits of wordplay that center on vending machines to a closing ring that culminates with a coy, couched-in-metaphor, "And I push keys wonderfully."
And this is the thing about Lupe Fiasco –– or more specifically, this is the thing about how Lupe Fiasco has undoubtedly been pitched to you. There are the double and triple-entendre pyrotechnics, there are the rhetorical games that undercut and double back on one another. He spends a lot of time in his music hitting levers that might only amuse him and his most granularly obsessive fans, to the point where that element gets pushed to the foreground at the expense of nearly everything else. But the point isn't that it's a parlor trick. The point is that it works.