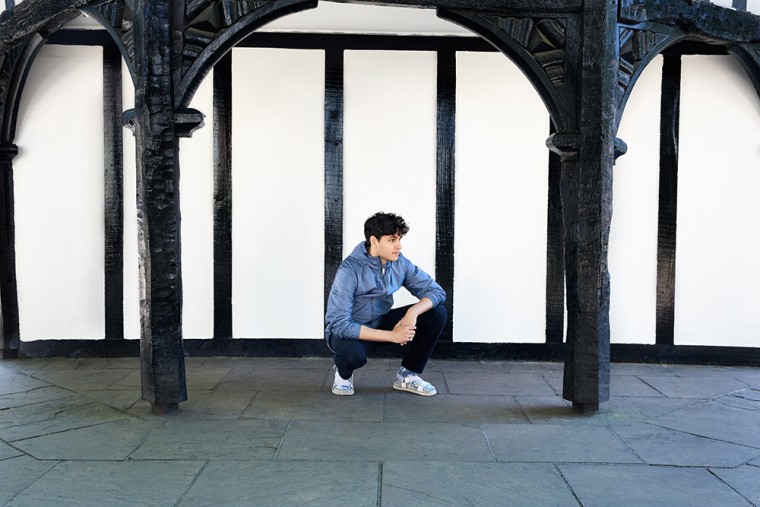 Remember when Vampire Weekend were controversial? The notion of Ezra Koenig stoking impolite conversation — whether it be regarding class, race, questions of privilege surrounding both of those topics, or a simple matter of taste — feels so antiquated 11 years after his band's instant-classic self-titled debut that an air of nostalgia now surrounds the conversation. Rob Harvilla's excellent recent meta-critical retrospective for The Ringer, which revisited the discourse surrounding Vampire Weekend, unintentionally cast the ability to engage in the discourse itself as a sort of luxury not dissimilar to the intense analysis that Girls (the early-2010s TV equivalent of Vampire Weekend) was subjected to in its early seasons.
Granted, arguing about music and popular culture at large is still very much a thing, even if it takes place in shorter bursts of text and with less contextual analysis surrounding it than ever. But the pre-Twitter noise that Vampire Weekend generated back in 2008 seems unthinkable in 2019, at least in terms of how long it sustained. Our attention spans are shorter; our collective lungs have just enough air to alternate between screaming and sighing into an increasingly uncertain void.
There's more going on here than easy distractions and the ubiquity of doomsday apparitions. The post-genre future that Vampire Weekend predicted — a canny collision of spartan post-punk, delicious-sounding Ghanaian highlife guitars, and the breeziness of jam-adjacent totems like Guster — has since arrived, following a precedent set by sound-blending acts of the past ranging from late Long Beach frat heroes Sublime to the arch, serene pop confections of Green Gartside's Scritti Politti project.
Think about how many eyebrows were raised by Koenig name-checking Lil Jon in a song called "Oxford Comma" in 2008 — then, fast-forward to "This Life," one of many highlights from Father of the Bride, Vampire Weekend's fourth album and their first since 2013's Modern Vampires of The City. Over four tender, effortless-sounding minutes, the band perfectly evokes Van Morrison's sunny-day jangle as Koenig interpolates lyrics from '70s singer-songwriter Albert Hammond and Atlanta rapper ILoveMakonnen, while Danielle Haim's echo-laden vocals reverberate against a glassy, wordless choir. It's the type of loving, whip-smart pastiche that Vampire Weekend can practically cobble together in their sleep now.
Indeed, Father of the Bride might be Vampire Weekend's most eclectic album yet. It features an impressive array of collaborators ranging from Haim's regular vocal presence to contributions from casual R&B polymath Steve Lacy, hip-hop producer DJ Dahi, weird-pop knob-twiddler BloodPop, Chromeo's Dave Macklovitch, Dirty Projectors' Dave Longstreth, and Childish Gambino collaborator Ludwig Goransson. With all this new blood comes a few new sounds. "My Mistake" sounds like submerged jazz, Koenig's voice drifting in a sea of aqueous piano and moonlit sax; "Sympathy" takes on flamenco's passionate, handclap-dotted burn; the Lacy-heavy "Sunflower" playfully incorporates vocal scatting and plush, languid grooves. Barring his production credit on the beaming "Harmony Hall," Father of the Bride is the first album without former member and producer Rostam Batmanjili, with Ariel Rechtshaid (Haim, Sky Ferreira) behind the boards this go-round. Despite the former's absence, the record is proof that Koenig is more than capable of plumbing unexplored sonic depths without him (and with a little help from his friends, of course).
The simple pleasures of Vampire Weekend are reflected on the short-but-undeniably-sweet bounce of "Bambina," while "2021"'s slippery vocal processing and weightless tones smack of the pop playfulness of Contra from 2010. The placid, A Charlie Brown Christmas-esque gorgeousness of Modern Vampires of the City still looms large, from the aforementioned choir sounds that rear their head every now and then to the lush one-two closing punch of "Spring Snow" and "Jerusalem, New York, Berlin."
The fact that Vampire Weekend's most sonically far-reaching album doubles as its most sonically self-referential is a study in the sort of contradictions that this band revels in. The hour-long Father of the Bride is their longest album by far, but despite the "double-album" designator referenced by Koenig in its rollout, it feels airy, devoid of the sort of bloat that typically accompanies such efforts. The instrumentation is layered and multifarious, but not a single element feels unnecessary. After three albums on big-deal indie XL, Father of the Bride marks their major-label debut on Columbia — but there are no big, showy singles here. It reveals its patient and benevolent charms with repeated listens.
Despite these complications, Koenig's lyrics have never been more straightforward and direct — light years away from Contra's "California English," in which he once sang about fake Philly cheesesteaks and real toothpaste in a possible reference to the band's own fielded accusations of cultural authenticity. In the time between Modern Vampires and FOTB, Koenig aged well into his thirties and became a father, so Father of the Bride tackles the Big Themes — love, hurt, impermanence — that come into sharp relief as one grows older.
Our modern sociopolitical climate gets sucked into that too. "Anger wants a voice, voices want to sing/ Singers harmonize 'til they can't hear anything," Koenig sings on "Harmony Hall." If the color-reversed Earth on the album cover doesn't immediately cast images of climate change into one's mind, the constant calamities evoked throughout the jaunty "How Long?," with its lyrics about sinking to the bottom of the sea, will do the job. It concludes with a loving promise-cum-threat of obliteration: "We can live down in the flats/ The hills will fall eventually."
But a specific, human sadness — the glowing melancholia that always accompanies loving someone, struggling to understand them, and failing to realize your true nature before you hurt them — acts as the lyrical cloud-cover to Father of the Bride's pleasant weather. Haim's vocal contributions often feel unnecessary as a sonic ingredient, but they provide a solid foil to Koenig's own musings on the shared duet "Married in a Gold Rush," in which he opines into a well-mined emotional quarry: "Everything was ours/ And now it's just an empty mine."
Amidst so much uncertainty, though, there's hope. "Every time a problem ends/ Another one begins," he sighs on "Harmony Hall"; another sad-sounding line, maybe, until you realize the deeper meaning it carries. There's pain and joy in life, neither arriving exactly when you need them. But the rush of anticipating what's next is always there, and in the face of natural and personal occurrences ranging from melting ice floes and vanishing species to friends since departed and the birth of new life itself, it's the most comfortable constant we can rely on.