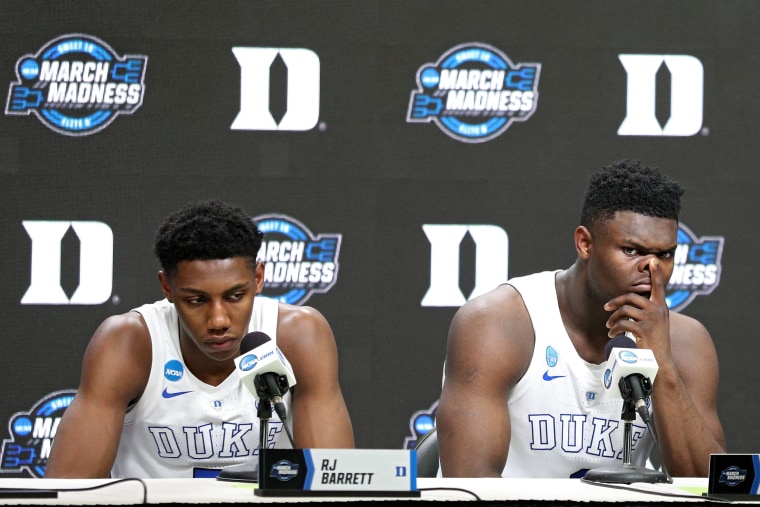 Zion Williamson sat, bashful and grinning, at the Hilton Chicago last night as ESPN's Rachel Nichols and Adrian Wojnarowski stated the obvious to a live TV audience and a room full of dignitaries. Whichever team ended up with the first pick in the 2019 NBA Draft would instantly be catapulted to relevance; they would have the opportunity to pick up a generational talent; decades of miserable seasons and years of almost criminal mismanagement (looking at you, New York) would have been justified. They could get Zion, an 18-year-old kid so phenomenal that he's already just a mononym. Imagine, for a moment, how that must have felt for Zion himself, sitting there, trying to pick the right sort of humble and overwhelmed smile, desperately trying to make it seem like he wasn't letting this go to his head.
And then imagine how he felt when the New Orleans Pelicans beat their miniscule odds and vaulted to the top of the lottery and the number one pick. Or don't imagine at all. Take it from Nichols herself, who told Scott Van Pelt that Zion looked as though he'd been "hit by a truck" when the last ball was drawn. Or maybe take it from The Undefeated's Marc J. Spears.
Zion Williamson was QUICKLY whisked out of the room after Pelicans were announced the winner of the draft lottery. Source said the former Duke star was rooting to go to New York, but now is going to New Orleans.

— Marc J. Spears (@MarcJSpearsESPN) May 15, 2019
That's got to be mildly upsetting for the good people of New Orleans, most of whom are waking up to the news this morning that they do in fact have a basketball team, but I'm sure they'll come around. And in the long run, this might be a Good Thing for the NBA, who have seemingly flattened out the odds to such an extent that tanking and sucking and treating your fans like dirt are no longer appealing strategies for a front office. But still, it's irritating as hell for the rest of us right now.
Part of it is the sheer injustice. New Orleans has spent the past seven years pissing away the prime of the brilliant, bludgeoning Anthony Davis — another number one pick. The Pelicans front office failed so miserably to create a winning team around Davis that he requested a trade earlier this season. He was desperate to break out of purgatory; the Pelicans, who have earned the right to control Davis's fate only in the sense that they have the poor man under contract, declined every offer they received. They've had a long trial run at creating a winning franchise out of a perennial MVP candidate, and they failed. Now, with the Davis saga still rumbling and team discontent at an all-time high, the gods have gifted them Zion.
There's always the chance that Davis will stay with New Orleans now, that the front office — headed up by David Griffin and thankfully not Dell Demps — will convince him to stick around and build a winning team alongside Zion. Will that be fun to watch? Hell the fuck no it will not! They'll most likely employ Zion as the second coming of Boogie Cousins, creating a middling team around two freakish geniuses, one Jrue Holiday, and a bunch of Other Guys. They'll tie down the seventh seed in the Western Conference and get swept by... I don't know, pick a team: Golden State after a half-hearted season, Portland with a fully fit Nurkic and their impressive backcourt, Denver on the back of mashed potato monster Nikola Jokic, Houston behind 72 free throws from Harden.
More likely, the Davis trade goes through and Zion is left stranded in the Big Easy, slurping down drive-thru cocktails on his way to practice with E'Twuan Moore. We'll see him mature, catch the pace of the NBA, realize the helplessness of his situation, and then, with any luck, request a trade to a team with a desire to win basketball games.
Until then, we're all left to think of what could have been. Sure, the New York Knicks are comically useless and have done nothing to suggest that they deserve a Zion. But it would have been fun to watch Zion drive New York-bound flat-earth enthusiast Kyrie Irving to the brink of madness for a year or two. How would Kevin Durant, also destined for Madison Square Garden and intent on crafting his own legacy as a standalone centerpiece, have reacted to another budding superstar in his midst? It would have been a glorious, beautiful disaster, played out in front of a cult fanbase. And, hell, Zion probably would have come out on top in the end, with Kyrie falling into a Reddit hole and Durant eventually slipping gracefully out of his prime.
Or he could have ended up with the Atlanta Hawks, next to Trae Young and his Steph-on-acid three-point range. Or he could have ended up on the Lakers, next to LeBron, figuring out that impossible puzzle surrounded by palm trees. There was always Phoenix, easily the worst-run team in the league, but an intriguing proposition with Devin Booker, the Schrödinger's cat of the NBA, as their fulcrum. Imagine him at Charlotte, enraging majority owner Michael Jordan! Jesus, even the Bulls, who suck, would have been entertaining with a LaVine-Markkanen-Zion core!
Griffin could still do the near-impossible and make this work. He could, as my colleague Ben suggested, trade Davis to New York for the third pick in this year's draft, then take RJ Barrett, Zion's terrifying accomplice at Duke. This idea, however, seems far too sensible, and I'm in no mood for that right now — to hell with it. Griffin should instead turn to the Lakers and offer them Davis in return for LeBron, Kyle Kuzma, and Jack Nicholson.
I will take solace in the fact that the Celtics didn't get a lucky break; I will console myself with the fact that Zion does not need to live in Cleveland, with its weird outdoor chandelier. But the Pelicans will probably screw this up, both for Zion and for the rest of us. I hope they dissolve the Pelicans and send them to Seattle; I hope Zion Williamson pulls an Eli Manning; I hope the kid woke up this morning and didn't still feel like he'd been hit by a goddamned truck, but fear he's still reeling.