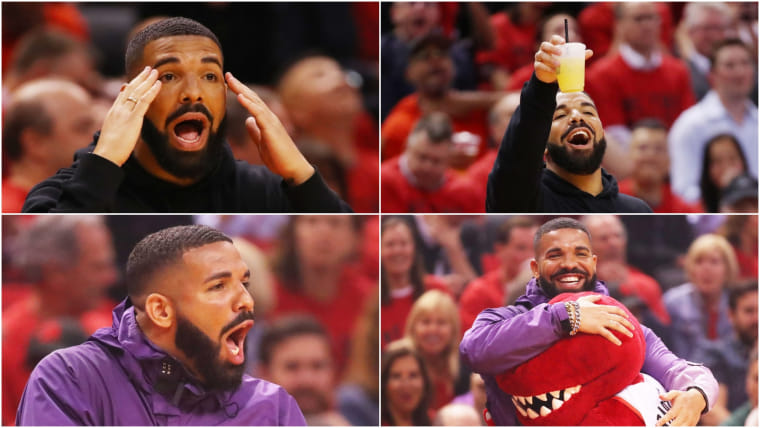 The 2013-14 NBA season marked an important milestone for the Toronto Raptors, one that like so many others was not related to the upsetting on-court product. Drake was brought in by Toronto at the beginning of the season to serve as a global ambassador for the team in order to generate interest for a fanbase that desperately needed it. That year would end in disappointment — a first round loss to the lower seeded Brooklyn Nets, a team that would go on to implode the ensuing summer. Most of Drake's legacy as a sports fan is one cemented in blatant bandwagoning, loss, and the budding myth of "The Drake curse." But his position as an ambassador did mark the beginning of this current era of Raptors basketball.
Since then, the franchise has endured four more crushing postseasons at the hands of LeBron James, who has made dismantling not just the Raptors but the city of Toronto itself an art. Last year, for example, during game 2 of the Raptors-Cavaliers Eastern Conference semifinals, James was hitting shots so absurd that the Air Canada Centre was quiet enough for the broadcast to pick up individual people slurping Dr. Pepper. It was like watching someone's much older brother RKO their younger sibling off a flight of stairs; you kind of want to step in but also really want to see what unfolds.
Fast forward to this year's playoffs and we're beginning to see Toronto's decision to turn Drake into a face of the franchise pay dividends. He has made a name for himself in these past two Toronto home games as a man who has the green light to do whatever he wants on the sidelines and, for once, his antics are coinciding with important Raptors wins. Here, then, are his five best moments from the past two Raptors' home victories:

5. An attempt to beef with Giannis (Game 3)
Sometimes it's good to play the mental game when someone is so blatantly dominant at every facet of a given activity. This can also heavily backfire, but it's always worth trying. Important to note that the Greek Freak doesn't respond, probably because he can't hear what Drake said. Drake is about the size of one of Giannis's limbs, a scientific fact that is obscured by him sitting down here:
Drake had some words for the Greek Freak. 👀#NBAPlayoffs pic.twitter.com/1ZsHq1PQ0v

— NBA on TNT (@NBAonTNT) May 20, 2019
4. A possible J.R. Smith homage (Game 4)
Yes, another entry into the one-sided Drake-Giannis feud. Giannis front-rims a free throw, much to the pleasure of Drake, who dishes out a heartfelt-looking laugh followed by a watered down version of J.R. Smith's iconic air guitar celebration.
Remember when J.R. Smith would consistently wind up in the NBA Finals? Underrated part of our lives that we won't be getting back.
3. Receiving a $550,000 blazer for being Drake (Game 4)
The relationship between Drake and the Raptors functions as a sort of extremely wealthy father and his only child type situation. Accordingly, Raptors president Masai Ujiri presented Drake with a $550,000 jacket made with 235 handset diamonds.
Drake does not need this.
2. Goodbye twice (Game 3)
It's very uncommon to wave goodbye to someone twice. And yet, during a hard-fought, double-OT Raptors victory in game 3, we were treated to two instances of Drake doing just that. I guess it's worth mentioning the first wave was specifically to Giannis while the second was to the entire Milwaukee team.
Drake waved goodbye to Giannis and the Bucks in Game 3 👋 pic.twitter.com/g7LlbjgAIy

— SportsCenter (@SportsCenter) May 20, 2019
1. Drake rubbing Nick Nurse's shoulders (Game 4)
We've all seen this one by now, but it doesn't get old.
Drake giving Nick Nurse a quick neck massage😂pic.twitter.com/R3prXWtV1t

— Ballislife.com (@Ballislife) May 22, 2019
Somehow Drake manages to be both subtle and blindingly conspicuous. The massage itself — two quick squeezes and a pat on the right shoulder executed in just under two seconds — is rather subtle. Zoom out, though, and we have Drake, international superstar, roaming the sideline like a free safety and making physical contact with game personnel on national television.
Will we see all of Drakes actions come back to bite him? Historical precedent says yes. Shit-talking the top 1% of physically gifted humans on the planet is a textbook example of flying too close to the sun. If we see the Raptors manage to take two out of next three games to get to the Finals, the world is on a collision course for a Draymond Green dropkick to Drake's scrotum. I am excited for literally any outcome.