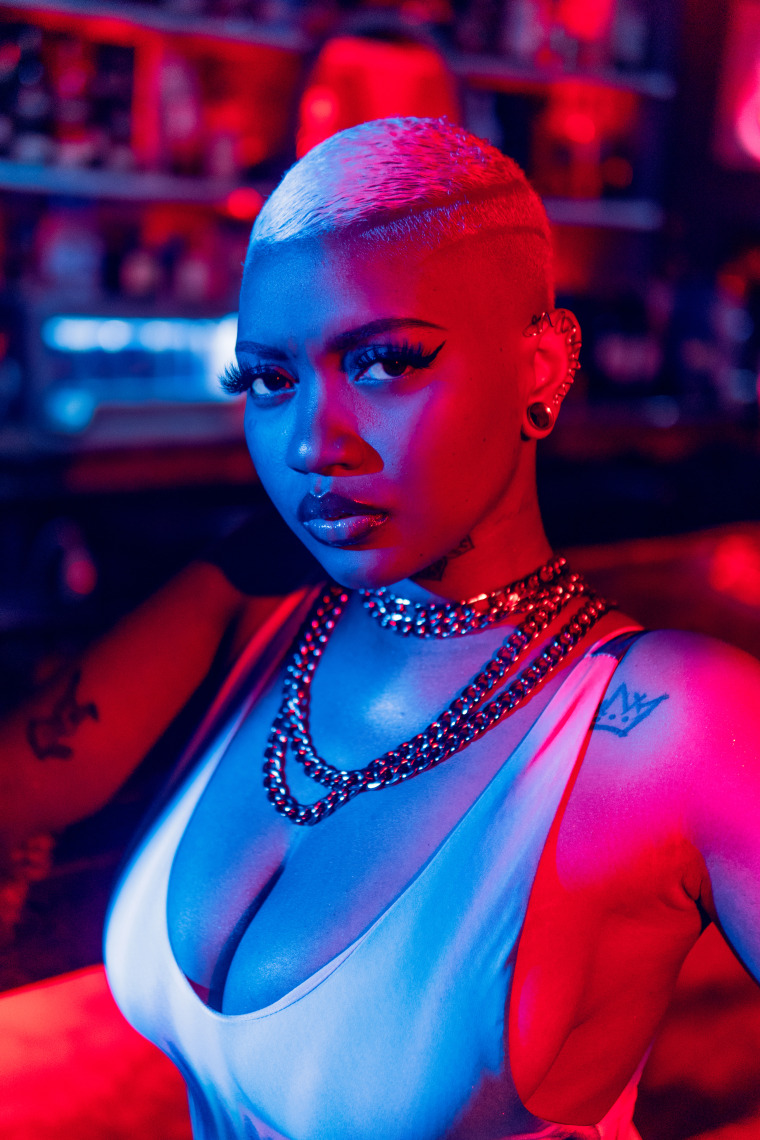 Dancehall or reggae may not outrightly come to mind when you hear the island emo sounds of 20-year-old songstress Jada Kingdom. If one could mash up the rawness of Lady Saw with a soft melodic lovers rock edge, lead by a rounded cruise controlled voice, this is what you would get. Kingdom, birthed as Jada Ashanti Murphy, was sexually assaulted growing up. Reckoning with that, she chose her stage name to reflect her viewing her body as a kingdom — one that she's vowed to protect at all costs. She first gained popularity on Instagram in 2016 as a swimwear model. A year later, she pivoted to music, joined forces with Julian Jones-Griffith of Pop Style Music, and dropped her first officially released song with "Love Situations."
Her Jamaican roots can be heard in her witty patois, boasted on tracks such as "Banana." The tropical infectious song with stacatto-like verses and a smooth chorus is as catchy as a commercial, delivering mumbling vocals about the Cavendish fruit while causing grown folks to harmonize about genitals. It has also sparked a viral Caribbean lyrical battlefield known as the #bananachallenge. Its reach has surpassed that of the likkle island, extending to New York's top radio stations and regular rotation in the U.K.. Last week "Banana" was re-released on Island Records, but Kingdom has more where that came from.
"Best You Ever Had (B.Y.E.H)," a jazzy horn-based track, established the young singer's R&B dancehall approach as more internationally appealing than what's come from the genre of late. The truth is that Kingdom's voice and songs sound completely different from anything we've ever heard out of Jamdown, positioning her as the crossover artist to watch. This summer she'll be going on tour in the U.S. for the first time with Kranium. The FADER recently caught up with the young Bull Bay native on why people refer to her as the Jamaican SZA, how she found her sound, and her Kingdom.

What is the story behind your last name?

It's not a change. Just basically my entertainment name. But it's deeper than just that. Something happened in the past. Some form of temple violation. But instead of a temple, because that's the Christian term, I call it my kingdom. My body. That's where it really came from. I called my Instagram Jada's Kingdom and then after a while, I took off the "s". Then it was the Ms. Kingdom. As a name, Jada Kingdom just made sense because I value my body so much so why not do this and use it as a pedestal and show swimwear, body confidence, boom boom boom! Done. Ms. Kingdom! When you see me, you see body, my kingdom. You can't violate this.

Why do you think your fans relate to you?

Because I'm open about certain stuff. On my social media, I usually have Q&A time in my stories and whatever you ask, I answer you. It highlighted my bipolar disorder. I didn't want to touch that topic but, yes, I suffer from bipolar depression and anxiety. I speak on that a lot.

Do you see yourself as a role model in that aspect then? Someone who people can look to dealing with bipolar depression?

No, I'm still going through it. I can't lie to them. It's stressing me the hell out. I can't say don't cry while I'm crying. Cry! You have to cry. It's like my detox. You have to go through it. At the end of the day, I can't say I'm strong. It's hard. Not purposely but I'm still growing and I have a lot of mistakes to make. Don't put your faith in me. If you want to have me as your idol then fine but don't put your everything in me.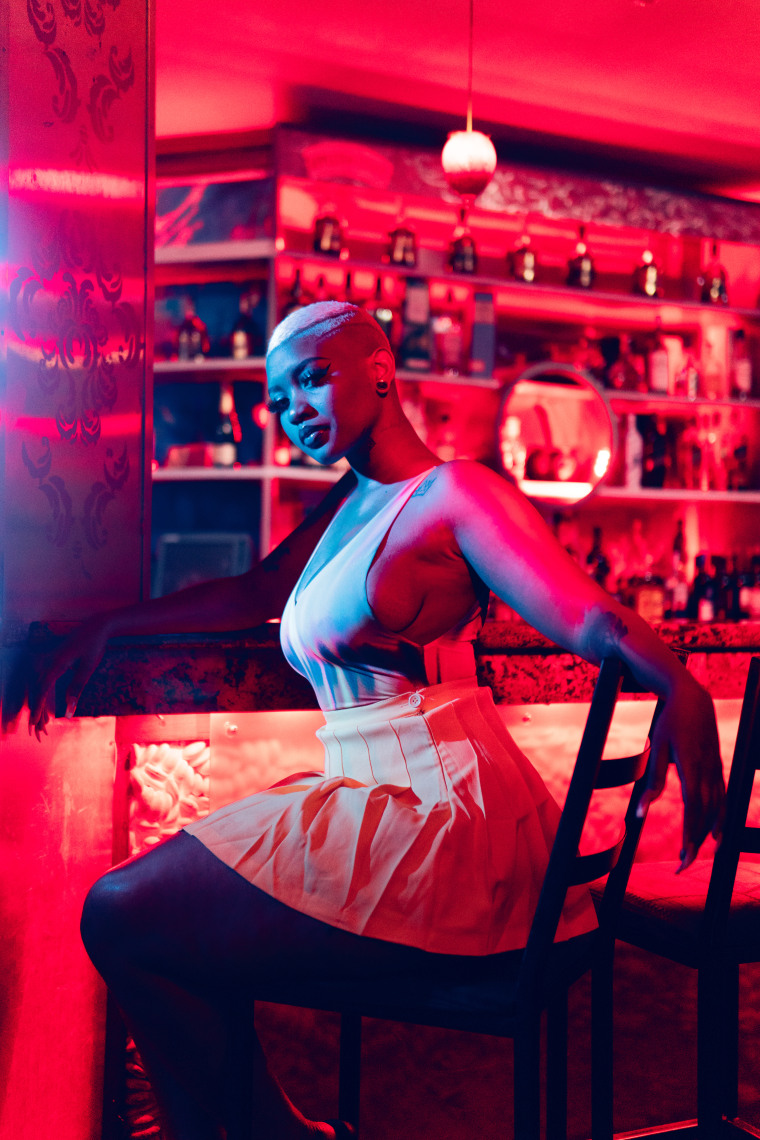 Where are you from in Jamaica?

I'm from St. Andrew Bull Bay. I went to Neptune basic school. Then it was Saint Benedict's primary school in Harbour View and then Vauxhall high. I finished at age 16. I knew I wanted to do music for a long time. Back in school, you know how they have the class clown? I was always the one in the class that beat the desk and sang. We used to have this group in the class, like the Cheetah Girls type of vibe. We were obsessed with the Cheetah Girls like dummies. And then in high school, I was flexing alone. I had zero friends so singing was an outlet for me for a long time. I was writing first but not songs, it was poems: my deepest darkest secrets type. I was angry at first. Then I just started writing poems. My poems would rhyme and then it turned into songs. The first poem I turned into a song was called "Just A Wreck" in 2015. People were confused at first because I had "Love Situations" as my first song and then they went back and heard "Just A Wreck." It was just a poem, but they wouldn't get it so I put it like a song.
Did you have any distribution deals before "Love Situations" or did they all come after? How did that all come about?

OK so nobody was paying me no mind unless I had something to give them. And even then they weren't going to do what I wanted so I just kept to myself because I'm smarter than that. Everyone started running in after they saw something happening for me. The moment you are happy, everybody is going to start running in. That's in my song "Unwanted" and it's facts. I'm not talking about management, I'm talking about people who wanted to sign me with record deals, and producers wanting to try and take me seriously now. It wasn't after "Love Situations" it was after "Best You Ever Had." The first song, everyone is like Yeah she has one song but let's see.


You were songwriting and that's how you got your introduction to the studio?

I would love to take all the credit but I can't. My management came in 2017, the same year as "Love Situations." Right before it. Everything fell into place. What happened was, we were cool but he [Julian Jones Griffith of Pop Style Music] didn't think I was serious. They reached out to Jaxx. Jaxx knew me and he made the link but [Julian] wasn't sure because he didn't hear anything from me yet. That's when I started sending material and giving a vibe like yo what song you want to put out first? It was "Love Situations" and he really believed in the track so then we did it. He was basically there from day one.

How did you find your sound? I've seen on the internet where people call you the Jamaican SZA. I mean I don't necessarily agree with that but the first time I saw you, you were singing a capella to the "Best You Ever Had" and I was like, Who is this girl? I've never seen anything out of Jamaica like this.

OK so I never really told anyone this before, but I got my sound from Nina Simone, a little bit of Erykah Badu, and jazz music. I mixed them and then added the Jamaican thing. I love jazz music. That's my first love. I listen to a lot of jazz. I found my sound at 16. I was recording, fooling around. I had a song called "You and I." To describe my sound, I would say pure, but you wouldn't know [who influenced my sound] because I put in my own little Jamaican thing. I can't say I'm not influenced by anybody. That would be so crazy because there is an influence for everyone. It's been done before but it's just how you do it.
Are you working on an album? What can we expect?

Yes. I already have an EP out but no more EP's for now. Only the album, singles, collaborations and stuff like that. My career doesn't stop here so expect lots of songs. I have a lot of work to do. I don't want you guys to be able to count my songs haha.
But are you determined to put one out? Because you know a lot of Jamaican artists live off singles and we never get albums. In the U.S. it's kind of different. We get albums and EP's regularly.

Yeah mon, I'm determined. I'm even planning to do a mixtape. I don't want to call it a mixtape. More like a playlist of some songs that I have been sitting on. It's tropical vibes, but not every song. If you listen to the "Best You Ever Had" and then you listen to "One Time" you wouldn't believe it's the same artist, so you never know what it is with me. I just do what I feel.

Where did "Banana" come from? Is there a cool story behind that?

I was at the studio and I was high. We went to the gas station and they were selling fruits. I bought a banana, some cashew nuts, and coconut water because you know of the munchies. We went back to the studio and when I was in the booth I said Yo Jaxx pass the banana for me or whatever and then it just came up in my head. The reason I played on it was because when I said Yo pass the banana everyone said Why? So because I told a man to pass the banana they were like "why." So I just started troubling him the whole night. I know it sounds like one of those tunes you make up but that's it. And I was so high that I was singing through my teeth. I couldn't open my mouth. That's why the banana was pronounced like that. But yeah, I was literally eating a banana and nuts.