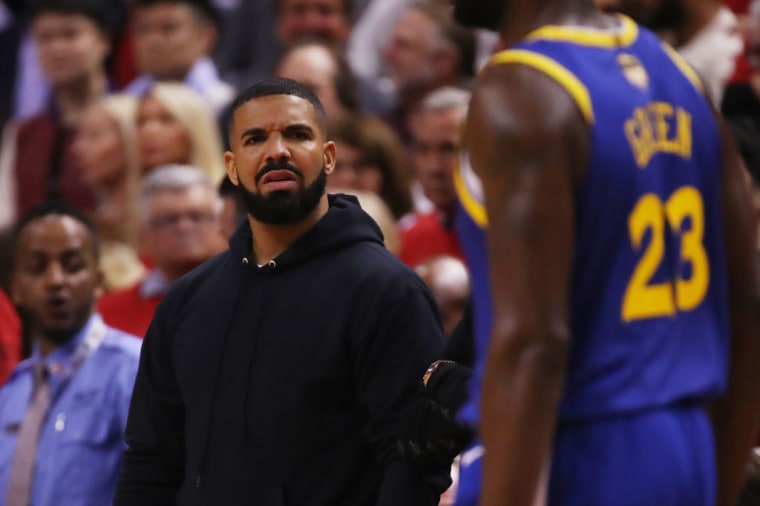 Sunday night brought Game 2 of the NBA Finals to Toronto, with the Raptors already leading in the series after a victory in the opening tie. That's enough about basketball though, the real story of the 2019 Finals has been Drake and his troll-like behavior. Last night, however, he managed to somehow end the night having been played by Barack Obama, Klay Thompson, and, err, Macaulay Culkin.
Let's break this down one at a time. The Obama thing was kind of out of Drake's hands. Normally he's the most famous person sitting courtside, regardless of the game. There's maybe three people in the world who could overshadow him. Unfortunately, on Sunday night the former President turned up and was given a heroes welcome.
Barack Obama got a standing ovation and MVP chants lol pic.twitter.com/4zGLf0mv3v

— Yahoo Sports Canada (@YahooCASports) June 3, 2019
Obama and Drake connected later on, as Barack lived out the real life version of that iconic Key & Peele sketch IRL.
Obama 🤝 Drake pic.twitter.com/7fRvo6cdMQ

— SportsCenter (@SportsCenter) June 3, 2019
Harder to explain is the Macaulay Culkin business. Drake turned up to the game wearing a sweatshirt with Home Alone's Kevin McCallister on it. The reference was not to everybody's favorite abandoned child, rather a stray shot at the injured Golden State Warrior, Kevin Durant. KD didn't mention the sweater himself, but you best believe Macaulay was watching and ready to make his Twitter mentions explode.
"Hey @Drake I'm right here, bro," the Home Alone star tweeted. "DM me. See you at the BBQ."
Hey @Drake I'm right here, bro. DM me. See you at the BBQ. pic.twitter.com/GTHMKg6LWU

— Macaulay Culkin (@IncredibleCulk) June 3, 2019
After the game, which Golden State won 109-104 to tie the series at 1-1, Drake had a run in with Kevin Durant and Klay Thompson near their dressing room. "See ya in the Bay, Aubrey," Durant said, keeping things mild. Thompson then elevated it a little, saying: "Weren't talking tonight were ya?" in reference to Drake's actions during Game 1. "With your bum ass?"
Drake eventually fired back, suggesting the Warriors "squeezed that" result. "That was light work, too," Thompson replied.
"Weren't talking tonight were ya? With your bum a*s."

Klay & KD had some words for Drake as they emerged from the locker room to greet their teammates after the Game 2 victory. @kron4news #DubNation | #WeTheNorth pic.twitter.com/hGlIM17KA2

— Jason Dumas (@JDumasReports) June 3, 2019
Game 3 of the NBA Finals takes place on Thursday, June 6.
Listen to The FADER's weekly playlist of songs you need in your life