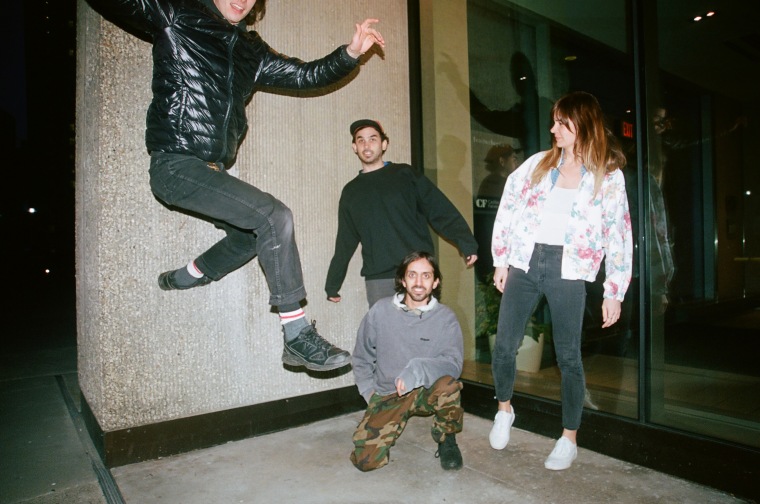 Vancouver post-punk quartet Dumb often hurry through rants and ideas and apparent non-sequiturs as fast as they can before burning out, shutting down, or moving onto the next riff. Seeing Green, their 2018 Mint Records debut, was a rush of frictious guitars and anxious snares, sparking around Franco Rossino's slippery one-liners — "Feels like a vortex / All covered in Gore-Tex," "Making big boy choices, know what I mean?" — but their pop intuition still showed through. It was gurn-along punk rock for kids too smart to pay attention in class.
The follow-up, Club Nites, out June 7 via Mint but premiering in full below, fleshes out both their sound and, despite the songs still rarely cracking the three-minute mark, their ideas. It's a concept record — 14 vignettes about nightlife, some of which are so lyrically bleak you'll never want to go out again. On the opener, Rossino is "trading favors for regrets"; on "Content Jungle" he slurs, "I can't hack it on my own"; on "Knot in my Gut," he's still got "a lot of things to fight about." It's sharp-witted and short-tempered. But it's also alluring, especially towards the back end, where "Slacker Needs Serious Work" and "CBC Radio 3" jangle and float around. The production is fuller too, so every lick of feedback from Nick Short's guitar and spontaneous burst from Shelby Vredik's bass and sharp snap from drummer Pipé Morelli come through clearly.
Listen to Club Nites below and pre-order the record here. Dumb are touring across America through the summer, then heading to Europe in the fall. Find all those dates at the foot of the page.
June 16: Vancouver, BC @ Red Gate (Record Release Party)
June 20: Calgary, AB @ McHugh House (Sled Island)
June 21: Calgary, AB @ The Commonwealth (Sled Island)
June 22: Saskatoon, SK @ The Capitol
June 23: Winnipeg, MB @ The Handsome Daughter
June 24: Minneapolis, MN @ Kitty Cat Club
June 25: Chicago, IL @ The Burlington
June 26: Washington, DC @ Rhizome
June 27: Philadelphia, PA @ MJ's Diner
June 28: Brooklyn, NY @ Alphaville
June 29: Providence, RI @ House
June 30: Montreal, QC @ La Sotterenea
July 1: Toronto, ON @ Baby G
July 2: Detroit, MI @ The Beaconsfield
July 3: Eau Claire, WI @ The Venue
July 4: Madison, WI @ The Castle
July 5: Fargo, ND @ The Aquarium
July 6: Regina, SK @ The Exchange (Grind Central Festival)
October 4: Freiburg, DE @ Swamp
October 5: Zurich, CH @ Rothaus
October 6: Dijon, FR @ Deep Inside
October 8: Nantes, FR @ Lune Froide
October 9: Rennes, FR @ Bistrot de la Cité
October 10: Paris, FR @ La Boule Noire
October 11: Bristol, UK @ Hy Brasil
October 12: London, UK @ Shacklewell Arms
October 13: Manchester, UK @ The Eagle Inn
October 14: Glasgow, UK @ Broadcast
October 15: Oxford, UK @ Wheatsheaf
October 16: Brighton, UK @ The Hope & Ruin
October 17: Ghent, BE @ Charlatan
October 18: Rotterdam, NL @ Left of The Dial Festival
October 19: Hamburg, DE @ Molotow
October 21: Aarhus, DK @ Tape
October 23: Berlin, DE @ Schokoladen
October 24: Cologne, DE @ Bumann & Sohn