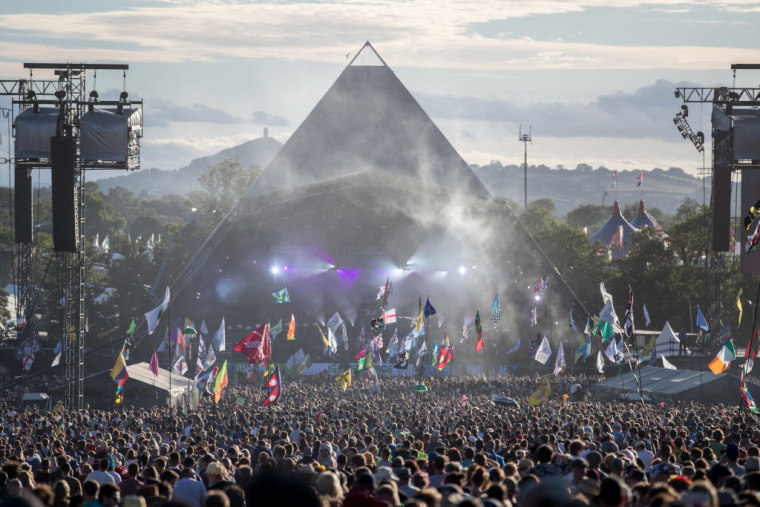 Killdren, a British punk duo, have been removed from the line-up of Glastonbury Festival. The band were due to perform on one of the fringe stages of this year's event, which takes place on June 26-30. However, organizers took the decision to pull them from the bill after fears about their song "Kill Tory Scum (Before They Kill You)" were raised by the Rupert Murdoch-owned Times of London.
"Kill Tory Scum..." takes aim at Conservative Party politicians and states that a "Tory genocide is the perfect outcome." Another lyric reads: "Murder them all to the beat of a drum / kill Tory scum / kill Tory scum."
Approached by the Times, a spokesperson for the Jo Cox Foundation condemned the Killdren's lyrics and called on Glastonbury organizers to remove the band from its line-up.
"The direct incitement of violence and abuse, on any platform and in any sector, is wrong," said a spokesperson for the charity set up in 2016 following the murder of U.K. politician Jo Cox. "All of us need to call out this kind of language, until we return to a more civil way of being able to debate difference of opinions – without having to resort to threats and intimidation."
A statement from Shangri-La, the organizers of the stage Killdren were booked to play at Glastonbury, confirmed that the band had had their invite rescinded. "We are incredibly saddened that the attention this booking has received has caused such upset and negativity towards such a peaceful festival," Shangri-La's bookers wrote. "We in no way condone violence and will not allow this matter to overshadow the incredibly inclusive spirit of Glastonbury. And as a result we have taken the decision to withdraw the booking."
June 2, 2019
Killdren told the BBC they were "disappointed" by the decision. "We are disappointed that Glastonbury and the Jo Cox Foundation were upset enough by our music and video that they cancelled our set, buckling under pressure from the right-wing media.
The band also responded on Twitter, explaining that "Kill Tory Scum" was a reference to voting the party out of power and highlighting a report suggesting "that up to 130,000 preventable deaths have occurred as a result of Tory austerity measures."
Statement regarding #Killdren Glasto furore:
#1 – the full title of the song in question is Kill Tory Scum (Before They Kill You) and the video questions state-sanctioned violence

— Killdren (@KilldrenMusic) June 2, 2019
Listen to The FADER's weekly playlist of songs you need in your life