Ginseng's custom DJ Spinz 808 — a punchy and crisp bass drum — is regarded by many producers as the holy grail of presets. In fact, the beatmaker is so well revered within the SoundCloud community that there's a meme plastered all over social media which reads, "This isn't prod ginseng? Idk if I can fw this." Despite having such a cult following, Ginseng's humility remains omnipresent when we talk over FaceTime. He laughs as he admits: "It's crazy that people see me like that. It's kind of hard to take in, 'cause I don't know if I see myself that way yet." It's a type of modesty that you wouldn't expect from someone who's produced for the likes of Rico Nasty, Night Lovell, Lil Tracy — and even retired professional basketball player Dennis Rodman.
His productions are just as bouncy and melodic as they are aggressive and dark. Yet what is particularly distinguishable about Christian Baello, the man behind Ginseng, is that production is only one of many of the 20-year-old's successful musical endeavors. He's the guitarist and percussionist in his indie band dream, ivory and also raps under the alias Lil Wintr. It's no secret that Baello is responsible for all of these projects, but each stand so well on their own that it's difficult to imagine they could all be by a single person. "It's happened a lot when people tell me that they found my band separately from my beats," he says.
As he's sitting at his desk in Lake Elsinore, California, the multi-faceted musician talks to me via FaceTime. He's wearing his infamous Absent hoodie, emblazoned with shiny white rhinestones on the front. A heavy cross earring dangles from his left ear, and a custom LaRopa New York Yankees baseball cap pokes out from under his hood. It's clear that his whole outfit cost a lot, but Baello isn't one for flexing. He simply prefers his music to do the talking for him.

How did you first start playing instruments?
When I was younger, my brother and I were forced to play piano. Like, literally forced — I did not want to do it. For a while, I was like, This shit sucks, dude. But looking back at it, I'm very appreciative, because it goes hand-in-hand with what I do now. After a couple years, I started playing guitar out of curiosity and would teach myself how to play with tutorials on YouTube.
What made you want to pick up producing?
In high school, all I was listening to was SoundCloud. When I say that was all I was listening to, I'm dead ass [Laughs]. I thought the beats were crazy, so I wanted to make my own. In 2015 I was listening to a lot of Xavier Wulf, a lot of Misogi, just a lot of the popular producers back then.
Production was so crazy back then, it's almost not even the same today.
It's way different now, dude. It's like a whole different story. Back then, production could stand on its own, you know what I'm saying? Just solo beats would get popular. Nowadays, it has to do with getting a placement, doing this or doing that. I feel like the actual talent of producing it is way overlooked nowadays. It's just about getting rappers on your beats, and placements, and "clout," stuff like that.
What do you mean when you say that you're "not just a producer"?
The thing is, I'm fine with being called a producer, but I don't want to be known as just a producer. It's not anything insulting, it's just something that boxes you in as a musician.
Producing is what I'm most well known for right now, but I'm trying to make it a point that I do more than that. I'm trying to be looked at as more of an artist in general, not in terms of my just projects, but what I can do in terms of making a song, or making a beat, or doing vocals. I've been exposed to music for a while, so it's not just about beat making in itself for me, you know?
I think a lot of people think producing in a DAW (digital audio workstation) takes less skill than it does to play an instrument.
Definitely, yeah. I feel like if you make music with instruments it's automatically way more respectable in a lot of people's eyes, rather than just clicking buttons and using a DAW. It's something I don't really agree with, since being a producer and using a DAW really does take skill.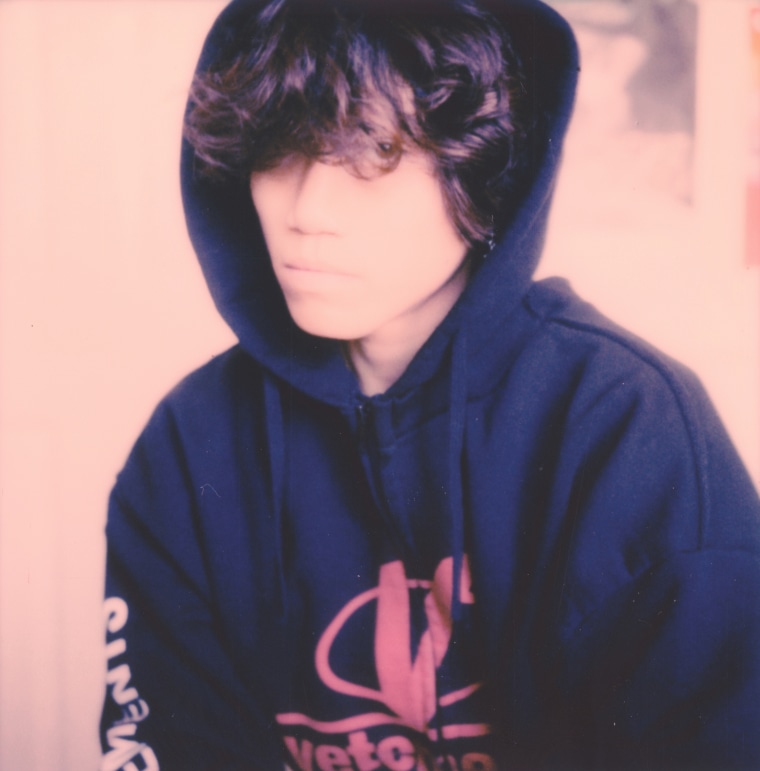 What can you tell me about the band you have with your younger brother Louie?
We're called dream, ivory and started it in 2016. I grew up listening to a lot of alternative and indie bands, and my brother did too, so we were like, Fuck it, let's start our own. We knew how to do simple chord progressions and shit, so we wanted to see where we could take it. It was mostly just for fun, like we weren't trying to get big off it or anything. Now, we're trying to take it a little more seriously. A few of our tracks have gotten way more exposure then we ever thought they would. Once "welcome and goodbye" got to one million streams we were like, Whoa.
That was without any push from you as Ginseng, right?
Yeah, exactly. It's funny that you say that, because that's why we were shocked. It just happened on its own. But we're glad, because we really enjoy making songs like that.
Rumor has it you have another dream, ivory project on the way?
Yeah, it'll sound a little more like our first album. A little more fast-paced, but it's also more experimental, as opposed to just the guitar shit we've been doing. We're trying to have different sounds and vocals — we're trying a lot of new things with the album.
So why don't you sing in your band if you also rap under the name Lil Wintr?
I feel like my vocals just really don't work with it. With Lil Wintr, the Auto-Tune helps a lot [Laughs].
You initially start rapping as a joke right?
Definitely, Lil Wintr was a joke for sure. I started it as some Christmas meme, just because I like Christmas as a holiday, so I named it Lil Wintr and made a Christmas album. But people started listening to it without any push from me as Ginseng, which I guess just tends to happen [Laughs]. It's just like dream, ivory. Now I'm taking Lil Wintr a lot more seriously, and I'm actually putting time into the writing and the production.
Do ideas circulate throughout all of your projects?
Definitely bro. One time I was making a beat and I was like, Yo, I want to use this beat for Lil Wintr. That's how the song "Priorities" came about. And sometimes I'll be making a beat and I hear a synth and I'm like, I want to use this for a dream, ivory song.
Tell me about the collectives you're in.
Red Mirror is a pretty exclusive group — all of us are very close-knit. The type of shit we're working on is stuff that you really haven't heard before. We really don't like to talk about what we're doing, we like to just let it happen. People really don't make shit like this.
Keyworld has more members, but it's still a close group of friends. Keyworld is more production based, but we're also trying to push our branding as well. Everyone in both are really cool with each other, which is fire. They're not just collectives. We're trying to take both of them really seriously.
How did you end up producing 14 of the 18 tracks on Night Lovell's album Goodnight Lovell?
Lovell told me the direction he wanted for the album, and the type of sound he wanted, and he was like, "Just send me beats, send me beats." I didn't even plan to produce 14 tracks, I just kept on sending him pack after pack after pack. He kept on sending songs back, and we grew it from there, and I'm really thankful that it came out to be that many. It's super easy to work with him, he'll explain a theme and I'll just make whatever.
Do you have a similar process when you produce for other artists?
A lot of rappers are just super vague with what they want, which is pretty tough. So as a producer you just need to make what you think they'd sound good on. Usually, when a rapper hits me up for beats, I'll make a whole pack just for them. A lot of producers send the same pack to a bunch of people, but I try to make a pack specifically for an artist.
You have all of these successful musical projects, but you're also a nursing student?
Yeah, my mom is a nurse and it's a good occupation, so I'm putting the time into it. Obviously, I want to do music, but nursing it is definitely something good to fall back on. The whole job security aspect of it. Music is not 100% secure. Anything could happen, so I'm just enjoying it while I can.