(Sandy) Alex G's Haunted American Dream
Alex Giannascoli's new album, House of Sugar, is populated by gamblers, chancers, and conmen — the same spirits that have haunted his work for a decade. Now that (Sandy) Alex G has outgrown his status as indie's best kept secret, he's grappling with those demons in public.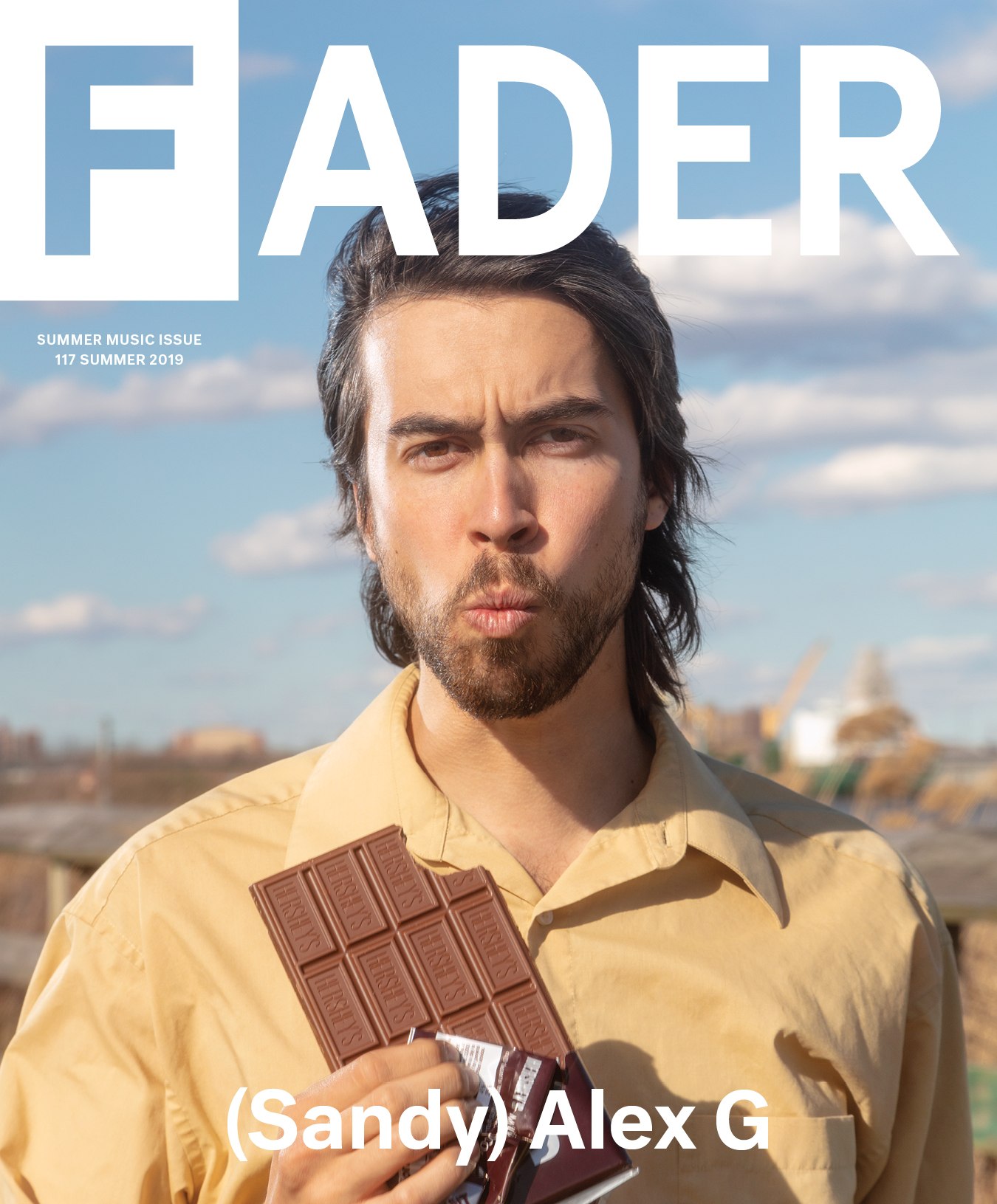 Buy a print copy of the (Sandy) Alex G issue of The FADER, and order a poster of his cover here.
---
There is an elusive, sacred sweet spot between sober and shitfaced when lining up a pool shot feels almost euphoric. Right now, Alex Giannascoli and I aren't there quite yet.
We're playing a doubles match against two tipsy, smiley men named Oliver and Manuel; Alex has yet to sink a ball, and despite making a couple of decent shots, I somehow manage to knock the eight in out of turn, losing us the game.
"Sometimes I feel like I miss on purpose or something," Alex says. "Like, how could I get that close, that often?"
It's 6 p.m. on a Friday, and we're inside a deserted Brooklyn dive with sooty walls and dull red lights. Alex — the 26-year-old singer, songwriter, bandleader, pitch-shift enthusiast, poet, session guitarist, book-lover, son, friend, brother, boyfriend, and aspiring pool shark better known as (Sandy) Alex G — is in New York for a few days to put some final touches on his new album House of Sugar, a haunted-feeling collection of off-kilter Americana. I'm here to talk to him about the music, but at the moment, he appears more focused on refining his pool stroke — something he has been doing a lot back in Philadelphia, where he shares an apartment with his girlfriend and collaborator Molly Germer, a classically trained violinist.
"I wouldn't call myself 'good,' but I love this game," he tells me.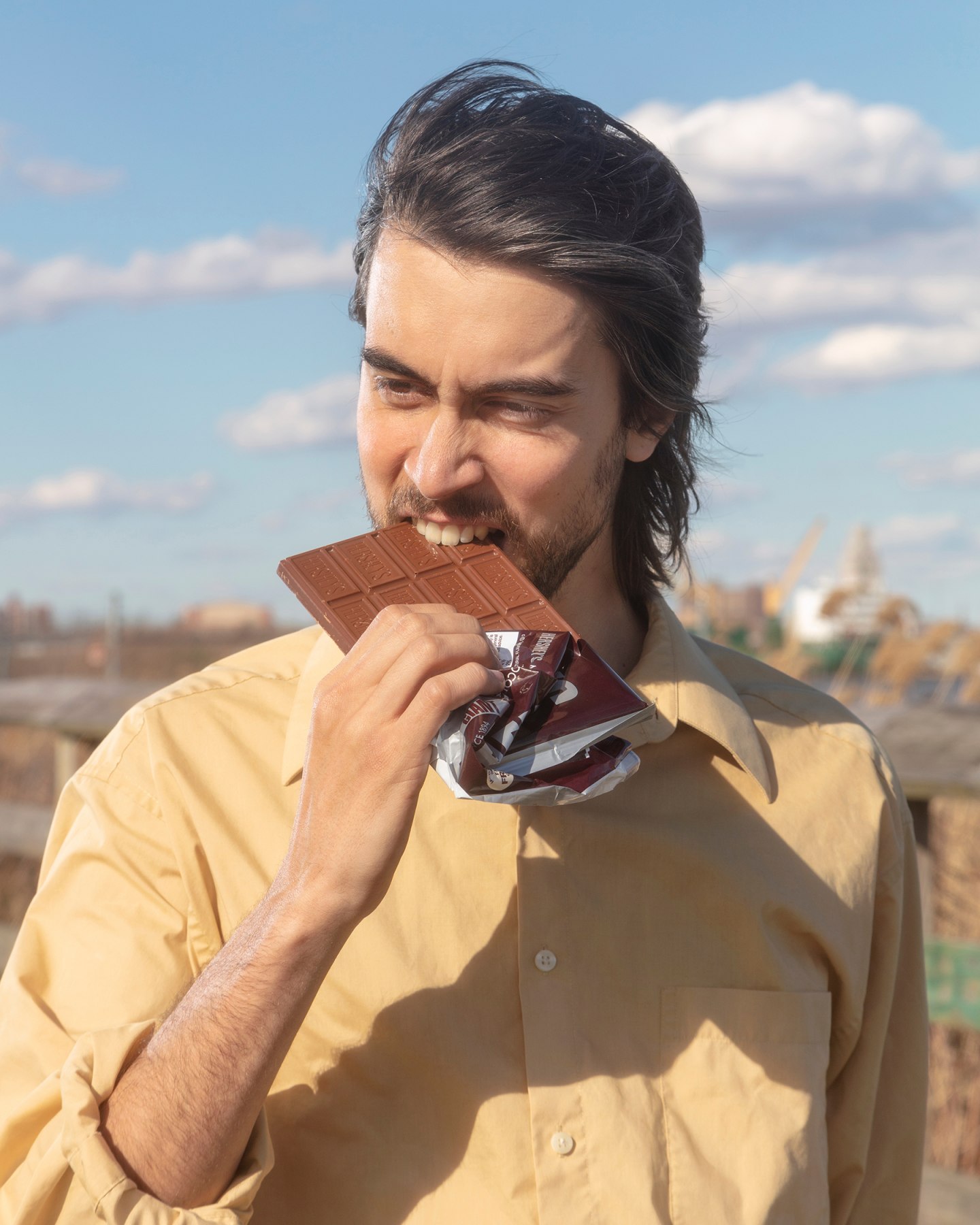 Alex is long and thin, like a leguminous plant. His dark hair has fluctuated over the years between shoulder-length and clean-cut with no discernible pattern. When we meet, it's somewhere in the middle, crammed under a beanie. And though he's spoken to a lot of journalists since he started self-releasing music as a teenager in Havertown, Pennsylvania, he still seems a little self-conscious, occasionally stopping himself mid-thought when he remembers that what he's saying is on the record.
"I'm still getting used to it," he says. Later in our time together, I ask him to elaborate: "You spend so much time crafting this thing that's a representation of you that's perfect, and then the interview is your dumbass self, babbling."
In a lot of ways, I sympathize. Explaining the appeal of Alex's songs can be tricky, like articulating a strange, aching feeling that you had once, a long time ago. But for a certain demographic, Alex has already proven himself to be a once-in-a-generation talent — like Neil Young for kids who grew up on Game Boy and Gushers. In an industry that is notoriously unstable and only negligibly lucrative, he's about as well-liked as an indie rock musician can be, selling out shows in big rooms around the country and working with the likes of Frank Ocean and Oneohtrix Point Never. He's the kind of artist who has a dedicated Reddit page where fans debate which unreleased jam is the greatest unreleased jam, share pictures of cute dogs named after characters from his songs, and post comments like: "For anyone planning to go to these upcoming dates: get us videos, ESPECIALLY if he is playing new stuff. some of us live super far!"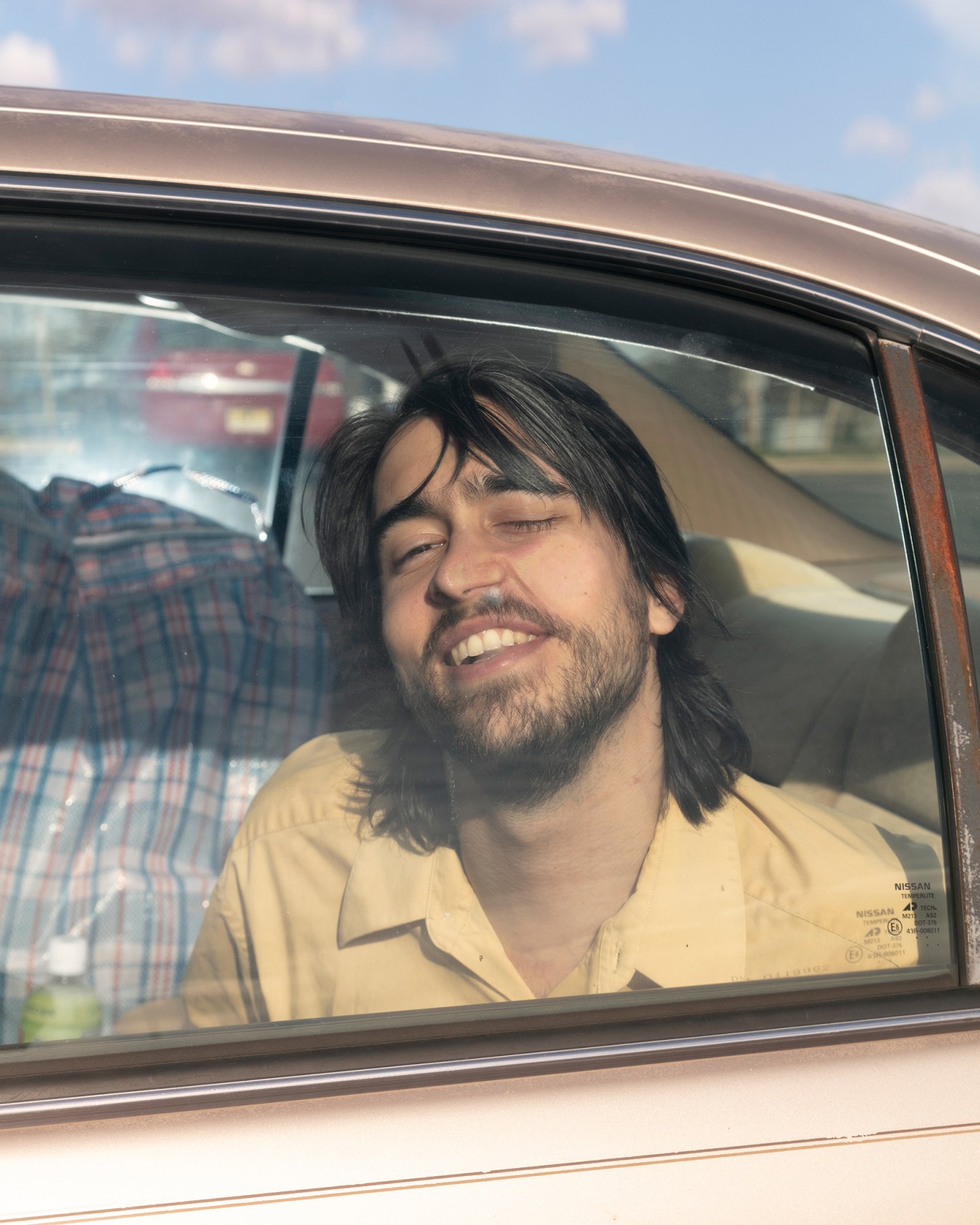 Alex's music has always explored the disorienting experience of growing up, the space where whispery secrets of youth give way to the harsh realities of adulthood. Nearly a decade after posting his first album online, Alex emits the quiet conviction of a man who knows what he does well, trusting his own oddball instincts while recording songs, but also on stage, where he lurches confidently from foot to foot while singing. But spending time with him reminds me that he's also a regular young person, grappling with his mid-20s and the bouts of restlessness and paranoia that usually come along with them. "I think all the time, why the fuck do I do this?" he says. "It's like I'm craving attention or something, but then I lie to myself and say I don't want that. I do it because I've always done it, but I don't know if it's worth a damn or not."
After my eight ball mishap, we rack 'em up for a rematch. Alex says things like "nice shot" or "good try, man" after each of Oliver's and Manuel's turns, and for a couple of minutes, it feels like we all understand each other. We win, only to then lose to a pair of smug 20-somethings who'd just walked in after finishing work.
Back at the bar, Alex and I order another round of beers. He glances back over at the pool area, where Oliver and Manuel are up against the Brooklyn young professionals who knocked us off the table. "I'm rooting for our guys," Alex says, and I know right away who he's talking about.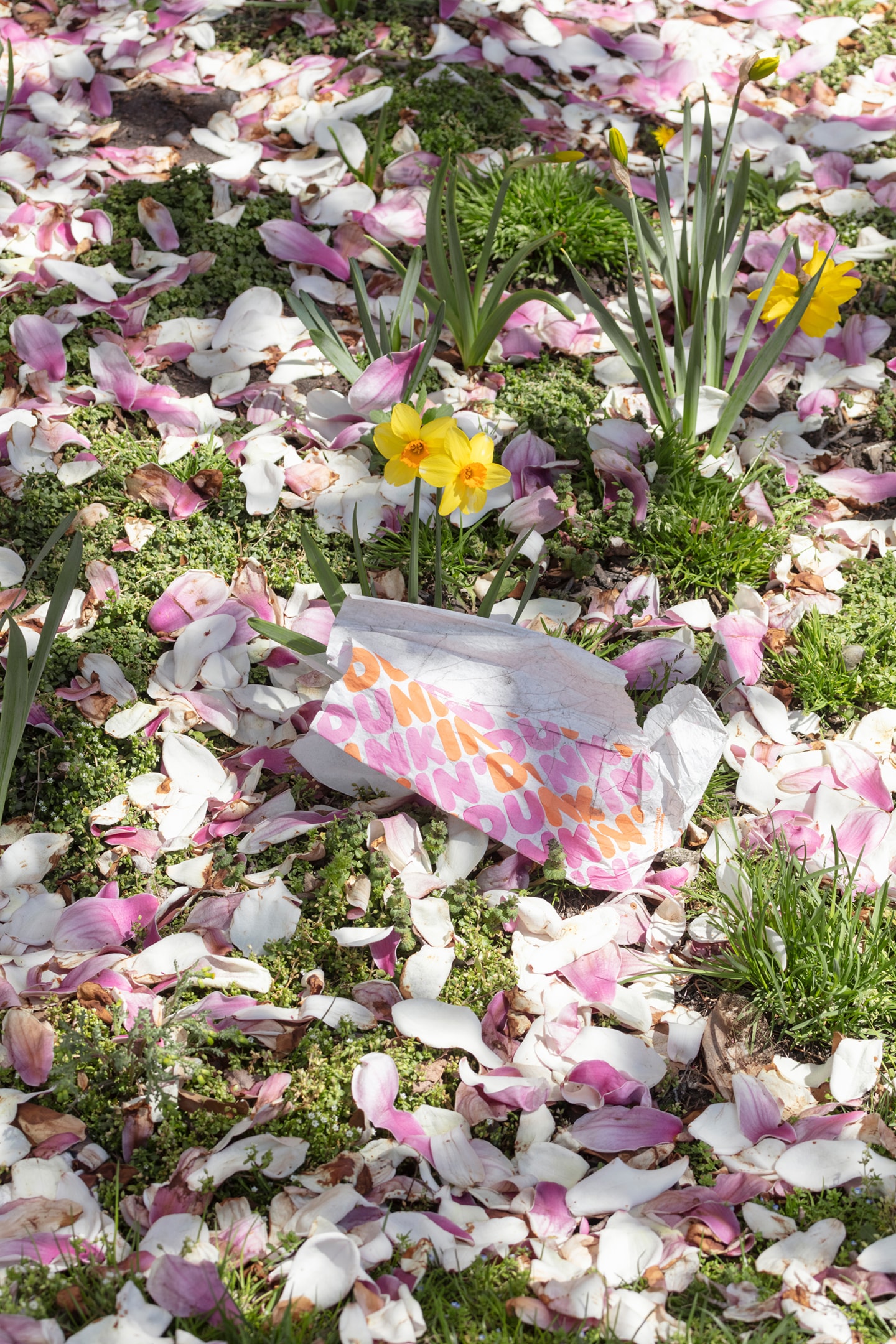 The first time I interviewed Alex, he was an undergrad at Temple University, newly 21 and living with roommates in a sparsely furnished North Philly rowhouse. It was 2014, and he was getting ready to release DSU, the homemade collection of gnarled, tuneful rock songs that would take him from little-known suburban outsider to one of the most recognizable faces in the city's bubbling DIY rock scene. At the time, though, he was just a college kid from Philly with greasy hair, a Chevy Malibu, and jeans that didn't fit right.
The story I wrote after that 2014 meeting was titled, by my editor at the time, "Meet The Internet's Secret Best Songwriter." It was a good headline, one that captured Alex's rare gift for coming up with mangled little melodies that burrow into your psyche like malicious daydreams. But it also had a layer of irony to it. Despite the fact that his Bandcamp uploads were spreading around YouTube and the blogosphere with the velocity of good gossip, there was nothing really that internet-y about Alex at all.
DSU came out on vinyl and cassette via Orchid Tapes, a Brooklyn bedroom pop label with a roster of low-key, homespun song-makers who more or less constituted an entire mini-era of 2010s indie music. It was technically Alex's fifth full-length, a figure that doesn't even account for the stockpile of never-officially-released lo-fi material that he only shared with friends via email and burned CD-Rs. Many of these songs found their way online anyway, often turning up in the background of amateur skateboard videos or on fan-made compilation albums.
After DSU was out in the world, Alex left school and signed a deal with Domino Records. "They're obviously a business that's trying to sell records, but they're very respectful of me," Alex says. "They don't interfere with the music at all."
In 2015, Alex released his Domino debut, Beach Music, an album of uncanny arrangements and queasy harmonies that he mixed with help from Jacob Portrait, a Brooklyn-based musician and recording engineer whose studio is located a few blocks from the bar with the pool table. Portrait was the first person Alex had ever collaborated with at the song-construction level, and the pair have worked together on every (Sandy) Alex G full-length since.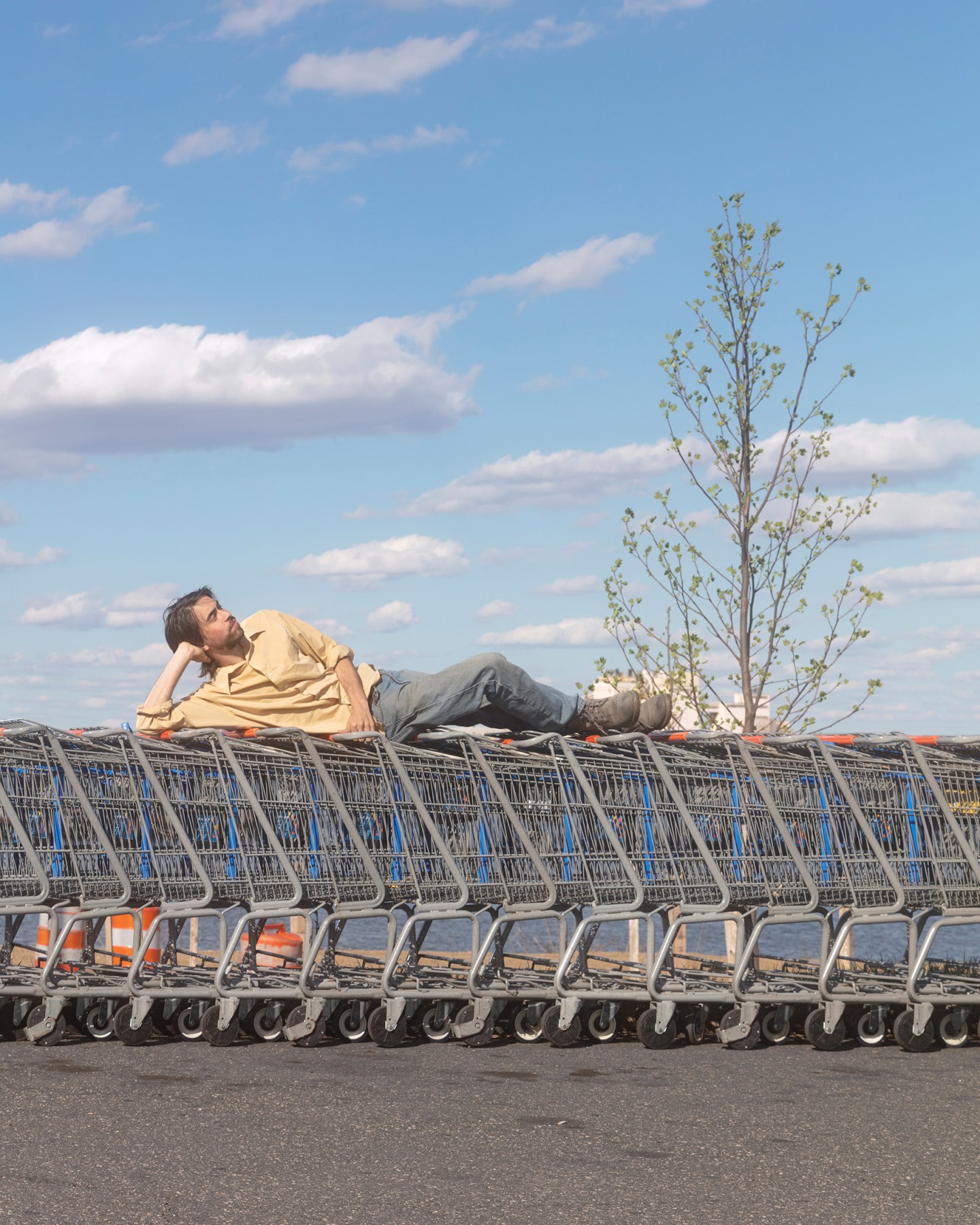 After Beach Music came Rocket, which found Alex experimenting with everything from meditative freak folk to industrial rap-rock. More than anything, though, its fiddle-filled heartache ballads and whiskey-soaked barn burners felt like an embrace and subversion of outlaw country aesthetics. At the time, it seemed like Alex being Alex, but Rocket's rootsy vibe was also weirdly prophetic; this was in May 2017, long before Kacey Musgraves, Mitski, and Lil Nas X's "Old Town Road" helped shepherd "yeehaw" culture into public consciousness. Recently, the musician Dave Benton wrote on Twitter: "old town road has some alex g energy tbh," the kind of joke that's only funny because there's a real layer of truth to it.
Fans and critics dug Rocket. But even before it dropped, Alex's profile was on the rise, thanks in part to a dream-team-level collaboration with Frank Ocean. "His manager emailed me when we were on tour in the U.K. and was like, Do you want to work with my client? And I was like, Sure," Alex remembers, noting that at that point, he wasn't super familiar with Ocean's music apart from "Thinkin Bout You," the highest-charting single from the singer's 2012 debut LP, Channel Orange. "I didn't know enough to be excited," Alex admits. "He makes good music. I was just like, Yeah."
He wound up playing guitar on the 31-year-old's zeitgeist-shifting albums, Endless and Blonde, a plot twist that was exciting but not entirely surprising. The two artists share a knack for crafting dangerously catchy melodies, as well as a hard-to-describe misfit quality. "I can't relate to my peers / I'd rather live outside," Ocean sings on "Seigfried," a song that also interpolates lyrics by Elliott Smith, the late, post-grunge songwriter to whom Alex is often compared.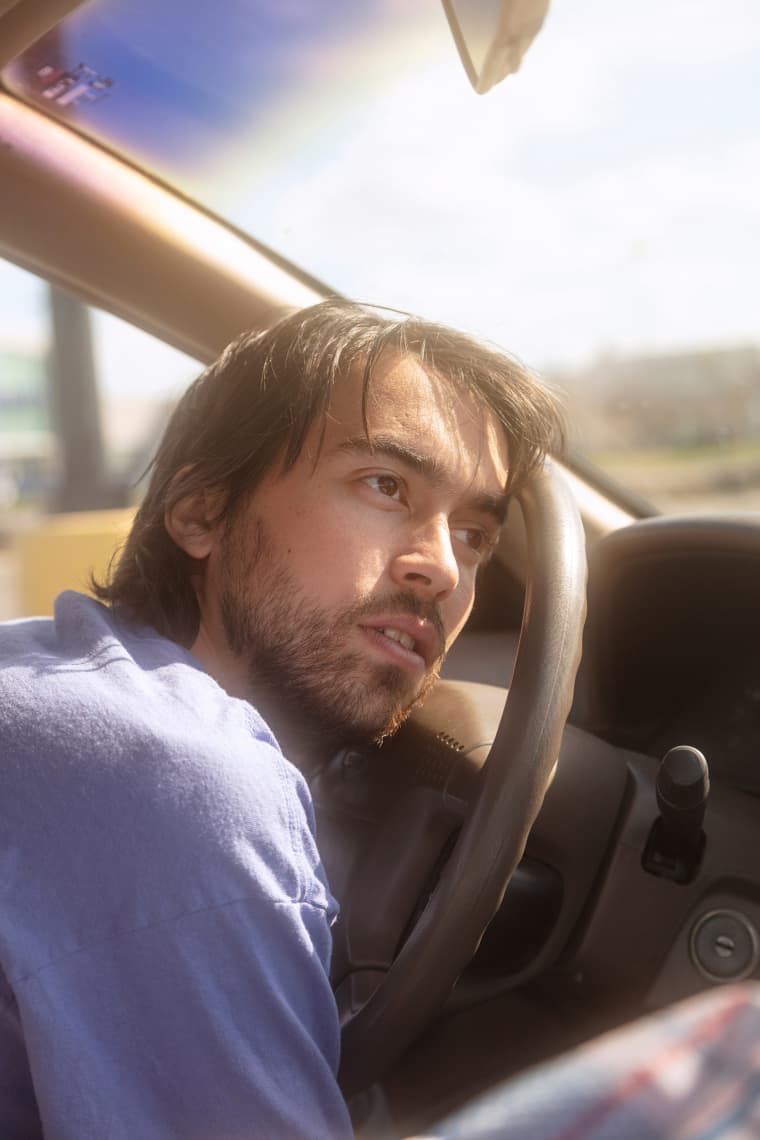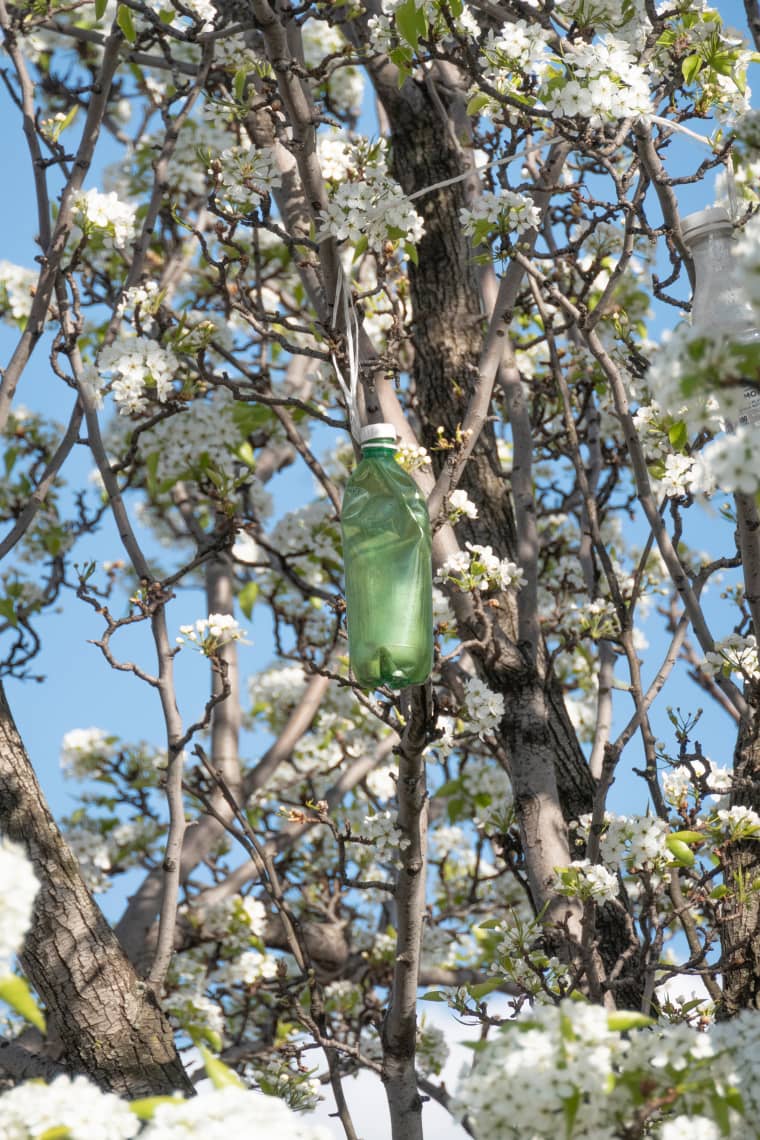 About a year after Blonde came out, Alex played a string of six shows across multiple continents as part of Ocean's live band. He jokes that when he's orbiting that type of fame, holed up in swanky hotels and playing gigs with one of music's biggest superstars, the bigwig energy will rub off on him for a moment, even though he knows he's not on that level. "It's funny, man," Alex says. "I'll just be buying expensive shit. Then I'm like, Oh wait, I don't do that."
Alex guests on "Self-Control," a love song from Blonde about two people who are all wrong for each other. As the backdrop to Ocean's hymn-like self-harmonizing, Alex's guitar playing feels gentle and out of focus, like the notes are treading water in a delicately heated swimming pool. "I'm not even that good at guitar, so when it sounds like I'm playing a chord in a raw or unconventional way, it's not because I'm like, Oh this needs an unconventional chord," Alex says when I ask what it's like to contribute to another person's art. "It's like pool — if I think about it too hard, I suck."
I got to see them play "Self-Control" together at Panorama, a summer music festival on Randall's Island in Manhattan. Ocean sang it beautifully, sitting before a crowd of thousands while three towering screens played dusky concert footage being captured in real time by a stage crew that included director Spike Jonze. Between all the slow fades and smoggy, pink-tinted crowd shots, Alex would occasionally appear on the big screen, watching his left hand slide from fret to fret and tapping his foot to the beat.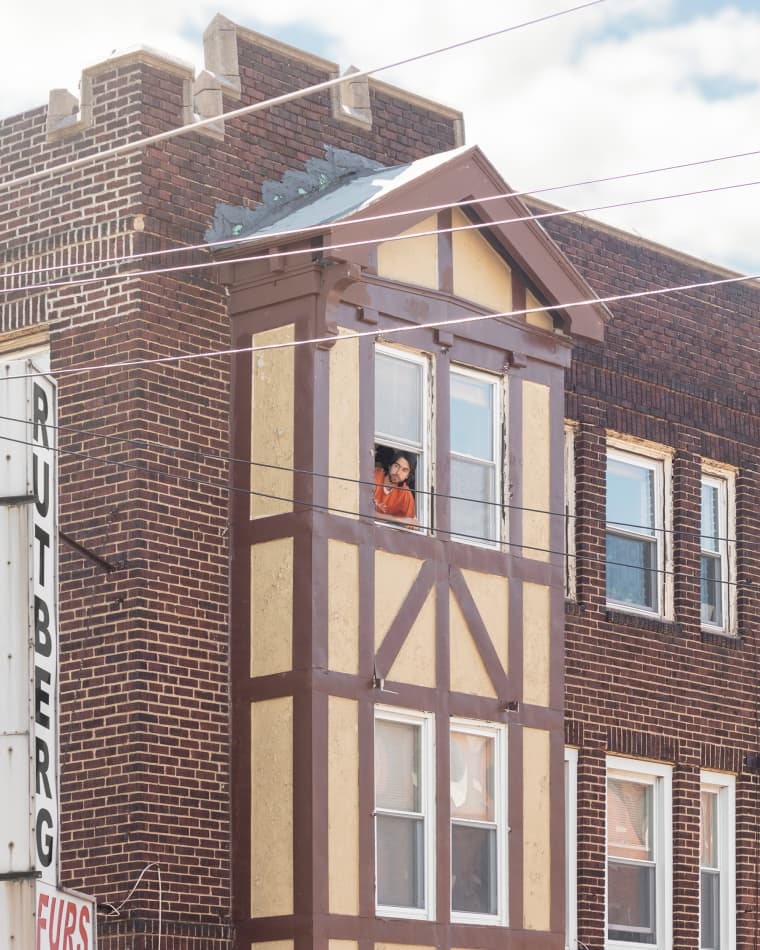 "I wish that was my house," Alex says, pointing to an empty retail space that's lit up with fluorescents as we walk down Manhattan Avenue in the rain.
Alex has always gravitated toward unusual sights and sounds. It's a writerly instinct — an eager, obsessive interest in the strange textures of modern life. I crane my neck to look, noting that there is something striking about the glowing glass room, as though it were stage set from which all of the actors have vanished.
"I'd love to just, like, have my bed in the back," Alex says.
We're on our way to Warsaw, a 100-year-old Polish community center turned concert hall known for its rowdy crowds and homemade pierogies. The Scranton pop-punk band Tigers Jaw is playing and, in between (Sandy) Alex G tours, Alex's friend and bandmate Sam Acchione has been filling in on bass. Inside Warsaw, Sam and Alex find each other in the back by the bar, where they hug and take a celebratory shot of something clear.
Sam and Alex have been pals since they were kids in Havertown. As teenagers, they were in a band called The Skin Cells and, just like bassist John Wesley Heywood, Sam has played guitar in Alex's live band since the early days of (Sandy) Alex G. Later, Alex will tell me that Sam — who is even ganglier than Alex, with neat, Cobain-length hair and a handsome face — is the one who keeps track of all the expenses when they're on tour. They're toying with the idea of buying an old bus to take on the road; Sam is confident they can build bunk beds themselves and that it'll pay for itself in the long run.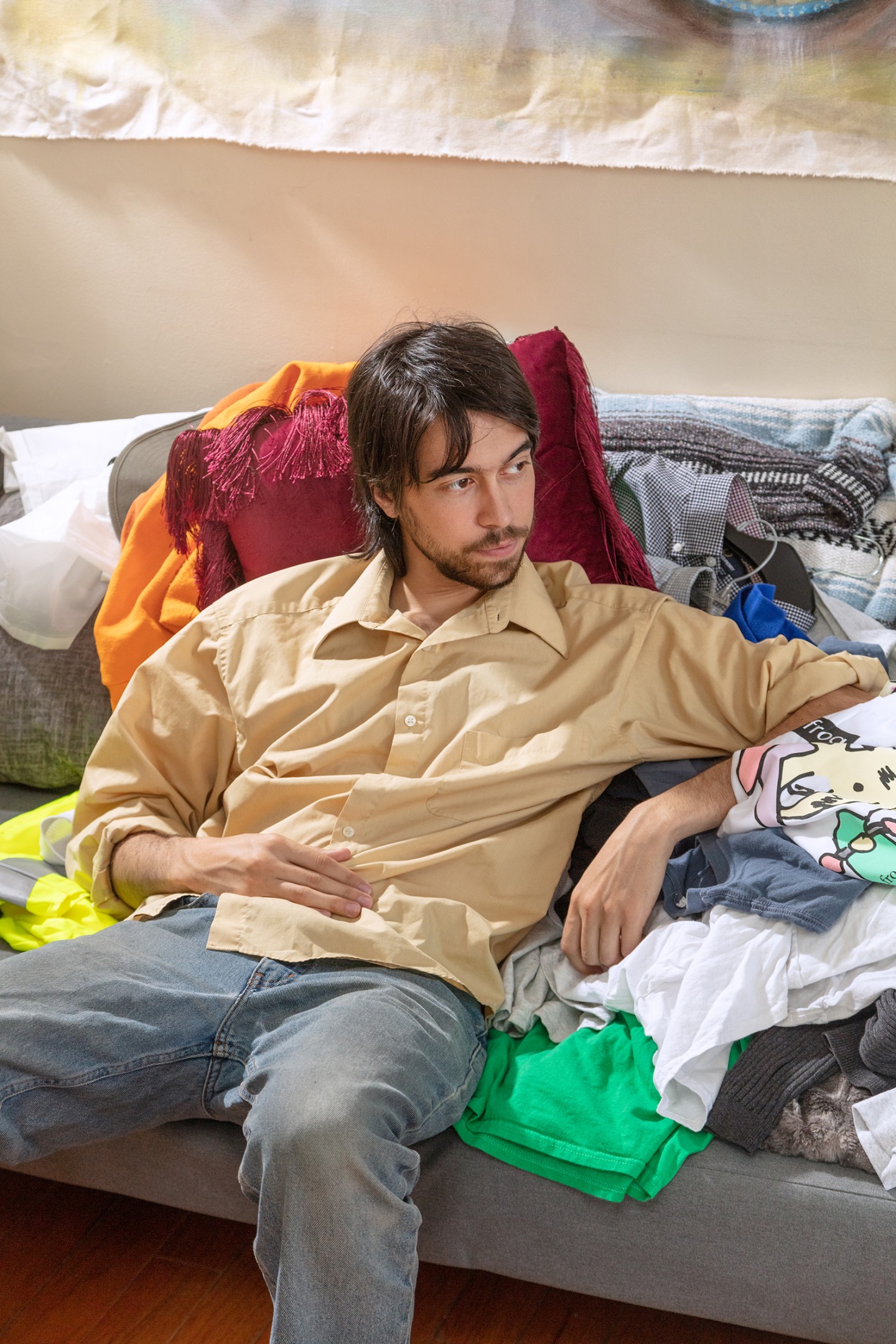 Alex doesn't love talking about himself, so it's a little bit harder to figure out exactly what he gets up to between tours, though he does tell me that he recently made his way through The Sopranos, plays pool at a cozy local watering hole called The Monkey Club, gambles on occasion, and enjoys making pasta from scratch. "I finally live in a spot where I have room to cook," he tells me. "I like making the dough and rolling it out. It's this long, repetitive task, and you can't really fuck it up that bad. It's just a way to take up time."
He's also been reading a lot, a pastime he says he finds more satisfying than listening to music these days. "For me, now, a book is the heavier escape," Alex says. "Familiarity with [music] has made it less mysterious; I don't get as lost. And getting lost is the thing."
Seated on a slender balcony that overlooks Warsaw's 1,000-capacity ballroom, Alex slaps his knee when Sam and Tigers Jaw finally take the stage. "I love him," he says, grinning. He attempts to snap a photo on his cell phone — one of the older, blockier iPhone models, albeit an upgrade from the flip phone he lugged around in 2014 — but it's either frozen or his storage is full.
Between songs, Alex and I talk about the Philip K. Dick novel he's halfway through. I tell him about a short story that I wrote recently, how I'm nervous it was a fluke and that the only reason I was able to make something I'm proud of is because I don't usually write fiction and the experience felt low-stakes. At first, he claims to understand what I'm getting at, but then he shakes his head.
"Forget what I just said," he tells me. "If you did it once, you can do it again."
"I'm just sticking words together, it's pretty open-ended." —(Sandy) Alex G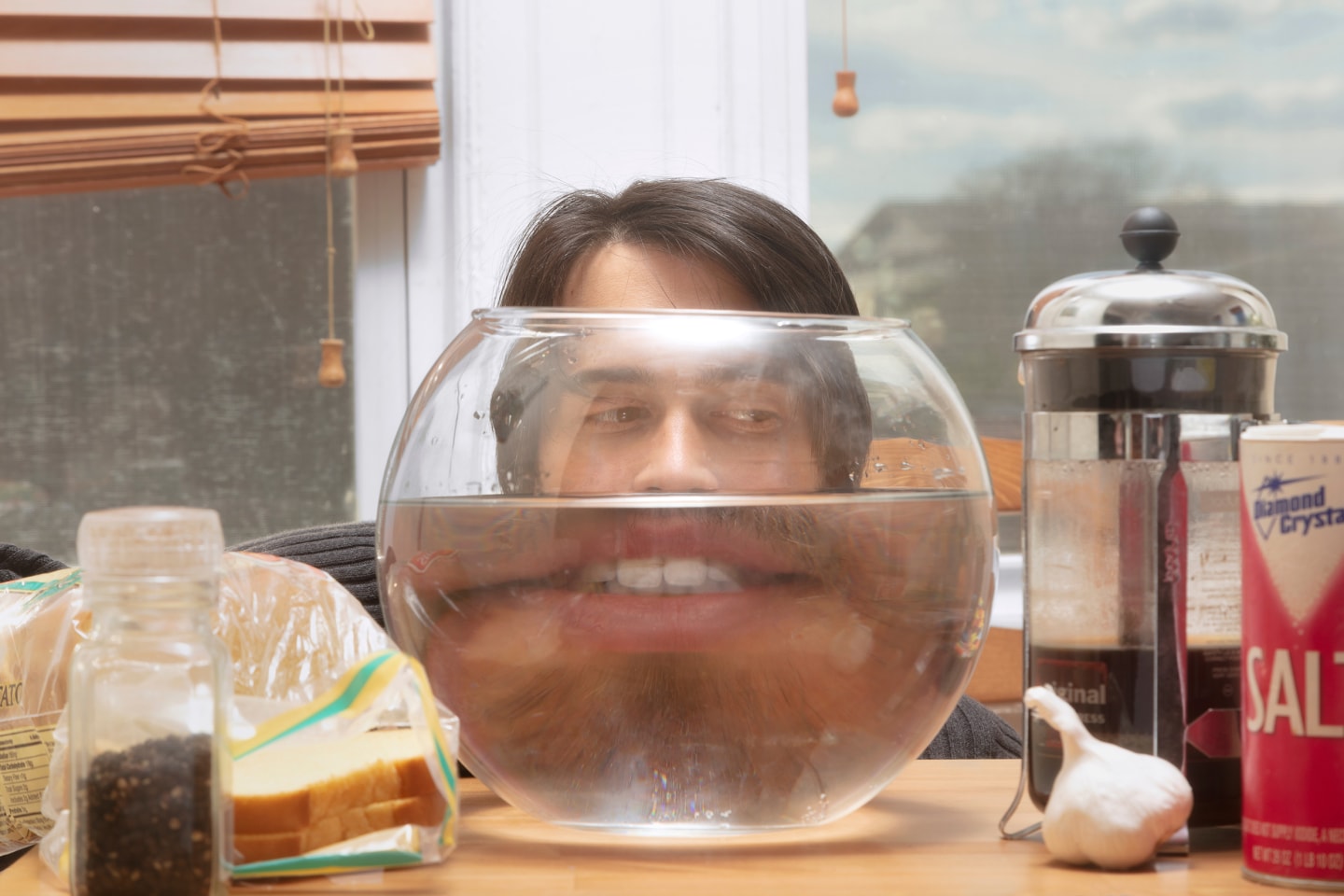 When we meet up on a street corner in Bushwick the following morning, Alex looks a little bedraggled. "I drank too much," he says, squinting into the sun.
Today, at Alex's suggestion, we're riding the N Train all the way to Coney Island; by the time it screeches to a stop, probably because it's the weekend and the weather is nice, our car is overflowing with wound-up teenagers. The doors open and they descend on the boardwalk in a blur of JUUL vapor, wallet chains, and bright barrettes. Alex and I walk across Ocean Parkway towards Luna Park, which unfurls before us into a mischief-lover's paradise, complete with thrill rides, candy stores, hot dog stands, fortune-teller machines, woebegone beach bars, and old school carnival games manned by gravelly voiced cig-smokers.
The 13-song House of Sugar, which Alex mostly wrote in the window between finishing Rocket and hitting the road in support of it, is loosely named after SugarHouse, a sprawling waterfront casino in Philadelphia he visits on occasion. As it turns out, Philly was something of a confectionary kingpin in the 19th and early 20th centuries; according to historian Alfred S. Eichner's 1969 case study about the industry, large sugar refineries were situated along the banks of the Delaware River, where shipments of cane molasses came up from the Caribbean. The Jack Frost Sugar Refinery, the last of the complexes still standing, was demolished with 700 pounds of dynamite in 1997; the SugarHouse casino was later constructed on the site.
"There's no windows, and it's bright as shit inside," Alex says against the rickety whoosh of roller coasters as we walk along the boardwalk. "I like the way it looks. It's kind of like a boardwalk, actually — lots of flashing lights." Because he's not good at blackjack and feels like the slot machines are rigged, he likes to play roulette. "I'll make a couple hundred bucks one time, and I'll lose a couple hundred bucks the next," he says. "I've probably broken even out of all the times I've gone. Sometimes you see people lose a lot of money."
In his 2018 memoir, Heavy, the essayist Kiese Laymon writes about his unhealthy gambling habits in hollow, heartbreaking detail, offering a first-person vision of American casinos and the masochistic spirits that haunt them. "They didn't know my name," Laymon writes of his kindred chronic gamblers. "I didn't know theirs. They knew how I held my body when disgusted with what I made it do. I knew the same about them."
Though Alex doesn't mention Laymon's book, some of the characters that populate House of Sugar — gamblers, guzzlers, addicts, con artists — seem equally fucked-up and forsaken. "You never really met me / I don't think anyone has," Alex sings on "SugarHouse," the record's piano-led, Springsteen-sized closer. "But we can still be players together / let SugarHouse pick up the tab." There are already live bootlegs of the song floating around online, which is funny considering the album version itself was recorded by the sound guy at a show last fall; you can even hear the Missouri crowd cheering on the intro and outro.
Alex still primarily records music on his laptop, using a microphone that he keeps in his backpack (it's a newer, nicer one than the mic he had when we met in 2014). He still plays most of the instruments himself and still frequently self-harmonizes with pitch-warped versions of his warm, wobbly voice. One consistent exception is the New York-based songwriter Emily Yacina, whose haunting vocals have been popping up on his tracks since they first met in a high school art class, when he was a senior and she was a freshman. They used to meet up after school and play covers of Avril Lavigne and Gin Blossoms.
"There's something about the way that my voice sounds on top of what he makes that is pretty unique," Yacina says later, over the phone. "It's special to me that it's still happening, even though everything else has changed."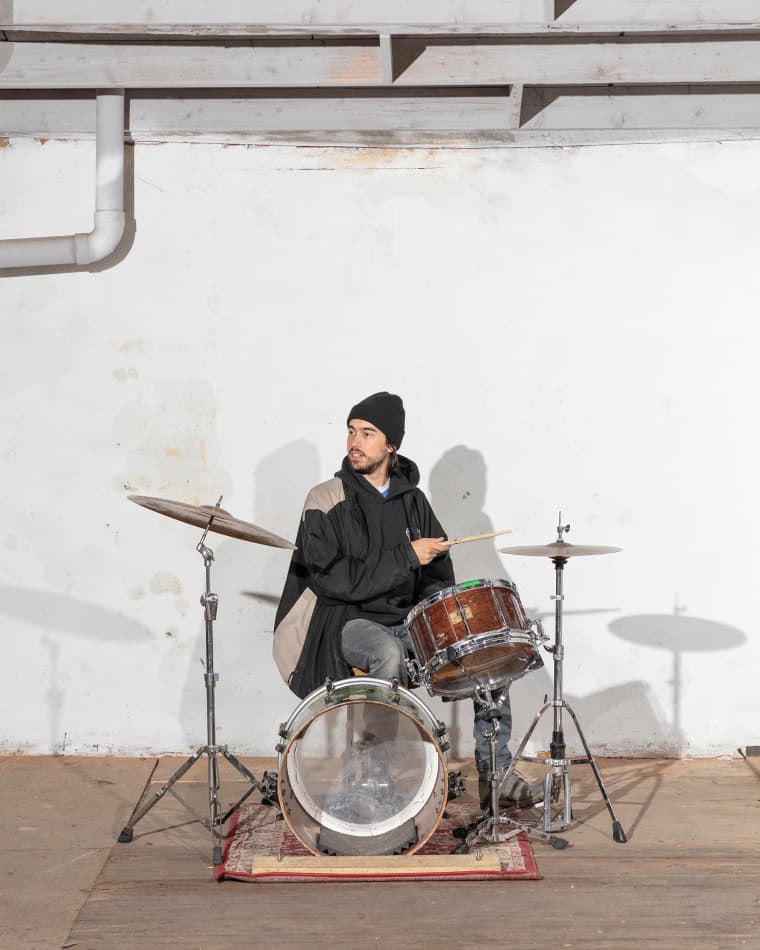 Yacina sings on House of Sugar track "Southern Sky," an alt-country nursery rhyme with vaguely occultish lyrics about black sheep and devil-infested dreams. Plus, his girlfriend Molly contributes violin, adding to its bucolic, wide-open atmosphere. Later, he tells me how the song's mantra-like hook — which I won't call a "chorus" since, like a lot of Alex's songs, it doesn't repeat itself — was something he found scrawled in one of his notebooks. "It was like, 'It's OK we don't cry... we love the southern sky,'" Alex remembers. "It must have been in a dream or something. It just sounded so eerie — soothing, but kind of creepy too."
"Soothing but kind of creepy too" wouldn't be a horrible way to describe Alex's new album on the whole. He tells me that when he wrote it, he was thinking a lot about "Hansel and Gretel," the Grimm fairy tale in which the two siblings get lost and encounter a cottage made entirely of candy, a literal house of sugar. Most contemporary readings of the story focus on Hansel and Gretel outsmarting the witch — on good conquering evil. On Alex's re-telling of the classic tale, "Gretel," the titular hero lets her brother get eaten by the witch. Instead of feeling guilt, she fantasizes about returning to the cottage to binge on more candy.
"Everything that I do, and everything that everyone does — you're just gobbling up everything around you," Alex says. "Everyone's selfish — whatever you can take you take,
pretty much."
I'm reminded of one of his new songs "Taking," where Alex sings: "That's how she found me this morning / Bundled my head in her arms / Lifted my spoonful of sugar / Taking and taking and taking and taking and taking." His voice is chipmunk'd and multi-tracked as if the song is being performed by a choir of animatronic dolls, the kind with wooden eyes and painted-on smiles.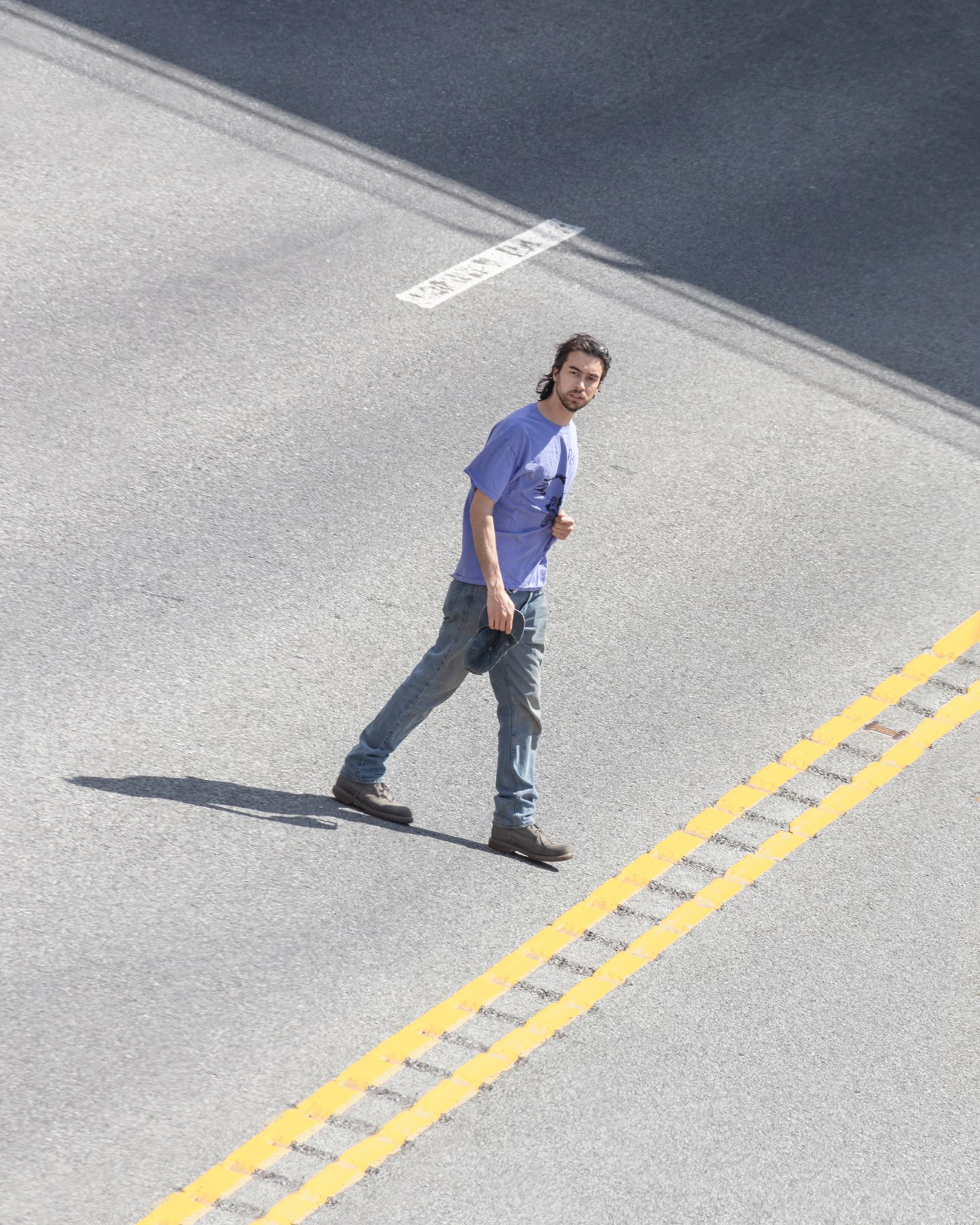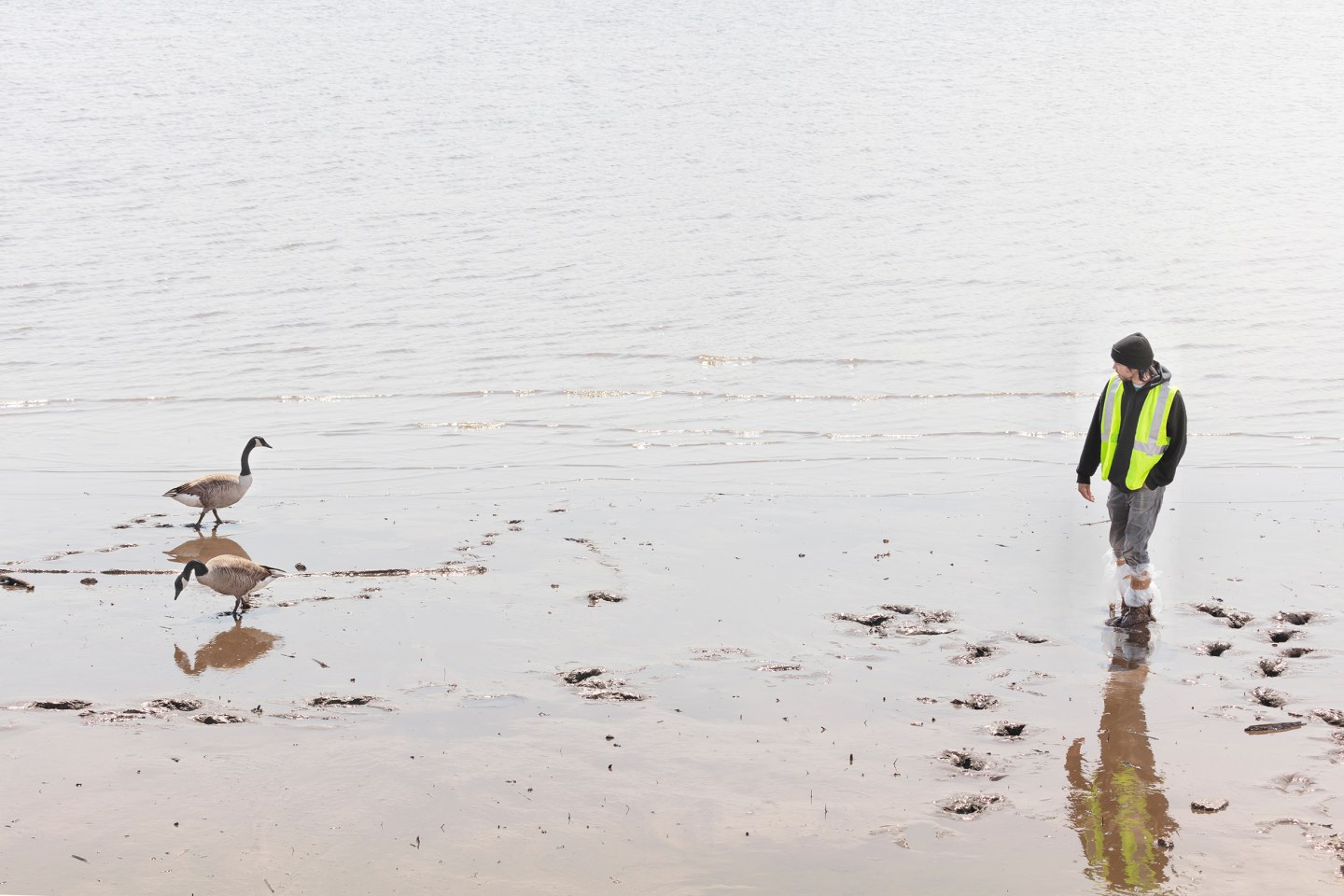 For as long as I've known him, Alex has been wary of over-explaining his intentions. Today, he likens the experience of talking to me about the stories behind his songs to Donnie Darko: The Director's Cut, the extended version of the Myspace-era classic that wiped out the narrative ambiguity that made the movie so appealing to pubescent weirdos in the first place. "I'm just sticking words together," he says. "It's pretty open-ended."
Still, it's hard not to notice that many of his songs feature characters struggling with substance abuse. "Remember when you took too much? / I didn't mind being your crutch," he sings on the already-classic 2012 track, "Change." Some fans speculate that Rocket opener "Poison Root" is about taking ayahuasca or shrooms, and the hook of live staple "Forever" has unnerving implications: "You look so out of it, pull it together / We could love you forever and ever."
One House of Sugar song that's more overtly autobiographical is "Hope," named for Hope Street in the Fishtown neighborhood of Philadelphia, where Alex lived for a couple of years, in a house with several roommates, until the fall of 2017. "He was a good friend of mine / He died / Why write about it now / Gotta honor him somehow," he sings after a craggy acoustic guitar intro. "Saw some people crying that night / Yeah, Fentanyl took a few lives from our life."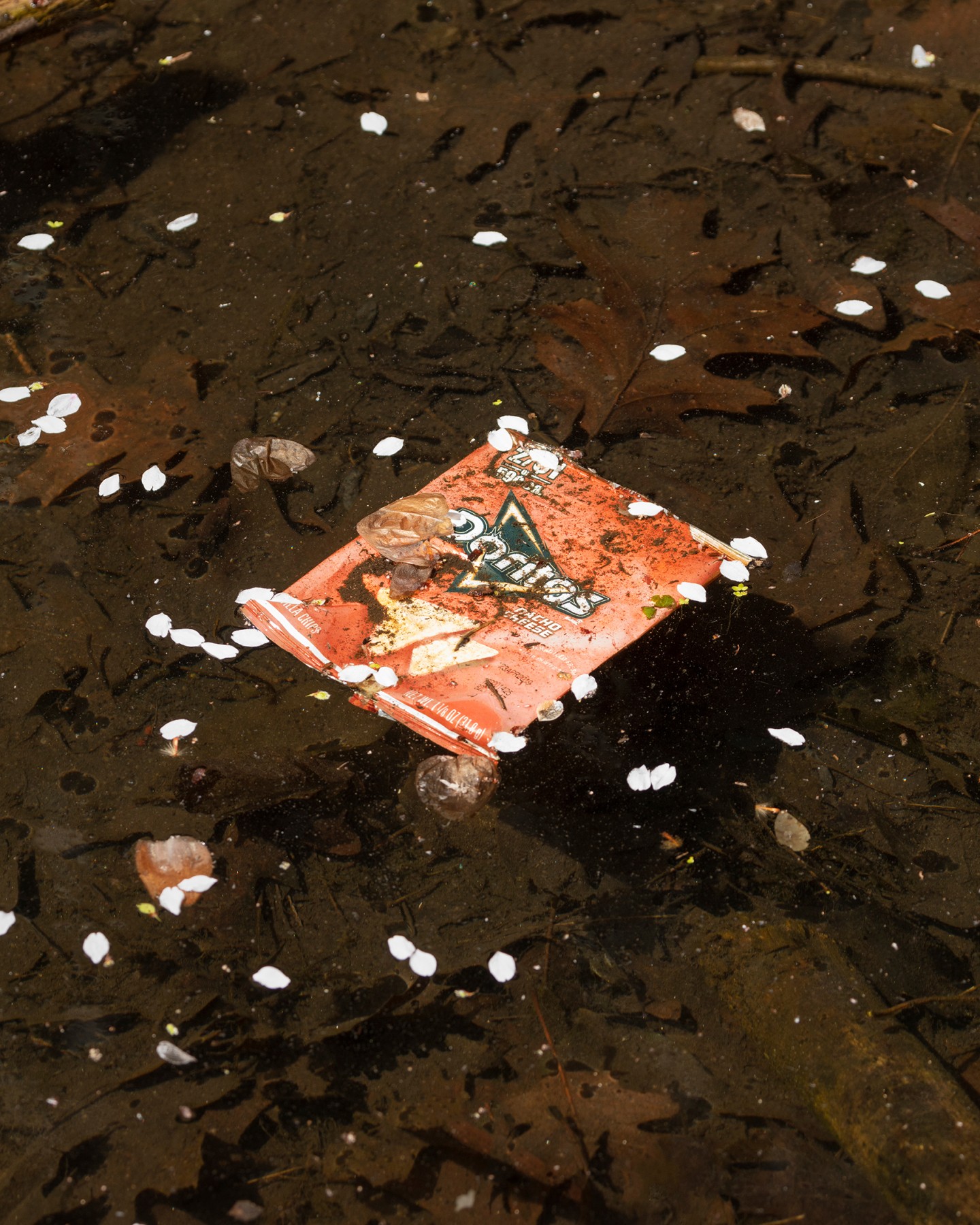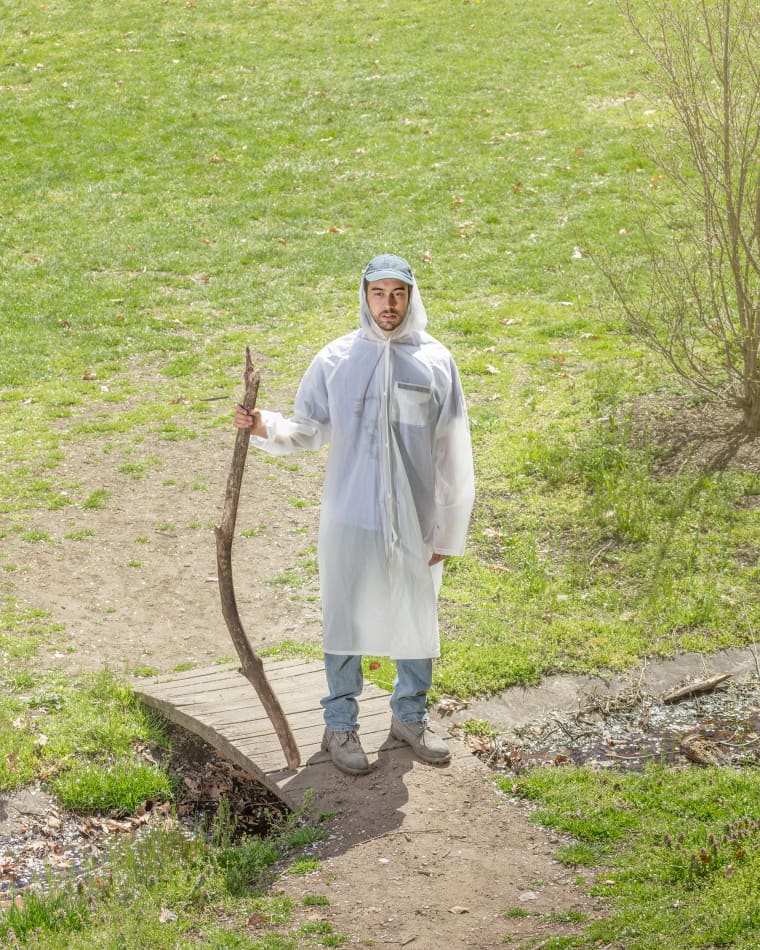 When I ask about the opening couplet, Alex gets quiet. "Someone I lived with OD'd," he says. "And then I noticed people I knew kept…" he trails off, thinking. "I don't know, man. The thing is, I don't want that story to be the story of the album. It's just one of the songs. I don't want that to have any more weight than other songs. I don't want it to be like, Here's this tragic story; buy my album. After I wrote it, I sent it to my friends, who were, like, even closer to this guy. Just to be like, Yo, if you want me to trash the song, I'll trash it. But they were down. Still, even now, I'm sure people are gonna be like, Fuck him for writing about this. But that story could easily be fiction."
Like many great writers before him, Alex understands the kind of radical honesty that can emerge when you blend real-life memories with imagined characters and made-up scenes. Alex's pitch-shifting habits add another layer to this, muddling the already fine line between singer and narrator — or between the singer and his multitude of other selves. "They're all just stories," Alex says. "Sometimes I use my life as inspiration for the story, and sometimes I don't."
When we make it down the boardwalk to Brighton Beach, Alex and I sit on a bench facing the sea. We admire the fashion of the Eastern European women who power-walk by us wearing headscarves, long stretchy black dresses, and oversized sunglasses. Two angry men shout at each other on the sand. Someone walks by playing The Beach Boys from a boombox. We only catch a snippet, but it sounds beautiful. After the music passes, Alex tells me about a dream he had recently.
"I was going to get my hair cut," he says, "and I walk in and the barber is like, Hey, what's up man, do you want a beer? Then he starts cutting my hair, and I'm like, Wait, you're cutting it too short. And he's ignoring me, and I get up and I'm like, Stop, and he's like, OK, that will be $100, and it's cash only. I walk over to the ATM, and he follows me, and even though he's being really friendly, he's looking over my shoulder, trying to see my PIN and balance. Then I woke up."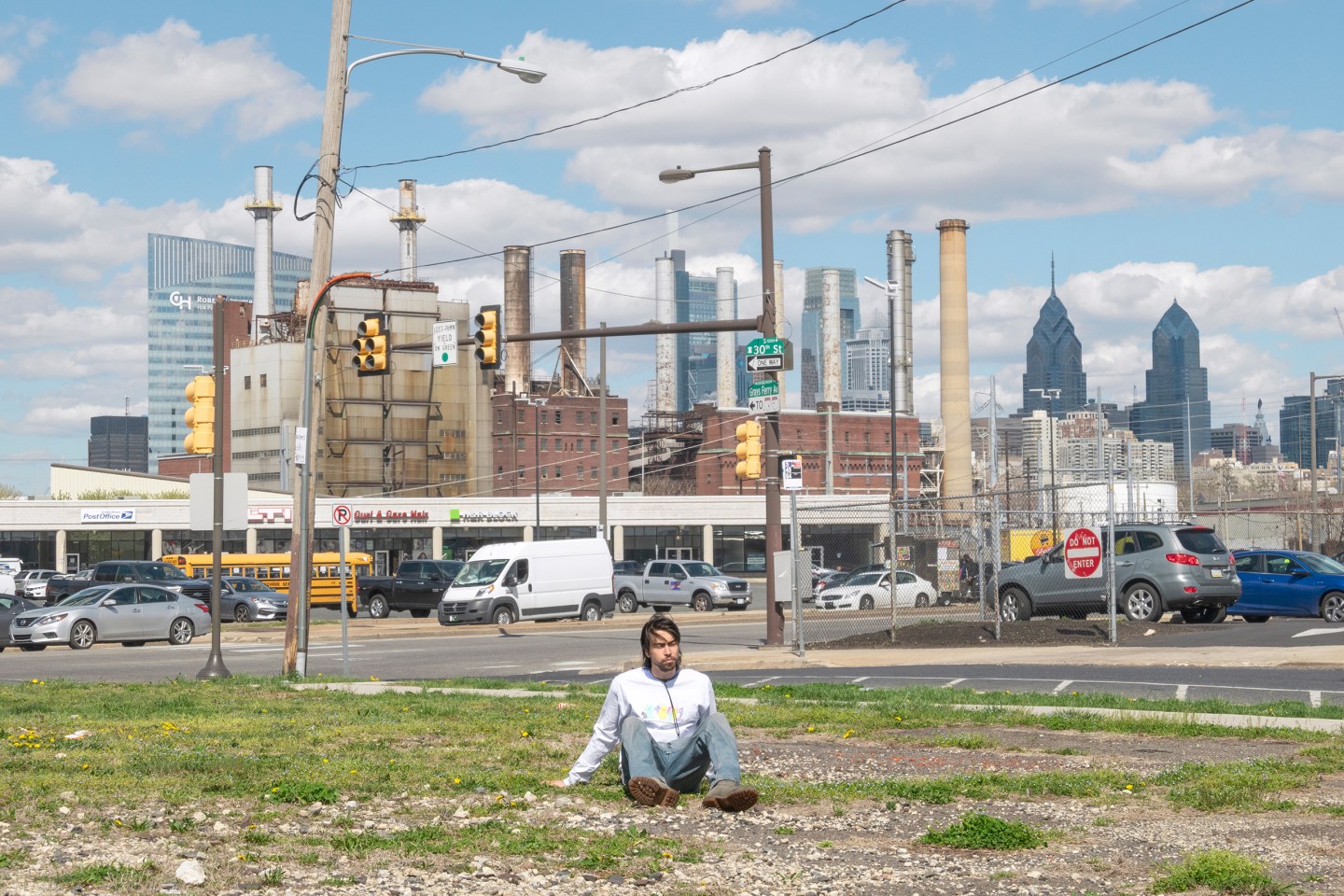 I ask what he thinks the dream might mean. "That's such a good metaphor for my paranoia about the music industry," he says. "I sort of assume everyone has ulterior motives. People aren't necessarily like that, but I'm a paranoid person. That being said, I am nowhere near successful enough to be that suspicious. I'm like, All these people want something from me. But what are they gonna take? Like, a grand?"
Between the album advances from Domino and cash from touring and one-off gigs, Alex says he's doing OK. But he also spends a lot of time thinking about how easily it could all disappear. "I think about that in this [interview] setting especially, because I could just say something dumb, by accident, and it could rub a whole bunch of people the wrong way," Alex tells me. "The stakes are higher now, for good reason. I'm always trying to come to terms with the fact that people could stop buying my records and coming to the shows tomorrow, and I'd have to figure something else out."
I wonder out loud what that "something else" might look like — what he would do if he woke up and no longer had an audience. I'm genuinely curious, even though I feel confident that there's very little danger of that happening, especially with a gorgeous new record on the way. I suggest that maybe he could try composing movie scores or writing a book, things he previously expressed interest in doing to me.
"I think I would just try and cook," he says matter-of-factly. "It is a similar type of craft, I think. You make this thing that has a bunch of moving parts and then you give it to someone. I think that's what draws me to music too."
I ask him to clarify: "You mean, the fact that someone is eventually going to have to take a bite?"
"Yeah," Alex says. "And if they enjoy it, that's the part that I like."