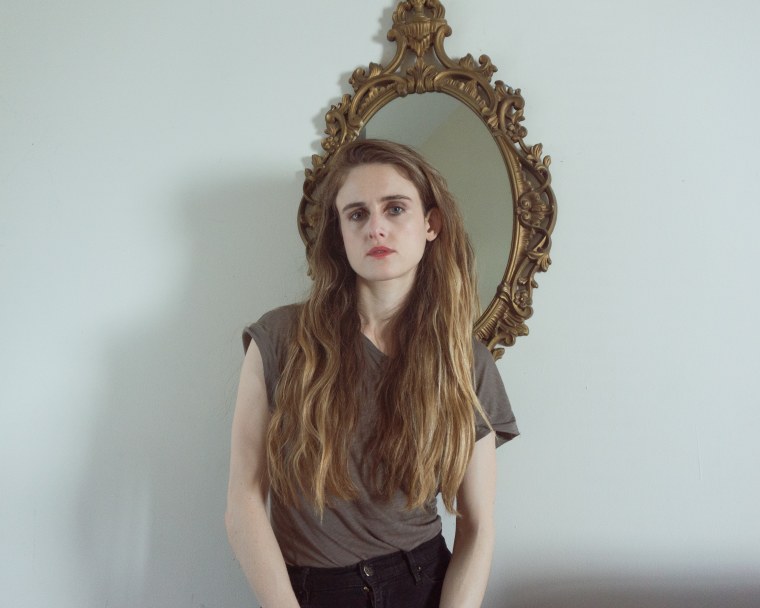 Claire Cronin makes unsettling music. She's usually with a guitar on the verge of dissonance, a spectral voice, and the scrape of a violin; her songs drift unconsciously from torment to torment, their slivers of sunlight projected through apparitions. Her new album, Big Dread Moon — out this Friday June 14 via Orindal and premiering in full below — is full of spirits, few of which are kind. "A haunted house with no basement," she sings on "Tourniquet," the glacial opening song; "Coffins long for the touch of death," she sings on the folky and comparatively uplifting "Saint's Lake." Something is always lurking.
Recorded at Brooklyn's Figure 8 studios with Shahzad Ismaily behind the boards, Big Dread Moon is the follow-up to 2016's Came Down a Storm. Music isn't Cronin's only artistic endeavor; she's also a poet, soon to graduate from the University of Georgia's creative writing PhD program, and her dissertation is an expanded version of "Blue Light of the Screen," a series of notes on TV and movie horror originally published in 2017 at the Bennington Review. Indeed, Cronin often seems to be trapping subconscious terrors between her voice and her guitar. We talked about the new record and the space between horror, music, and poetry — and you can find her upcoming tour dates at the foot of the page.
You focus on contemporary and 20th century American poetry, but also the occult —

I was mostly studying 20th century and contemporary American poetry, but then I also spent a year reading as much occult, visionary poetry as I could — starting with William Blake and going to Jack Spicer and Robert Duncan and people from the 1960s. My dissertation ended up being mostly about horror — especially in film and television — so I read a lot of Gothic horror, but also a lot of philosophy and film theory. It's all very interdisciplinary and concerned with verbal images or metaphors, as well as real images.
You write in "Blue Light of the Screen" about taking our fears and trapping them in the "mansion of the screen." Do you treat your songs in the same way as the directors that you write about treat their movies?

A movie is such a big, expensive, collaborative form of art-making. But I have thought about the songs as exploring the same material — especially this record. It came out of watching horror and reading a lot of occult poetry. I don't think the songs are narrative or entertaining the same way that a Hollywood movie or TV show would [be]. But they're definitely very image-driven.
Is the goal of your songs to unsettle the listener?

Yes, or to create some sense of the uncanny. That feels real to me — like I'm revealing something that's emotionally true to my sense of the world. It's not just a fiction.
Do the songs grow out of personal experience?

They do, but indirectly. I'd never sit down and be like, "I'm going to write a song about this person or event in my life." That would turn out horribly. But I'll begin with something and then ask, "Where is this language coming from?" It can feel like channeling, or some sort of psychic experience. In the end, I'll often be surprised at how personal the song ends up being when I thought I was writing something totally abstract.
Is that the same process you have with your poetry?

It's a little more cerebral. Songwriting is always more emotional and intuitive. You can say certain things in lyrics in a song that are very plain, but the way it's sung can suggest all kinds of nuance and emotion. Poetry becomes more of an intellectual exercise.
This record is quite stark. Was that intentional?

I find that unsettling in a positive way, in the songs of other people — a clear communication that comes through. There's something uncanny about that starkness. My favorite songs on the record are the starkest ones. It's an anti-big studio production.
The line between poetry and lyric-writing seems pretty thin, but it's quite rare that people do both.

As a musician, the most compelling part to me was the actual writing of the songs. Instead of trying to get a music degree, I wanted to just think about language more deeply. There's something really nice about just being able to control the world of a poem, as opposed to music where you're putting your body out on stage. That creates a certain kind of pressure. Maybe people aren't always listening with the same attention as if they were reading alone in a room.
Poems afford you a degree of control.

Yeah, and you can do it entirely yourself. If you want to be a film director, you have to amass a ton of funding and have to get all these people to work with you.
One section of "Blue Light" features a list of one-sentence ideas for horror movies. Is there a kernel of an idea like that in your mind before you sit down to write a song?

I usually have no preconceived idea. What I like about songwriting is how surprising it is, and how it feels like it comes from a part of my brain that I don't normally have access to. It almost feels like it isn't mine. But once I have a first verse, a chorus, or a bridge, I have a sense of where the song is going, and sometimes I can try to control it a little more. "Wolfman" surprised me in that it just came out with this full story.
It's almost automatic writing.

Yeah, it's not like I can sit down and it happens. There's the regular frustration, and a lot of what comes through is just not very interesting or eloquent. But when it works, it does feel channeled. In my early twenties, I was doing a lot of performance art in Los Angeles, and I worked with some artists who were interested in psychic techniques. We'd do all these meditations, and one of the artists claimed to be a medium. He'd lead us through meditations and talk about the plays that he would write with so-and-so's voice coming through. I started using that as a paradigm for songwriting, especially when I felt blocked. It's very freeing to think, I'm not writing this. If it's bad, it's just some ghost in the atmosphere making the song — it's not on me. Then you can choose to record the song or do nothing with it. But it paralyzes the part of your brain that's maybe too self-judging and analytical.
Claire Cronin on tour:
June 21 Chicago, IL @ The Hungry Brain (w/ Advance Base & Moon Racer)
June 22 Rock Island, IL @ Rozz Tox (w/ Advance Base)
June 23 Grand Rapids, MI @ Green Acres (w/ Advance Base)
June 24 Ypsilanti, MI @ Ziggy's (w/ Advance Base & Moon Racer)
June 25 Toronto, ON @ Burdock (w/ Advance Base)
June 26 Montreal, QC @ La Vitrola (w/ Advance Base)
June 27 Brattleboro, VT @ Stone Church (w/ Advance Base & Ruth Garbus)
June 28 Portland, ME @ The Apohadion Theater (w/ Advance Base & Greg Jamie)
June 29 Providence, RI @ 159 Sutton Street (w/ Advance Base)
June 30 Brooklyn, NY @ Baby's All Right (w/ Advance Base,Matt Bachmann & Moon Racer)
July 1 Washington, DC @ Songbyrd Vinyl Lounge (w/ Advance Base)