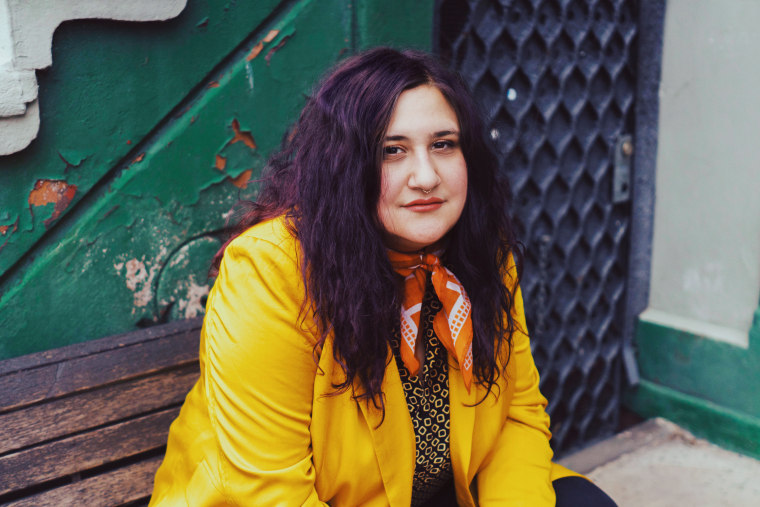 It's the 20th birthday of legendary radical feminist NYC bookstore Bluestockings Cafe, and Ellen Kempner's just walked in completely soaked from a spontaneous downpour. The bookstore has long been a safe haven for people whose voices and experiences had been oppressed and marginalized, and there's subtle symbolism in the fact that the 25-year-old songwriter behind Palehound is literally seeking shelter from the storm in the bookstore's stacks.
Palehound's new album Black Friday addresses issues that Kemper's been wrangling with for years — specifically, feelings around her own body, sexual identity, and place in the world. But Black Friday deals with those issues in deeper, more vulnerable, and less coded ways than on her first album, Dry Food, a task that felt easier once she came out as queer around 2017. While we sit on two plastic chairs stowed in the back, I ask her what she felt like before coming out, and she gestures to a book behind me: Kabi Nagata's My Lesbian Relationship with Loneliness. It was like that, she says.
"When I released Dry Food, I was dancing around my queer identity — being very coded, trying not to use pronouns," Kempner explains. "I knew that I was queer, but I was worried about how that would affect my opportunities as an artist. Nobody was homophobic outwardly to me, but I was worried that it would pigeonhole me." She pauses for a moment. "Or, at least, those were all my excuses. Really, I was just scared." She officially came out in her songs on A Place I'll Always Go in 2017: "The opposite of all my fears happened, which was that I ended up meeting other queer artists and having a lot of queer people come to the shows."
A healthy long-term relationship and greater security in her identity led Kempner to begin exploring other issues on her latest album. As she witnessed her partner transition, she realized he was performing the greatest act of self-love she'd ever seen. "I was watching him have this allegiance to his body and really commit to himself, even though it was really hard and painful. That inspired me also to be like, what can I do to exhibit the same amount of self-love?" She wrote "Aaron," an upbeat full-band song with a clear, meandering guitar line as an ode to loving someone when you feel you can finally see them in all their fullness. "Your mother wanted to name you Aaron / But her body built you as a different man / My friend if you want me to / I'll call you Aaron / I can," Kempner sings gently.
Bodies show up in several other places on the record, inspired by both Kempner's partner and her relationship to her own body: "I was thinking a lot about how much stock we put into our bodies — how much stress I experience about my body, how much energy I expend thinking about it." She'd recently begun working through her relationship to body neutrality, a term she prefers to body positivity. "When I started thinking about what I needed to do with my body to be happy, my partner was next to me changing his body to be happy — and I was realizing that I needed to stay the same to be happy and embrace myself like I am."
The lyrics on "Worthy," a soft, probing, acoustic love song, touch on this paradigm: "I think I hate my body / Until it's next to yours / With you I wear the clothes / I'd buried in my drawers." It's as sentimental and lovely as all of Kempner's songs, but devastatingly vulnerable. "It's about not being able to love another person because you can't love yourself," Kempner says.
Black Friday isn't quite a departure for Kempner as a lyricist and musician — she communicates as openly and emotionally as she always has — but it's not the album Palehound diehards might be expecting, either. Opening track "Company" is somber and elegiac, Kempner's breathy voice opening the song with an immediate question as if the listener is eavesdropping on a conversation: "And if you quit smoking, will you just start drinking?" Kempner's typical distorted guitar lines fall to the background throughout, making room for deeper exploration lyrically and musically — there is more acoustic guitar here than ever before, more tonal softness, far less shredding. Black Friday is a clear tribute to the act of processing, working through things, and above all else, no longer hiding from oneself. Black Friday sees Kempner confidently questioning it all.
"We worked harder than we've worked on any other record," Kempner says of her partnership with Gabe Wax, the producer behind all of Palehound's albums. "Because the lyrics are so vulnerable and you have to be able to hear everything, Gabe really pushed me to get the best, most honest vocal takes." But that process was anything but easy: "I got really in my head and started thinking, 'God, I suck at singing.'" As Kempner pushed through those feelings, she realized how important it was to be patient with herself. "I wasn't able to hide behind anything else."
"I was in a boy-heavy scene — really nice boys, but a boy-heavy scene," Kempner explains of writing and touring on her earlier records. "I felt like that the only way that I could make myself heard and known was to show off my guitar skills and shred as much as I could. I was hiding my lyrics and the truth of the songs behind shreddy guitar, holding something over here to distract people. With this record, I decided to say fuck it and just focus on being really vulnerable."
The result is a much softer and less heavy sound, and in turn, Palehound's best record yet. There's even a beautiful poem interlude on the record, written and performed by Melissa Lozada-Oliva, with a loose warbled guitar line lilting underneath. The poem touches on the violence of men and the vulnerability of bodies: "Up above, the men hook worms onto the end of hooks / And cast their lines into the cold grey / And whistle as they wait / And we stay below in the dark." It's intentional that the poem follows "Killer," a song Kempner wrote about the experience of a friend being sexually assaulted: "I wanna be the one who kills the man who hurt you darling," she sings. Kempner says she "snapped" when her friend recounted the experience: "That kind of violence made me feel violent." The song reveals another new side of Kempner — a person unafraid.
These new sides of Kempner show a person in the depths of self-discovery, secure in the questions she's asking, while also being comfortable with not having the answers just yet. "This was the first record I've listened to of mine where I'm like, 'Oh, I finally feel like I'm capturing myself authentically," she tells me. "I'm finally making the kind of music I want to make and saying what I want to say."