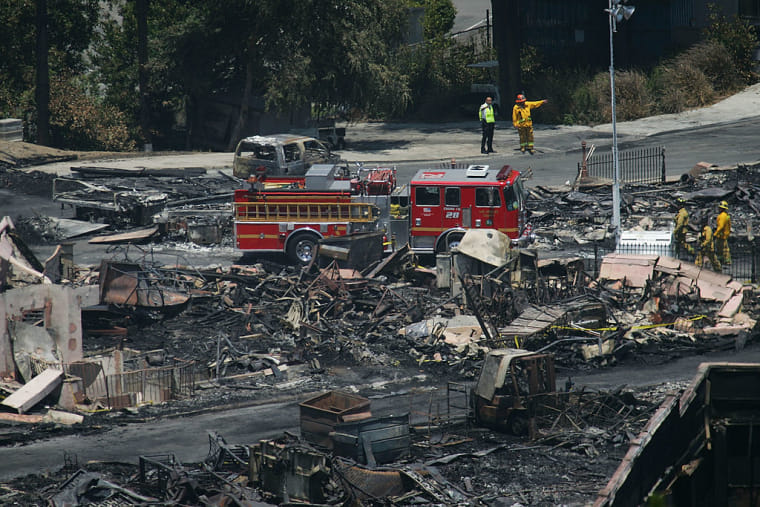 A New York Times report published on Tuesday reveals that a 2008 fire at Universal Studios Hollywood destroyed master recordings by artists spanning multiple genres and decades. According to the report, recordings by Universal Music Group artists artists including Aretha Franklin, Elton John, Ray Charles, Duke Ellington, Tupac Shakur, Mary J. Blige, Billie Holiday, and Louis Armstrong were all lost.
The fire broke out on June 1, 2008 during maintenance on the roof of one of the studio's lots. At the time, Universal said that the blaze had destroyed the theme park's King Kong attraction and a video vault containing copies of old works.
According to the Times, however, the fire also destroyed an archive home to about 500,000 master recordings, a.k.a. original audio recordings that all future copies are based on. The report describes the loss as "the biggest disaster in the history of the music business."
The artists affected by the fire are said to include Chuck Berry, Aretha Franklin, Billie Holiday, Louis Armstrong, Duke Ellington, Al Jolson, Bing Crosby, Ella Fitzgerald, and Judy Garland.
"Almost all" of Buddy Holly's masters were lost, as were most of John Coltrane's. More contemporary names such as Janet Jackson, Guns N' Roses, Mary J. Blige, No Doubt, Nine Inch Nails, Snoop Dogg, Nirvana, Beck, Sheryl Crow, Tupac Shakur, Eminem, 50 Cent and the Roots are also cited in the report.
The FADER has contacted Universal for comment.
Listen to The FADER's weekly playlist of songs you need in your life