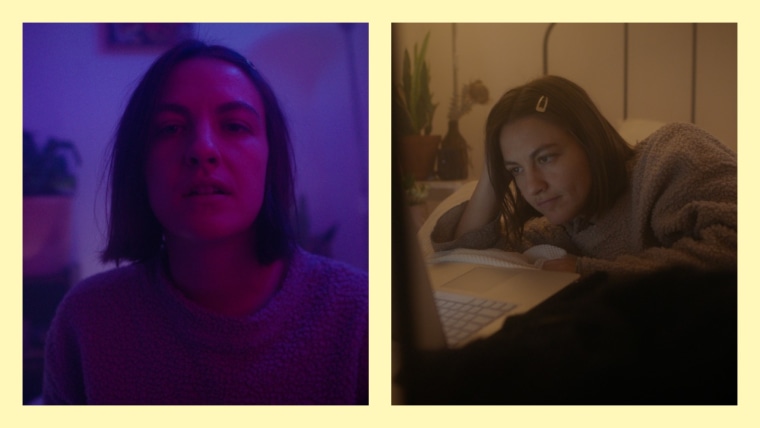 The emotional odysseys of Emma Russack's songs are tempered by their caustic wit. Songs like "Body Goals" and "Dream Man" from the Melbourne-based singer-songwriter's last solo record Permanent Vacation skewer millennial life so keenly that they often feel uncomfortable to listen to, hitting a little too close to home. Her latest single "Be Real," premiering today on The FADER, pushes Russack's sound into a realm bordering on punk without sacrificing any of her past music's tilt toward dark humour.
Set to a video directed by Dannika Horvat, "Be Real," taken from the singer's upcoming record Winter Blues, finds Russack seething and spitting about the disguises we take on in order to fit in — all the arty haircuts and punk outfits designed to feel part of some kind of 'scene'. Horvat's video is turbulent and surreal, and fittingly wry; filmed in a single shot, the clip finds Russack eating Uber Eats in bed and, every so often, breaking the fourth wall to sing her lyrics with a sneer.
As the song reaches its peak, the lighting in Russack's room becomes kaleidoscopic — the singer just sitting in bed on her laptop all the while. The video feels like a visual representation of the "introverted dreamer" archetype critic Jenn Pelly wrote about a few years back — "People who are quiet on the outside while the world rages so loudly within them."
"The song is about my frustration with phone obsession, social media, hype and trend - the phoniness that I see all over the place (and actually buy into)," Russack tells The FADER via email, "I'm really trying to emphasise the importance of being true to yourself and being 'real' - whatever the hell that means. The video is a snapshot of how insular and isolated people have become as a result of technology. I just wanna connect irl."
Winter Blues is out July 5th via Spunk. Preorder the album here and watch "Be Real" below.