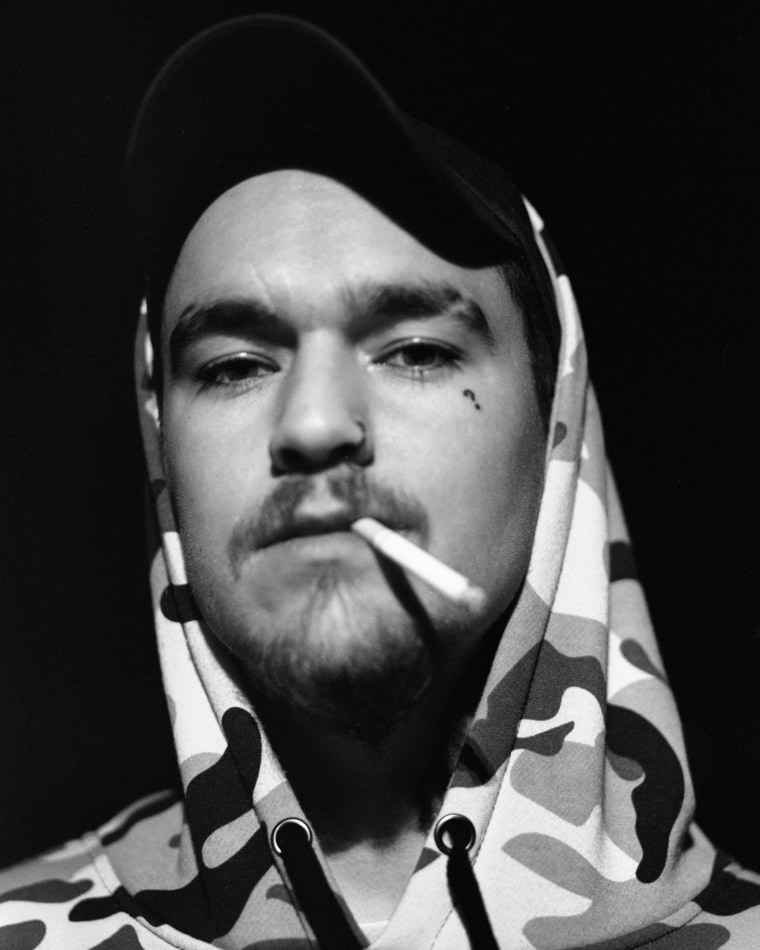 This past April marked the second ever Nunavut Music Week, in which local artists from the northern Canadian territory's capital, Iqaluit, showcase their music and connect with southern industry folks. One of the event's standouts was rapper FxckMr (born MisterLee Cloutier-Ellsworth); the 21-year-old Inuk artist hit the stage at the Legion for a packed house of rowdy locals and stirred them up further with a set full of songs simultaneously party-ready and dripping with darkness.
It was one of the first shows FxckMr had ever played, and it was wild to see him develop and adapt in real time, unfolding slowly from the low, raspy rumble of "Good Morning" before eventually matching the crowd's frenzied energy for a wall-shaking finale. Andrew Morrison of local band The Jerry Cans called the performance "the birth of the Iqaluit hip-hop scene."
"I know this is exactly what I need to be doing, and I know I'm really good at this," FxckMr told me over Skype from Montreal in early June. "It's a way I can help people back home see that there's so much more to do, and people do see that. It went from 'Haha, those two little Inuk kids trying to be rappers,' to everyone in the community knowing us as artists and people who are trying to do something good for ourselves. To see that transition over the past four years... there's no way to explain it, really. I just know I'm doing what I need to be doing."
When he was 15, Childish Gambino's Camp sparked FxckMr's passion for hip-hop. He and his friends would skate while listening to it. Around this time, he was also digging into poetry; at 17, he moved from Montreal back to Iqaluit, where he began rapping in earnest, exchanging drunken freestyles between pals. A performance at his high school talent show with his friend Thomas — a young hip-hop historian who introduced him to some of his favorite music — inspired them to take things more seriously.
In his music, FxckMr tackles issues isolation, depression, anxiety, substance abuse, and suicide, the last of which is an epidemic in Nunavut. During our conversation, he recalled waking up one morning last year to a bunch of texts friends had sent him in the middle of the night. He was out of town at the time, and two of his closest friends at a high school graduation party found a man who had shot himself through his head in his car. His friends were traumatized, he was scared for them, and he could also see how shaken they were for months after.
"I went back a few weeks later to bury him, and the amount of people we knew who came to that funeral was ridiculous," FxckMr says. "It was freaky. It was a wake-up call for me at the time, because I was getting into a lot of heavy drugs and things I shouldn't have been putting on myself. To see the whole community come together like that, it felt like, 'Wow, that could've been for me.' It was a moment to appreciate all the people who were trying to share love all around us."
He claims the material he's got waiting in the wings after his new album 1997 — a release which includes the first single we're premiering today, " PMFWAFT (Pretty Muthafucka Wit a Face Tat)" — is less angry and heavy, more focused on the love he's hoping to keep spreading and cultivating in his own life. But the debut is meant to make people stand up and listen. "This first album, it's just the hook into me," FxckMr says. "It's me trying to modernize myself, my sound, and my lifestyle. It's the biggest peephole into my journey with drugs and suicidal thoughts, and depression, anxiety, anger, and loneliness."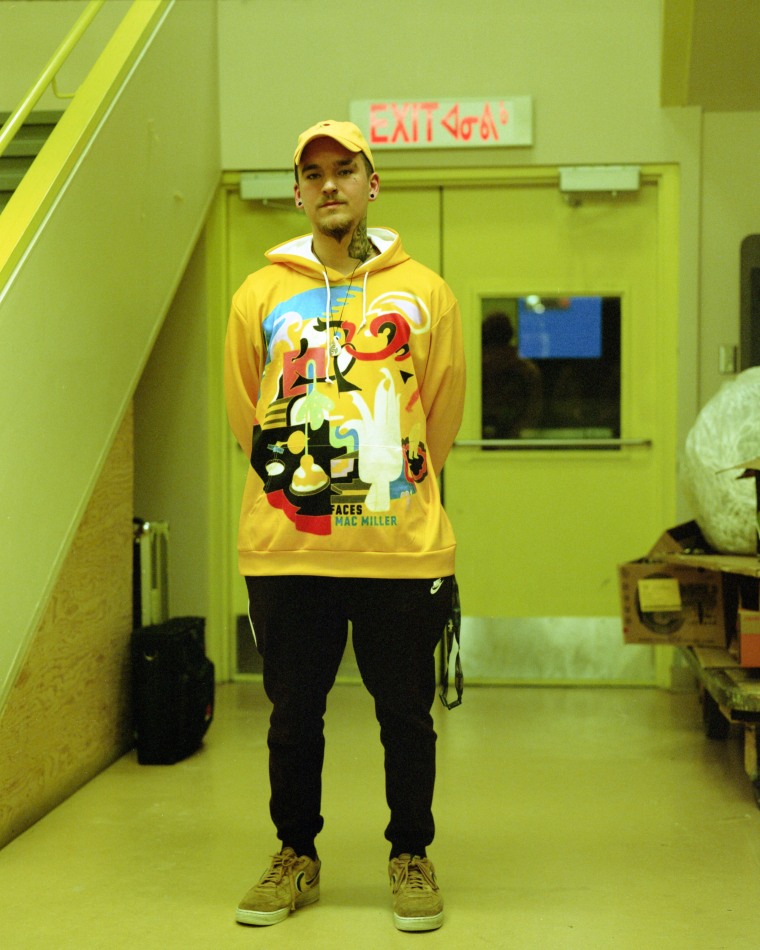 In Iqaluit, you were wearing a Mac Miller sweater. What does his music mean to you?

Without Mac Miller, I wouldn't even be here trying. The amount of love and community he wanted to put into music — he wanted it to be a way for everyone to connect, and that's the biggest thing for me. Back home, it's not just me and one other friend who's doing music — it's a whole generation that started out of nowhere. Me and Thomas were like, "We're gonna push ourselves and try to make this happen," and all kinds of people our age jumped in and were like, "Holy cow, this is cool, I wanna be a part of this." Now we have a whole squad who's hungry and wants to write music all the time.
We're just receiving so much love from our community. It used to be pretty damn hard, but now it's nothing but love, and that's all I've been striving for — to have fun, bring people together, and just love life. [Mac Miller] was very open and relatable through his music. He never held back on anything. Whenever people were feeling lonely, they could listen to real stuff that connected to them deeply and not feel alone.
How did it feel to find out he was gone?

It was a really weird day. I was kinda forced to be alone because I was traveling. Anyone who knows me knows how much time I spent listening to him and watching his interviews. He's my biggest idol and has been for a number of years. It was just absolutely shocking, the last thing I expected. I cried a bunch that night, honestly. It felt like losing an uncle or a brother — that person who's just been through more than you and always had the right advice.

Your forthcoming debut deals with a lot of heavy issues, including suicide. How has suicide been a presence in your life?

I was named after my late aunt Missy, who committed suicide — so I'm Mister. I've heard stories that my family took it really hard. They were all really depressed, and my father started wanting kids. Then he and my mother had me, and I think it was their way of bringing my aunt — her energy or young spirit — back to the family. When I was 15, the things I could see started getting really heavy. I had one classmate, one schoolmate, and one hockey teammate, commit suicide within months of each other. I still felt like a kid, so it was really heavy. I moved away at 16, so I got away from the stress of back home, but I kept hearing about it happening. At 17, it just didn't slow down. I had friends in my mom's hometown who were committing suicide, and kids as young as 11 years old committing suicide. That's fucked. They didn't get to see anything in life. At 11 years old, you aren't even really conscious of most of your actions.
It just never slowed down. Every year it seems there are more and more people I know that commit suicide. I even heard of a family, when I was 17 or 18, where the oldest brother committed suicide, and then a month or two later the oldest sister committed suicide, leaving the young sister and brother to figure it out. It's a hard feeling to explain, but every month or two there's someone you hear about in Nunavut or Inuk communities who passes away due to suicide. I really feel that it's people feeling the isolation and not knowing how to escape it — whether they could escape lonely feelings in the community or outside, people just really aren't exploring as much as they could. They believe that what's in front of them is only gonna be what's in front of them, and the universe is gonna throw them things and they can't create their own life based on what's happening around them.
Andrew Morrison from the Jerry Cans said that seeing your set at the Legion this past April was like, "Witnessing the birth of the Iqaluit hip-hop scene." How does that feel?

Before that, I think it really was a dream for all of us boys. I was like, "Man, I really wanna make this happen, I hope we can get a good show lined up and that we can put on a killer performance." That night, it was like, "I'm not trying to show these people I'm an artist. I'm being showcased as an artist." It was even more fuel to go all out and perform the best I could, and get wild and exciting. That night was a big shift for energy. My confidence has skyrocketed to the level where I don't even remember what it was like for this to be a dream. Now, this is for real. It's a career I'm starting, and something I'm really good at. I've been practising so much for so damn long, and it's finally paying off. It feels good.
Andrew's been trying to help for three years, and we couldn't find the right way for him to help. He was trying to help me write proposals for grants, and we were getting denied for profane lyrics and because it wasn't not Inuktitut-oriented, which was pretty annoying. He stuck by my side and wanted to help me the whole time. The Jerry Cans are so supportive of me, and they know I have my crew back home that's ready to make music, too.

Would you say there's a hip-hop scene in Iqaluit?

There is now. It used to be dead quiet. Whatever we wanted to make it, that's what it was. There would be a week at a time throughout those few years where we'd catch a buzz locally, and it would be exciting. Then, people who used to make hip-hop music five or ten years before us were like, "Oh shit, we do this, too." Not only did we get a generation around us to start making music, but we started getting the older crowd who used to be heavy into music jump back into it. The scene is really cool now. I've been doing my best to recruit a whole team that's ready to make music all the time. They're people who actually love this shit and want to make this a lifestyle.
The team I have, this scene, it's not really there yet, because no one's made good money off of it and no one's pushed it farther outside of Nunavut. But people around our age, they know all of us who make music. Every time they see us, they always ask about our music and when the next song's gonna be released. It's about to be even bigger. Literally everyone in Nunavut is about to know that rap is a big thing now.
Why do you have a question mark tattoo?

It kinda changed a little bit after I got it, and there's more meaning that comes as time passes. It wasn't a face tattoo idea at first, it was just a tattoo idea to represent how much we're always asking about life — figuring things out, building conversations we've never had, and trying to dig as deep as we can into human consciousness and spirituality. After a while, I was like, "I really want a tattoo," and just started toying with this idea of a little laminated sticker you could type onto and then it prints out. I would put a pretend question mark on for a few hours and just not say anything, and wait for people to notice. It was partly for the attention, but it was mostly to dedicate myself to following through on the arts. I knew if this was on my face, then I had no choice but to give all I can into this art, because I'm never gonna settle for a job I can't have this at. If a job denies me because of this, it's because I should not have that job. So, I said, "Get this, and you'll follow through on the music," and it ended up being that way.
This interview has been edited and condensed for clarity.