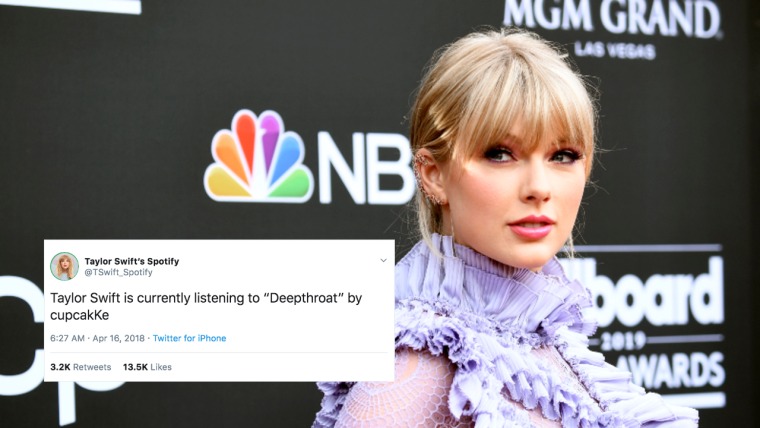 Stan culture, in a broad sense, has become a source of ire for much of the internet. Over the past few years, devotional megafans of pop stars like Taylor Swift, Nicki Minaj and BTS have gotten a reputation for harassing and abusing critics of their favorite stars, sometimes to the point where the targets of their attacks have had to leave social media.
That's not always the case, though — increasingly, a huge portion of fan culture is dedicated to uplifting other fans, fighting for social causes, and, most of all, shitposting. While the internet isn't quite the vat of surreal, hyper-coloured, genreless goop that it was, say, 10 years ago, it's still a site for the development of bizarre and weirdly avant-garde memes. I follow a lot of stan accounts and, at times, stan Twitter can feel jaw-droppingly strange in a way that's deeply refreshing. (If you ever feel like the Twitter avalanche of Very Terrible Things is getting you down more than usual, I highly recommend a trawl through fan accounts dedicated to your favourite pop star. It's more fun than you might think.)
For the past year or so, one of my favorite fan Twitter accounts has been a fairly innocuous one called Taylor Swift's Spotify, going under the username @TSwift_Spotify. Purporting to be a bot that posts whatever Taylor Swift is listening to based on the Spotify API, @TSwift_Spotify first went viral last year with one of the most simple — but beautiful — pieces of internet surrealism I've ever seen, a tweet that simply read:
"Taylor Swift is currently listening to 'Deepthroat' by CupcakKe."
Taylor Swift is currently listening to "Deepthroat" by cupcakKe

— Taylor Swift's Spotify (@TSwift_Spotify) April 15, 2018
The tweet was shared by CupcakKe and widely among Swifties; it, and the rest of the account, remains one of the best pieces of strange fan culture ephemera, a kind of sly proof that fans are generally a lot smarter and savvier than you think.
As time went on, @TSwift_Spotify became increasingly jokey with its tweets in ways that seemed only to cater to Swifties — a gag about the fabled 10-minute version of "All Too Well" here, a tweet reading "Taylor Swift has blocked Calvin Harris on Spotify" there — and, increasingly, began trolling on a broader level. A Twitter Q&A where one user asked @TSwift_Spotify how they knew when Taylor was listening to unreleased songs elicited a vague explanation about hacking Spotify's API, and every so often the account would tweet about Taylor listening to a Katy Perry song, as if to stoke the fires of their long-running beef.
In reality, @TSwift_Spotify is just a very meticulous comedy account run by a group of five dedicated Swifties. Really, there's nobody else who could run a fake Taylor Spotify bot without seeming trite or mean; at the best of times, stan culture creates an environment where fans can criticize or make fun of their favorite artist without seeming like they're unsupportive. When I reached out to interview the admins of the account, they declined to reveal any personal information and chose to be interviewed over Twitter DMs so they could all have input on the answers of the questions; regardless, the quintet behind @TSwift_Spotify were incredibly forthcoming about their methods, their opinions on the TS7 era, and stan culture in 2019.
Taylor Swift blocked Lil Nas X on Spotify

— Taylor Swift's Spotify (@TSwift_Spotify) June 11, 2019
Tell me a bit about yourselves — are you all Swifties? Do you all know each other, or did you happen to just all like Taylor and wanted to make the account?
We're all Swifties! (I won't be mentioning any of our names for our own privacy, if you want initials or aliases let me know.) Me, the one writing this, started this account last April in 2018, with the tweet "Taylor Swift is currently listening to "Deepthroat" by cupcakKe" which sparked over 10K likes, and a retweet and like from CupcakKe herself. The account immediately garnered more followers than my main account within 24 hours, and I quickly became overwhelmed. I hit up a good Twitter friend of mine from the Swiftie fandom who was delighted to help out. Since then, our account grew exponentially and we continued to add more friends we had in the Swiftie fandom until we reached a group of 5 people who all love and support each other!
What inspired you to make this kind of account? When I started following you I think yours was one of the only celebrity Spotify accounts, and now there are quite a few.

This idea was actually an original idea of mine, I thought people would like a refreshing type of entertainment on Twitter. After our account gained steam, many similar accounts emerged. Some of them have been in contact with us and thanked us for inspiring them, but some started bad blood with us and since deactivated.
Long story short setting up a secure server that fake signs credentials so we can access the info provided by Spotify's Web-API https://t.co/IcMTxybJyA

— Taylor Swift's Spotify (@TSwift_Spotify) March 13, 2019
There are heaps of Taylor fandom-specific jokes, like "Taylor Swift is currently listening to 'All Too Well (10 Minute Version)'" and things like that. I think a lot of people look down on Swifties but a lot of the in-jokes and shitposting about things like that can be really surreal and weird and fun — how do you feel about existing as a Taylor fan in 2019?

Taylor Swift fans on Twitter have a rollercoaster ride dealing with hate from other fandoms while also supporting Taylor. I feel like this account is unique because it unites fandoms when one fandom's favorite artist listens to a song from another fandom's favorite.
So, as far as I understand, this 'bot' is fake — what inspired you to make an account like this?
We feel like the whole fun of this account is that some people believe it's fake, and some people believe it's real, and treat it as such, religiously defending or praising their favorite artist in the replies.
Taylor Swift is currently listening to "All Too Well (10 Minute Version)" by Taylor Swift

— Taylor Swift's Spotify (@TSwift_Spotify) April 17, 2018
How do you decide what music Taylor is listening to?

A magician never reveals his secrets. I will say, however, that Taylor's management has reached out to us before about taking down some posts, so we do need to be careful.
I really like a lot of the weird shitposting — like, "Taylor Swift blocked Lil Nas X." How do you decide when to do those kinds of posts?

Glad you like it! We find "stirring the pot" really enjoyable, if you catch our drift.
How do you feel about the new era so far? What do you think of "ME!"?

We will always support Taylor - she's proven she is a great person and an innovative artist. Most of us don't really enjoy "ME!" and feel like it is a kind of stale song in the current musical climate, but we are sure that the rest of the album won't disappoint.
It's the internet. Believe what you want to believe at your own discretion. If you don't like this account, there's a big red unfollow button. https://t.co/06VrT6zygY

— Taylor Swift's Spotify (@TSwift_Spotify) March 13, 2019
What's your favourite Taylor song / album? Which era was your favourite?

We had a mini-vote and we came to this conclusion:
1. Red
2. 1989
3. Reputation
But era-wise, we agree on 1989. 1989 was such an amazing experience for the fans.
If you met Taylor — which, maybe you have, I dunno — would you tell her about @TSwift_Spotify?
Well, 2/5 of us have met Taylor. And I think after this era it'll be 3/5, because [one of us] made a big impact on the Swiftie fandom and it's impossible Taylor and her team don't know about her yet. One of us, who already met Taylor, when asked this question, literally said she'd probably say "There's a Spotify account about me?"