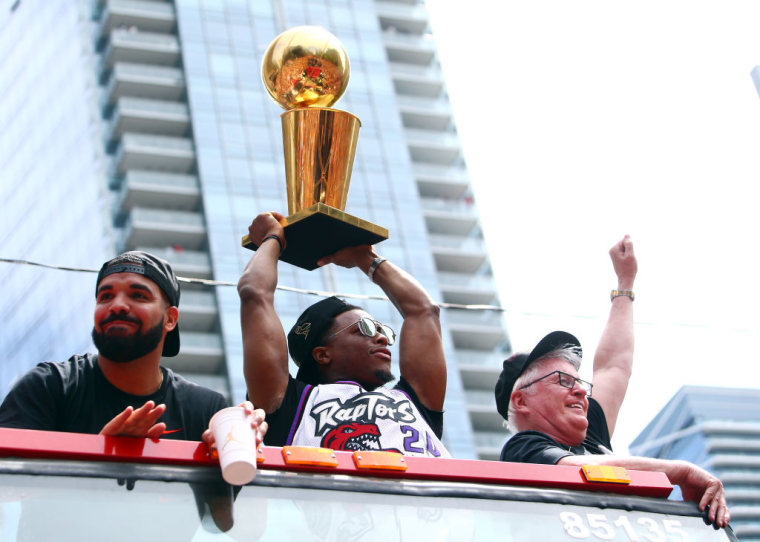 Monday, June 17, was officially "We The North Day" in Toronto as the Raptors paraded through the city with their NBA championship. Naturally, Drake was there too and managed to get himself in the thick of things, joining in the celebrations and confirming that his annual OVO Fest will return to Toronto this summer.
An estimated 2 million people turned out in Toronto to celebrate with the Raptors. Drake joined the appreciative fans direct from a party in Las Vegas, returning to his home city via the plane he somehow managed to get for free.
Once there he clambered aboard the team's double-decker bus and partied with the players, including Kawhi Leonard, and admired the Larry O'Brien Trophy. At one point he even caught a beer thrown by a fan and chugged it on the spot.
When the parade ended, Drake joined Prime Minister Justin Trudeau, Mayor John Tory, and Raptors president Masai Ujiri in giving a speech from the stage. He described the new NBA champions as "a talented, relentless group of guys that put it all on the line and sacrifice everything for each and every one of y'all this year."
Sporting an OVO "best in the world" jacket and a cap with "Championship" written on it, Drake later added that fans can continue the celebration at this year's OVO Fest, due to return to the city for 2019. The festival has traditionally taken place on the first weekend in August.
Listen to The FADER's weekly playlist of songs you need in your life