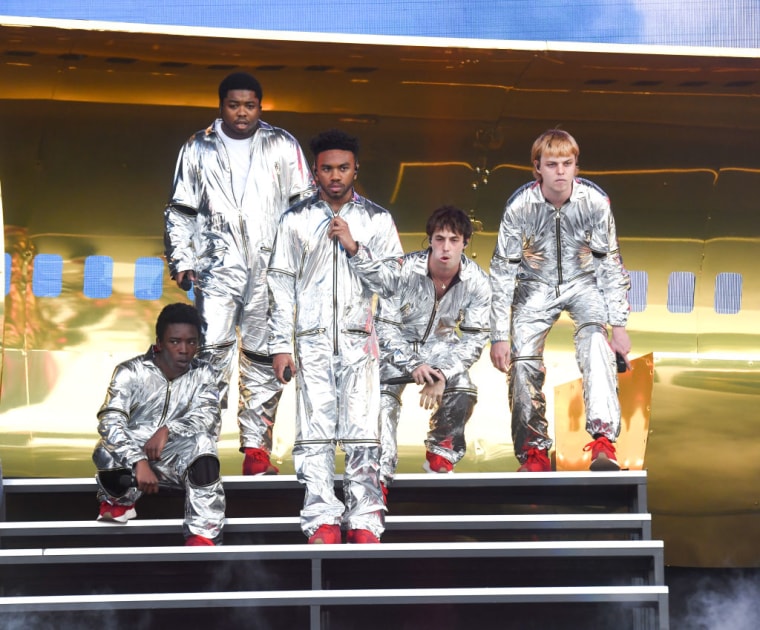 Kevin Abstract is the subject of a new GQ interview, published on Monday, in which he opens up about Brockhampton's next album, his mixed feelings on his solo material, and a new friendship with actor Shia LaBeouf.
Speaking to playwright Jeremy O. Harris, Abstract said that Brockhampton are currently working hard on new music in a shared house they've dubbed "Creative House." "We want to make a summer album," Abstract said. "Feel-good. Not too sad and like, "Oh, our life sucks," just more like, "Just enjoy what's in front of you."
Comparing their new material to OutKast's "Hey Ya!" Abstract added: "Something we're doing is putting those type of lyrics—like this shit is trash, anxiety, depression, all that stuff—taking those type of lyrics and putting it on a song that a bunch of people could dance to or something."
Earlier this year Abstract released solo album ARIZONA BABY. In the GQ interview he suggested that the album was put out because Brockhampton were not in a place to release new music and that he does not plan to make more solo music.
"My problem was, we lost a member from our group. Close, close, close childhood friend, traumatic experience. We put out a fourth album [2018's Iridescence] after the stuff, which got us a lot of hype, [and] didn't get the reaction we wanted, so it made us take a step back and made me realize maybe the group should take a break and just live life for six months." Abstract continued: "I had already released a solo record, and maybe we could just give that to the label and that would count for a record. I did want to [put out a record], but also I was burnt-out. I should not have made an album. I think the thing that saved my record is, it was vulnerable and it's honest and it's pure. But I personally don't want to make another album."
Something Abstract was more positive about, however, were his recent group therapy sessions; an open discussion involving a variety of creative people, including Shia LaBeouf.
"Every Friday at my house, we do this thing called Friday therapy," Abstract explained. "I invite a bunch of artists from L.A., and we sit in my kitchen. It could be 40 people. One by one, we go in a circle and say what our week looked like. It's taught me a lot." Shia guides these sessions, according to Abstract, who added: "A lot of people's issues are just rooted in living alone in Los Angeles, because everybody goes to that place chasing a dream."
One other person present at a recent Friday therapy gathering was controversial social media influencer YesJulz. Abstract admitted that while her presence was divisive ("The energy was like, "Oh, fuck. She's here") he is keen to give people a chance. "I may have judged as soon as she walked in, but by the end of it I listened and I looked at her like a human being," he said. "I think we should help each other move forward and not shame them. It could be someone like that, someone like Shia LaBeouf…random people who just want to talk."
You can read the full GQ interview with Kevin Abstract here.
Listen to The FADER's weekly playlist of songs you need in your life