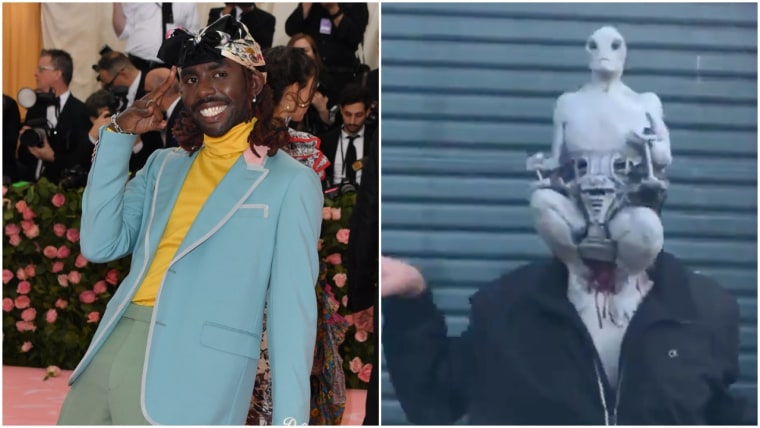 In January of 2018 I wrote a quick appreciation of Benny Revival. The anonymous rapper-dancer-author had been making waves on Twitter since at least 2017 with absurd self-directed videos of him dancing in ornate rubber masks, soundtracked by his own music. As funny as I found those one-minute videos, Benny's music — lo-fi house hip-hop with deeply personal, even religious lyrics — was the secret star. For example, here's a video of Benny dancing to a song with apocalyptic undertones while wearing a freaky mask from either Men in Black or Independence Day:
SEE YOU SOON .. pic.twitter.com/ay8vGx3bEO

— REPENT (@BENNYREVIVAL) April 26, 2019
Benny remained a cult figure for 2018, and aside from Iggy Azealia "paying tribute" to Benny's style in a promo video for her single "Sally Walker," Benny seemed content to stay out of the industry.
Happily, it seems Benny is taking a tentative step into the spotlight: In a new interview with Cultured Mag, Dev Hynes a.k.a. Blood Orange revealed that Benny RevivaL is one of the featured artists on his upcoming fifth album. Hynes is "thrilled" about RevivaL's inclusion on the follow-up to 2018's Negro Swan, which will reportedly revisit that project's "pits of black angst."
There's no release date for the fifth Blood Orange album yet. In April, Blood Orange performed a new song called "Dark & Handsome" on The Late Late Show, and this summer he'll head out on tour with Tyler, The Creator. Benny RevivaL shared a new project called Remnant just yesterday.
Listen to The FADER's weekly playlist of songs you need in your life