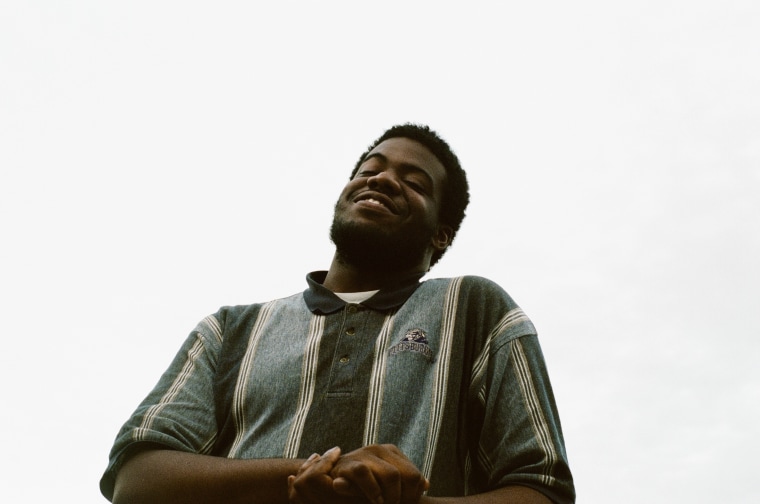 "I don't even know what to say, you are such a golden child; my golden child," gushes a tender, female voice in the final moments of New York rapper MIKE's latest album, Tears Of Joy. "My blessed boy, you shall be blessed forever — ever. I shall not die." This heart-melting voicemail sent to a beloved son — a devastatingly intimate, joyous prayer — belongs to Anuoluwapo Sandra Akinboboye, the late mother of 20-year-old Michael Jordan Bonema, better known as MIKE, the griot at the forefront of a wave of rappers and producers making loose, grainy, devotionally lyrical rap feel vital again.
Physical bodies, belief systems, and human connections: what they all have in common is that they are upended by death. A relationship spilling over with love can be dashed, eradicated, without warning — that feeling of the world's tilt being stunned from its axis. Treasuring his mother's spirit (her parental imprint and family legacy; her warm compassion; the unerring faith of a mother) throughout the new tape, MIKE has delivered his most compelling work yet.

Years before Earl Sweatshirt shoutouts on Some Rap Songs had teens on r/earlsweatshirt tripping over themselves trying to find out who precisely MIKE was, the rapper was steadily developing his repertoire, exploring his bruised psyche in the form of formless lo-fi rap. He emerged from the Bronx in 2017, and his nonconformist mixtapes scanned as bold, solemn acts of reclamation, be that of depression, love, community, skin color, or grief. By compressing ugly facts of life into his quasey, distorted jazz rap universe, MIKE unearths greyed wisdom that belie his tender age. Unlike most of the hip-hop learned — and molded — on the irony-and-nazi-poisoned internet, MIKE's hookless music doesn't style itself as anything but autobiography. And it's soundtracked by tape-hissing production that is both pain-etched and willing to rejoice to the heavens: Full of vigor and life. Successive releases by the New York phenom, each better than the last, have only added to his allure, enigma, and local legend.

Playing through like a scratched CD in an early edition Walkman, Tears of Joy rewards repeat listens. There's a lot to take in. The song titles provide a blank slate onto which MIKE projects his truest self: nods to smoking with friends, basketball, family, local amenities, varying mental mindstates. The album follows MIKE's unprecedented four 2018 releases — the short but punchy resistance man, the hometown (London) revisiting Black Soap, the raw avant-garde of Renaissance Man, and the warm, soulfulness of War in My Pen — which were preceded by a host of smaller projects, along with his full-length debut in 2017, the excellent God Bless Your Hustle. He's almost as prolific as he is preciously talented. From the beginning, right up until Tears of Joy, MIKE has produced no gigantic songs or exhibited any intention to bend towards pop clout. If the rap lexicon rehashes dusty as an adjective for an uncrisp boom bap sound, spider web-encrusted seems more apt for MIKE's songs, sepulchral and grimy as they are.
As with all of his music, tendrils of swirling, foggy noise suffuse Tears of Joy, giving the songs patterns that can be held onto, while opening up breathing space between the glowing samples and MIKE's elliptical writing. There's a distorted film sample ("GR8FUL 2K19"), the droning, rap-free, Duendita-featuring "#Memories," abrupt beat switch-ups ("Scarred Lungs, Vol. 1 & 2"), and extended intros and codas that sound plumbed from fantastically weird, immaculately-produced beat tapes.
On their own merits, the beats are as claustrophobic and enveloping as a A24 horror flick soundtrack, lazing and twitching, sometimes all at the same time, yet they never threaten MIKE'S steeliness. Handled by like-minded peers such as Sporting Life, Navy Blue, Ted Kamal, Ade Hakim, and even MIKE himself (under the pseudonym dj blackpower) the perturbed production purposely avoids stealing the limelight. It's that marriage of Serious Lyrical Rap with fantastical, '90s-recalling sonics that MIKE shares with a scene bulging with talent. This includes, among others, Medhane, Mavi, Piink Sifu, the entrails of Standing on the Corner (including the recent Slauson Malone album), and Maxo. Although he has collaborated with many of these artists, and shares many traits with them, that sense of wonderment you feel hearing MIKE quietly ululate is hard matched. He sounds like nobody else. Imagine Mach-Hommy's guttural, marble-mouthed drawl but more animated, intense and baritone, and pump it full of Generation Z anxiety until it scrambles, coarsens, bleeds. That's MIKE.

Past tapes have sometimes felt icy and distant, detached and morose. But, truthfully, it is not all melancholy. And Tears Of Joy is, without much doubt, his most life-affirming collection of songs yet. Its genesis was the death of his mother, where he found peace and spiritual meaning after the initial shock. The hope he holds so tightly to his chest here, revealing itself in flashes on his livelier verses, shines through the jarring bed of production. Before, songs were scratchy and suffocating, moored in feelings of worthlessness and ennui and his inability to trust people. His latest project maintains this sense of disillusion, but MIKE is finding light where he didn't before, leaning into — and taking pride from — the message of resilience his mother leaves on the closing track. On "Goin' Truuu," gliding across a beaming sample and deploying a staccato flow, MIKE raps: "Cops, skullies and bubbles when the summer end / Potbelly, in trouble with the government." Snippets of his life land all over the project, usually accompanied by cacophonous instrumentation.
But it's his writing, dexterous and clear-eyed, that is fundamental to his art. When catharsis comes, it feels light and free by way of clipped phrases, like successive cool breezes on a muggy summer's day. Lyrics appear simple in transcription, but bars jump out in song like Zen koans, suggesting lines are thoughts burning up in his brain, hastily typed into his phone's notes. One of the more gloomier cuts, "True Blood," sees MIKE reflect, in a shadowy, conspiratorial tone, about what's worrying him in life. Eyes closed, he summons pain evocatively:
"Looking in the mirror, saw my youth was missing
"Sister used to get along, but now she too religious
"What's with my mom? See my heart begin to lose its pigment
"Uh, small world, all I knew was different
"In your eyes, I saw pearls and tears is really swimming
"I used to ask you why you crying, used to say you didn't
"With God, before you died you said repair them bridges, with pops."
Here, the sense of personal devastation is crushing: the image of his mother crying before God; a depiction of MIKE, insecure and afraid, imagining his blackness fading in the mirror. The lyrical precision is machete-sharp, and the words roll off his tongue to spellbinding effect. Even though personal trauma haunts much of his music, the spectre of growing up in 2019 in a bustling city — the unaffordable cost of living, gentrification and piercing inequalities, social media toxicity, looming climate breakdown — hangs violently over Tears of Joy.
Unconquerable and as lucid as ever, MIKE is helping usher in a new era of profundity in the genre, cooly epitomizing all that is great about rap approaching the 2020s. On one side of the fence, you have the irrepressible, melodic gasps and coded ad-libs of Atlanta's Playboi Carti, a true, bona fide star, figuring out ways of expressing himself without words over compulsively alien video game bloops and sci-fi synths: A pop giant. Then you have MIKE, building on each release, honing in on his subterranean sound and startling stream-of-consciousness bars, representing something that, on the surface, is diametrically opposed to Carti's brand of post-rap. But, with closer inspection, you find two twenty-somethings toying with the ephemeral, discovering alternate styles from their own regional forebears (trap in Atlanta with Carti; while MIKE'S music has echoes of gruff, storytelling NY street rap). Both are radically complex in their simplicity. A world where young voices like theirs, so alike yet so different, can exist in harmony is a world where rap, surely, has neared its zenith. We'll just have to wait and see who, in 20 years time, takes MIKE's torch and runs with it further into the abyss.

Correction: This article previously stated that MIKE's mother's name was Victoria Bonema. Her correct name is Anuoluwapo Sandra Akinboboye.