Joey LaBeija's next phase
The Bronx native who made a name as a DJ and producer talks about the journey to making his first vocal album, Tears In My Hennessy.
Joey LaBeija is a true New Yorker: tough, rebellious, and a sweetheart all wrapped in one. The Bronx native who's also a member of royal ballroom house, House of LaBeija, has found himself in a number of career shifts over the past few years. For the majority of this decade, he made a name for himself as a DJ and producer in the NYC underground nightlife scene. But ready for a new challenge, LaBeija recently began trying his hand at providing the vocals to his own musical creations.
The result of that recalibration is a new experimental sound that takes you on a journey of emotions and heartbreak. Tears In My Hennessy, a nine-track project released earlier this month, is LaBeija's first full-length attempt at being the primary vocalist in his music. The experimental electronic-trap-beat-realness equally explores sorrow, love, and despair. The wild ride that the album takes you on is fitting, considering how taxing of an experience LaBeija's musical transition has been. The initial driving force behind Tears in My Hennessy was a trying breakup. On the project, he channels the deep introspective journey between him and his ex, leading him down a path of deciding whether or not to take the road of destruction or the road of peace and healing.
After putting his past behind him, he's ready to face the initial fears he had around presenting himself to the world as a new, more front-and-center artist. The FADER recently spoke to LaBeija about the new album and more.
Tears In My Hennessy is your first full-length album as a vocalist. What was your main inspiration behind making this album?

A breakup. My boyfriend and I at the time decided to part ways which ultimately was what helped me shape this album. We had just come back from London and we started hooking up with other people because we felt like our relationship was strong enough for that but that wasn't the case. In my mind, I was going berserk and everything was circling around in my head. It got to a point where I need to just let it all out and so that's where Tears In My Hennessey was birthed from. I was taking all the thoughts and feelings I had in my head and turning them into songs.
Outside of that, I also really didn't have any other option. I quit my job two years prior to focus on my music. There's honestly no better feeling than creating something and put it out into the world for everyone to enjoy, share, and connect with. That means more to me than anything and honestly, this has been a long time coming, doing a full-length vocal project. Truth is, I would rather be broke and struggling whilst trying to figure out how to make it by just doing what I want.
What's the meaning behind the album title?

Hennessy can make you do some crazy things. It can either make you wanna fight, fuck, or cry. You could be the saddest person in the club and not show it whilst going through some shit, pretending to have a good time but really and truly all you wanna do is drink some Hennessy and cry, that's what it means. When I was making the song "Tears in my Hennessy," I had this melody stuck in my head that I kept humming whilst I was drinking Hennessy, of course, and then it just came to me: I don't wanna cry no more tears in my Hennessy. After I made it, I realized that the only person I was going to count on was me and I just needed time to heal and get over a few things. I just had to let nature takes its course and mend everything. It's all about transcending and just knowing that all the pain and shit you go through during a breakup is eventually gonna go away.
You dropped the single "Adoption," which you describe as your version of TLC's "No Scrubs" months before the album's release but it didn't make the album. Why was that?

"Adoption" scares me. I'm legit scared of that song because I used to play it for my ex when we were still together and so hearing it now is like argh. I chopped it off the album because I became very scared and insecure and that messed everything up for me. My engineering was thrown off, then I started having problems with my PR team and so I fell into this space where I felt like nothing was happening for me. In the middle of going through a breakup, I had this urge to just put music out. So blindly, I released "Adoption." It's my "No Scrubs" because it's super personal and relatable to me. Originally, I started out with 11 songs on the album but I chopped two off: one of those was "Adoption" and the other was a Stevie Nicks cover.
What motivated your transition from hairdresser to DJ to an artist?

The path of freedom, I guess. Everything has been a natural progression leading up to this point and it was honestly just about me doing me and doing what makes me most happy. I was doing my apprenticeship and really hating the idea of becoming a hairdresser, so in between going to classes every week in my salon, I just started DJing to kind of pass time and also, weirdly, it was a way for me to enjoy my day job more. It led to me slowly producing music, which I discovered was a great way for me to express myself in a form that I never knew I could. So after I finished making Violator in 2016, I got a mic and a vocal processor and just started experimenting to see what I could do. Originally, I was just making weird sounds and melodies out of my voice but it led to me learning that I could write music and do vocals too, and then I realized that being a vocalist was just another calm way for me to express myself.
What's your favorite song off the album?

"Dry Your Eyes" featuring Nina Sky. I've been friends with them for a long time. We actually met at the first salon I ever worked at. I have a very deep connection with them — they are Puerto Rican messiahs. I grew up listening to them and I related to them on a personal level because I'm Puerto Rican and from New York just like them. Their music is so iconic, to this day, especially in the summertime. You can go into any neighborhood in New York and hear someone blasting "Move Ya Body" or "Oye Mi Canto" or "Turnin' Me On."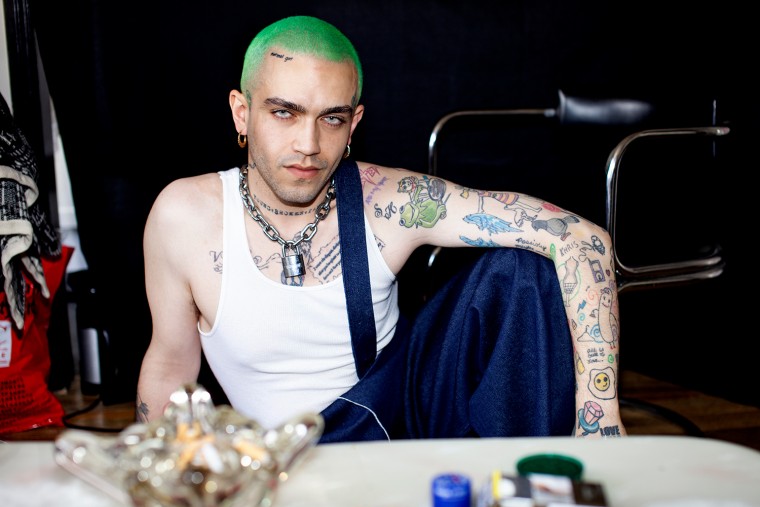 You're a part of the iconic House of LaBeija. Was it hard to separate yourself from that world in terms of finding and owning who you are creatively when you were making the transition?

Not really. Me being a part of an iconic house and never really being a part of the ballroom community has been a struggle, but also I need people to understand that that was never my intention to be a ballroom figure or to be someone people know for voguing the house down. Tiny LaBeija, who invented the "Butch Queen Vogue Femme" category put me in the house because, at the time, I was fucking popping in New York. I was kind of the golden child when they put me in the house.
Everybody could see I was doing my own thing outside of the ballroom and that was my vibe, still is. I get so much flack for it. I've heard people say "he's appropriating culture because he's not part of the ballroom scene, he's just using the name" and it's like, No, actually. I don't ever defend it or care because I can't control what other people think or feel about me. I know what I was put in the house for and that was to be outside of the ballroom. At the end of the day, I get shit done for myself. LaBeija is an iconic New York house and I'm just a girl from New York, you know, I'm as New York as it gets.
What does the future hold for Joey?

I'm working on new music which is obviously about boys. I've already got six songs for this next project and I'm working on a title. My plan is to release it just before fall or sometime around winter. I'm also coming back to London in July to work this record around Europe and make some videos and bring this album to life.
Lastly, what's your favorite lyrics from Tears In My Hennessy?

"The way you fuck me feels like charity" from the song "Charity." That song to me is like art, it's a masterpiece.