Listen to a new FADER Mix by Alice Longyu Gao
An effervescent, Jersey Club-centered mix for dance and drunk parties.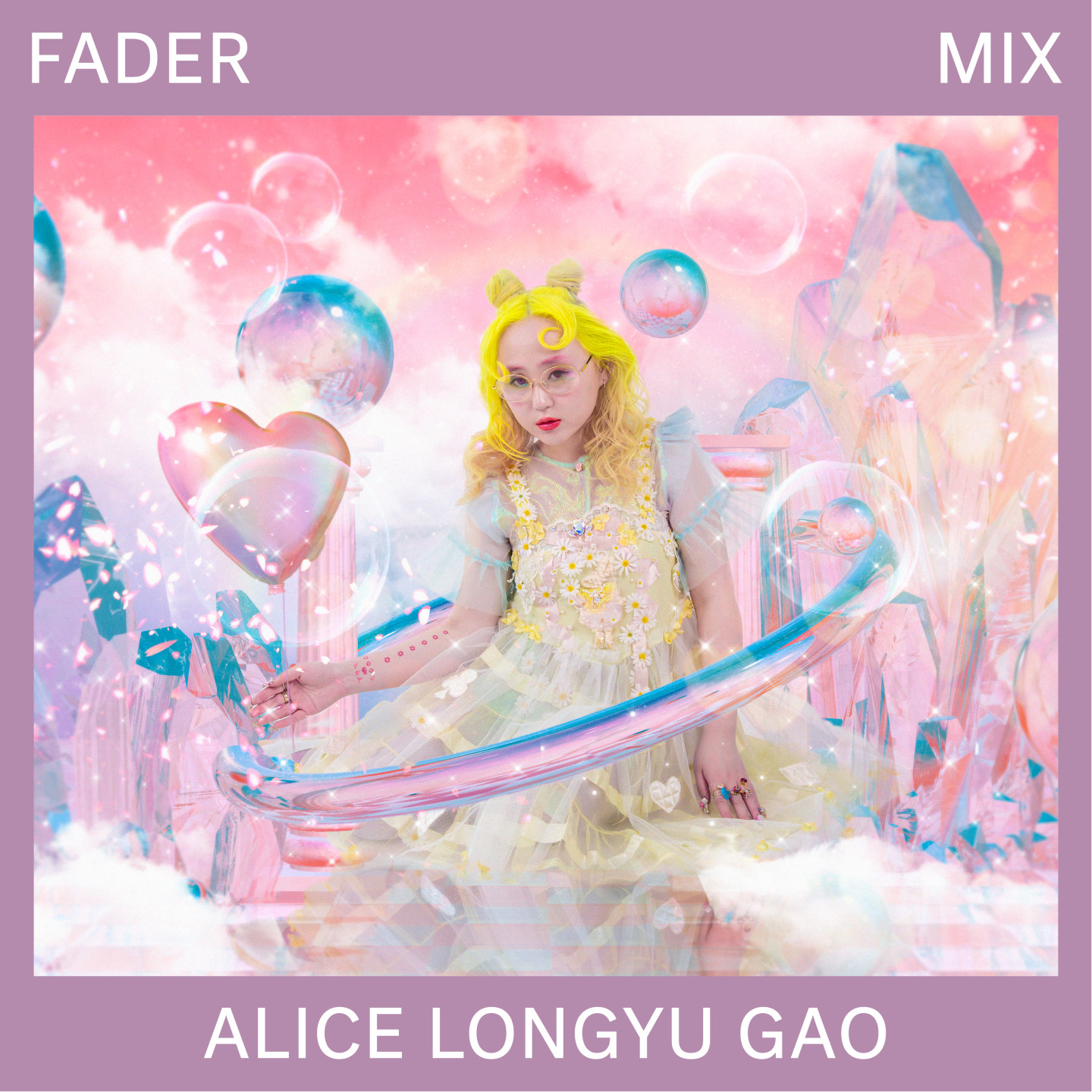 The longstanding FADER Mix series presents new, exclusive DJ mixes from our favorite artists and producers.
I can't stop listening to Alice Longyu Gao's newest single, "Karma is a witch," a simultaneously sharp-edged and fluffy pink pop song that wields big cute but deadly energy. It can be a lot to take in at first, but give into its bubble-bursting production, bag-getting trap hook, and Gao's truly great Sailor Moon-referencing lyrics, and you'll surely have yourself a powerful weekend. "Pay me respect, pay me money" is what I'll be whispering to myself upon waking up for the next 10 days.
When the New York-via-Bengbu, China artist isn't making power-cute pop, she moonlights as a DJ and has bagged some enviable gigs including curating Juicy Couture's Fall 2018 runway soundtrack. Today, The FADER is sharing her high-powered Jersey Club mix which, she says, is for "dance and drunk parties." Find in the spicy, thrilling soup that Gao's whisked together Baltimore's TT the Artist, Charli XCX, and wavy J-Rap that I can't believe I'm only hearing now.
Below, a short chat with Gao on what she looks for in a song when she's DJ-ing, what she does to feel powerful, and where to shop if you're for the Harajuku life.
Where are you right now? Describe your surroundings.

I am at my east village apartment — the one that "only has sunshine at 2:30 pm." That's how I described it in my first single. I have my DJ shit, music production shit, makeup shit and clothes piled around me. I am thinking how am I going to be able to go back and forth between LA and NY this summer for my obligations and with my anxiety, haha.
Tell us a bit about this mix. What shaped it?

Venus X is hands-down the most rad DJ icon to me. I used to go to her sets, stand there and watching her, "educating myself." Listening to her helped me to find the DJ genres I like the most. I like strong dance music, especially Jersey club. Recently, I like it too much. I made two songs of my own with Jersey club elements. This mix is made for dance and drunk parties.
What is your favorite moment in the mix and why?

I like TT the artist a lot, her music and attitude are perfect to this mix (since it is for dancing & parties.) Also Jarina. They are absolute fun to enjoy when you are in the zone. I also like to throw weird samples as I imagine people should have a "dance break" here, so the beeping sound is for that.
What do you look for in a song as a DJ, and as an artist? Do they differ?

As a DJ I look for strong beats, recognizable sounds, so the production of the song is absolutely essential. When it comes to my own artist projects I write my heart and my life. The production is absolutely essential too, as I wish people can dance/vibe to my song. After all I want people to dance when I'm DJ-ing, and also when I am singing my own songs. But for my DJ set, the concept and lyrics of the songs are less important-ish.
What is your favorite thing to do to feel powerful?

I feel the most powerful when I feel cute, so when I am playing my favorite J-pop boy band songs and doing my makeup. That's pure happiness and joy.
What important tips would give someone who wants to start Harajuku dressing for the every day?

Laforet (the shopping mall in Tokyo)is the church.
On your new song "Karma is a witch" you reference Sailor Moon. Who's your favorite Sailor Moon?

Usagi moon — she is also my fav memes queen now.
Tracklist:
m-flo loves CHEMISTRY - Astrosexy (Mondaystudio Remix)
Bagarre - Danser Seul (Ne Suffit Pas)
STFU - Jarina
Weak - TT the Artist
WHORU - Awich & Anarchy
Cho Wavy De Gomenne - JP THE WAVY
WON'T Believe - Higher Brother & Schoolboy Q
D-DOTs - Swangin'Waist ft. Snappy Jit
Dodemoii - TENG GANG STARR ft. Masayoshi Limori
Moleskin - Chips
Trophy - Charli XCX
Ice Cream - DJ Homewreckr ft. TT The Artist (CRVFTSMEN & DJ Homewreckr VIP Remix)
Post That - Leikeli 47
PAYROLL - TT The artist ft. Starrz Prod. by Mighty Mark
Hitchhiker - NADA
Identity Crisis - Jarina
KdotLuci - Kali ft. TriggaMelo
Bank Roll - Ron Browz ft. Vado