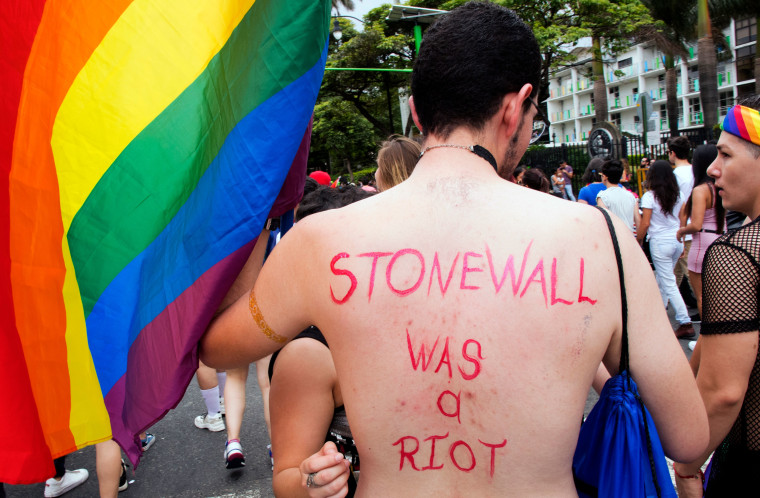 The Audre Lorde Project's 15th Annual Trans Day of Action
Where: Washington Square Park
When: Fri, June 28th @ 4pm-6pm
What: Celebrate the start of pride weekend with a rally and march for gender liberation. "Join TransJustice in uplifting our New York City Communities of Color as we champion policy goals for advancing housing equity for Trans and Gender Non-Conforming in New York City."
More info here.
NYC Dyke March
Where: Bryant Park
When: Saturday June 29, 5 p.m.
What: An anti-capitalist, anti-corporate, anti-sponsored permit-free protest march. The way it should be.
More information here.
TEAZE
Where: The DL
When: Saturday June 29th, 5p.m. to Midnight
What: Attend 5 brilliantly queer parties under one roof:
Parties:
1. brklyn boi: Creating spaces where black, brown, queer and trans bois* can celebrate in a safe enviornment. Their parties are known for being acts of love, celebration, movement, and affirmation.
2. TRUUU: Party in Brooklyn that centers queer and trans people of color. Their mission is to support upcoming as well as established artists and DJ's, offering them a platform to experiment and express themselves freely
3. Set it Off: All queer hip-hop party promoting queer DJ's, producers, and artists in Brooklyn
4. Rose Gold: Creative collective and production house comprised of various artists dedicated to creating experiences that center queer and trans people of color communities
5. Yellow Jackets Collective: Family of East Asian American queers collaborating towards radical futures that center marginalized bodies.
Must be 21+ to attend
More info here.
LadyLand Festival
Where: Brooklyn Mirage
When: Friday, June 28 - Saturday, June 29 @ 5PM - 4AM each day
What: An outdoor queer music festival/pride party in Brooklyn. Ladyland is an inclusive event and intentionally queer space in celebration for World Pride 2019. There will be performances from Mikki Blanco, Yves Tumor, Pussy Riot, Rina Sawayama, and many more. Aside from the performances, there will also be day-time tattooing, nail art, and jewelery by some of NYC's most talented artists.
Tickets: $55-$140
Must be 21+ to attend
More info here
Queers Of Noise
Where: The Bowery Electric LIC
When: Sat, Jun 29 7:30 pm - Sun, Jun 30 12:00 am
What: Celebrate pride at this post dyke march live rock n' roll party. Featured Artists Include: Tracy City, Karyn Kuhl, GSX Sarah Greenwood, Queers of Noise Supergroup, and Cop/Out.
Must be 21+
Tickets: $15
More info here.
Everybooty
Where: BAM Fisher
When: Sat, Jun 29 @ 9pm
What: Everybooty celebrates WorldPride weekend with a four-floor art party with the best of queer art and nightlife. This event is filled from basement to rooftop with performances, DJ sets, installations, and more. There will be sets by Papi Juice and J Cleft as well as photographs by internationally acclaimed artist project, Kings & Queens presented in the lower lobby.
Tickets: $30
More info here.
Queer Liberation March
Where: March through Sheridan Square, 6th Avenue, Central Park's Great Lawn.
When: June 30th
What: The Queer Liberation March is a people's political march. This means: no corporate floats and no police. This march honors the legacy of the Stonewall rebellion by highlighting the most marginalized members of our community and committing to address the on-going struggles we face today. Anyone is welcome to join the march at any point; no pre registration or wristbands required.
More info here.
Live Arts Pride: The House Party
Where: New York Live Arts
When: Sun, June 30th @ 2pm-8pm
What: This 6-hour celebration celebrates the historical importance of collectives in LGBTQIA+ culture and honors the 50th Anniversary of the Stonewall uprising. A multi-space event, Live Arts Pride will feature music, performance, queer marketplace, installations and more.
Featured Artists: Legendary House of LaBeija (drag performance and installation) , RAGGA (queer Carribean collective), Bubble_T, Papi Juice, Switch n' Play, and others.

More info here.
Color Me Queer 2019
Where: The Delancey
When: Sun, June 30 @ 6pm-1am
What: Presented by GAPIMNY, Q-Wave, SALGA NYC, and TARAB NYC, this event is the biggest dance party for queer folks of color during WorldPride!
Featured DJs:
Rekha @djrekha
Fursa @FursaFarfasha
Undocubougie @undocubougie
A D A I R @itsadair_
DynaAMITe @dynamite_ny
Tikka Masala @djtikkamasala
Performances:
Mark Balahadia @balahadiamark
Emma Gration @emmzgotstogo
$15- 100% goes to 4 QPOC grassroots organizations
Must be 21+ to attend
More info here.