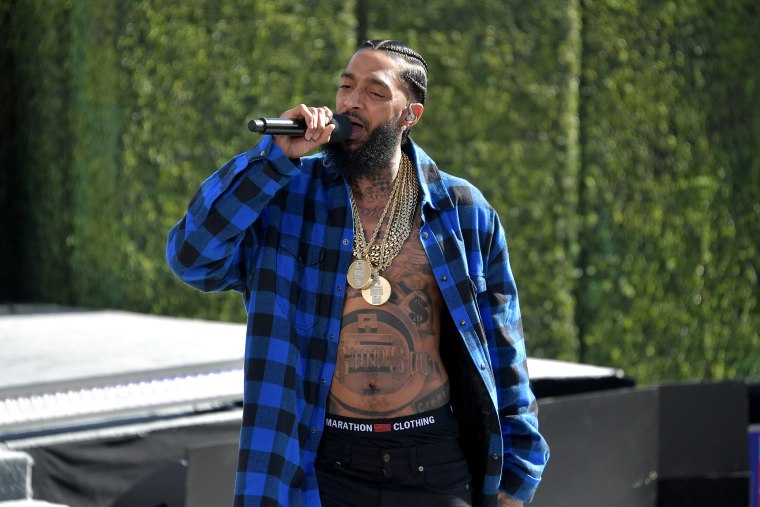 Last week, The Los Angeles Times posted three volumes of transcripts from the grand jury trial in the Nipsey Hussle shooting case. At 515 pages long, the transcripts are dense, but Vulture posted a summary of the most pertinent details found in the documents.
Hussle, a 33-year-old rapper, was gunned down on March 31 and police soon arrested and charged 29-year-old Eric Holder for the crime. He has pled not guilty to the six-count indictment, which includes one count of murder and two counts of attempted murder, and faces life in jail if convicted.
Much of the state's case hinges on the testimony of a single woman, referred to as Witness 1 in the transcripts to protect her identity. Witness 1 told both police during an interview and the grand jury that she and Holder had been in a romantic relationship for one month. On the day the shooting occurred, she says she drove with Holder to Slauson and Crenshaw, the location of a strip mall containing different businesses owned by Nipsey Hussle. The rapper was in the mall's parking lot taking pictures with fans — Witness 1 claimed that she did not believe Holder knew he was going to see Hussle, or was looking for him.
As Holder purchased food at a restaurant called Master Burger, Witness 1 testified that she saw Holder return to the parking lot to speak with Hussle. As she took a picture with Hussle, Witness 1 claimed to hear Holder ask Hussle "if he had ever snitched." Accounts of the conversation from other eyewitness differ slightly, but all agree on the point that the conversation between Hussle and Holder never escalated into an argument.
Soon after, Witness 1 says she and Holder left the parking lot. At this point Witness 1 claims that Holder pulled out a semi-automatic handgun (she says that she was aware that he owned the weapon, but did not know he had it on him that day). Holder then instructed her to a parking lot and told her to wait as he left the car — Witness 1 subsequently heard gunshots, but claimed she wasn't sure if Holder had seen a crime or become a victim of one. Holder returned to the car and ordered Witness 1 to drive, allegedly threatening her if she did not comply. That evening, Witness 1 says Holder stayed with her at her mother's residence.
The next day Holder asked to stay at her apartment while she was at work, which she refused to allow. Witness 1 says she checked Holder into a Motel 6 using her driver's license, and became aware of social media posts accusing Holder of killing Hussle while she was at work. In the evening a car matching her own was described on the news, and she and her mother went to the police the next day for an interview with detectives. After initially being told "not to worry about it," a response police call a "miscommunication," Witness 1 was able to speak with detectives.
The grand jury hearing also included testimony from witnesses Kerry Lathan and Herman Douglas. Lathan, who was out on parole, was shot during the altercation that claimed Hussle's life. He was arrested after the shooting for associating with known gang members, a violation of his probation, but the Department of Corrections dropped its case after widespread outrage. Read the full summary at Vulture.