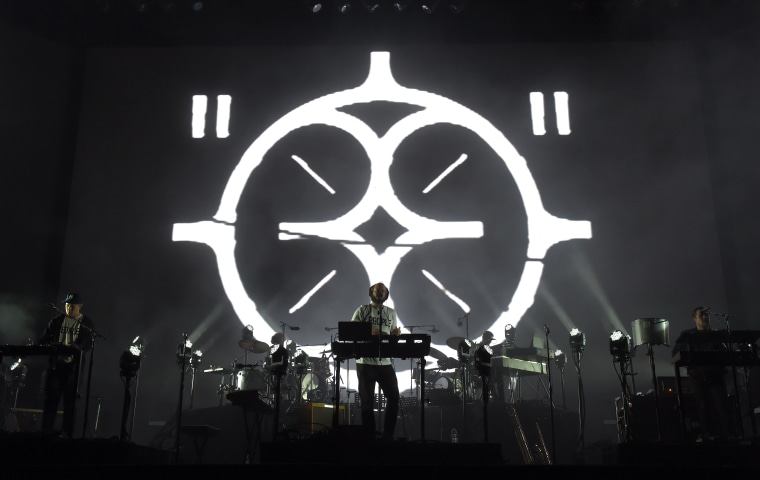 Bon Iver have announced a new album titled i,i. The Justin Vernon-led group's fourth album has been teased through a series of videos played after Bon Iver's All Points East set and sent to fans on the Bon Iver mailing list. The album was led by singles "Hey Ma" and "U (Man Like)," which were shared early last month, and is set to be released on August 30.
The announcement comes alongside the release of new songs "Jelmore" and "Faith"; listen to both of those below. Contributors on the album include James Blake, Aaron and Bryce Dessner of The National,Moses Sumney, Francis Starlight, Bruce Hornsby, and Velvet Negroni.
"It feels very much like the most adult record, the most complete," Vernon says in a statement. "It feels like when you get through all this life, when the sun starts to set, and what happens is you start gaining perspective. And then you can put that perspective into more honest, generous work."
Earlier this month, Bon Iver fans were sent a video teasing i,i titled Sincerity Is Forever In Season that featured a narrator referencing nature and the seasons over snippets of Bon Iver songs.
i,i tracklist:
"Yi"
"iMi"
"We"
"Holyfields,"
"Hey, Ma"
"U (Man Like)"
"Naeem"
"Jelmore"
"Faith"
"Marion"
"Salem"
"Sh'Diah"
"RABi"
i,i follows 2016's 22, A Million, and will be supported by a fall tour with Sharon Van Etten and Indigo Girls.
Listen to The FADER's weekly playlist of songs you need in your life