Grace Ives fits her huge anger in bite-sized synth-pop gems
The 24-year-old musician speaks on how she uses music to work through her rage.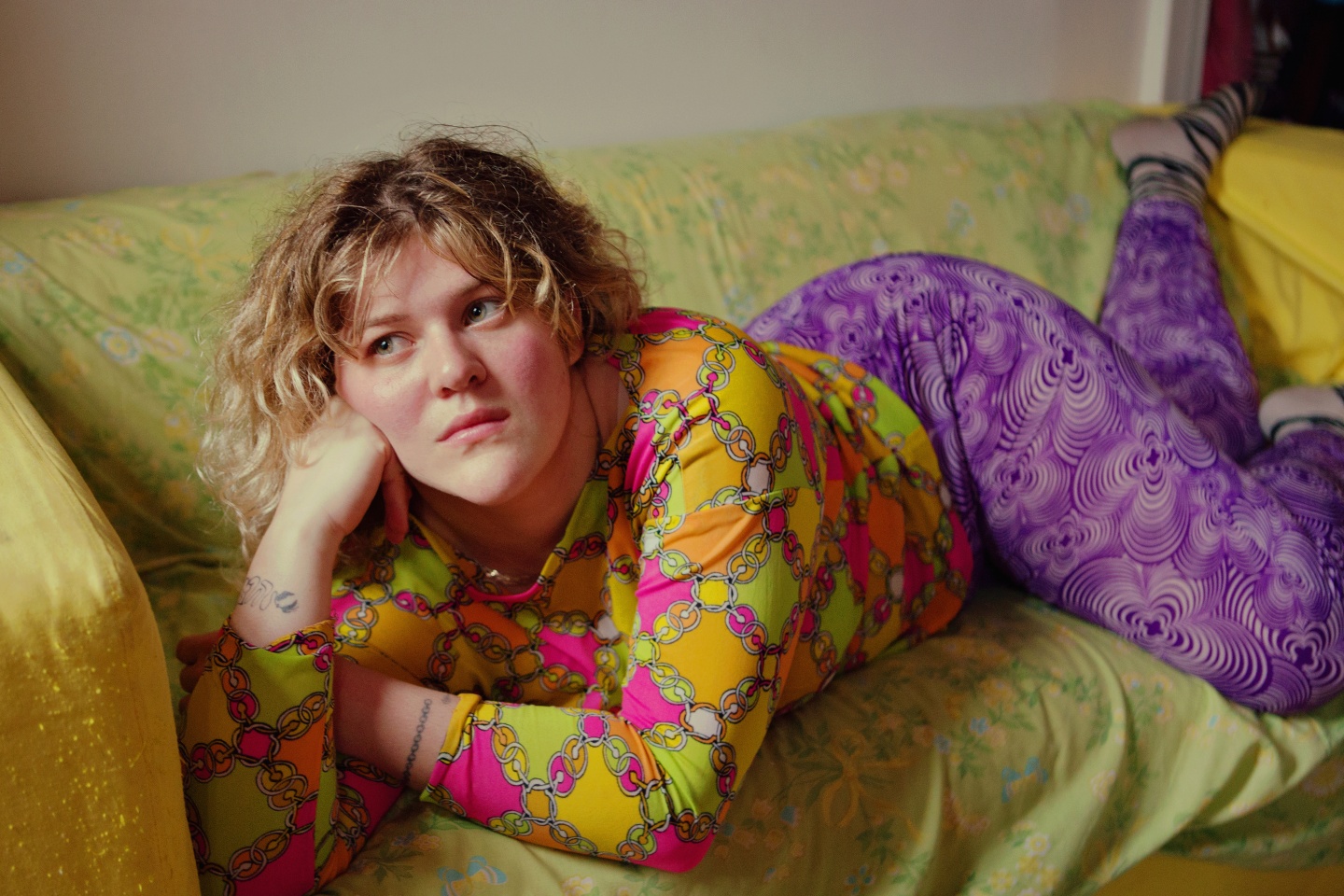 It's not always easy to find a pet-friendly living situation in New York City — but that's the least of Grace Ives' problems. "I'm not obsessed with that," the 24-year-old indie-pop musician deadpans in response to a nearby dog barking as if its life depended on it, as we walk up a few flights to the Queens living space that her and her boyfriend currently rent. As the hound continues to howl, she gives me an impromptu tour of her packed abode, the walls lined with musical instruments, Jackass DVDs, and bookshelves crammed with manga — as well as her white-and-brown-spotted cat, Icky, who's lazily playing with a toy as Ives shows me around. "She's kind of icky," she offers as mock-explanation for the feline's given name, before imploring Icky to "come say hi" to me. (She doesn't.)
While growing up in the Gowanus area of Brooklyn, Ives was initially more of a dog person: "We had a really mean cat in our house, so we were like, 'Let's get a dog.' Her name's Ruby, she's still alive, and she's really annoying." Even though she's moonlighted as a dog walker alongside occasionally working the door at Williamsburg venue Baby's All Right, she's more of a feline fan these days; the death of her last pet, a "little black cat" named Proto, served as the initial inspiration for her breakout single from earlier this year, "Mirror." "I was watching him die as I wrote the song," she remembers, clear-eyed, as we tuck into a few falafel plates down the street from her apartment in Long Island City. "The chorus was initially supposed to be, 'Proto/ Love you the most,' but then I was like, I cannot do that — I'll start crying on stage.'"
If the idea of writing a soothed-out synth-pop gem with a terminally ill cat as your only audience sounds simultaneously intimate and weird, then so does 2nd, Ives' short-but-sweet latest project released this past spring on NYC label Dots Per Inch. The instrumentation is brutally bare — just Ives and an MC-505 Roland that she procured after researching the gear that electro-pop iconoclast M.I.A. started out with — but her songs possess a hair-raising level of lush tactileness, recalling a less arch version of gonzo kindred spirit John Maus' synthetic style as well as West Coast duo the Blow. The songs on 2nd rarely make it past the two-minute mark, each track a miniature snowglobe of zippy electronics revolving around Ives' affecting, head-in-the-clouds singing voice. "I think I have sensory overload," she admits while discussing the smallness of her music. "Unless it's a Kurt Vile song, after two minutes of hearing something my neck starts to hurt."
Ives trades in lo-fi pop consumed with conflicting feelings about the people around us as well as self-perception: "I'm right here/ I wanna love you/ I wanna fight," she sings in a dusky register over the skipping breakbeat of "Anything" before leaping an octave or so to deliver the invective, "I'd do anything to keep you in my life." Indecisiveness is a big mood throughout, from a bleeping whisperer called "IDK What I Should Do" to the aforementioned closer "Mirror," the placidness over which she sighs with zero convincingness, "I think I've finally got it figured out." "I truly need to go to therapy — I haven't done that yet, so music is my outlet for now," Ives admits, later unintentionally summing up her worldview while discussing whether she was concerned about Amazon's since-scuttled plans to take up roots in LIC: "It was stressful for a second — but every day, I'm kind of always stressed."
The child of a cinematographer and a former creative director in the music industry, Ives' interest in music was piqued from an early age as she played Avril Lavigne and Nelly Furtado on repeat alongside her family's car-trip staples ranging from Madonna to New Order. (She got a chance to meet Lavigne after her father worked on a music video of hers, going as far to procure a signature from the pop-rock teen idol on her guitar: "I covered the signature in clear tape, and a few years ago I started peeling it off because I felt embarrassed.") While attending private school as a teenager, Ives also participated in NYC's School of Rock program. She played alongside such prestigious progeny as the son of Sade guitarist Stuart Matthewman, playing covers of classic-rock standards like Queen's "Somebody to Love" and the Rolling Stones' "Bitch" at city venues like the then-still-operational punk haunt CBGB's.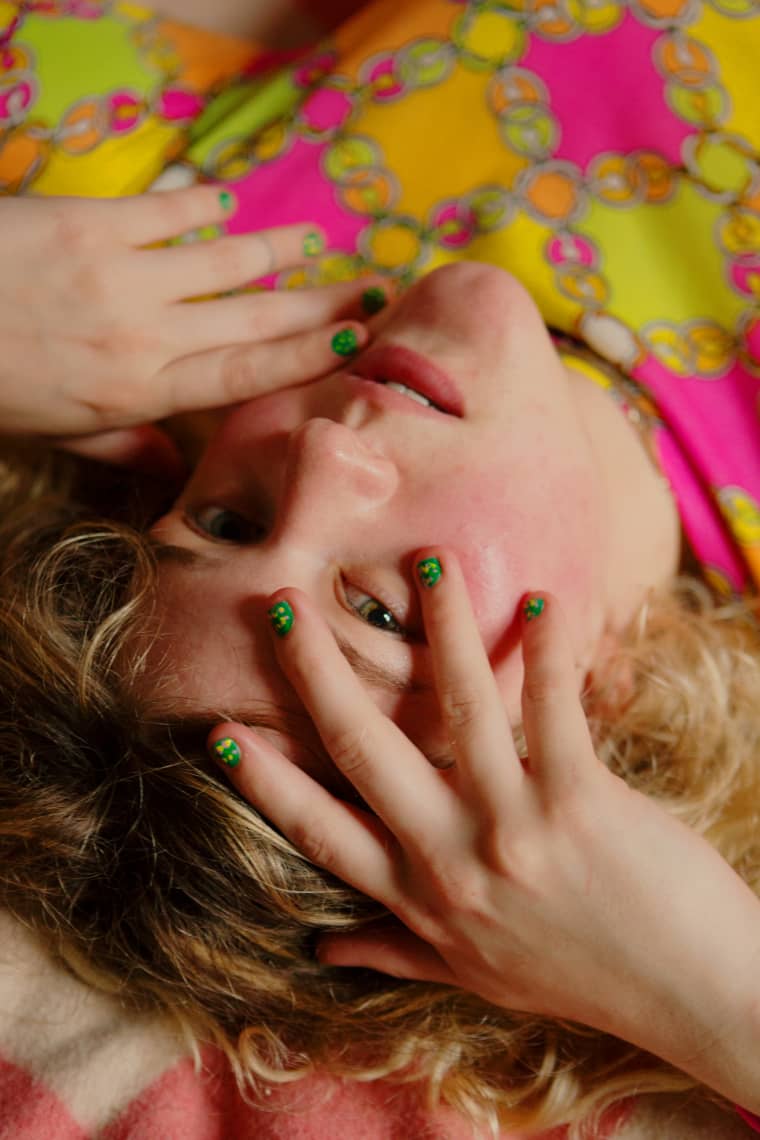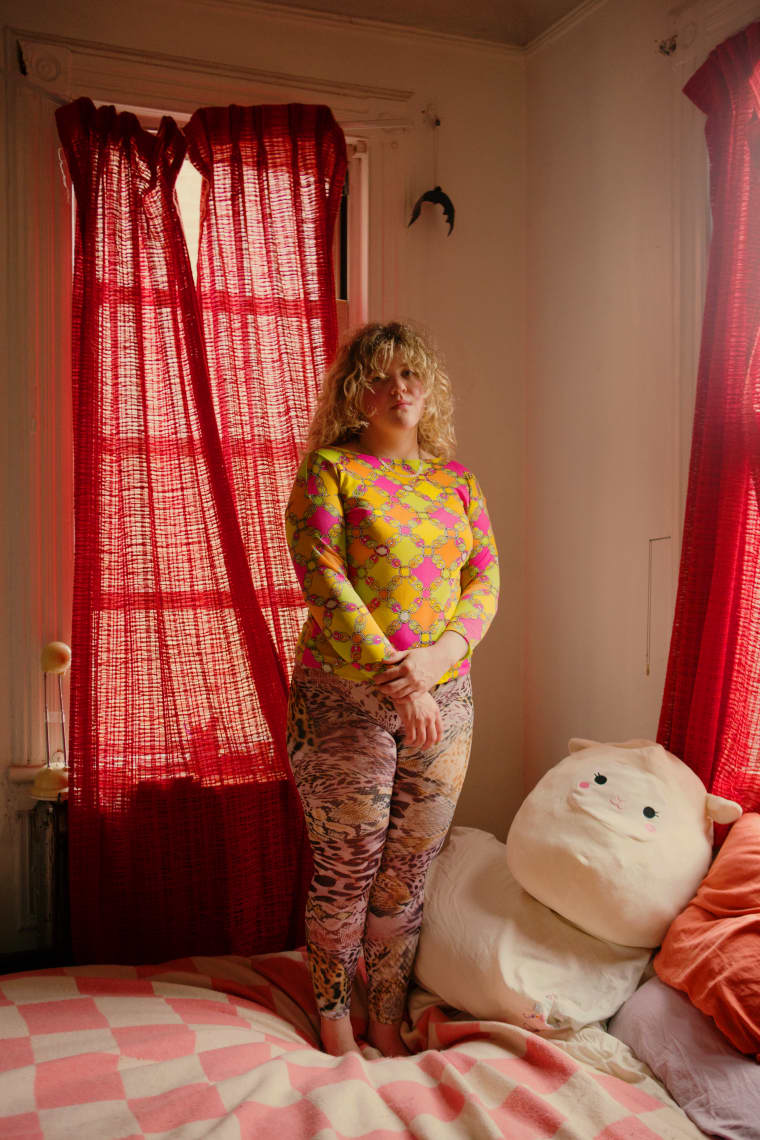 She initially headed to Maryland Institute College of Art to pursue graphic design: "I had no real goals — just to get real good at computer stuff so I could work at Buzzfeed or something like that." Ives eventually transferred to SUNY Purchase, where a chance opportunity to witness a house show by then-unknown, now indie-scion Mitski served as inspiration for what her sound would develop into: "It was quiet and intimate — that whole Frankie Cosmos vibe was coming to Purchase, which is cool for what it is. But I have too much anger and energy in my life." After procuring her trusty Roland, Ives started making punky prototypes of her own skewed pop approach collected on her debut 2016 EP Really Hot — the cover art an image-melt of a younger version of herself, layered to the point of total obfuscation. ("I had that picture on my iPhone, and I just said to my friend, 'Can you Photoshop this?'" she remembers regarding the strikingly silly image.)
As her music made the rounds online, it eventually reached the attention of Dots Per Inch label manager Tom Moore, who implored Ives to head into a proper studio for the purpose of lacquering a slightly shinier studio sheen onto her micro-marvel tunes. The resulting product of those sessions is captured on 2nd, a professionally recorded work that nonetheless captures the ultra-DIY confines that Ives typically works within. "They're like cabin fever songs," she explains. "Most of these songs were written alone in my dorm room with these feelings of energy and anger. I'm too small for this huge anger — growing up, I was the kid putting my whole fist through a wall in our house. On some of my songs, I don't even know if I'm expressing something — but I can hear myself really wanting to say something, like there's this unsettling feeling inside me."
A genial and friendly conversationalist who peppers her sentences with fits of giggles, Ives may not seem to contain such feelings on the surface, but her music is undoubtedly a way to work through the tension that's rarely seen otherwise. "During my live shows, I'm really getting it all out," she claims. "It's not even about singing the right notes — it's about giving the songs the energy I want them to have." Thus far, her tour schedule has largely focused on intimate house show-scaled venues ("I'll play house shows for the rest of my life — I'm totally fine with that"), and beyond that her ambitions are focused on continuing to push through the thoughts in her head, seeing what sounds come out in the process. "I mean, I have more songs to make," she exclaims in between bites of falafel. "So I'm gonna do it."