Grimes's workout routine involves sword fights, screaming, and experimental eye surgery
It's time to hit the dojo.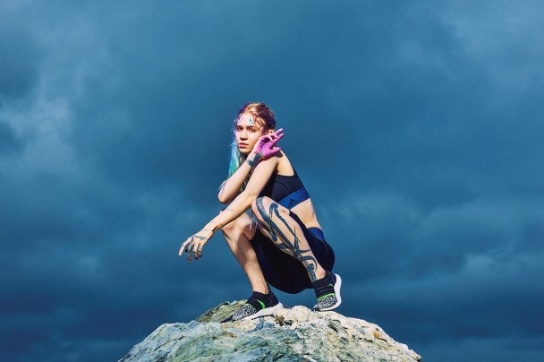 Grimes has been announced as the face of Stella McCartney x Adidas's sustainability-inspired Fall/Winter 2019 collection. The move reunites McCartney with Grimes, who previously fronted a campaign for the designer's POP fragrance three years ago.
In an Instagram caption announcing the news, McCartney described Grimes as "the perfect embodiment of the adidas by Stella McCartney core values. She is passionate and outspoken protecting the planet, and a true trailblazer for pushing creative boundaries and inspiring women to unlock their potential in all aspects of their lives." So far, so traditional.
Grimes, however, used the opportunity to reveal her work-out routine and it's fair to say it's a little wilder than a run in the park and the occasional visit to the gym,
Explaining that she takes a "360 approach to fitness," Grimes said that she regularly "spend 2-4 hours in my deprivation tank," allowing her to ""astro-glide" to other dimensions - past, present, and future." After that she spends to hours sword fighting before winding down with an inclined hike, "arguably the most efficient workout."
This routine gets Grimes into peak condition to enter the studio and start work on her long-awaited new album. She drinks honey tea there and spends 20-25 minutes screaming to get in the zone.
Grimes ended her caption by revealing the extreme lengths she has gone to eliminate seasonal affective disorder from her life. Look away now if eye chat makes you squeamish.
"I have also eliminated all blue light from my vision through an experimental surgery that removes the top film of my eyeball and replaces it with an orange ultra-flex polymer that my friend and I made in the lab this past winter as a means to cure seasonal depression," she explains.
The new line of Adidas x Stella McCartney is available for pre-order now on Stella McCartney.com. Experimental eye surgery is optional.
Listen to The FADER's weekly playlist of songs you need in your life