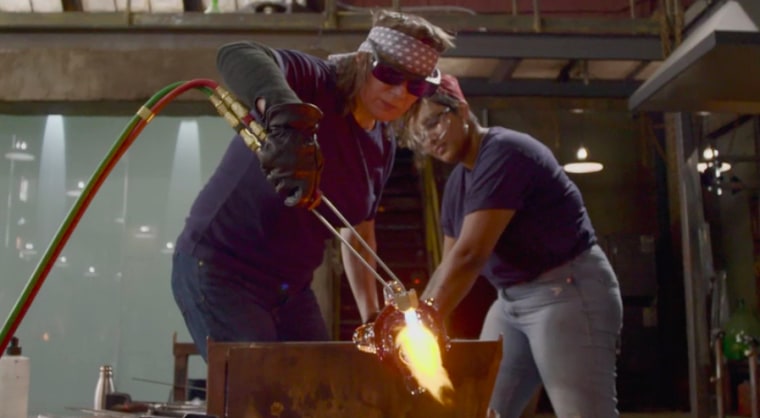 In its quest for total content domination, Netflix has been focused on reality TV competition shows for a minute now. They have the beloved The Great British Bake-Off, as well as the American Ninja Warrior-esque Ultimate Beastmaster; there's the oft-charming, always-funny baking-mishap competition Nailed It!, which deftly combines Chopped's high-pressure stakes and the ramshackle amateurism of Worst Cooks in America.
Over the past year, the bowels of Netflix have become particularly studded with low-culture competition programs, from the bite-sized stoner cook-off challenge Cooking on High to recent entries that border on torture, like the literally shocking Flinch and the sleep-deprivation challenge Awake. Some of these shows are endearingly slapped-together and good for a watch if you have nothing else to do; in the case of Awake, the dystopian television programming from Robocop is unavoidably evoked to the point where it's hard to come in contact with it without having "I'd buy that for a dollar!" ringing in your brain.
Indeed, the slurry of Netflix's reality TV offerings is becoming increasingly harder to swallow — who in their right mind would watch a gig-economy prank show featuring the Stranger Things kid? — but Blown Away rises well above the pack. The Canadian-shot Netflix original made its debut on the service last week, and it's absolutely entrancing and thrilling, as ten glassblowers compete for a $60,000 prize package through a series of high-pressure competitions in which they craft mind-boggling works of art based on thematic prompts.
There's a dead-seriousness to it all that comes with the territory; glassblowing, after all, is hard stuff, certainly more complicated than popping a cake in the oven (no disrespect to the bakers out there, what you are doing is indeed a science as well). And if you're like most of the general public in that you have no idea what goes into glassblowing, Blown Away is downright educational. Did you know, for example, that the furnace that glassblowers use to reheat glass is called a "glory hole"? You do now! Perhaps you forgot that glass is mostly made of sand? I did, but I'm very aware of that fact now. After just a few episodes, you'll doubtless catch yourself throwing around the terms "paddles" and "shearing" around while attempting to critique the competitors' efforts and knowing that you, yourself, could never quite accomplish the artistic feats they strive towards.
Like many reality TV competition shows that have emerged over the past few years, Blown Away is ultimately a Frankenstein's monster of other shows' approaches, while diverging from those shows' formulas in key ways. There's a bit of Ink Master, Paramount Network's trashy and addictive tattoo competition, but Blown Away refutes that show's ultra-masc egotism in favor of pure craft.
A soupçon of Project Runway's high-concept thinking is baked in here, but (fashion fanatics, don't read this) glassblowing is inherently less evil than fashion, so, there. Similar to watching someone drop a cake on the ground during GBBO, there is little more stressful than the sound of broken glass on Blown Away — but while that former show thrives on a mutual kindness, Blown Away chief judge Katherine Gray (who's also a professor at CSU San Bernadino) is withering and tough in her critiques, making her occasional praise all the more well-won.
Most strikingly, Blown Away exists in a rare middle ground of television that's equally consumable when applying maximum focus or simply zoning out. The drama is undeniable, the personality quirks of the contestants are utterly magnetic, and the all-at-once satisfaction of being able to consume the whole thing in one sitting (each episode is 23 minutes, highlighting the bloat that shows like Chopped increasingly suffer under) is pure attention-span gamification. Or, you could let your eyes gently go out of focus as the competitors heat and re-heat glowing blobs of glass, slowly forming them into impossibly fascinating works of art that look (and often are) fragile to the touch. It's TV in its most addictive form, and after just one episode, you'll undoubtedly be begging for a second season.