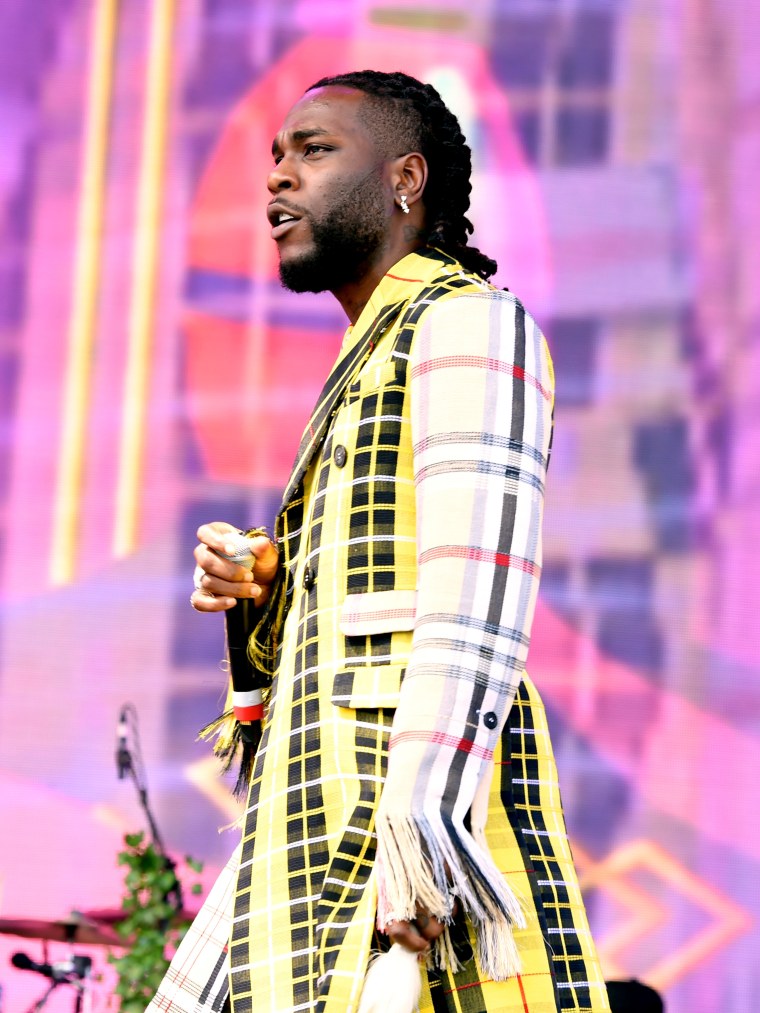 Burna Boy has Africa's blessing as the continent continues to march its cultural elements into the U.S. with crossover ambitions. He is connected to Afrobeat pioneer Fela Kuti, amplifies traditional sounds, has his mother at the wheel of his career, and inspires pride in the hearts of fans from the whole of Africa. From his 2012 breakthrough in Nigeria with the experimental "Like To Party," he's worked his way up through six projects, building a career characterized by experimentation. From the start, he could release a dancehall hit in the morning, and by weekend, hug the radio waves for a Highlife number. All this makes the journey to his seventh project, African Giant, a historic moment in the trajectory of African pop music. It comes with appearances from Grammy award-winning musicians Angelique Kidjo and Damian Marley on a track together, Ghanaian artist M.anifest, a handful of critically-acclaimed standouts from the U.S. (Jeremih, Future, and YG), Jorja Smith from the United Kingdom, and Jamaican dancehall artist Serani. These diverse collaborators point towards a primary goal; crossing into the U.S. market.
"My granddad was a DJ in Lagos; all the records would come to him first," Burna Boy explains to Apple Music during a special feature in their Up Next series. "I would find myself being inspired by things that I've heard as a kid: Nigerian music or African music, some French music or some Jamaican music. When it's time for music to be made, it's almost like my ancestors just come into me and then it's them."

It is that sense of connection to a proud cultural history that inspired his January revolt against Coachella's organizers for placing him below Cirez D, Chvrches, and Dillon Francis on announcement posters for a Sunday lineup. "I am an AFRICAN GIANT and will not be reduced to whatever that tiny writing means. Fix tings quick please," Burna responded. That pushback was met with ridicule at first, but he would later perform at the festival without incident alongside fellow Afrobeats evangelist, Mr Eazi, on the road to the LP release.
That experience, although humbling, is indicative of the extensive work ahead of him in the coming months. Crossover into the U.S. market is the most important task placed on the shoulders of Burna Boy's new album. He is signed to Atlantic Records, which is orchestrating a push for his music to grow and thrive in non-traditional African music territories. In that context, success, traditionally relative, will be measured on how big a market share he captures. He is the third Nigerian artist — after Wizkid and Davido (both on RCA) — to run a campaign backed by a major label in recent memory. Wizkid and Davido struggled to achieve a commercial break with their first international projects, increasing skepticism about the viability of Nigeria's biggest artists in the American music landscape. But Burna Boy feels like the chosen one in this context. If anyone appears to be safe winning bet for music industry executives, it's him. His talent is far-reaching, he thrives on blurring genre lines, and enjoys a healthy backing from the African diaspora community.

African Giant leads with sounds from Africa, backed by layered messaging and cultural symbolism. The album artwork is inspired by the first Nigerian Ten Naira note which features Alvan Ikoku, one of the country's foremost educationists and activists. Other symbols include "BB7"(Burna Boy 7), representing his seventh body of work; serial style numbers representing his date of birth, images of his grandfather and father with him as a baby depicting generational transition, and a stack of gold coins suggesting a single African currency backed by gold. There's also an image of Burna Boy which depicts the true African Giant whose values are a combination of some of Africa's greatest leaders from Obafemi Awolowo to Nelson Mandela to Muammar Gaddafi and Fela Anikulapo.
"Tell them Africa we done tire, here comes the African Giant," he declares on the title track, putting himself forward in messianic language. It's a familiar theme that travels back to the origins of Afrobeats. Fela Kuti often offered himself up as a cure to the continent's ills, a voice of the masses, a militant anti-establishment campaigner, and a rallying champion for activism. Burna, whose grandfather Benson Idonije once managed the legend, draws from that sonic ancestry to deliver pointed messages to fellow Nigerians. On the throbbing "Collateral Damage," he amplifies the Nigerian suffering, singing mostly in pidgin English: "My people suffer well well / Police dey slap here well well." "Another Story" opens with an early history lesson on Nigeria's colonialism by the British, while the bouncy "Different" features a Damian Marley verse and a rather underused Angelique Kidjo to expand this theme with consideration of a global audience.

There are moments on Burna Boy's African Giant that feel like you are a part of something special by listening — something bigger than you. Something that has more value beyond music and the delight of the arts. You feel like you are a part of a movement, a worthy cause. But that feeling isn't clear enough to linger for the duration of the project. Burna's conscious message is muffled. And that's not because the advocacy sermon on the album was weak. Some of it is puzzling, like how his countrymen are urged to look up to Aliko "Dangote," Africa's richest man for inspiration, while he is part of an elite class that cripples the Nigerian masses via alleged policy manipulation. Much of it also serves as vacant amplification of the problems beguiling his people. The solutions are not present, but we are encouraged to look to Burna as the light.
That charged consciousness is balanced by an even more enthusiastic pursuit of hedonism, escapism, and self-posturing. Romance comes in strong, with Jorja Smith harmonizing sweetly on R&B cut "Gum Body," singing "Girl I just want make we gum body / Don't want to lose you to nobody no." "Omo" sounds like an earnest love letter to his girlfriend, U.K. rapper Stefflon Don. Future's inclusion on "Show & Tell" sounds exciting on paper, but the Skrillex-produced dancehall cut uncomfortably extends its stay, while YG's attempt at Jamaican patois on "This Side" is polarizing. Serani's return from retirement as a partner to Jeremih on "Secret" is a creative masterstroke.

African Giant struggles for definition because of this duality of themes. Empowering political narratives lay side by side with odes to lovers. This alters the cohesion of the message. As a necessary requirement for his crossover ambitions, Burna Boy rides the fine line between catering to African and Western audiences. There's enough cultural representation to inspire feelings of equity from his home support, with the local messaging, traditional sounds, and the prominence of pidgin English and Yoruba as anchors to his origins. But his crossover ambitions are communicated via his prominent Western and Caribbean leanings as a fused offering to potential converts. The flawless production and insistence on storied originality make it the most balanced project birthed by Afropop's rise around the globe.
As the world increasingly looks to the continent as the new frontier for inspiration and cultural inclusion, it's a great time to be African. Post-Black Panther, we are witnessing African music starting to experience globalisation of its sounds. Beyonce's Lion King: The Gift album is a top-tier example of that Africa-U.S. engagement. On it, Burna's "Jara E" is the only song featured by a solo African act. Goldlink's Diaspora LP also embraces the continent, a bold move from an artist with a comparatively reduced influence. Elsewhere, Walshy Fire's new album Abeng deliberately blurs collaborative lines between African and Carribean artists. This upsurge in cross-cultural interaction and collaboration is a testament to African music's advancement in the past five years.
African Giant is Nigeria's biggest homegrown effort with a solid measure of local ownership and a narrative that isn't sacrificed or weakened as a prerequisite for global appeal. In Burna's world, belief in self, family, love and community — all core African values — come first. Taking African culture to the world is the foundation upon which the push for globalisation is built on. And Burna's new release, a culmination of creative and business efforts, brilliantly bears that responsibility. It is a distinction that gives assurances for the future of African culture in foreign spaces.