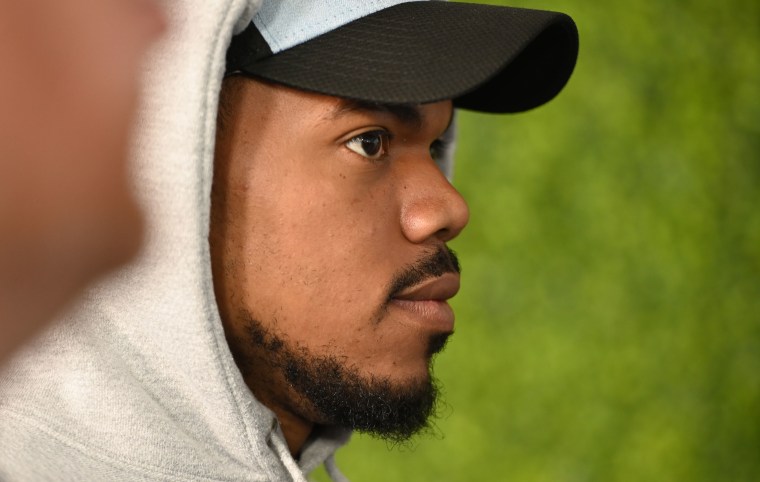 Chancelor Bennett got married, and he wants the world to know. Known to most as Chance the Rapper, the Chicagoan's marriage to long-term girlfriend Kirsten Corley is the gravitational pull of everything on what is being pegged as his debut album. Earlier this year, the pair finally came together in holy matrimony, and the art that this familial celebration birthed is, in the most insanely literal of intimations, titled The Big Day.
We've all seen the memes: The 26-year-old writes songs destined for megachurches; he's responsible for Kidz Bops rap; he makes music for daredevil pastors; his songs are tragically sleep-inducing. Partly because his music screams piously and unapologetically at the top of its lungs about God and family and platonic love (perhaps with less of a grasp of cosmic dualism of someone like Kendrick Lamar), it welcomes skeptics. But Chance the Rapper has long seen his music as a way of strengthening, and even developing, family bonds.
The album has been cast as the proud, victorious debut album from Chance — his first full-length foray after years tinkering with his sound, occasionally winning Grammys, performing on late-night TV, and generally becoming one of the biggest household names in hip-hop. The reality is that this claim of a debut is disingenuous. For someone so hellbent on shattering industry precepts — blurring the already blurry lines between albums and mixtapes, bringing spiritual music to pop audiences, doing all of the above independently — he has actually trodden a relatively unexceptional path. Yes, he is technically independent. But considering his huge marketing deal with Apple Music for the 2015 "mixtape" Coloring Book (interestingly, a promotional campaign with car-sharing app Lyft has accompanied the release of The Big Day), and his associations with some of the biggest artists in rap and pop, he can hardly lay claim to be entirely unconnected from music industry realpolitik.
Clocking in at a grueling 77 minutes, The Big Day fails to build on the promise of his two headline releases. 2013's Acid Rap, inarguably a mixtape, remains the entry point for most to Chance's music after some other smaller, unofficial tapes, most notably 10 Day — recorded while on suspension from high school — which garnered him an initial blogosphere buzz. Caked in blissful drug hallucinations, Acid Rap was kaleidoscopic and questioning, bursting at the seams with youthful vitality. Three years later, Coloring Book dropped from the heavens, a resplendent step forward.
With Coloring Book, Chance hit an especially potent groove, braiding together gospel and soulful rap to soundtrack the most propulsive, wavy modern sermon you could imagine. Christian ideology lurked around every corner, every verse, but his writing was sly, wounded, weightless: "I know the difference in blessings and worldly possessions," he rapped on "Blessings." "Like my ex-girl getting pregnant and her becoming my everything." Songs on Acid Rap and Coloring Book were slightly off-kilter, a shade too weird to be considered straight pop. "Paranoia," on the former, is onomatopoeic and skittish, as Chance laments — his voice cracking with pain — about the lack of media focus his beloved Chicago receives despite its grave problems with crime and inequality. Nothing approximating this appears on The Big Day, dealing instead in paint-by-the-numbers pop-adjacent hip-hop. It's a celebration, obviously. But, if you squint, it is simultaneously extremely personable and impersonal, loud yet not in the habit of saying very much.
In many ways, it represents Chance's least contemplative release, eschewing suspense and conflict both personal and societal in favor of something lightyears more ecstatic and buoyant. Unlike some of his most urgent work — even the bangers — there are no unresolved tensions simmering beneath the surface. His voice, jumpy and raspy, remains captivating. And the album succeeds in its aim to be danceable, its sound resembling most vividly the middling batch of songs he released in parts last year ("I Might Need Security," "Wala Cam," "My Own Thing"). If the album is centered around the triumphalism of a wedding day, then the chaotic meshing of various musical styles — heavy-lidded hip-hop to soundtrack the excitement and nerves ahead of the ceremony; sensual R&B for the reception's slow dancing; bouncing juke and house music for the drunken jostling thereafter — makes conceptual sense. As one album, the songs lack a narrow focus.
It's all very upbeat, uplifting, and catchy on paper, familiar yet more honed in on the chintzy, blindingly positive, nostalgia-glazed style he began furrowing into more last year on those loosies. When the songs land so flat, when his writing appears less explorative than ever, it's difficult to join in on all of the heavenward exaltations. "All Day Long" sounds like something from the six-year-old cutting board of Acid Rap; "I Got You" is a weak facsimile of '90s R&B, carried on the shoulders of Ari Lennox; the Shawn Mendes-assisted "Ballin Flossin" is wafer-thin, sun-kissed house that floats without making any genuine impact; the title track, meanwhile, is gratingly tedious pop-rap whose soulless guitar plucks and dreary drums drag it on for what seems like an eternity.
There is no velocity to the production, no burning desire in Chance's near-contrived raps to reveal more about himself. It's frustrating not because the songs are dire. For the most part, they're actually pretty serviceable, unfurling like a gooey, feel-good Spotify playlist, which was arguably his intention with the release: To create a wedding-centric playlist to out-wedding all wedding playlists.
For someone who has become known for whip-smart, free-associative riffs and terse, rapid-fire bursts of colorful writing, large portions of The Big Day read like the purplest of prose. "Sun Come Down" does the rare thing the album mostly fails at — it's a legitimately transcendent song that probes at marriage and the complicated nature of human relationships. "I don't want nobody to be at my wedding that won't be there for my marriage," he offers, pithily, in a sombre tone, over gentle, unfussed keys. Maybe it was chosen very specifically to be the next song, but the whimsically titled "Found a Good One (Single No More)" slides headfirst into cavity-inducing, twee, Disney Channel territory, overloaded with mawkish sentimentality and awkward gospel singing that snags across the footwork percussion like nails across a chalkboard.
A mushy, Cupid-struck Chance wedges in countless soppy lines about hugs, dropping the knee, and other Hollywood idealizations of honeymoon love. You'd suspect this album would've made more sense kept private — a cutesy wedding present, a love letter played by family members at rowdy gatherings. Because of, and not in spite of, its autobiographical brio, the album feels insular without ever sounding very insular. One of the most head-scratching moments on the album comes on "Big Fish," featuring an inimitably stoic Gucci Mane verse, where, within seconds, Chance is rhapsodizing about the merits of the nuclear family.
Shortly after describing the overt whiteness of label executives, he raps in a well-meaning, if spectacularly boring manner, about the sanctity of marriage. The preaching doesn't suit him. Social conservatism now has its singledom-chastizing 2Pac to quote on Facebook posts. "They celebrate anniversaries and nurseries and try to play Santa / But they don't sell marriage no more," he grouses. "Guess bein' all alone ain't so scary no more / Guess our lives ain't for sharin' no more / Guess the tale can't end like a fairy no more."
"Found a Good One (Single No More)" is Chance at his criminally corny worst. "Very smart and she very fine, and she very kind," he beams of his wife, with a glint in his eye and a rainforest worth of butterflies in his stomach. "Give me kisses in her spare time / And she's very mine / With her hair up in a bun, she surprise me with the lunch / She just tell me when it's done, it's every sign."
The Big Day is Chance's weakest release yet. Despite the many blips, though, there is a smattering of great songs. Chance is at his best on the more conventional rap moments: The subtle, rousing, Kanye-inspired "Eternal," his electric flow on "Roo," and his gloopy melodic sing-rapping and hook on "Handsome" are all standout moments. Near the album's end, there's something galvanic and oddly moving about "Sun Come Down," one of the album's best and most uncomplicated songs, which sees Chance spit some of his trademark witticisms ("If you make a movie about my life, make it right / Please don't make no holograms, don't wanna do it twice"). The slow-moving, mostly acoustic song is the late-2010s rap equivalent of the sound of a small bird's wings beating.
But when an album approaches the 90-minute mark, you'd hope that at least half of the project does some of the heavy lifting. But instead of aiming for massiveness, in an attempt to make some grand statement about being a doting husband or whatever, 20 minutes of a wedding album might have sufficed. We don't need Chance to be sad. We don't need gloomy rap from someone so unfailingly cheery. But maybe he should tell us about his fears of marriage, about his expectations of monogamy for life, or even something sordid — or darkly funny — from their short union. Was the ceremony boring? Did you disagree over the venue? What is forever?