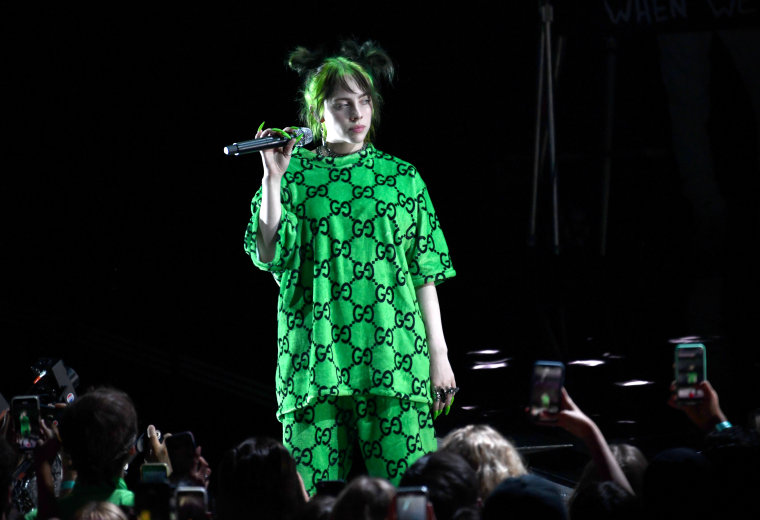 Billie Eilish graces the cover of this month's Rolling Stone. The article details her days at home in Los Angeles leading up to her world tour. There's a few interesting anecdotes from her life on the road, too — one of which is that middle-aged rock frontmen with daughters apparently love her, including Dave Grohl, Billie Joe Armstrong, and Eddie Vedder. Thom Yorke is also a fan, allegedly telling Eilish in a "perturbed" voice that she's "the only one doing anything fucking interesting nowadays."
Eilish, who the article notes has never bought a CD before, is apparently not too starstruck by the Yorke and Vedder types. She's much more inspired by Tyler, the Creator and Childish Gambino — in a video accompanying the article, she talks about the first time she heard each of the artists. Gambino came upon a fateful iTunes shuffle of her brother's library, and she discovered Tyler while counseling at a horse camp:
"We were in the middle of a lesson, just goofing off… [my co-counselor] was like 'have you heard of Tyler?' I was like 'no' and she was like 'wait what do you mean?… your profile picture is literally him.' It was true, I had Tyler, The Creator as my profile picture before I even knew who he was cause I just thought it was a cool picture. She played me 'Tamale' which was huge at the time. Still such a fucking good song. Then we listened to 'Tamale' with a bunch of five year-olds riding horses around us."
Read the full article here, and then be sure to read our cover story with Eilish here.