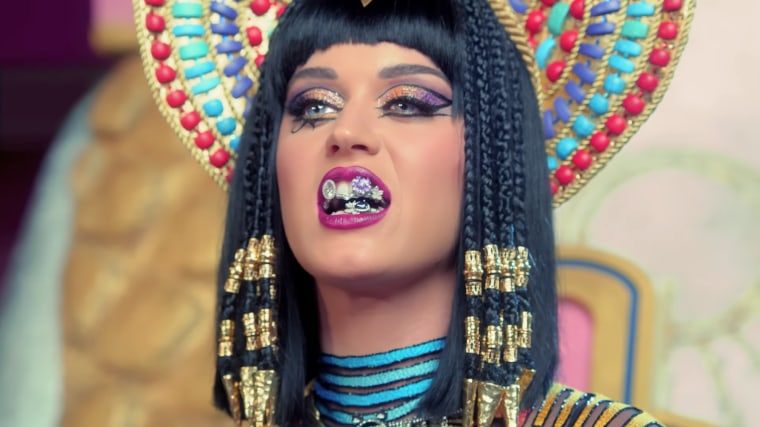 Earlier this week, a jury decided that Katy Perry's chart-topping 2013 Juicy J collaboration "Dark Horse" had copied, either knowingly or unknowingly, a 2008 Christian rap track titled "Joyful Noise." The jury will now decide how much money Perry and her co-writers — Sarah Hudson, Max Martin, Dr. Luke, Cirkut, and Juicy J — owe Marcus Gray, the rapper who, under the name Flame, released "Joyful Noise" along with co-writers Chike Ojukwu and Emanuel Lambert.
It's undeniable that some will herald this as a win for songwriters everywhere, arguing that Flame, Ojukwu, and Lambert are fighting the good fight for the little guy. There's a problem, though: the supposed similarities between "Dark Horse" and "Joyful Noise" aren't clear-cut as much as they are similarities shared by a large portion of pop-trap. The more threatening implication of Monday's ruling is that pop writers are no longer allowed to build on or augment established genre traditions — which is the fundamental way many artists create. The decision has the power to completely alter the way people make music as a whole.
There's no denying that "Dark Horse" and "Joyful Noise" sound similar. The beat in the latter's opening moments sounds a little like the drop in the former — but "Joyful Noise" is noticeably faster than "Dark Horse." It's also in an entirely different key, and as soon as Flame begins to rap, the song's electric guitar solos and overtly religious lyrics are impossible to recognize as even vaguely being related to "Dark Horse." Gray and co. had musicologist Todd Decker testify as an expert witness during the trial, who determined that Perry and her team had copied their song's beat; the musicologist that Perry and her team put forward, however, determined that all the supposedly copied elements of "Dark Horse" were simply part of pop and trap music.
The deeper problem is that what constitutes "copying" depends on the person. It's not as simple and definitive as your classmate leaning over and stealing test answers — pop music, by design, is supposed to be disseminated through culture as widely and deeply as possible. Can you really try to lay claim to something that's supposed to be ubiquitous and influential? The reason each musicologist witness had diametrically opposed views is because music is about more than notes and rhythms — it's about context and style and, as nebulous as this is, 'vibe'. (It's nerdy, but that 'Axis of Awesome' video from a decade ago very succinctly demonstrates how similar basically every pop song is.)
Moreso, pop and hip-hop are genres built on the transference of creativity between artists, scenes, and subcultures; certain melodies, rhythms, and styles reappear simply because music tends to inspire other music. While one person might call that copying, another could postulate that shared ideas and styles are the literal foundation of artistic practise. Based on the melody and phrasing of the hook centered in Australian singer Amy Shark's "I Said Hi," you could conclude that it's a copy of Daniel Powter's "Bad Day," and I'd bet you could even find a musicologist to back you up.
But "I Said Hi" and "Bad Day" are very different songs made by very different artists that could never be mistaken for one another — the former an angsty pop-rock track made in 2018, and the latter a Canadian easy-listening hit from a decade prior. Their hook melodies are in different keys and use different notes; they just feel similar. The same goes for "Dark Horse" and "Joyful Noise," which is less a case of Hugo Boss ripping off an XX song to sell thousand-dollar suits and more a case of art being built off the back of what already exists. In closing statements, Perry's lawyer argued that "[Grey and co. are] trying to own basic building blocks of music, the alphabet of music that should be available to everyone," and it's troubling that which basic rhythms and melodies songwriters can and can't use is now up for debate.
The "Dark Horse" lawsuit is the latest in a spate of lawsuits against this decade's most prominent pop stars. In the past few years, we've seen Robin Thicke, Pharrell and T.I. pay $5.3 million to Marvin Gaye's estate over similarities between "Blurred Lines" and Gaye's "Got To Give It Up"; Ed Sheeran was sued by Gaye's estate over similarities between "Thinking Out Loud" and "Let's Get It On," while Mark Ronson and Bruno Mars were taken to court by two separate bands who alleged "Uptown Funk" copied them. In a particularly extreme case from 2010, the Larrikin Music company won a lawsuit against Men At Work, claiming that the band had illegally used elements of "Kookaburra," which they owned the rights to, in their 1980 hit "Down Under." Larrikin only realised that "Down Under" contained elements of "Kookaburra" after seeing a question about it on a TV quiz show.
When courts rule that similarities like these cited examples are copyright-worthy, they're creating an artistic climate where young artists could feel blocked from using sounds or phrasing that's even vaguely similar to already-released music. While Beyoncé might be able to pay the writers of Animal Collective's "My Girls" when she vaguely interpolates one of their lines, not everyone else can, and the reality is that if your work is successful, somebody will probably be inspired enough to make something like it — after all, that's how a good chunk of history's greatest art came about in the first place.
Listen to The FADER's weekly playlist of songs you need in your life