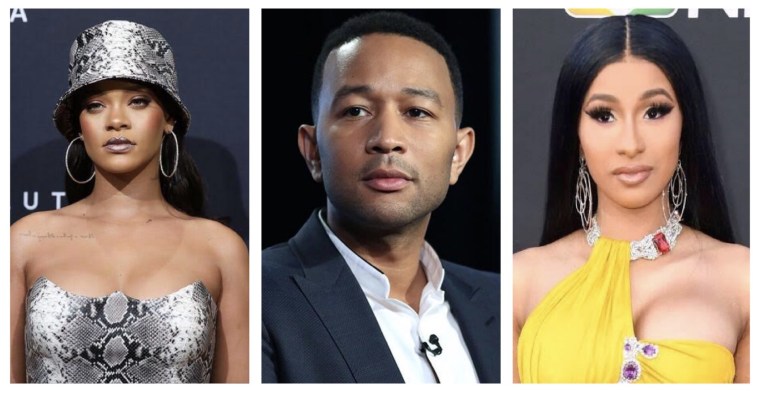 In the wake of the back to back mass shootings in El Paso, Texas and Dayton, Ohio, stars like Rihanna, Cardi B and John Legend have taken to social media to share their condolences and frustrations with the country's gun laws, long history of white supremacy and racism—as the suspect in at least one of the shootings has reportedly been identified as a white nationalist—and the way the Trump administration has responded to the events.
Legend, who is no stranger to political commentary and makes no secret of his criticisms of the President, highlighted the ways Trump's words embolden white nationalists to commit violent hate crimes. "When we condemn the racist venom coming from the President's mouth and point out the bigotry of his policies, it's not an academic question, it's not a political game, it's about life and death. The President regularly inspires killers. He is a part of the problem," Legend said in a tweet.
On Saturday, 21-year-old Patrick Crusius killed 20 people inside an El Paso Wal-Mart, with investigators reportedly finding a racist manifesto that he posted online minutes before the attack, according to The New York Times. The New York Post reported that Crusius may face the death penalty for his crime. Early Sunday morning, 24-year-old Connor Betts killed 9 people outside of a popular bar in Dayton, Ohio. Both incidents also left dozens of people injured.
Rihanna took to Instagram to share a screenshot of Trump's tweet sending his own condolences, calling him out for not calling it an act of terrorism and his non-support of stricter gun control. "Imagine a world where it's easier to get an AK-47 than a VISA," she shared in the post's caption.
See more reactions below.