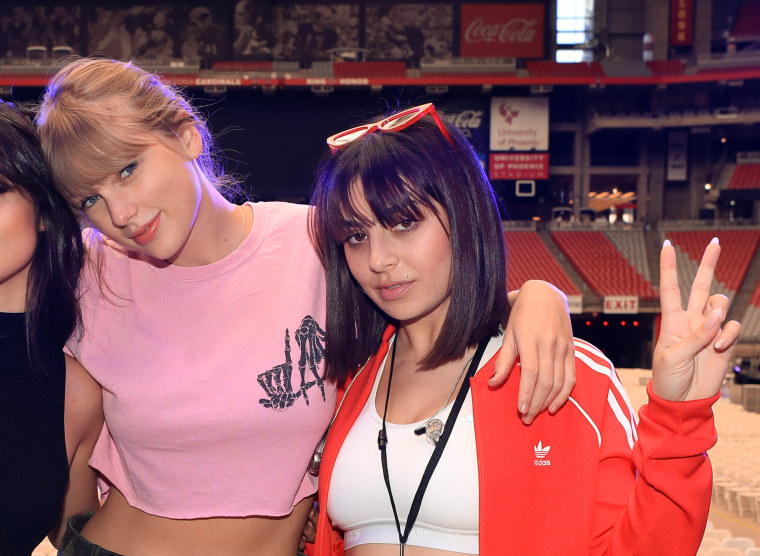 So remember way back last year, when Taylor Swift had Charli XCX open for her on the Reputation tour? As it turns out, the two singers have entirely different fan bases, a point Charli touches on in a new profile over on Pitchfork. "I'm really grateful that [Taylor] asked me on that tour," she explains. "But as an artist, it kind of felt like I was getting up on stage and waving to 5-year-olds." If you've ever been to a Charli XCX gig — most of which over these past few years have been in packed, sweaty gay clubs — this feels like a fair assessment.
Swifties, not universally renowned for their embrace of nuance, eventually caught wind of Charli's comments and took them extremely personally. "It will probably be the peak of her career," wrote user @snakeputation. "I was bored as shit counting down the minutes until Taylor came out." Notably absent from most of their critiques? The fact that Swift sings "hey kids, spelling is fun" in her latest lead single.
In response to their backlash, Charli eventually posted a note to her Twitter account further explaining her comments. "I want to clarify there is absolutely no shade and only love here," she wrote. "My answers about this tour were boiled down into one kind of weird sentence — leading up to that tour I'd been playing a tonne of 18+ club shows and so to be on stage in front of all ages was new to me... I am extremely grateful for the opportunity I was given."
Read her entire note below. Charli's new album, Charli, is out September 13. Swift's, Lover, is out August 23.