beabadoobee gives nostalgic '90s alt-rock a cinematic sheen
The prolific British teenager, signed to The 1975's label, just finished school and is ready to be heard.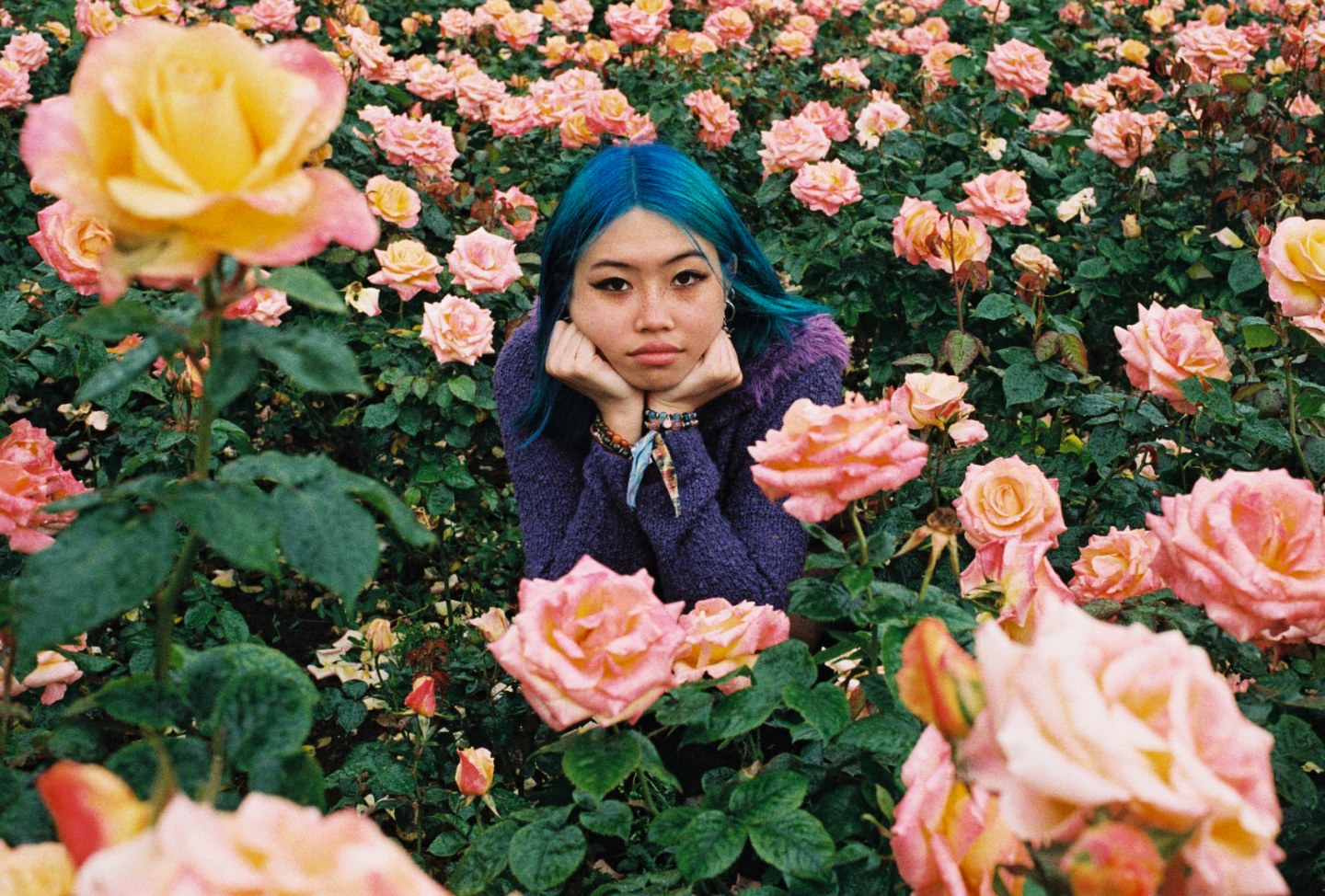 "I want to look like a mix of Coraline and Ramona Flowers," beabadoobee says while flicking her freshly-dyed blue hair, as she sits down at a private members club overlooking London's Westfield, the largest shopping center in Europe. Taking her musical moniker from her own finsta account, 18-year-old Bea Kristi makes sad-sounding music that builds whole worlds out of seemingly miniscule events like late night text messages ("Home Alone") or coughing up phlegm ("Phlegm"). She's written three EPs — including the charming Loveworm from earlier this year — from her west London bedroom, adorned by a huge picture of Tom Hanks that looms over her pillowcases as if Woody himself is watching her sleep.
Kristi provides a melancholy score to the lives of her teenage fans, and movies are never far from our conversation; her current dream project would be something akin to Arctic Monkeys frontman Alex Turner's soundtrack for Richard Ayoade's lovingly twee Submarine in 2011. "It'd be a mixture of Submarine, Scott Pilgrim..., and Juno mushed together," she opines on what said film would look like. "Then, let's give it something edgy...Eternal Sunshine...."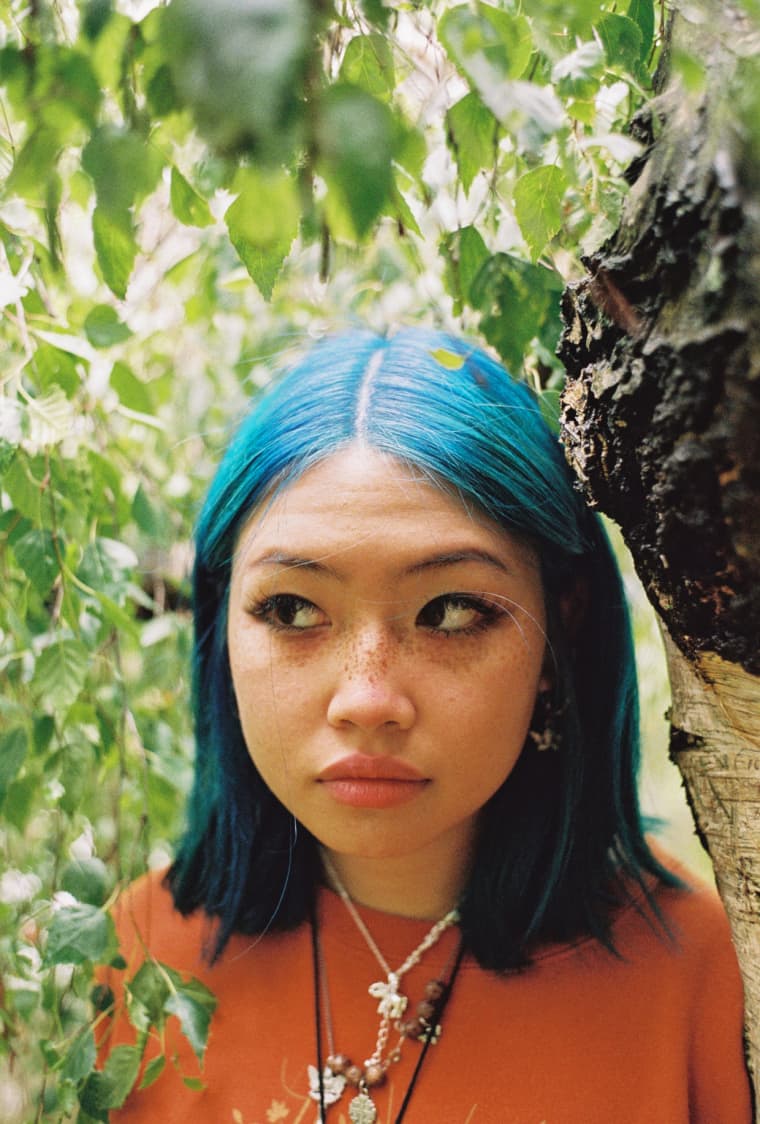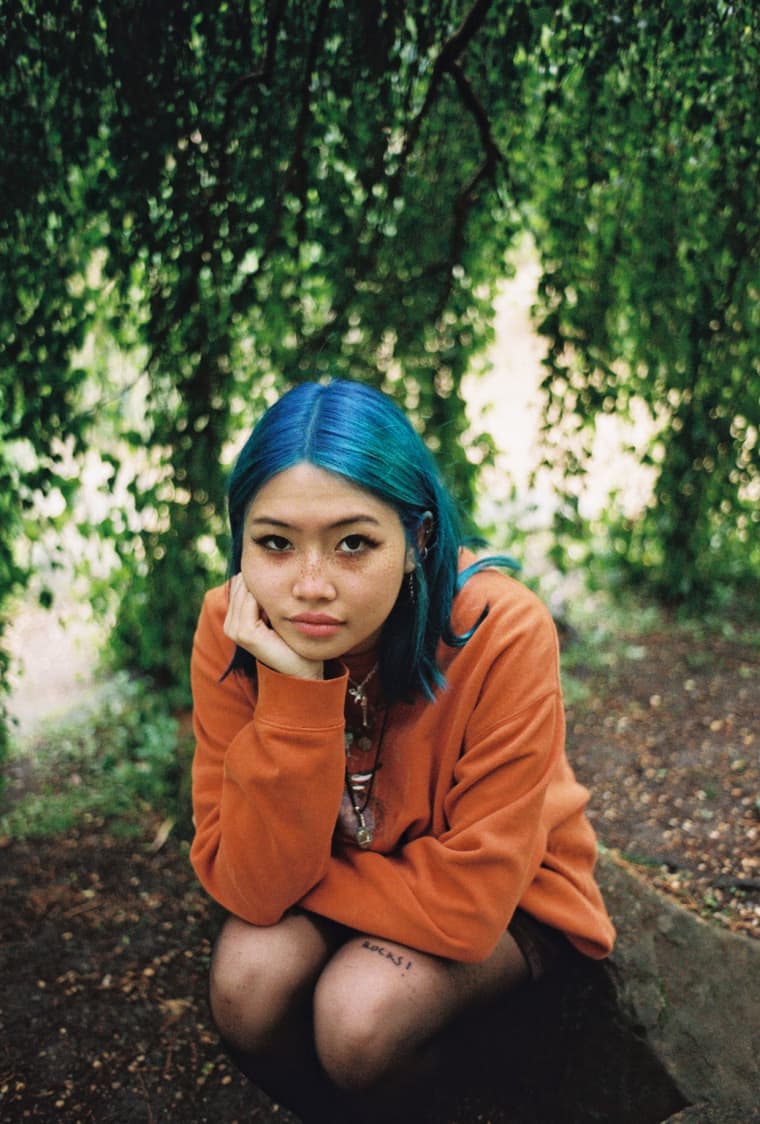 It was through Juno that Kristi discovered the sardonic folk music of Kimya Dawson, whose songs featured heavily in Jason Reitman's iconic dramedy. Dawson's confessional, lo-fi aesthetic runs through Bea's rough-and-ready acoustic recordings, like the deceptively carefree "Coffee" or her loving cover of Karen O's "Moon Song" — imbued with a keen sense of melody and precise, sharp-witted lyricism. The former song specifically kicked off her journey as beabadoobee: "I just saw people like it and I was like, 'Fuck it. Maybe I should just give them an EP.'" Kristi now claims she doesn't care that much for the song, even as it's topped seven million streams on Spotify. "It just shows how much I've grown as a person," she says breezily.
Born in the Philippine city of Iloilo, Bea was raised in London after her parents moved there when she was a toddler, boasting the confidence and slang of a teenager who's called the city her home for nearly two decades. As the only Asian student in an all-girls Catholic school, Bea struggled to fit in. "It was really hard accepting myself," she says, describing her adolescence as "a lot of stupid shit" and citing "the excitement of the outside and wanting to grow up so quickly."
Her teenage struggles included a period of self-harm, but Bea claims she's since in "a good place," displaying a Peanuts comic strip tattooed on her left arm that marks her recovery. "Charlie Brown makes me really happy and reminds me that I'm in a good place. Charlie gets sad, but Snoopy's always there to cheer him up. I have a lot of Snoopys, and this made me realize how many Snoopys I have." I ask what makes someone a Snoopy, and Bea sums up the community spirit of her ramshackle musical world. "It's all about having a connection. Reach out to people. Never seclude yourself. Never hide away."
Indeed, Kristi's itching to move on to the next project, which she claims will be indebted to her love of hissing amps, big drums, and the sounds of indie rock scions like Pavement and Sonic Youth. I ask Bea if she finds time to listen to pop heavyweights like Migos or Rihanna alongside such alt-rock totems. "I tried, bro," she laughs. "Every time there was a gathering and I'd listen to that music. I'm just a bitch with music, basically." Kristi's love of Pavement runs deep enough that she once projected a recording of one of their performances from 1992 before a show at London venue Oslo this past April; prior to that, she pulled a similar stunt with the Hanks-starring movie movie Big. "I feel like you should have fun and jump around," she says while discussing her own approach to performing. "If your voice cracks, it's all part of the art — and it sounds cool."

Helping her get her music out into the world is Dirty Hit, the London-based record label part-owned by — and home to — The 1975. With a DIY-til-I-die spirit running through her veins, Bea says she was "so scared" a label would push her to change her sound, but Dirty Hit "made me realize myself more, which is sick. They gave me a shit ton of opportunities. I could finally put drums in my music, holy shit." She's also got to know Matty Healy of The 1975 in the process, a man she happily admits she "cried to… so many times" as a fan of his band.
With school behind her (Bea's last exam took place the day before our interview), she's already booked a support slot on Clairo's U.S. tour this fall, and is excited to write what she calls her "big boy album". She stresses that even though she's primarily written her songs in the bedroom, she rejects the "bedroom pop" designator often applied to her and peers such as Clairo, Omar Apollo, and Girl in Red. "It's for ourselves — like a way of counseling," she explains, and since finishing school meant losing free access to a therapist, Kristi claims that music has been a worthy replacement for the time being. "Writing has helped me take a shit ton of shit from my brain. Just having it out there helps me."