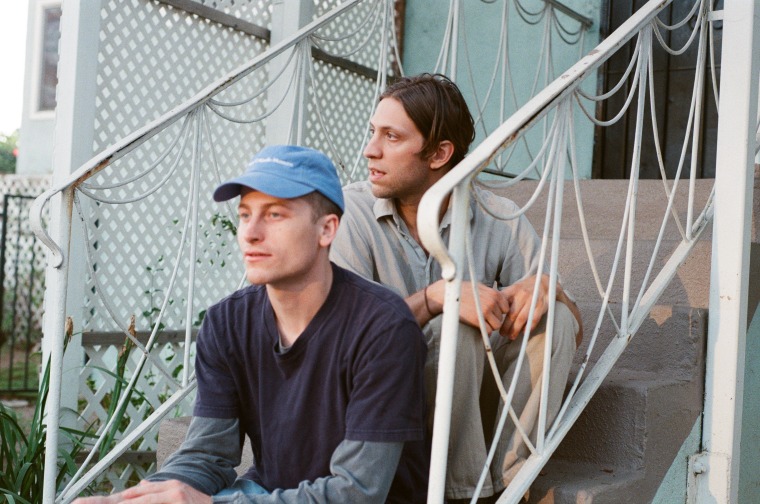 Hovvdy's music is the sonic equivalent of a hug. Austin-based Charlie Martin and Will Taylor have been enveloping listeners in their soft, cozy, slow rock since 2014, when they released their debut EP on Bandcamp. Now, after five years, two split releases, and two albums (2016's Taster and 2018's Cranberry), they're announcing their third album. Heavy Lifter will be released on October 18 via Double Double Whammy. It arrives after Hovvdy's tour with Lomelda, with whom the band recently released a split EP of covers.
Hovvdy have always had an uncanny ability to create a comforting effect with their songs, even when those songs are about fear, anxiety and their own personal shortcomings. Fans of their zoned-out, slowed-down indie-pop have come to rely on the duo for their consistently soothing music, and it's a mantle they've gladly taken up. "I was really trying to make something that would make people feel better," Martin says of Heavy Lifter, on the phone from his bandmate Taylor's house in Austin. "And I think they have served that purpose for me too, just from making them."
While Heavy Lifter does come off as familiar, the record also expands their sound. Working in close collaboration with engineer and producer Ben Littlejohn in various makeshift studios around Texas, they've refined their languid melodies and expanded on their previously muted production. It's still cozy, but it also veers toward the cinematic, with brief forays into Auto-Tune, distorted drum machines, and hip-hop-inspired beats.
Lead single "Cathedral," premiering today on The FADER, is a gentle introduction to this evolution. First it's dominated by cyclical, strummed guitars reminiscent of Elliott Smith, and then it transforms into a sleepy anthem for late-summer nostalgia. Martin says he wrote the first part "a long time ago," inspired by a "weird vision or dream about being in the past and seeing my grandma at this church." Halfway through, the song seems to careen back in time, with Martin repeating the line: "maybe never come back here, we can stay with our friends." It captures the youthful feeling of infinite time and endless summers, when you stay out with your friends and have zero responsibilities.
It also hits a lot harder than much of Hovvdy's previous work. In the past the band have used terms like "hushed" and "pillowcore" to describe their music, but "Cathedral" perfectly demonstrates that shift in the way they play and sound on Heavy Lifter.
Given that both members are former touring drummers, it's always been surprising that Hovvdy hasn't prioritized percussion more in their music. Apart from the occasional use of programmed beats (on songs like "Pretend" and "Thru"), their songs have mostly been awash with hazy layers that are more suggestive of rhythm than direct with it. "I don't think either of us are too crazy about ultra-technical drumming," Martin says. "We always keep it simple and focus more on the melodies and the songwriting." There's always been a quiet intensity to their music, but, Taylor adds, "the drums have a simplicity… It's like a way of playing hard but not letting it distract you from the song."
Heavy Lifter sees them buck this trend with not only harder playing but more pronounced beats. There's a physicality that takes you out of your head a little more, most notably in the Yo La Tengo-like bop "Mr Lee," which marries an upbeat drum machine rhythm with a sunny vocal melody. The lyrics are about loneliness, but it's strangely uplifting. Like a lot of Hovvdy's songs, it's downcast, but hopeful.
In the past Hovvdy have utilized iPhone voice memos as an easy way to compress vocals and drums in their recordings. Now they're using more advanced recording techniques, drawing on their love of pop and hip-hop. Martin says they were initially attracted to "the hyper-rhythmic element" of hip-hop, but that now both he and Taylor are "pretty into how pop and hip-hop music are kind of becoming one in the same."
Hovvdy have arguably been bringing more of a pop sensibility to their music for a while. In an interview with VICE's Colin Joyce in 2017, Taylor said, "I'm slowly warming up to letting myself be pop." Now, with Heavy Lifter's concentration of sunny melodies and concise construction, it appears that's finally happened.
"I love pop," Taylor says now, enthusiastically. He says he's "obsessed" with Charli XCX, known as much for her blatant nostalgia as her rousing anthems and collaborations with trend-setting producers and vocalists. Nostalgia is a word that's been used to describe Hovvdy many times, and, Taylor admits, "Trying to understand that has been really interesting. But I think there is this innate sense of nostalgia in the direction of our songwriting and how the chords ring out. For whatever reason, it just has a natural tone like that. I guess I'm kind of nostalgic," he laughs. "Are you, Charlie?"
"Yeah, it's funny," Martin says carefully. "I think maybe neither of us feel like we're ultra-nostalgic people, but I think that it definitely comes through in the songs. Maybe our natural nostalgia paired with the guitar tunings that we use, and the minimal arrangements and the minimal rhythms, lends itself to reflection."
Nostalgia is yearning for the familiar, because the familiar is comforting. But Hovvdy know that growing beyond the confines you've built for yourself is endlessly more satisfying. And even though they've changed, they're still as comforting as ever.
Hovvdy's Heavy Lifter is out October 18 via Double Double Whammy. Pre-order the album here and find the band on tour across the United States this fall.

Hovvdy on tour:
8/22 - Oxford, MS - Proud Larry's *
8/23 - Nashville, TN - DRKMTTR *
8/24 - Columbus, OH - Big Room Bar *
8/25 - Milwaukee, WI - The Back Room at Colectivo Coffee *
8/26 - Chicago, IL - Empty Bottle *
8/27 - Minneapolis, MN - 7th Street Entry *
8/29 - Omaha, NE - Reverb Lounge *
8/30 - Columbia, MO - Cafe Berlin *
8/31 - Norman, OK @ Opolis *
9/1 - Denton, TX - Andy's Bar *
10/18 - Austin, TX @ Barracuda ^
10/19 - Dallas, TX @ Ruins +
10/23 - New Orleans, LA @ Gasa Gasa ^ #
10/25 - Carrboro, NC @ Cat's Cradle (Back Room) ^ #
10/26 - Philadelphia, PA @ First Unitarian Church ^ #
10/27 - Allston, MA @ Great Scott ^ #
10/29 - Brooklyn, NY @ Rough Trade ^ #
10/30 - Washington, DC @ Songbyrd ^ #
10/31 - Richmond, VA @ The Camel ^ #
11/1 - Charlotte, NC @ Snug Harbor ^ #
11/2 - Atlanta, GA @ The Earl ^ #
11/3 - Memphis, TN @ The Hi Tone Cafe ^ #
11/14 - San Diego, CA @ SPACE ^ ~
11/15 - Los Angeles, CA @ Moroccan Lounge ^ ~
11/16 - San Francisco, CA @ Cafe Du Nord ^ ~
11/18 - Seattle, WA @ Barboza ^ ~
11/19 - Vancouver, BC @ Biltmore Ballroom ^ ~
11/21 - Portland, OR @ Mississippi Studios ^ ~
11/23 - Salt Lake City, UT @ Kilby Court ^ ~
11/24 - Denver, CO @ Larimer Lounge ^ ~
* w/ Lomelda
^ w/ Caroline Says
+ w/ Christelle Bofale
# w/ Kevin Krauter
~ w/ Nick Dorian