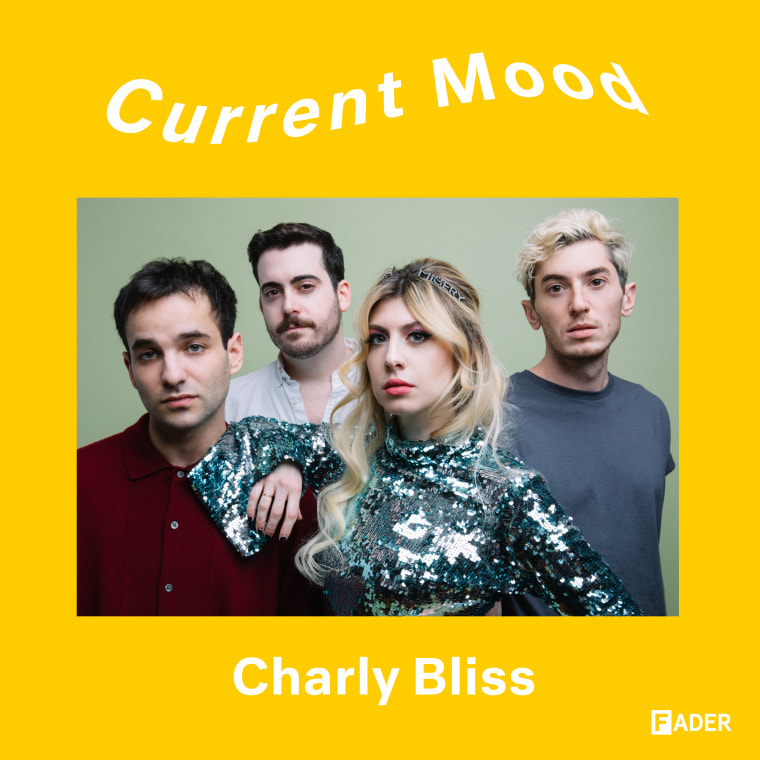 In our Current Mood series, we ask some of our favourite artists to curate a playlist according to a specific theme or mood of their choice. For Current Mood #011, New York bubblegum rock four-piece Charly Bliss share the songs that get them sooooo stoked. Listen to past Current Mood playlists here.
Brooklyn-based bubblegum punk four-piece Charly Bliss have been known to play a loud, full-throttle rendition of The Killers' iconic "Mr. Brightside" as their live encore. It's a smart choice: there's nothing that could properly cap off an hour-or-so of their cathartic and exhilarating 90s-referencing rock better than that karaoke classic, save maybe just screaming your lungs out from the top of a building. It's fitting, then, that Killers frontman Brandon Flowers makes not one, but two appearances on the band's CURRENT MOOD playlist.
Titled So Stoked, the 15-song playlist includes Day & Age classic "Human" as well as "Lonely Town," from Flowers' supremely underrated solo record The Desired Effect. Elsewhere, you'll find other high-emotion, high-impact music: Katy Perry's "Never Really Over," PUP's "Sibling Rivalry," and Selena Gomez's "Hands To Myself" all make appearances. What more could you ask for?
"This is a collection of songs that we listen to when we get really great news on tour and want to freak out and celebrate in the van!" Charly Bliss tells The FADER via email. "It also just functions as a playlist for when it's sunny out and we're enjoying driving around the world for a million hours at a time!" Listen to So Stoked above.
Listen to The FADER's weekly playlist of songs you need in your life