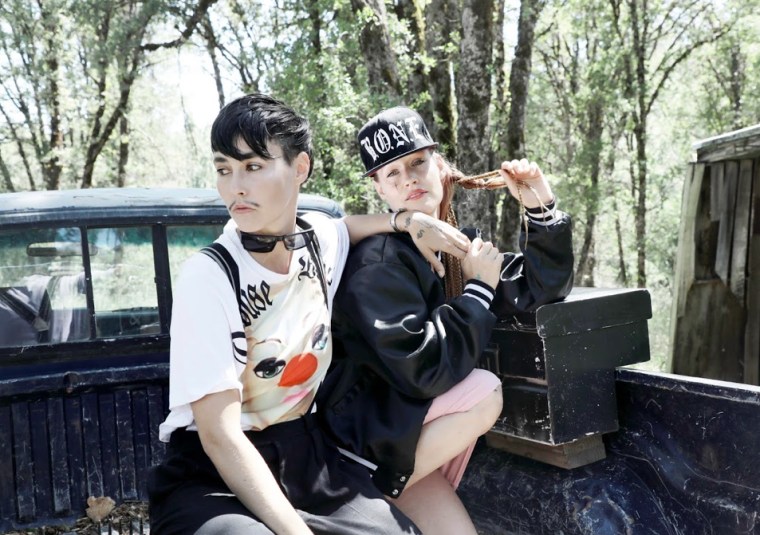 As CocoRosie, Sierra and Bianca Casady have been dreaming up whimsical worlds of their own for the past fifteen years. A couple weeks back, they appeared on Chance the Rapper's The Big Day, making for one of the album's most surprising and intriguing collaborations. Today, on the heels of that song, "Roo," CocoRosie are back with their first solo single in over two years, "Lamb & the Wolf." The sharp, militaristic track finds the Casady sisters waxing poetic on the throes of mental illness, and the societal tolls it can endure.
"Lamb & the Wolf" marks the first single of CocoRosie's forthcoming material. We caught up with the sisters earlier this week to chat about the song, working with Chance, and what to expect next from them.
There's been a world of change since the release of your last album in 2015 — how have you been in the time between?
The answer to that question is a thick soup. New life, death, marriage, divorce, sickness, healing, healing, healing. The list goes on. It's been rich and all the while we've been writing songs and recording them all over the place. We started in Hawaii off the grid, writing and collecting field recordings of ranch animals that ended up as featured artists on several new tracks. Stories about outcasts and rural living become major themes for our work…music and style and other art.
Many dreams have unfolded and come to light. We recently begun a collaboration with The Kronos Quartet, artists whom we have long admired. We performed with them two years in a row as apart of their annual festival and soon shall gather this material into a record of its own. We have continued to work with legendary theater director Robert Wilson and are currently starting a 5th production together, this time The Tempest in Sophia, Bulgaria. It's been exhilarating! His productions contain many, many songs so if you add up these theatrical productions, there's hundreds. We have also gotten our fingers sticky with acting and directing and currently are working on our own theater piece involving opera and dance.

How did you meet Chance the Rapper? Had you been a fan prior to working on The Big Day?
Chance reached out to us and introduced us to his work in person in Chicago. We hadn't known his work prior, but we were pleasantly surprised to have many fascinations in common in terms of poetry and a willingness to take risks with ones artistic voice. Our artistic kinship was clear from the start and the energy in the studio was lit.

How did "Roo" come together in Chicago?
In Chicago, there were two studios in full swing. Upon arrival, we handed his engineer three songs we had previously produced to be loaded into the big studio and then found our way into studio B where we set up some drum machines, toys, flutes etc. and began creating from scratch. Three hours later, Chance showed up and before we could exchange many words, he got right to rapping, writing on the mic and the creative flow was on!
Was there another song recorded for the album?
As the French would say, we got a few things under the elbow.
Would you be open to more mainstream hip-hop collabs in the future?
Hip-hop has always been one of the main ingredients in our music and producing and writing for/with other artists is exciting, for sure!
Tell me the story behind "Lamb & the Wolf."
Sonically it's a whole new flavor for us with a bass line that paints a 70's funk, girl orphans doing karate in the jungle kind of scene. The lyrics explore mental illness and how we demonize the mentally ill in our society. It's kind of satirical…it's about paranoia and how society participates in destroying the fragile ones, the wise ones. "They're trying to Britney Spears me" is a favorite line.
What can we expect from your upcoming album?
Our new material is very beat-based and the vocals tend to be more and more rap verses and sung hooks. It's kind of our roots… poetry all that. Heartbreak, swag, frogs, roosters, and old-timey hooks.